May 8, 2011 | 6 Comments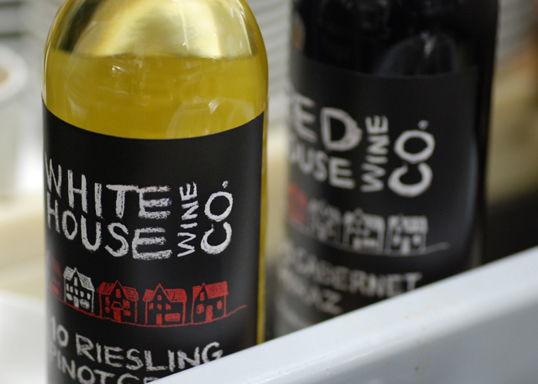 Designed by Insite Design | Country: Canada
"Speck Bros. Wines allows the Specks the agility to produce wines that express the other aspects of their personal story and interests without diluting their previous successful brands such as Henry of Pelham and Sibling Rivalry Wine.
Insite began assisting them on the personality and visuals of this new House Wine Co. brand by creating series of art and illustrations that could embody the idea of a House Philosophy. The goal of House Wine Co. is to re-establish peoples' belief in the house wine as a confident choice, similar to that of a restaurants house specialty.
Eventually, and many sketches and iterations later, we arrived at a simple and honest chalk form of illustration and writing that would express the easy and sincere wine in the bottle.
A package was created as well as carton. To ensure the story could be well told to a wide audience, we filmed a series of videos to explore the idea of house wine and how a house specialty or favourite go to wine can make life or experiences simpler and more enjoyable."
May 6, 2011 | 2 Comments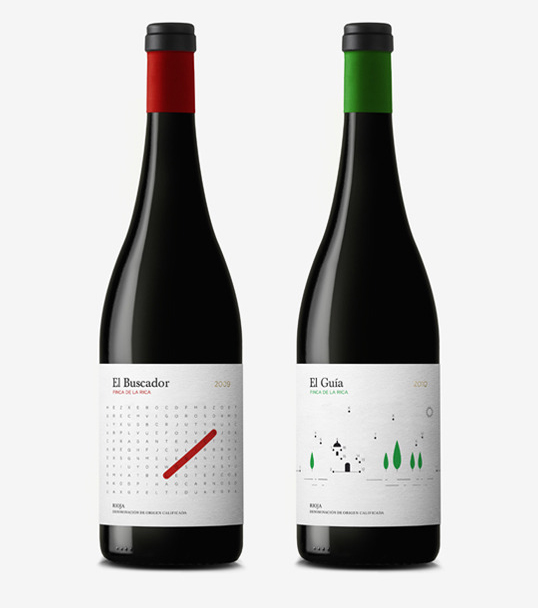 Designed by Dorian | Country: Spain
"El Buscador" and "El Guía" are the first two wines from a line designed under the concept of leisure. The packaging focuses on the moment of relax and pleasure that gives you with a good glass of wine, through a fun and original label that invites consumers to participate directly on the bottle itself to complete or resolve the puzzles."
May 5, 2011 | 2 Comments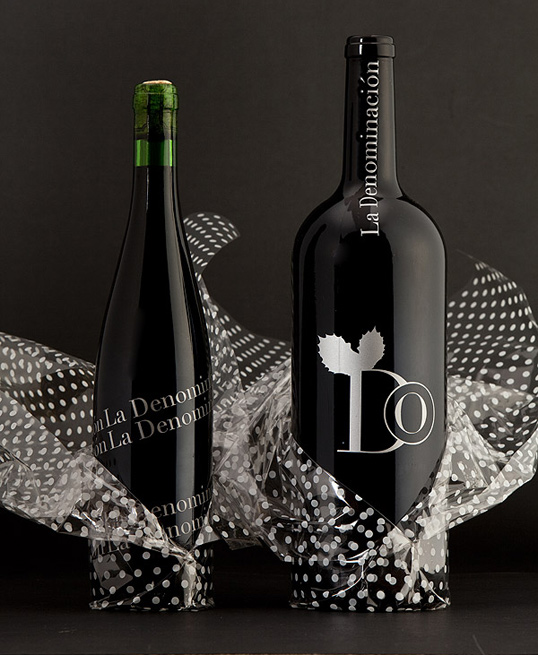 Designed by Javier Garduño Estudio de Diseño | Country: Spain
"La Denominación is a wine shop located in Salamanca. They wanted their own special wine to give to clients so they developed a completely handmade wine from their grape harvest. Bottling and labeling is all done by hand in two formats standard and magnum. The bottles are also wrapped in plastic with white circles simulating floral gifts."
May 3, 2011 | 1 Comment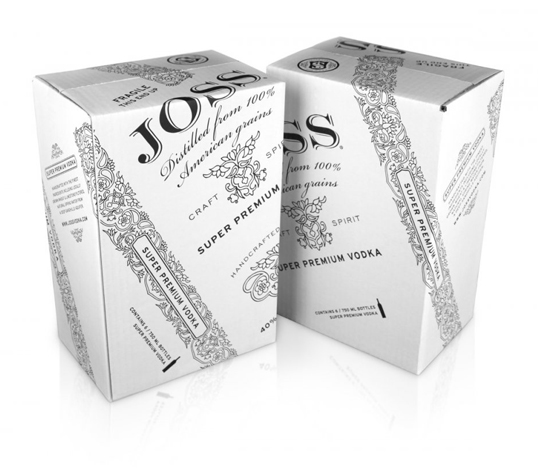 Designed by Archrival | Country: United States
"Sòlas Distillery came to us for the naming, branding and package design of their first craft spirit. This super premium vodka needed to reflect a glamorous and stylish attitude to appeal to connoisseurs of the hip and now. It's fashionable and relaxed, confident without arrogance and always good around lively conversation."
May 2, 2011 | No Comments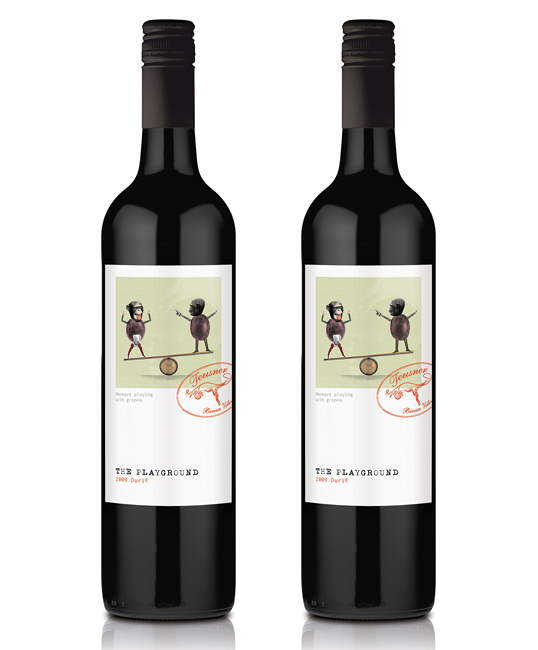 Designed by Sage | Country: Australia
"The Playground is a brand born out of experimenting or 'playing' with different grape varieties. Only a limited quantity is released and sold at Teusner's winemaking facility or on their website. It may not be available every vintage and each release might be a different variety or blend. The product price may vary between A$18-$30. With these parameters in mind, we were geared for the challenge to create an interesting solution that would be cost effective to produce.
When we were briefed for this project, winemaker Kym Teusner mentioned 'throwing barrels around the winery". 1980's video game 'Donkey Kong' immediately sprang to mind. We developed concepts inspired by this visual reference, which evolved to the final playful solution featuring an illustration of two monkeys and a seesaw made of wine objects. Teusner's distinctive oval branding was retained for recognition."
April 30, 2011 | 7 Comments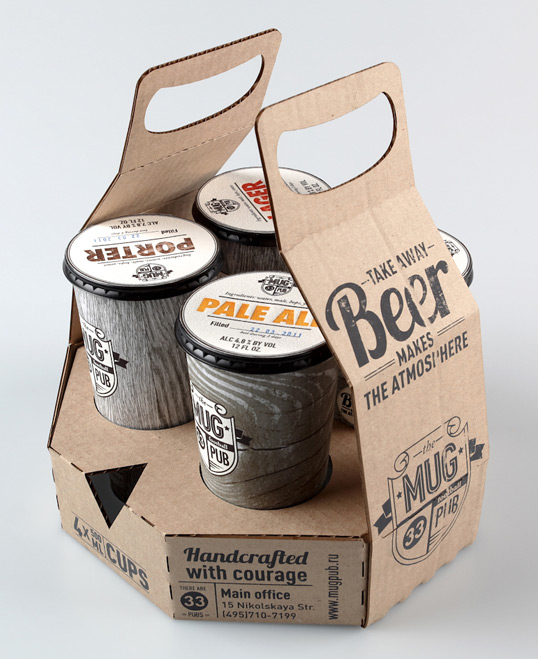 Designed by Ivan Maximov | Country: Russia
"This is the packaging design and re branding for the Mug Pub. Mug is a big chain of football pubs based in Moscow. This pub brews its own beer. It is a new concept for take away beer. Beer is filled into paper cups and a special sticker is put on the top for each to identify the different beers. The new cup combines the form of the traditional beer pint with the sustainability of recyclable paper cups."
April 29, 2011 | 4 Comments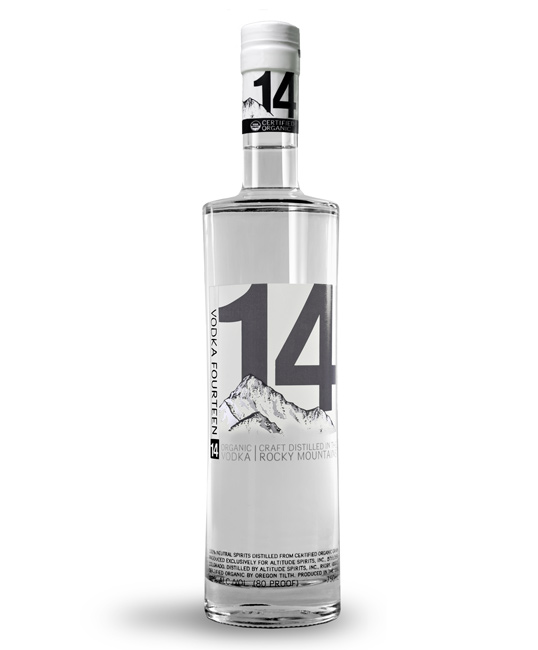 Designed by Jonathan Weiss | Country: United States
"Altitude Spirits tasked me with creating a consumer package for Vodka 14, their organic craft-distilled vodka, that reflected the qualities of the product itself: exceptional quality, purity, and sustainability. The bottle this design process yielded is a tall, elegant  and simple form, decorated with just black, white, and grey pigments. Lots of undecorated space on the bottle highlights the exceptional clarity of the product. The artwork itself is strong but understated, big bold type in a face cut just for this package alongside the hand-drawn mountain motif. Best of all the entire package is recyclable in most municipal recycling programs here in the United States. The closure is aluminum and recyclable synthetic rubber, the safety seal is recyclable PETG instead of the usual non-recyclable PVC, and the bottle is glass decorated with nontoxic ceramic pigments silkscreened on."
April 28, 2011 | 5 Comments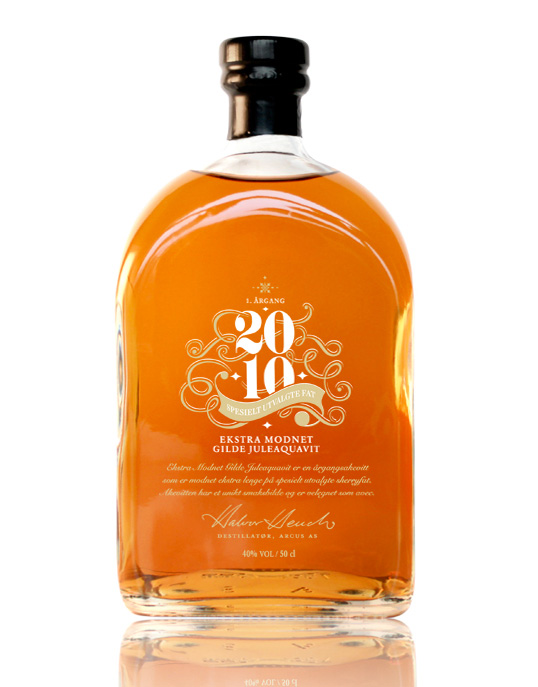 Designed by Brandlab | Country: Norway
"Arcus and Brandlab worked closely on a concept of finding new areas of use for aquavit. By building on the traditional and well known Gilde Juleaquavit series we created a new vintage series. It was developed as an option for after-the-meal situations around Christmas time when Cognac and liqueur traditionally dominate.
This is the first version of Ekstra Modnet Gilde Juleaquavit, a vintage aquavit that has been allowed to stray extra long in sherry casks. This gives the aquavit a unique taste and makes it a perfect ending to any Christmas meal.
To distinguish Ekstra Modnet from the traditional Gilde Juleaquavit and to give it a premium feel, we created a unique bottle and gift box. The year is still the main focus to keep it in line with the Gilde Juleaquavit series."
April 27, 2011 | 4 Comments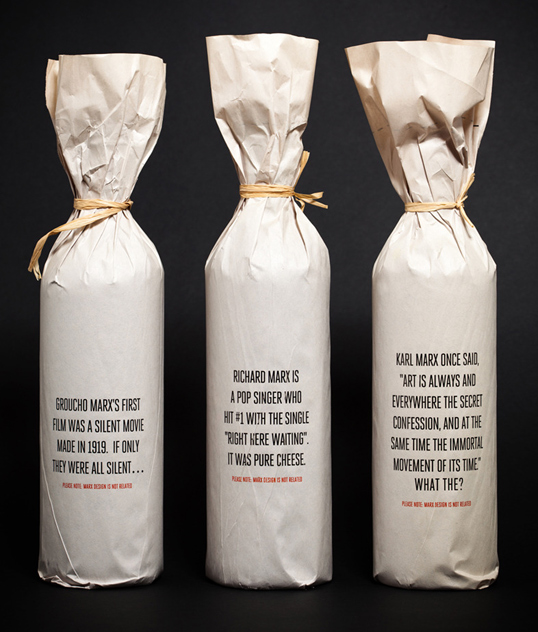 Designed by Marx Design | Country: New Zealand
"Marx is such an unusual name that new clients tend to get us confused with the other lot – Richard (pop singer), Groucho (the comedian) and Karl (the communist). We wanted to clear the confusion once and for all with these light-hearted promotional pieces that establish (Ryan) Marx design as a unique identity (and go down well!)."
April 26, 2011 | 3 Comments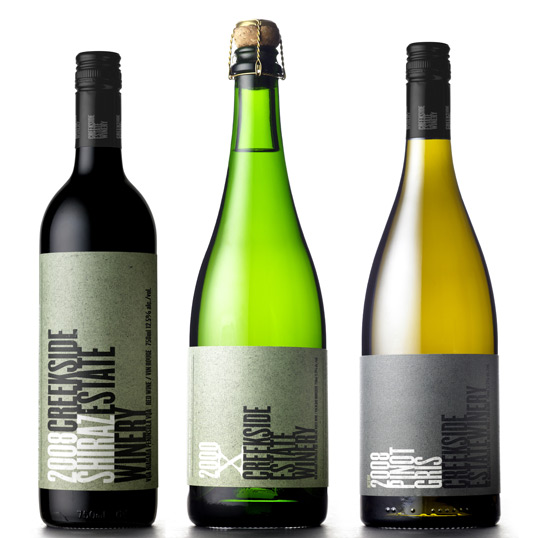 Designed by Dynamo | Country: Canada
"The textured, principal poster-esque woodtype captures a raw, farming spirit that is inherent to winemaking, but it's vertical application creates a bit of irreverence that is also part of Creekside's innovative DNA. This vertical treatment also alludes to a notion of quality, and reads easily when placed in a "cellared" position lying on it's side, and grabs important shelf attention at retail."