January 20, 2011 | 2 Comments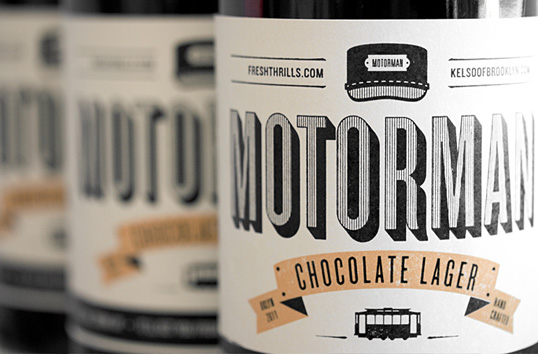 Designed by Freshthrills | Country: United States
"Freshthrills had a productive, successful and exciting 2010. Anyone familiar with Freshthrills, knows that we can be a little fanatical over craft beer. In fact, it's been our obsession of 2010. In keeping with our long running tradition of food-centric gifts, it was clear early in the year that we would share this passion for craft beer with our clients. We collaborated with local brew master Kelly Taylor of Kelso Of Brooklyn to bottle and package their Chocolate Lager, specially for our clients.
We aimed to develop naming, branding, packaging and other print collateral using Kelso Chocolate Lager. The package also includes four letterpress coasters, along with a note thanking our clients for a great year.
January 19, 2011 | 1 Comment
Designed by Jenny Pan | Country: United States
Jenny Pan is currently a graduate MFA graphic design student at Academy of Art University. There's no doubt that she has a bright future as a professional designer ahead of her.
January 18, 2011 | 2 Comments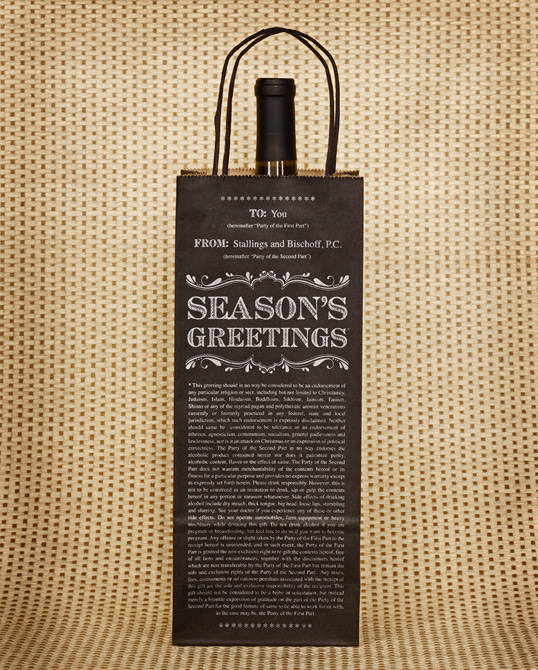 Designed by WORK Labs | Country: United States
"When a law firm came to us to design their holiday wine gift, we decided to employ them as writers on their own project. Lawyers tend to nitpick the details, so we wanted to be sure their holiday greeting was 100% legitimate, so we had them write a bit of copy to clarify what "Season's Greetings" means. Screen printed with metallic silver ink on standard black winte bags, we achieved an economic and appropriate holiday gift."
January 17, 2011 | 4 Comments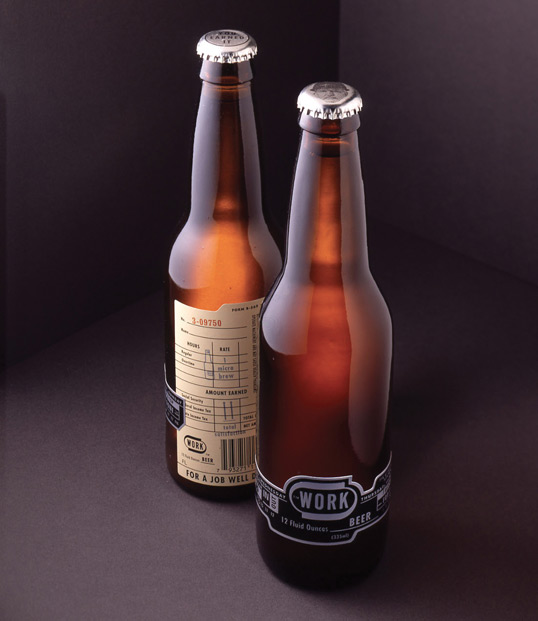 Designed by WORK Labs | Country: United States
"WORK Beer started with a art director that dreamed of having his own beer(seriously, who doesn't dream about having their own beer?). That dream led to beer for the American worker, WORK Beer—For A Job Well Done. It became the brewers best selling beer, going from local to available in all the surrounding states within a matter of months. No detail was overlooked, from the non-conventional label, to the box, to the coasters, to the pint glasses to the ads and TV spots. The WORK Beer tap handle stands out in a line-up pretty well, too, it's a hammer. As far as we know here at WORK, we're one of the only agencies in America to ever have our own brand of beer."
January 16, 2011 | 5 Comments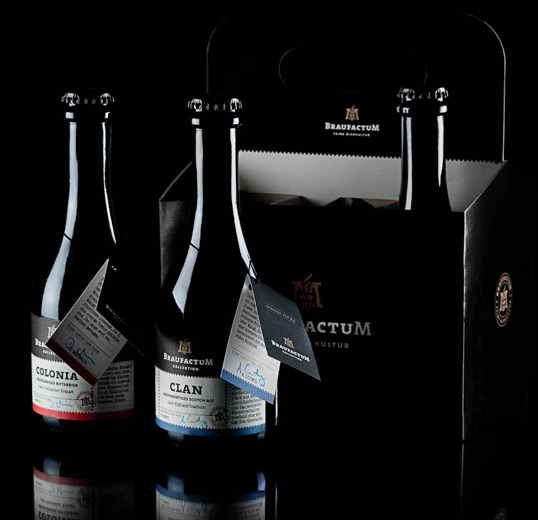 Designed by Flächenbrand | Country: Germany
"The best of imported beers and high class self-made creations – that is what Braufactum is all about. The new gourmet label of the Oetker group introduces a unique collection that will establish a new style of brewing culture. Everything presented under the sign of Braufactum includes selected flavours, celebrates different perceptions of savour and turns every beer lunatic into a gourmet. The appearance of Braufactum has been developed by Flächenbrand and represents its unique concept in every detail. Quite obviously, as the young Wiesbaden-based team has accompanied and built this brand right from the start.
January 15, 2011 | 1 Comment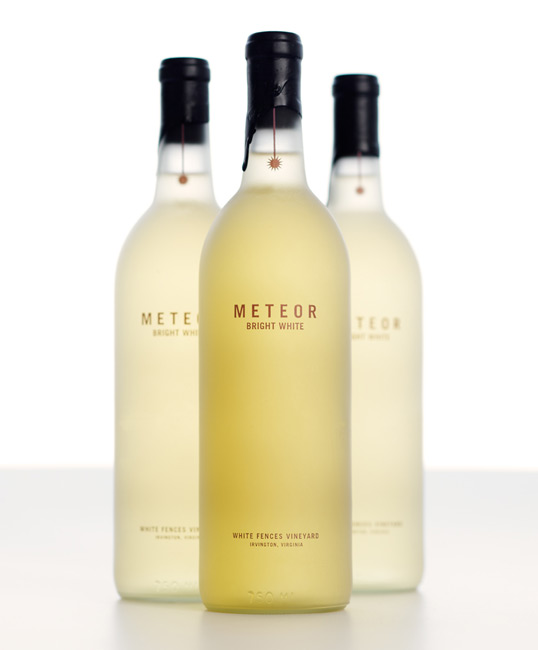 Designed by WORK Labs | Country: United States
"A simple design to showcase the wine in the bottle. The bright color of this bottle is a great contrast to the rest of the Meteor line."
January 13, 2011 | 7 Comments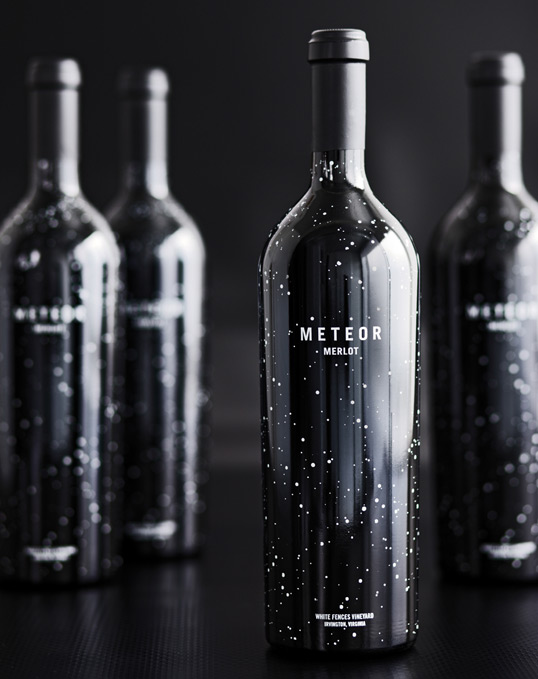 Designed by WORK Labs | Country: United States
"Being inspired by the name Meteor, we chose to mimic a star-filled night sky. The 360 degree print on the Merlot bottle is the only one we've ever seen that covers 100% of the bottle. And because of the process of how they are printed, each bottle ends up being a little different than the last."
January 11, 2011 | 7 Comments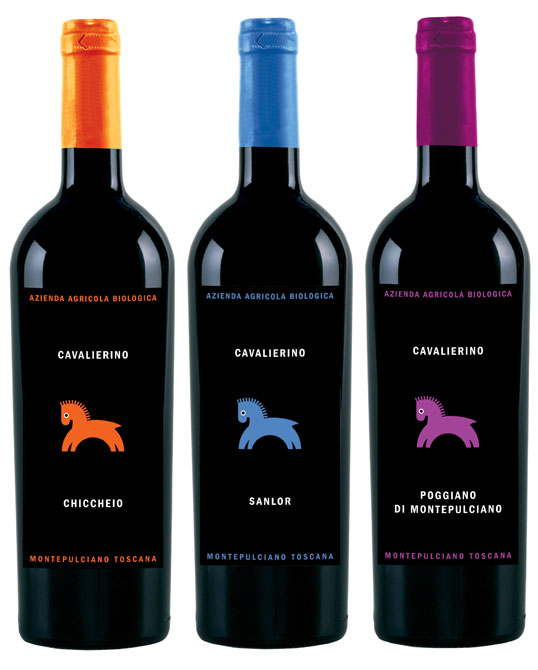 Designed by Lorenzo Ottaviani | Country: United States
"Cavalierino is a small winery in the beautiful high hills of Poggiano within a stone's throw from the historical towns of Montepulciano and Pienza just south of Siena, Tuscany, Italy. 155 prime acres of vineyards, olive groves, woods and cypress trees are bathed in a soft, golden Tuscan light.
"It is very difficult for a new small winery to emerge in the prime wine producing region of Tuscany. My strategic approach embraced such a handicap with enthusiasm – says Creative Director Lorenzo Ottaviani.
"Under my vision, Cavalierino – little horse in Italian – became a metaphor for David against Goliath: the underdog against the powerful and Tuscan wineries. Cavalierino's wine production is small but the wines have a great personality and are getting noticed by the critics and the public. I designed the Cavalierino's brand and packaging to be highly distinctive with a clean, fresh, colorful language that is a complete departure from the rhetorical designs employed by the established wineries. In a store environment Cavalierino's wines command shelf-attention and once you taste them then you fall in love."
January 9, 2011 | 1 Comment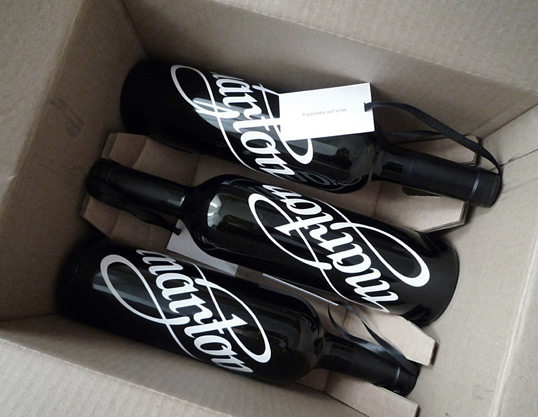 Designed by Kiss Miklos | Country: Hungary
"Márton, a very small, family run winery approached me to create an attractive label design for their Christmas edition of selected red wines.
I designed a logotype which is organic (like the grapes), classic (like traditional calligraphy), fresh, youthful, and memorable all at the same time."
January 7, 2011 | 1 Comment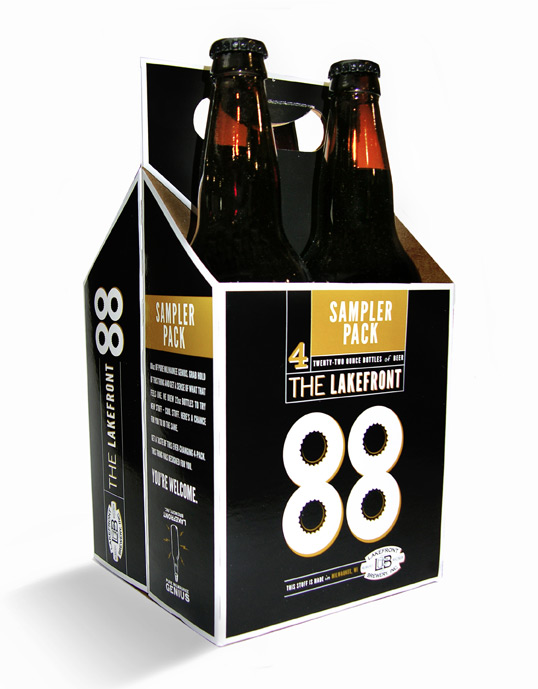 Designed by Boelter + Lincoln | Country: United States
"Lakefront wanted a way to showcase their ever changing 22oz "Brewers Series" beers that they continually keep developing, which are normally sold one bottle at a time. With the Lakefront 88 (88oz of total beer) customers are able to try 4 different beers for a cheaper price than buying them each separately.
The logo for the "88" came from an overhead view of the 4 bottles in the package. The design in general is meant to be fairly simple and bold to create attention on the shelf and then let the beer speak for itself. Overall the design, the size and the weight of The Lakefront 88 gives it a pretty impactful presence among the other products in the beer cooler."