March 22, 2011 | 3 Comments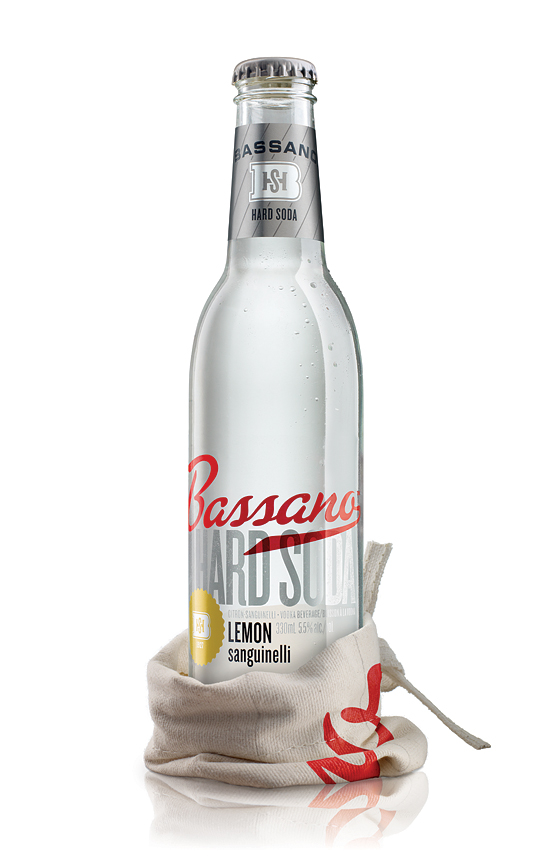 Designed by Dossier Creative | Country: Canada
A new, vodka-based refreshment beverage inspired by classic Italian sodas of the 1920s, Bassano Hard Soda was developed to evoke the feel of Prohibition within a contemporary context. dossier created the name, proposition and look to communicate an integrated story that would be disruptive on shelf. The identity pays homage to the classic script logotypes of the era, while the closed 4-pack has a small window to reveal the bottles, alluding to something illicit and underground. The brand launched with two flavours, Lemon Sanguinelli and Raspberry Pomelo, which have less sweetness and carbonation than typical for the category, making them more appealing to sophisticated palates.
March 21, 2011 | 2 Comments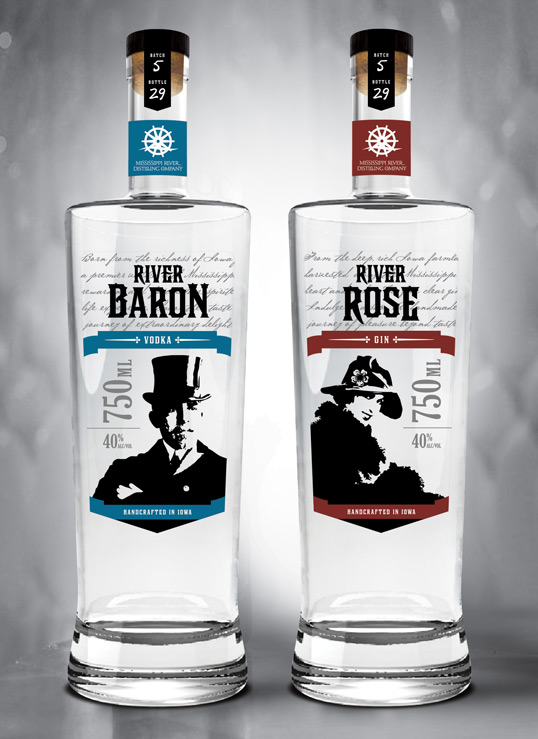 Designed by MindFire Communications | Country: United States
"Mississippi River Distilling Company is a brand new micro-distillery in Le Claire, Iowa that produces small-batch, premium vodka, gin and whiskey. MRDC asked MindFire Communications to develop the brand identity for their River Baron Vodka and River Rose Gin.
We spent a great deal of time learning about the distilling process, the local ingredients and discovering what the heart and soul of the products would be about. We then captured that heart and soul in a powerful and unique brand that drew on the region's history and local flair. When it came time for the bottle designs, our goal was to create a design that evokes the era of the late 1800s along the Mississippi River."
March 21, 2011 | 4 Comments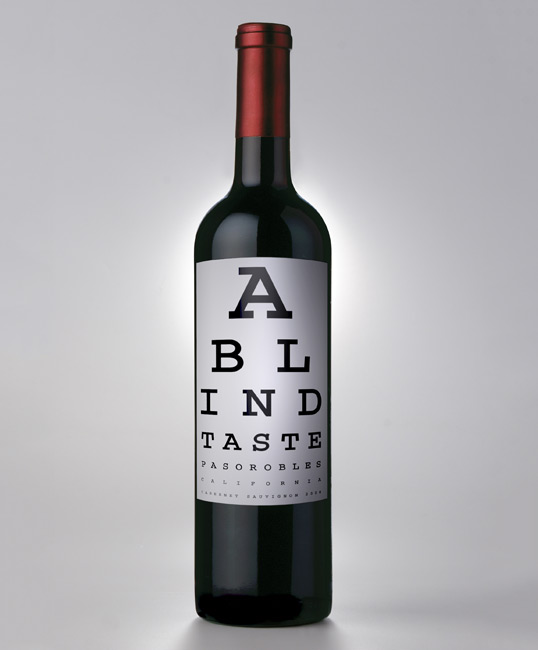 Designed by Hope Family Wines | Country: United States
"A Blind Taste is a private wine brand from Hope Family Wines in Paso Robles, California. The label design  inspired by an eye chart layout which gives an unique personality to its brand."
March 16, 2011 | 6 Comments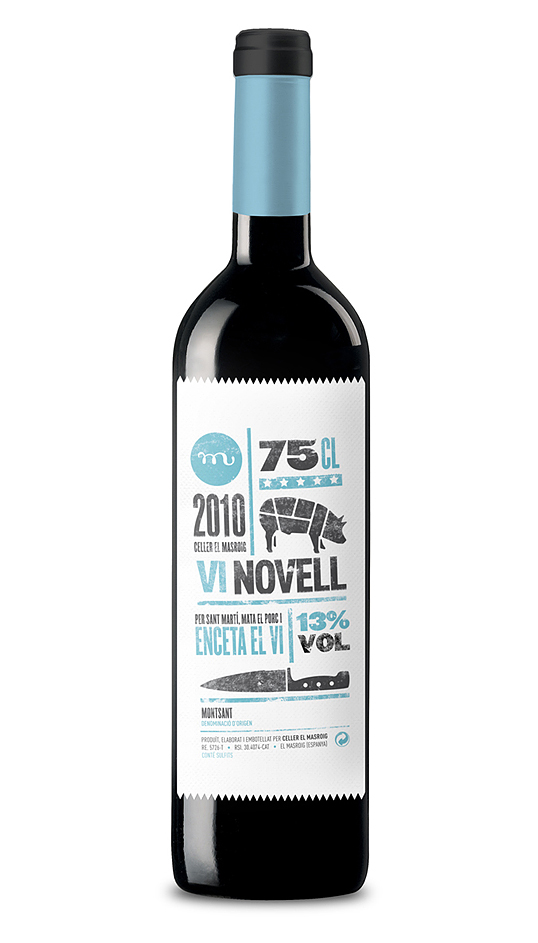 Designed by Atipus | Country: Spain
Great mix of iconic and typographic styles for Vi Novell Wine by Barcelona based studio, Atipus.
March 16, 2011 | 1 Comment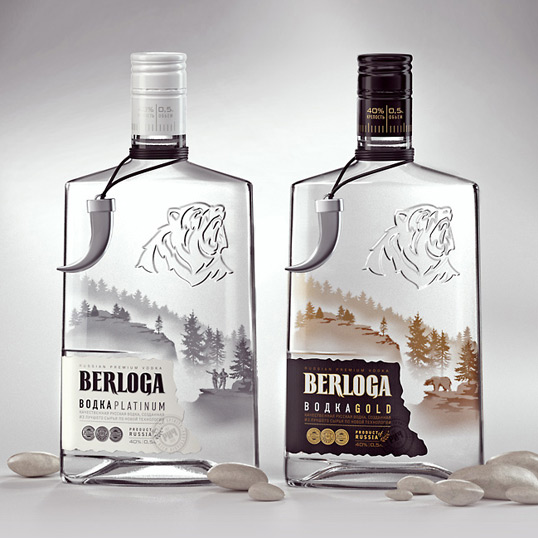 Designed by StudioIN | Country: Russia
"We created a custom bottle with a unique relief and asymmetric shape. The wilderness illustration reflects the naturalness and purity of the vodka.
March 16, 2011 | 2 Comments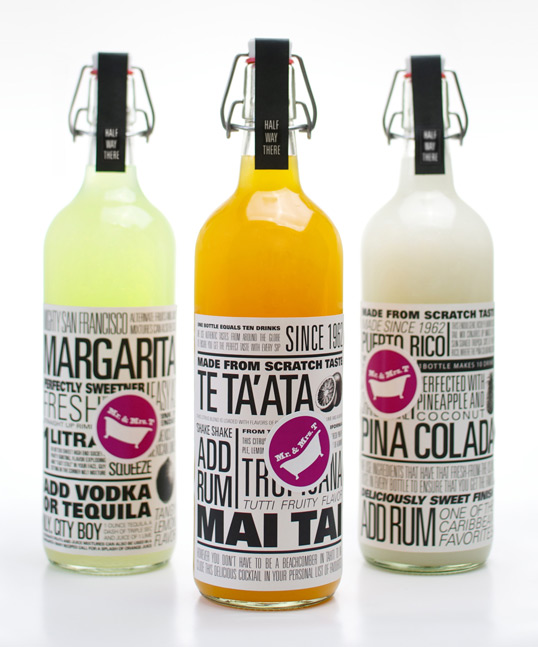 Designed by Kasper Vindeloev, Asger Hagemann, Kristoffer Hvitfeldt & Stefan Björklund | Country: Denmark
A student project for Mr. and Mrs. T drink mix. The assignment was to redesign the bottles and graphics for the European market.
March 10, 2011 | 1 Comment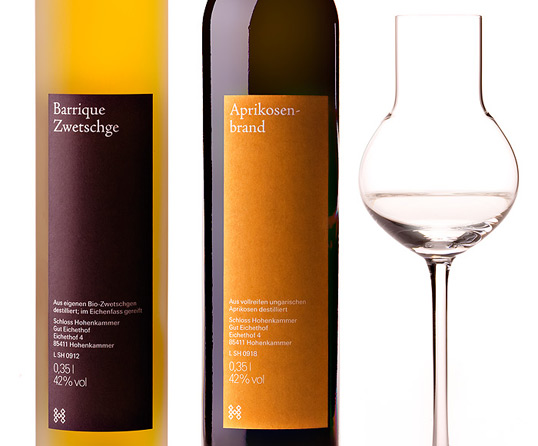 Designed by Keller Maurer Design | Country: Germany
"Gut Eichethof, the manor of Schloss Hohenkammer, is run as a strictly organic farm. Cooking oils and fine spirits are the estate's premium products, including brandies made from apples, plums and quinces, all harvested from the orchard's 1,000 fruit trees. Our packaging reflects the wide range of flavours and playfully extends the corporate design of Schloss Hohenkammer into a range of high quality products."
March 10, 2011 | No Comments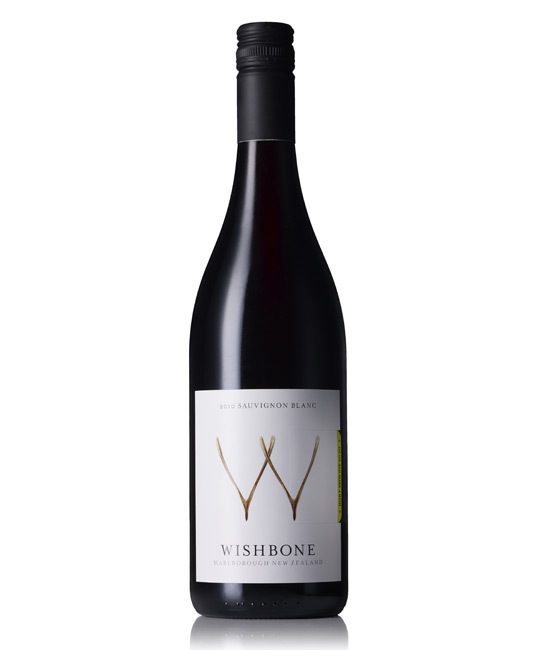 Designed by The Creative Method | Country: Australia
"Brief: To create a simple and distinctive wine label for the Wishbone brand out of wine out of Marlborough in NZ. It is a mainstream wine that needed to be remembered from the 1000's of labels on shelves throughout the world.
Solution: The label is simple and clean. 2 wishbones form a large W in the centre of the label this creates a unique focal point and is memo- rable. A special adhesive label tear section is placed into the front side that can be removed – thus breaking the wishbone, under this label the consumer is encourages to keep the tab, make another wish and with a bit of luck find another bottle."
March 7, 2011 | 6 Comments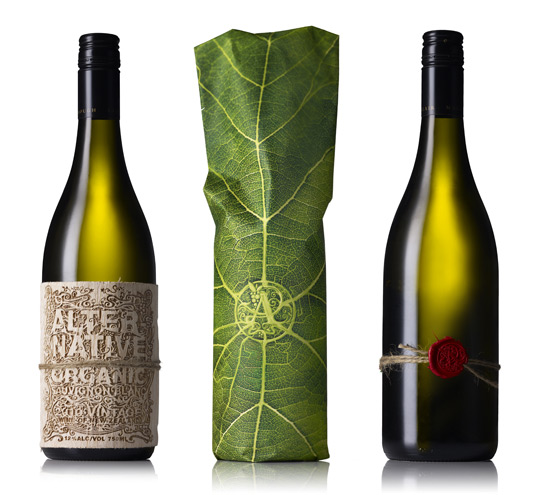 Designed by The Creative Method | Country: Australia
"Brief: To name and create a premium organic package for a limited edition of top end organic Marlborough Sauvignon Blanc Wine. It needed to look and feel natural but original and act as a talking point for consumers.
Solution: Alternative was chosen as it reflects a new way of looking at organic packaging. The concept simply shows a vine from the leaves, to the bark to the wine. Every aspect of the packaging was organic, this includes the lazer cut balsa wood, the string and wax that is used to afix the label to the bottle, the outer paper wrapping and even the inks used to print the image."
March 5, 2011 | 2 Comments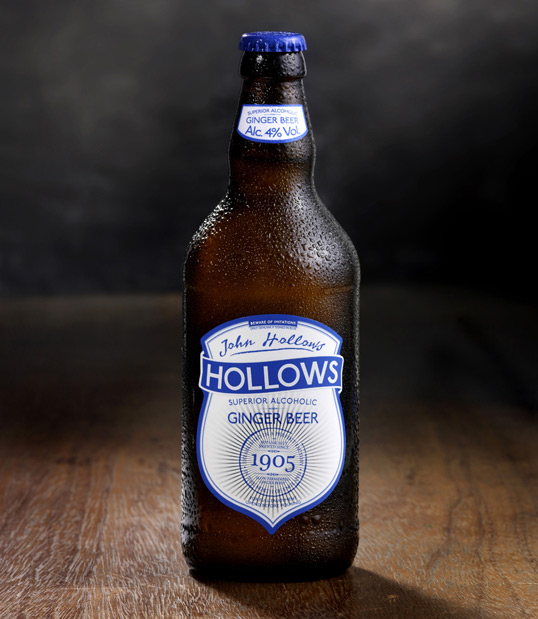 Designed by Sell! Sell! | Country: United Kingdom
"Last year our good friends at Fentimans came to us with the idea of launching an alcoholic ginger beer. They are the masters of the genuine ginger beer, and were pretty unimpressed by the fake, wine-based or flavoured lager ginger beers that were on the market. They knew that they could make a proper alcoholic ginger beer, the traditional way, slow-brewed with ginger from scratch.
They asked us to help them bring it to life. We were all quite wary about calling it Fentimans, because they didn't want to cause any confusion between an alcoholic brand and non-alcoholic. So we set about making a new brand for this new drink. We found the story of John Hollows. John was a son-in-law of Thomas Fentiman, the company founder. He was given his own ginger beer factory to run, and produced the drink under the name Hollows and Fentimans. We also found out that they used to sell their ginger beers in the famous grey hens (stout stone jars) but with a signature blue stopper.