September 21, 2010 | 1 Comment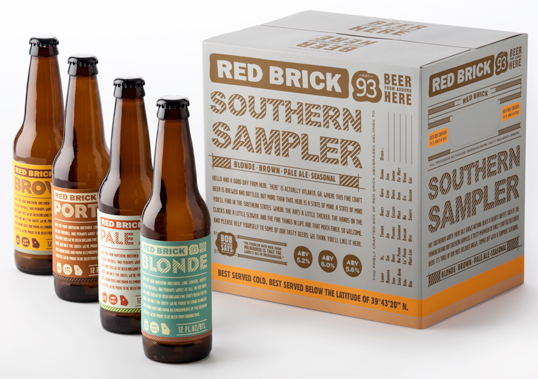 Designed by 22 Squared | Country: United States
Aimed at the Southern US market, this locally made beer features humourous, copy-intensive packaging and uses four striking colourways to differentiate flavours.
September 20, 2010 | No Comments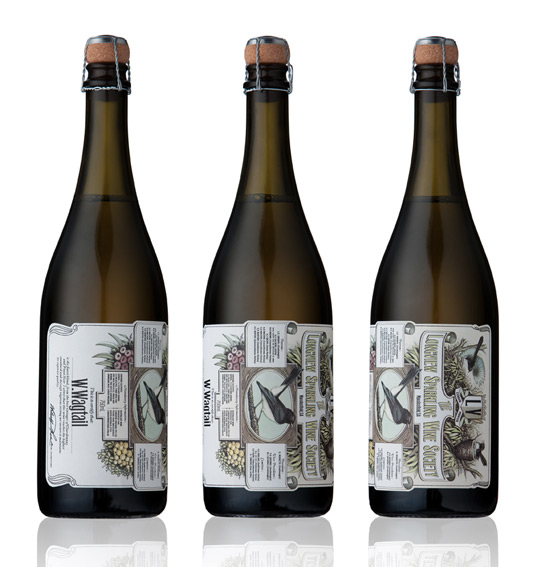 Designed by Voice | Country: Australia
"It wouldn't be a stretch to claim that birds are somewhat over represented on wine labels. When Voice was given the task of designing the packaging for Longview Vineyard's sparkling wine, W.Wagtail, they recognised the importance of creating something that really stood out from the existing flock of bird themed labels.
Drawing on the audacious personality of the wine's namesake, the Willy Wagtail, Voice modelled the label on the styling of bird watchers membership certificate from the 1940s. The ornithological subject matter was an opportunity not only to feature the local birdlife but also to  feature the flora that exists around the vineyard, which hinted at the fruity and colourful flavours of the wine.
September 18, 2010 | No Comments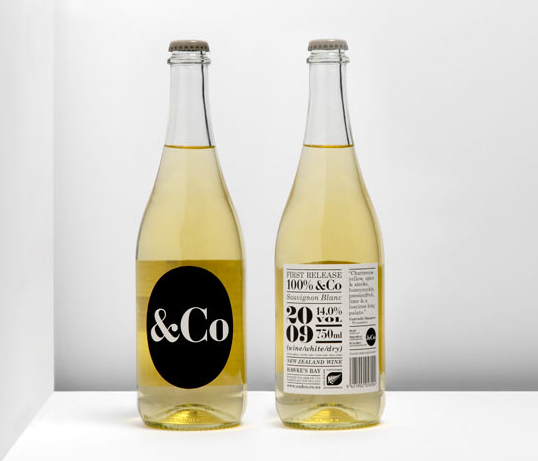 Designed by Inhouse Design | Country: New Zealand
"&Co represents simplicity – of purpose, provenance and production. The winery produces a single exceptional estate wine each season. To emphasise this we've pared the identity back to a black and white palette. We've made a feature of the type, letting it 'speak' to the customer. &Co breaks convention with more traditional looking wine brands, topped off with the uniquely cool closure of a crown seal, we're not at all upset that once opened we have to drink the whole bottle."
September 17, 2010 | No Comments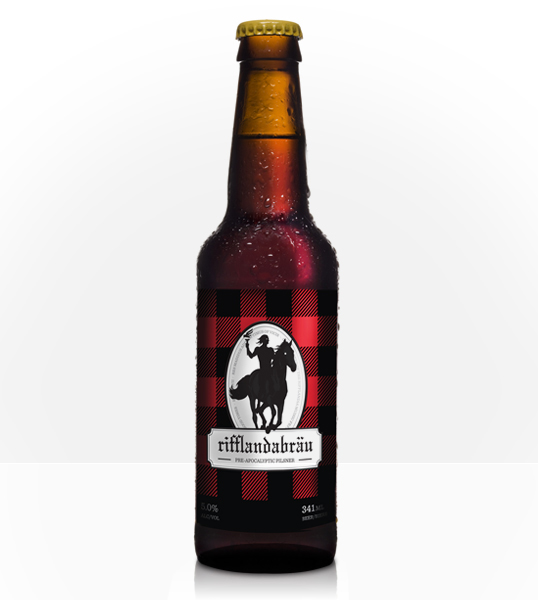 Designed by Brandon Velestuk | Country: Canada
"Every year, Phillips Brewery crafts a custom pilsner to accompany the 3-day party that is Rifflandia Music Festival in Victoria BC. Festival creative director Brandon Velestuk and Scum Creative Labs created a whimsical plaid label to adorn the bottle. Unfortunately this year, the brewery ended up making its own label, so this version won't see the printed light of day."
September 16, 2010 | 1 Comment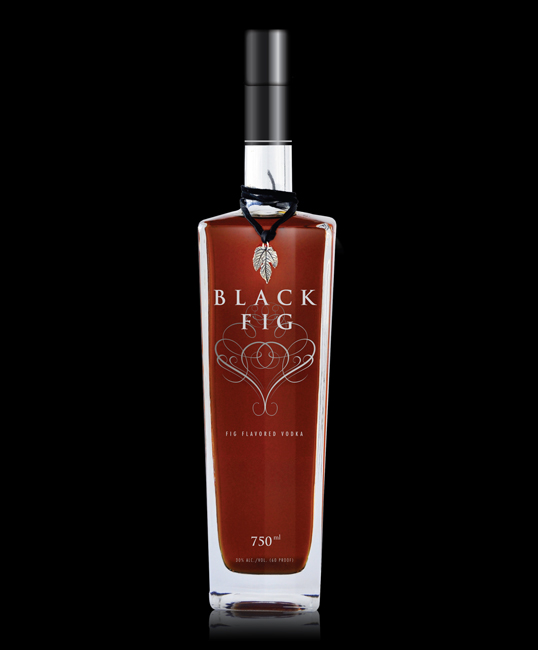 Designed by Phillips Design Group | Country: United States
"Phillips Design Group has completed work on the recent launch of Black Fig Vodka, the only natural fig infused vodka in the world. Black Fig is produced locally in Boston from select wheat grain, naturally infused with Calimyrna figs, and bottled by hand in small batches. Phillips developed the Black Fig brand including naming, brand identity, packaging, launch strategy/materials and website.
Black Fig Vodka is the brainchild of Randy Nason and Mitchell Maxwell; the two have been infusing figs and vodka at their restaurant Maxwells 148 in Natick, Mass. for several years. "People fall in love with the Black Fig—it's a vodka that can be enjoyed as a cordial, in a mixed drink or as a martini, its very diverse," says Nason. "Over the years people have been inquiring as to where they can purchase it. So we decided to bring it to the marketplace."
September 14, 2010 | No Comments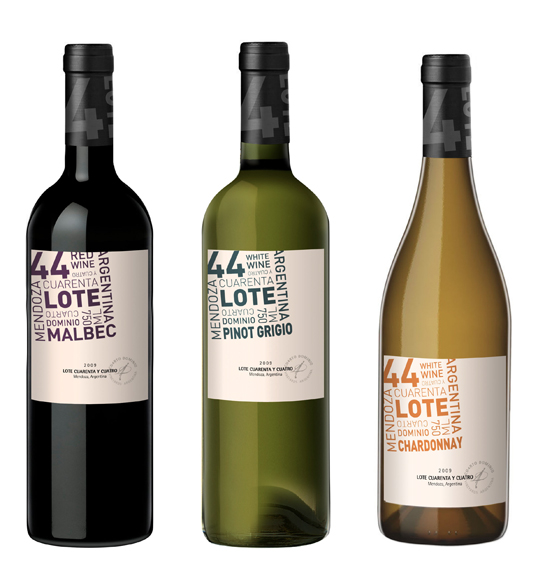 Designed by Diego Ballester | Country: Argentina
"Lot 44 is a line of young wines, whose name comes from the careful selection of our best vineyard lots, which identified a unique and distinctive.
Is a project that is designed to prepare high quality wines that reflect the full potential of different soils and skies of Argentina, under concepts of sustainability of natural resources in harmony with the environment.
The main objective is to find suitable regions for each of the varietals we produce to achieve its fullest expression and potential in every wine ralt our roots, commitment, care and passion for what we do."
September 13, 2010 | No Comments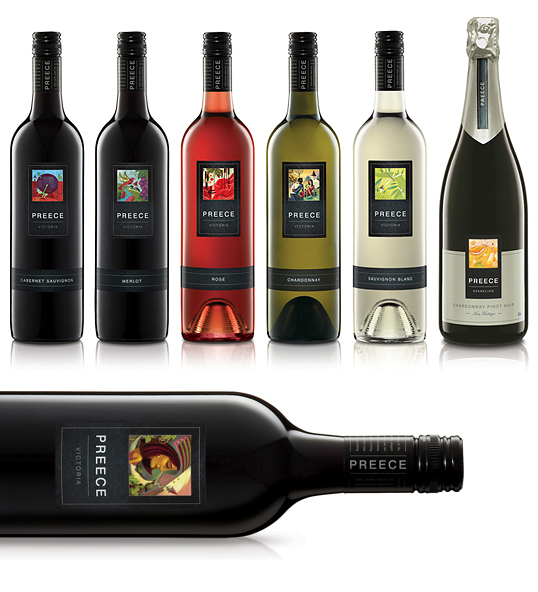 Designed by Frank Aloi | Country: Australia | Font: Helvetica
"Australia's leading illustrators were commissioned to create artworks inspired by the Mitchelton winery in central Victoria for the latest Preece re-branding. The rejuvenation has elevated Preece into the top 50 best selling wine brands in Australia."
September 13, 2010 | No Comments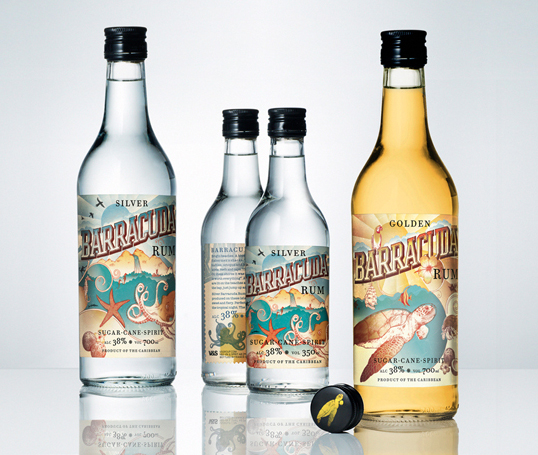 Designed by Neumeister | Country: Sweden
"Input: Barracuda, a brand formerly owned by the Swedish state liquor monopoly, Vin&Sprit, felt hopelessly outdated. The extremely discrete, almost secretive, design seemed to be helping this budget-priced Caribbean Rum to fall in to absolute oblivion. Sales figures were very, very clear. The Barracuda was dying. Fast.
Output: The target group was younger than before. Those who had travelled a bit and seen something of the world, or at least wanted to. And who enjoyed unpretentious traditional rum! We choose a playful, almost Caribbean attitude with illustrations playing an important role. A kind of a bottle you might be able to find somewhere on the islands in a no-nonsense, beachside bar – at least in our dreams. The copy also put emphasis on Barracuda´s Caribbean origin.
Outcome: The barracuda swam back to surface and up jumped the sales by 120%. Not only did the Barracuda survive, it is now on a steady course up the ranking list of the most popular rum brands in Sweden."
September 12, 2010 | No Comments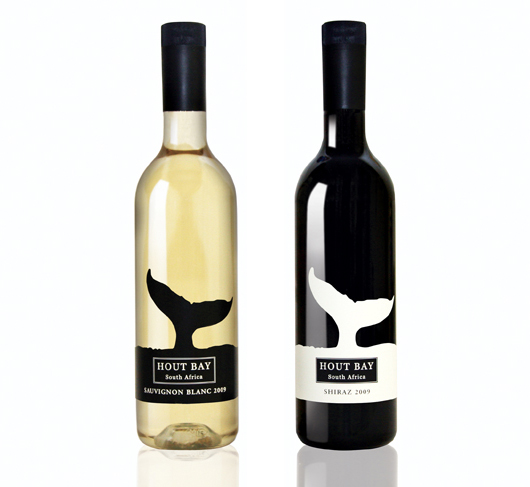 Designed by The Hive | Country: Ireland
"At the southern tip of Africa, often mere metres from the shore, the migration of the southern right whale is a keenly observed phenomenon. Their passage to the western cape to calve and nurse their young is a long established, and much like the harvest, is one of nature's indicators of the passing of the season. It's hard not to be affected by the majesty of this spectacle, so at Hout Bay we simply raise a glass to wish them on their way."
September 10, 2010 | 1 Comment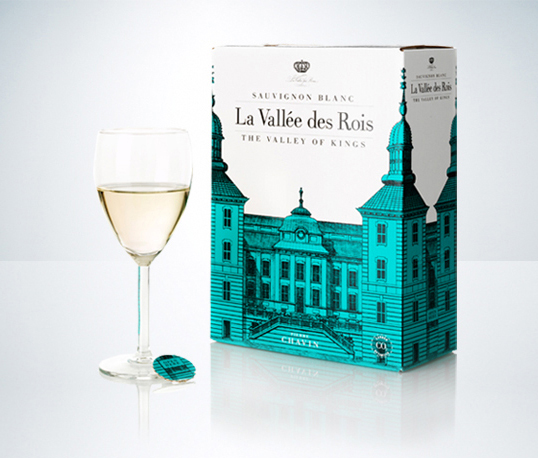 Designed by Neumeister | Country: Sweden
"Input: A new BiB with white wine from La Vallée des Rois, in the Loire Valley, France. "The Kings´ Valley" is well known for its historical architecture, ancient towns and beautiful castles from the "l'Ancient Régime".
Output: We signal traditional French royal values with a grand illustration of a castle in an almost 3-dimensional design solution.
Outcome: Just about to be released."