July 9, 2010 | No Comments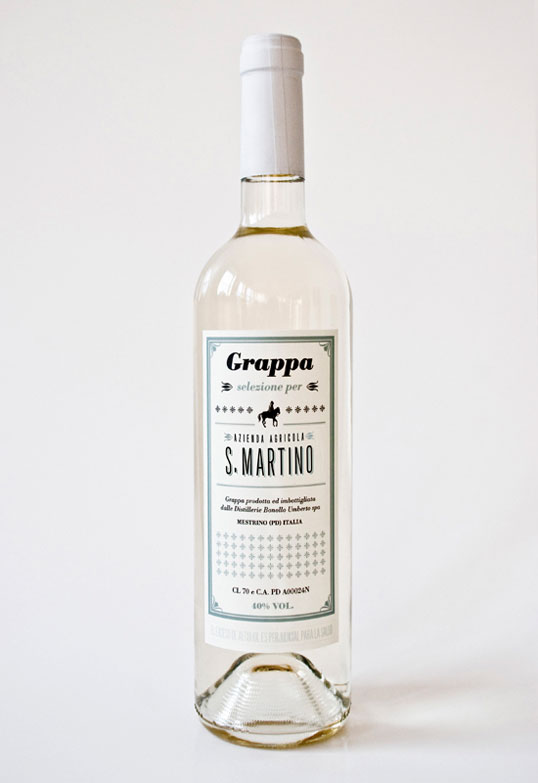 Designed by Rachel Kinrot | Country: United States
Designs created for wine sold in Italy and Colombia. A nice example of mixing and matching different typefaces to create a cohesive finished solution.
July 8, 2010 | 3 Comments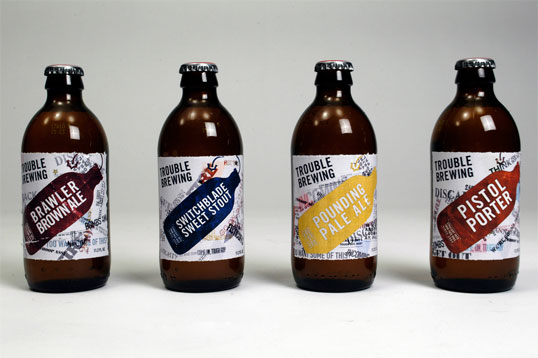 Designed by
Joe Montefusco | Country: United States
"My class was asked to design the identity (and any subsequent packaging needed) for any company of our choosing, invented or existing. I have been interested in designing my own brewery identity for a pretty long time, so I decided to create Trouble Brewing Co.
The idea behind this invented brewery was it would be a really intense kind of badass punky small brewery located in Seattle, WA. To achieve this look, I implemented a series of various techniques meant to reference the aesthetic of rock gig posters. I wanted Trouble Brewing to have a humorously over the top confrontational edge, so I tore the edges of labels and used type and various phrases to create that feeling."
July 8, 2010 | 4 Comments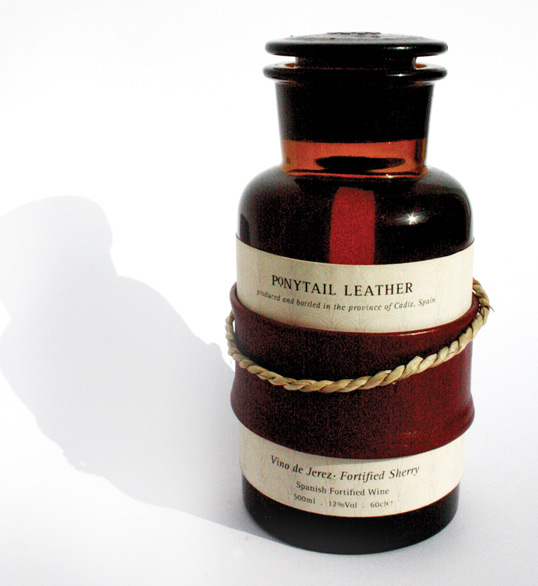 Designed by Lauren Elise Cassar | Country: Australia
"Ponytail Leather Sherry is a premium quality Sherry. The bottle and label are designed to encapsulate it's Spanish origins; employing a subtle Spanish pattern and a regal dark leather to represent the quality of the product."
July 7, 2010 | 3 Comments
Designed by QSLD Paris | Country: France
"Once again Veuve Clicquot trusts Denis Boudard to create it's new giftbox: The Veuve Clicquot Fridge. The designer and the brand have collaborated several times such as on the Trendy Collection, a whole set of champagne service tools composed of an ice bucket, some flutes, a bottle stopper, an appetizer and a spectactular Jeroboam ice bucket.
Ten years ago, Veuve Cliquot was revolutionizing the champagne consumption with its Clicquot Ice Box. This box allowed savoring one's favorite vintage at the ideal temperature. From then on, Veuve Clicquot chose to rethink every year its coolbox collection, in order to offer freedom to consume champagne anytime, anywhere.
Veuve Clicquot Fridge has been thought to keep the Brut Yellow label fresh for up to 2 hours. It is handy, forward-looking and aesthetically appealing. It underlines the brand's search for excellence and unique vision about innovation always combined with the finest champagnes."
July 7, 2010 | 3 Comments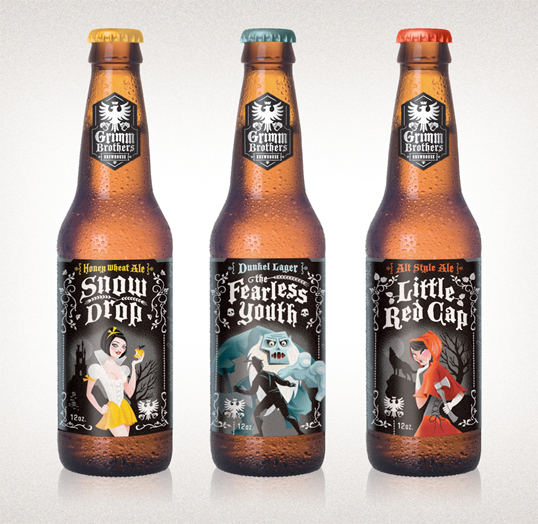 Designed by The Tenfold Collective | Country: United States
"Grimm Brothers Brewhouse is a craft brew startup in Loveland, Colorado. Each Grimm Brothers brew features a different scene from the famous folktales — but with a twist! (to keep it adult because it is beer after all) Example:  Little Red Cap has an axe hidden behind her back, making her more dangerous than the wolf, and Snow Drop doesn't look so "pure" while she's enjoying an apple. Currently they are only selling draft to restaurants, but plan to begin bottling next year. These designs will also be incorporated into the tap handles."
July 6, 2010 | 1 Comment
Designed by Only Creatives | Country: United States
Provo Utah based Only Creatives are behind the simple, elegant branding and package design for Million Vodka.
July 5, 2010 | 2 Comments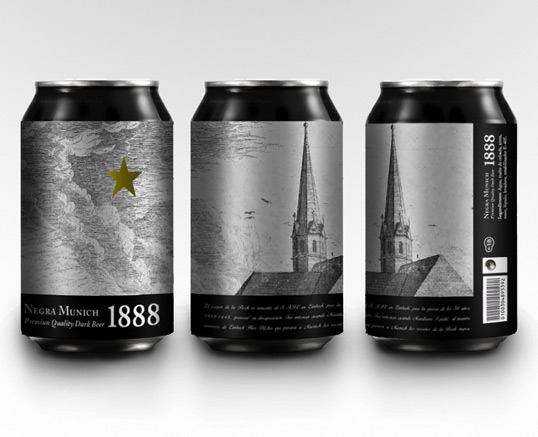 Designed by Erik G. de Lopidana | Country: Spain
"Packaging design for a new dark beer from the spanish company Estrella Damm. One of the mandatories was that it had to be a premium beer and that the company's golden star should appear. During research about the history of beer, I found out that the recipe was developed in Munich in 1888 and I based my whole creative project around that fact."
July 1, 2010 | 6 Comments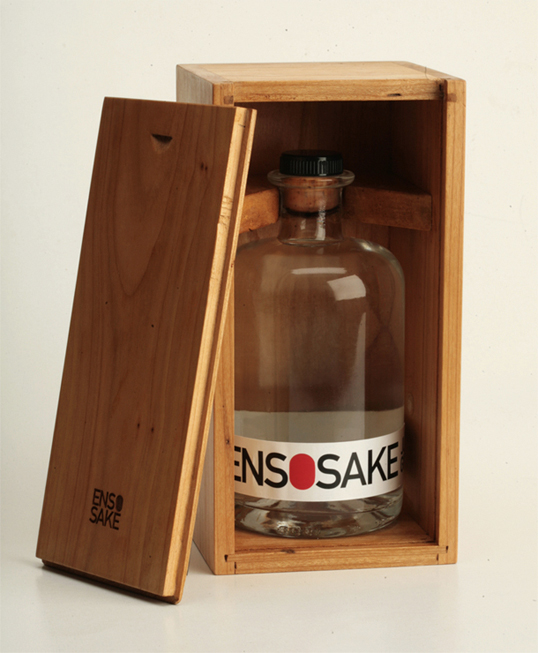 Designed by Milan Petrovic, Nevena Zecevic, Marija Milenkovic & Marina Rajic | Country: Serbia
Student work for a fictional Japanese food brand, Enso.
"This project consists of packaging for sake, noodles, rice, tea, sauces, spices and sushi- all traditional Japanese products. We spent a lot of time researching the subject and thinking about Japanese design, culture and art. Japan has always been our inspiration and this is sort of an homage to that beautiful country."
June 30, 2010 | 4 Comments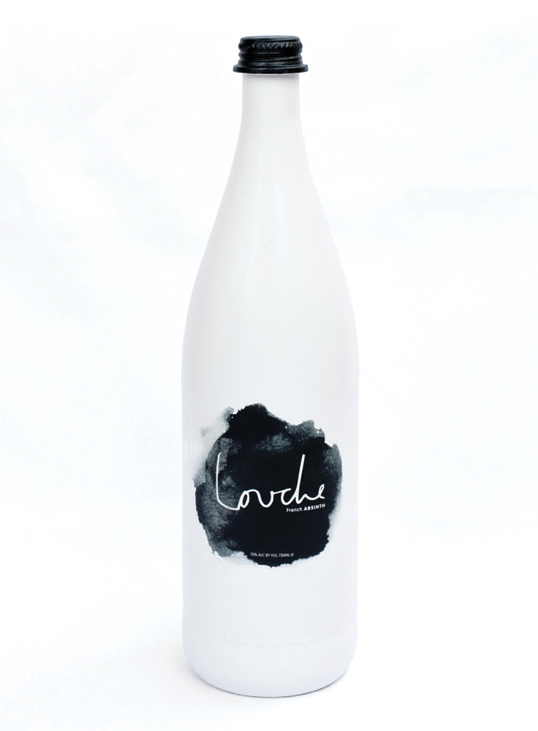 Designed by Holly Canham | Country: Australia
Louche Absinth is a fictional absinth product, created to appeal to premium spirit buyers. The packaging design was influenced by the bohemian culture during the 19th Century in Paris. The watercolour spot is a link to the writers and artists who were famously known to drink absinth during this time. The bottle is coloured a milky/beige as a reflection of the name 'Louche' (being the milky essence that forms in the drinking ritual) as well as giving a 'secretive' feel.
June 28, 2010 | 7 Comments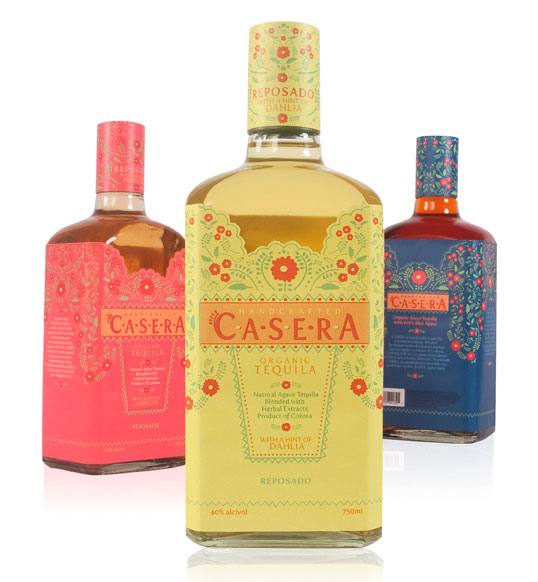 Designed by Misako Ishida | Country: United States
"Casera is a line of small batch tequila handcrafted by women in a small town in Mexico. Traditional Mexican clothes and patterns were incorporated into the design to engage the tequila-buying women."