June 25, 2010 | No Comments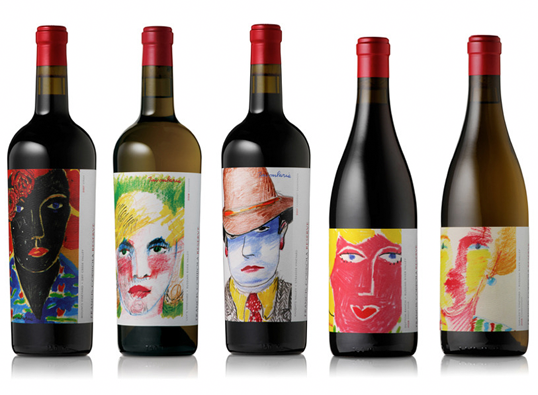 Designed by Stephen Faustina | Country: United States
"The artwork of film production designer Dean Tavoularis graces the labels of our FC Reserve wines. Tavoularis met Francis Coppola during the making of The Godfather and the two artists have continued to collaborate over the years on a variety of creative projects, including more than a dozen films, the courtyard and fountain of Rubicon Estate in Napa Valley and the interiors and exteriors of the Francis Ford Coppola Winery in Sonoma."
June 23, 2010 | 4 Comments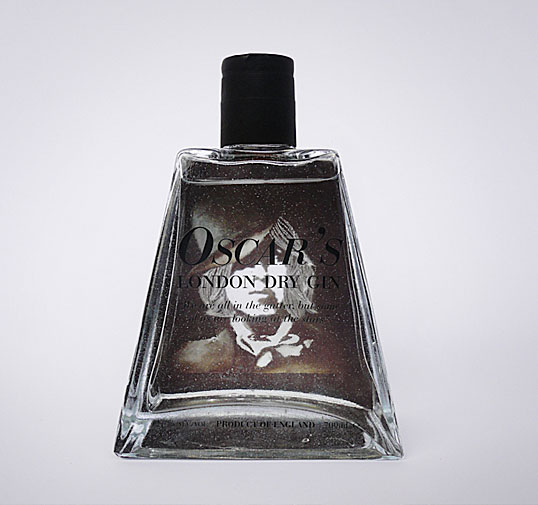 Designed by Hilary Sloane | Country: Australia
"To give my packaging a premium look and interesting background story, I have used Oscar Wilde as the company's identity, as he instantly communicates elegance and good taste. Oscar Wilde is undeniably the most brilliant and savvy writer of the 19th century and was also a renowned drinker of gin. This premium London Dry Gin has been created in honour of Oscar, one who appreciated the finer things in life. The packaging concept is featured around a quote by Wilde – "We are all in the gutter but some of us are looking at the stars". This is illustrated visually through layers and the unique glass which in a certain light has the distinct appearance of a starry night sky."
June 20, 2010 | 6 Comments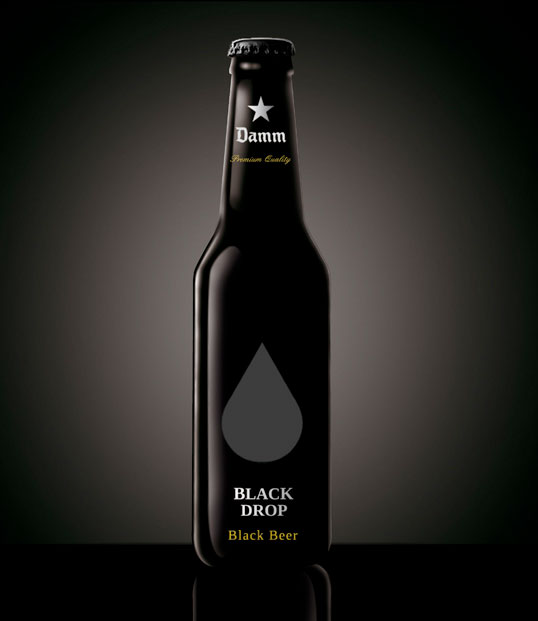 Designed by Toni Garcia | Country: Spain
University project for Black Drop beer designed by Barcelona based student Toni Garcia.
June 18, 2010 | 1 Comment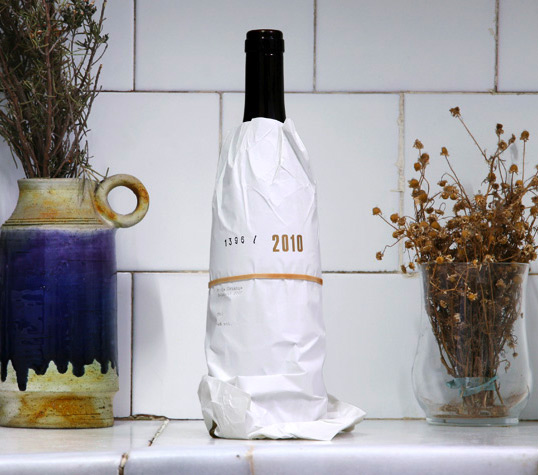 Designed by Bendita Gloria | Country: Spain
"2010 is the name of a wine to share with friends and celebrate the beginning of the new year. This product has been elaborated using organic farming methods without herbicides, pesticides or aggressive chemical filtrations. It's a limited numbered edition of 2010 bottles. The label wraps the bottle with the help of a rubber band without using adhesives. Once the wine is finished, the bottle can be returned and the label has also a second life as a poster with this message about 2010: "Got a feeling it's gonna be a good year". Cheers!"
June 17, 2010 | 7 Comments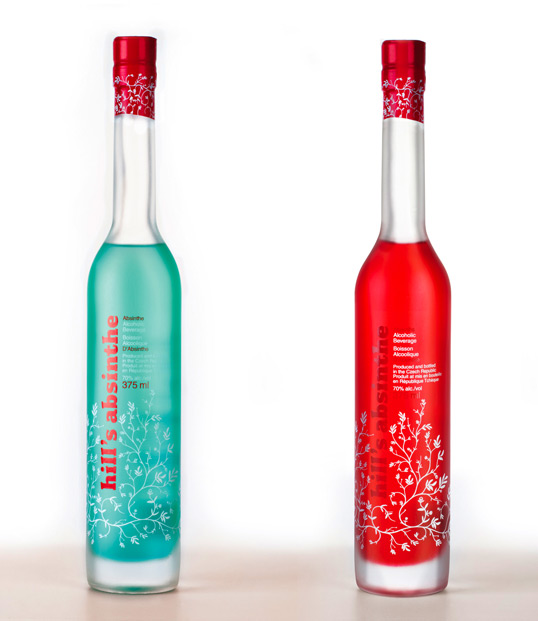 Designed by Toman Design | Country: Czech Republic
"Czech export absinthe for Canadian and US markets. Pure typographic and modern design wtih floral motifs growing all around the bottle."
June 16, 2010 | 14 Comments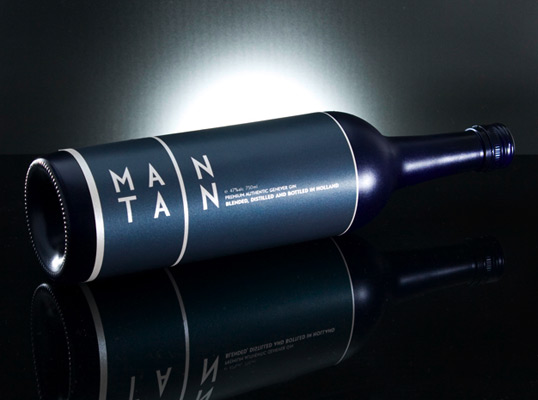 Designed by Dong Heuk Choi | Country: Australia
"Maintain is a premium line of Genever Gin, the preferred Gin of cocktail aficionados, targeted towards professional gentlemen in their late thirties. Maintain is blended, distilled and bottled in Holland, the home of Genver Gin.
The sparkling deep blue bottle and label is perfect for the gentleman who enjoys premium quality beverages."
June 15, 2010 | 11 Comments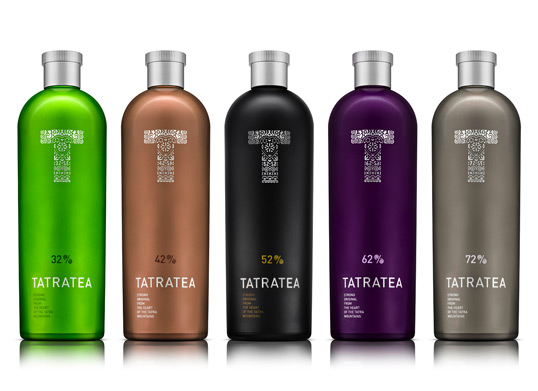 Designed by Pergamen | Country: Slovakia
"In 2009 Karloff, a premium Slovak producer and distributor of spirits and wines decided to change the design of a popular Tatratea. Design studio Pergamen created a new bottle, symbol and design for this strong Slovak spirit. Inspiration for the shape of the bottle was a therm flask used in Tatra Mountains resorts. Easily identified silhouette with no bottle neck is accompanied by a symbol "T" that is inspired by traditional wood-carving and jewel-making. The initial contains solar symbols for the circle of life, symbols of love, happiness, fertility etc. Simple (but distinct) colour scale helps to identify particular kinds of Tatratea according to the volume of alcohol. A limet-green glass of Tatratea 32 underlines its citrus flavour. A gentle peach tint of Tatratea 42 respects the presence of a white tea. The legendary 52 with extracts of black tea occupies the black bottle. Forest fruits in Tatratea 62 are softened by a glass with forest fruits colour. The strongest Tatratea 72 has a titan metallic look. The aim of re-design of Tatratea was to accent the brand essence: "Strong original from the heart of Tatra Mountains".
June 14, 2010 | 15 Comments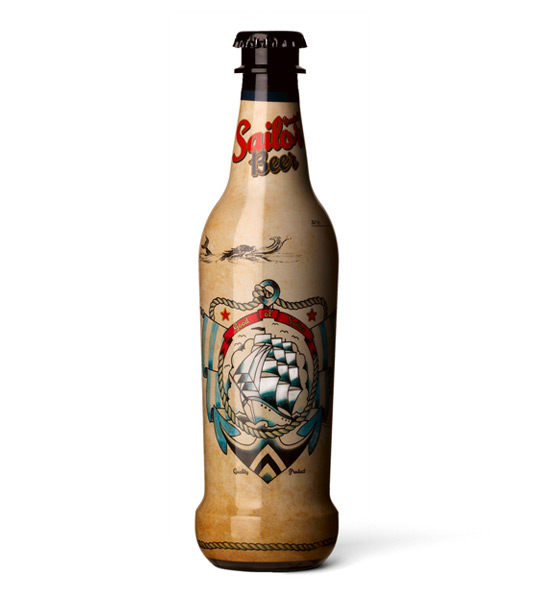 Designed by Entire | Country: Sweden
"With a bottle of designs from a bygone age, when sea monsters torn free of the major oceans and tattoos were for sailors crawling with beards. With this feeling that based incorporates our new life in the mythical brand Sailor."
June 12, 2010 | No Comments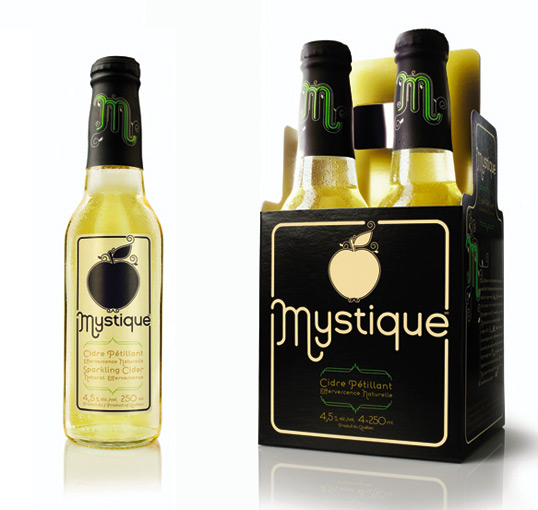 Designed by Bleublancrouge | Country: Canada | Fonts used: Estilo
The Du Minot Cider Mill has asked Bleublancrouge to update the brand image of their Mystique Cider. Robert Demoy, owner of the Du Minot Cider Mill,
chose to place more emphasis on the quality of their product by giving up the carbonation process to produce cider fermented in vats, resulting in a natural effervescence. What the cider gains in refinement and sophistication, however, is the result of a more costly production method. Due to an overall increase in price and quality, it was time to reposition the product on the market.
June 7, 2010 | 1 Comment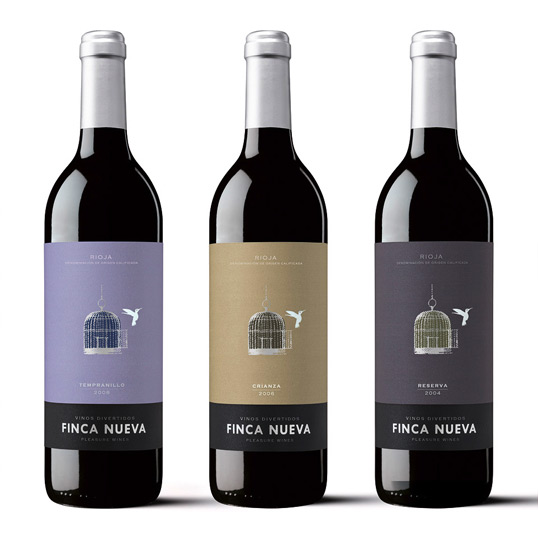 Designed by (calcco) | Country: Spain
"Development of packaging for a new brand of Rioja. Fresh design, funny, original, and away from the stereotypes of Rioja: Finca Nueva (pleasure wines). The concept responds to a new understanding of wine, both in their process and on the way to enjoy it."