August 27, 2009 | No Comments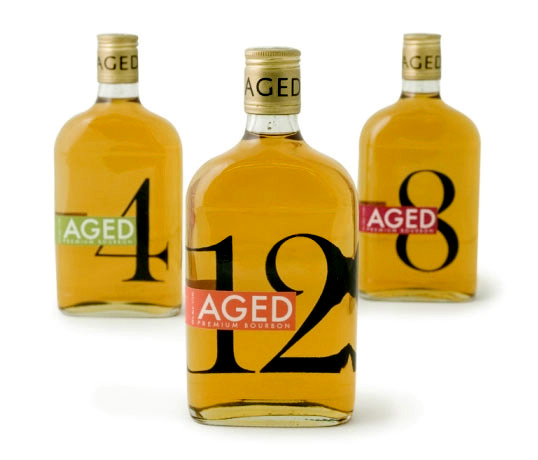 Designed by Michael Iny | Country: United States
"The assignment was to do a fresh design for alcohol packaging. My idea was to create a line of bourbon that were aged at different years and one can enjoy these bourbons no matter their budget. In terms of packaging, the beauty lies in the simplicity of the graphics, the vintage appeal of the bottles, and the multi-dimensional ways of viewing the label."
August 27, 2009 | 2 Comments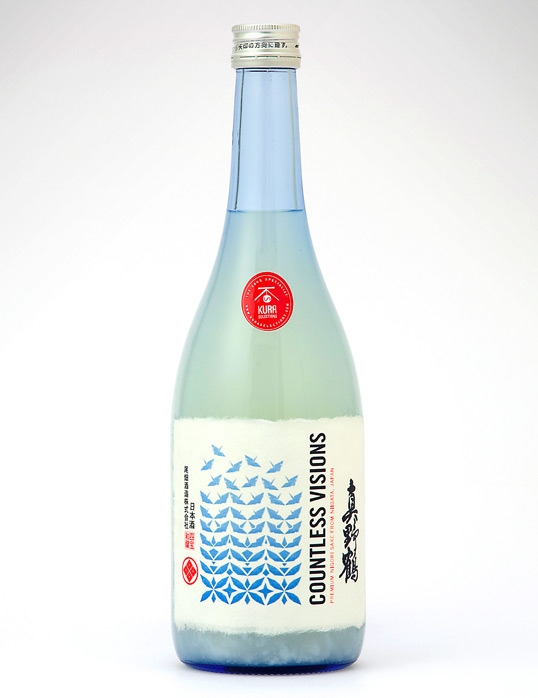 Designed by Boldrini & Ficcardi | Country: Argentina
"Inspired by the drawings of M. C. Escher. An origami flower became a crane. Designed by Boldrini & Ficcardi in Argentina for the US market. Released in August 2009″
August 26, 2009 | No Comments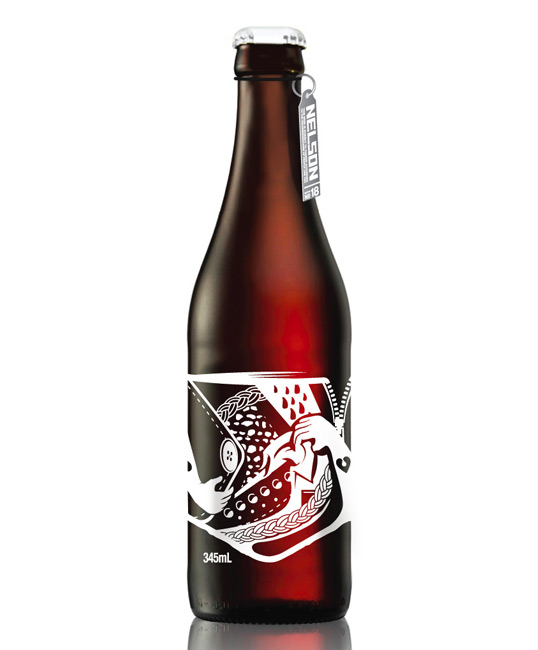 Designed by Trimäpee | Country: Australia
Melbourne-based fashion house Trimäpee (Trim-mar-pea) has joined the likes of Sonny Day, Biddy Maroney and The Temper Trap, in collaborating with NELSON to design the beer's latest limited release label.
August 26, 2009 | 2 Comments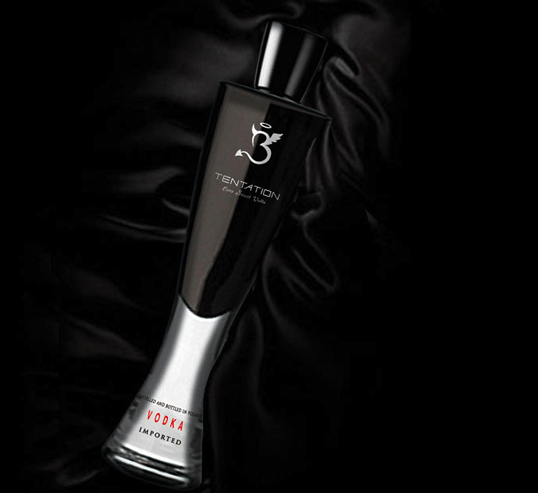 Designed by Optima Brand Design | Country: France
"This Vodka packaging is designed for a female target, but not only. The French Designer, Patrice Rouillard, has imagined this exciting bottle, thinking about women's delicacy and their beauty. It's inspired from luxurious perfume shapes and under lines women's ambiguity. Angel and Demon, Soft and Wild, Mother and Lover, Pure and Dark.
A 'Haute Couture' package, with soft and pure lines, make of this bottle, a jewel in a case. A real French Touch.
Creation of brand identity, design of glass shapes, declension of communication on the whole concept."
August 25, 2009 | 1 Comment
Designed by Redthumb | Country: The Netherlands
Interesting use of label shape to convey the name of La Tulipe, an award winning french wine.
August 24, 2009 | 3 Comments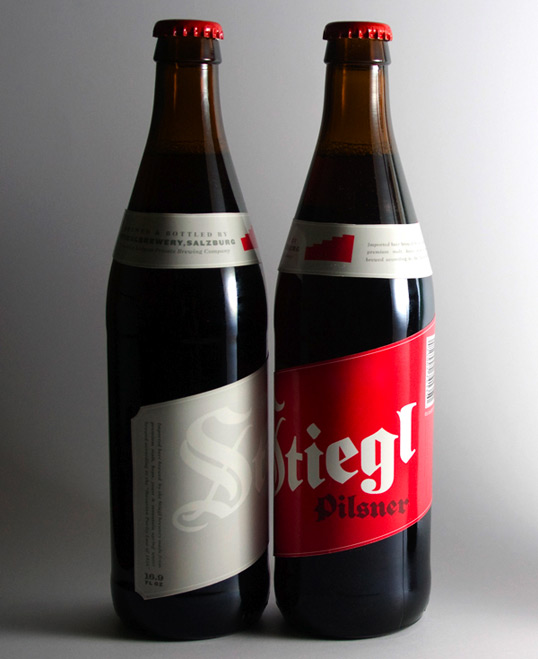 Designed by Skinny Ships | Country: United States
"Introducing a beer into an already saturated market a difficult task, but when the beer brand has such a rich history it's a little easier to distinguish it from the competition.
Retaining the brands extensive elements; bold blackletter logo treatment, the staircase icon, and deep crimson red kept the familiarity within the brand. But updating and incorporating new elements; such as the diagonal rising label that mirrors the upward motion of the staircase logo, brings a contemporary feel to the traditional brew."
August 20, 2009 | 7 Comments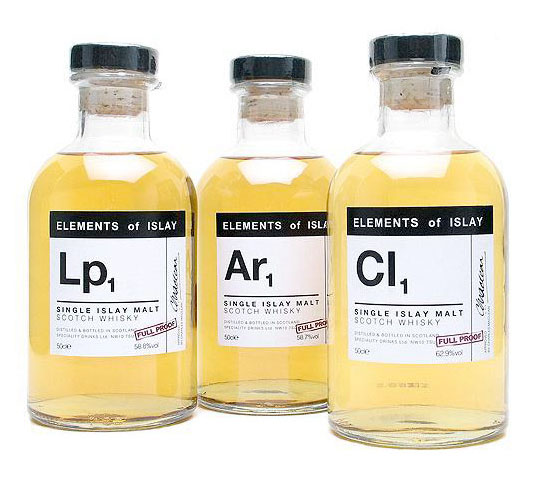 Designed by Specialty Drinks | Country: United Kingdom

"The Elements of Islay, a new range of Single Islay Malt Whiskies, draws its inspiration from traditional medical laboratory labels and packaging – even the bottle used is called 'pharmacy'. Each label depicts the distillery's 'Element' symbol alongside a batch number (eg Lp1)."


August 17, 2009 | 5 Comments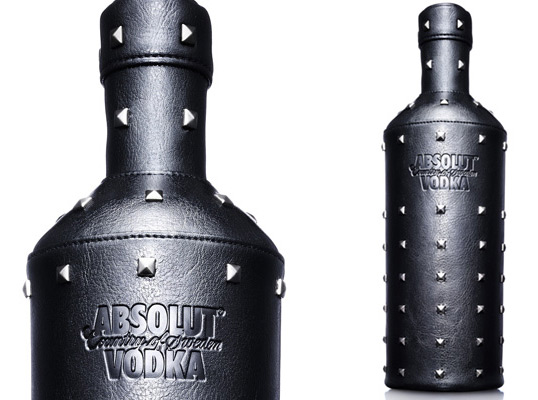 Designed by Natalia Brilli | Country: France
"Absolut worked with designer Natalia Brilli, who is known for wrapping things in leather. This time she of course wrapped the iconic Absolut bottle in leather and added studs to it as well, giving it a real rock vibe."
Via Highsnobiety
August 17, 2009 | No Comments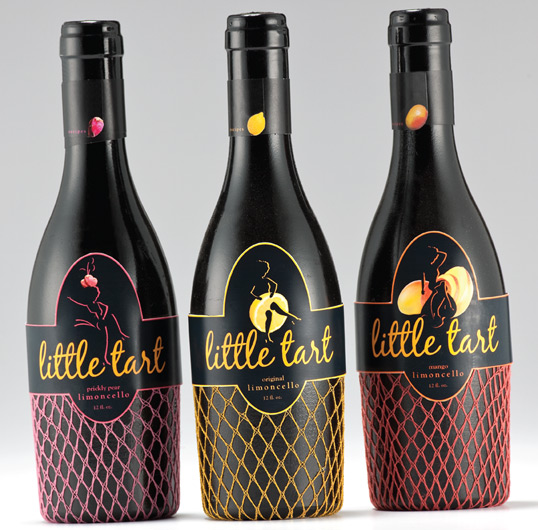 Designed by Stephanie Rachmeler | Country: United States
"Little Tart is flavored limoncello with a little sass; the tagline is "Not all girls are made of sugar and spice. Some are a little tart." It comes in 3 flavors: Original (Cancan dancer), Mango (Jazz lounge singer) and Prickly Pear (Vegas showgirl). Peel the label off the neck to reveal cocktail recipes."
August 17, 2009 | 3 Comments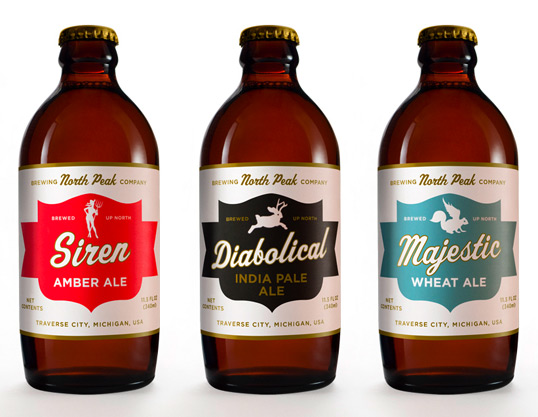 Designed by Neatly Trimmed Beard | Country: United States
"Northern United Brewing Company, owners of the two most successful brew pubs in Michigan, North Peak and Grizzly Peak, is making its beer available in stores for the first time. North Peak in six packs of 12 oz stubby bottles. Grizzly Peak in 22 oz high gravity singles — macro micros. The brewpubs themselves have kind of an old timey log cabin vibe. So we tried to make something that wouldn't look out of place among the classics – the beers from back in the day. Simple. Clean. Midwestern."