June 16, 2009 | 12 Comments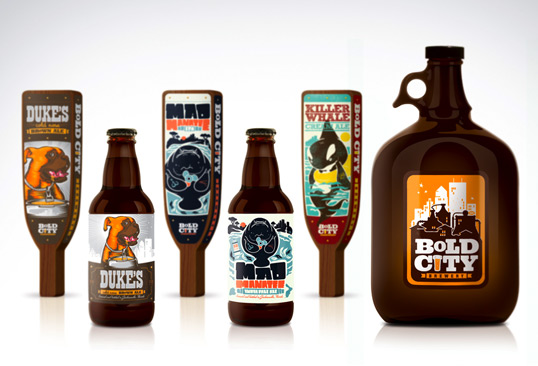 Designed by The Robin Shepherd Group | Country: United States
"In the fall of 2008, Jacksonville, Florida-based Bold City Brewery opened its doors to a community of thirsty beer connoisseurs without a local brew to call their own.
Headed by a mother-son team, Bold City sought a look that would bring character and identity to their selection of brews—as well as tie the beer to its hometown.
June 14, 2009 | 2 Comments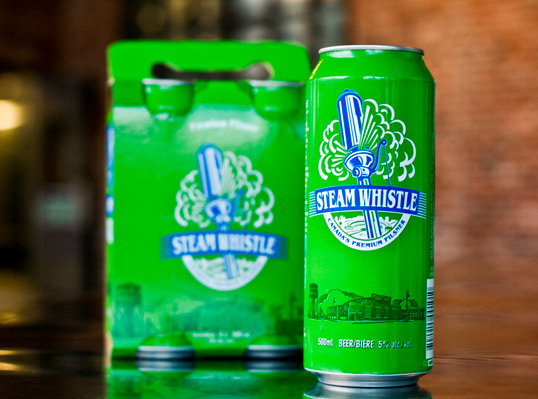 Designed by Steam Whistle Brewing | Country: Canada
"To extend the microbrewery's brand to a new package – 500 ml cans – to be sold across Canada in single units, retro styled 4 packs (with handle) and 24 packs (with easy-tear zipper that turns into display trays)."
June 10, 2009 | No Comments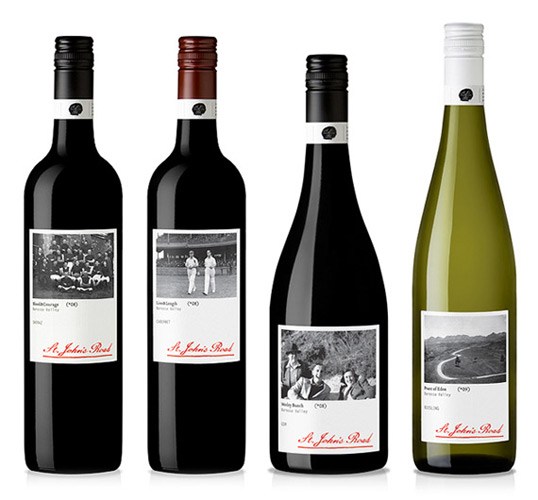 Designed by Mash | Country: Australia
Beautiful new work for Australia's St. John's Road sent to us from Mash.
June 8, 2009 | 10 Comments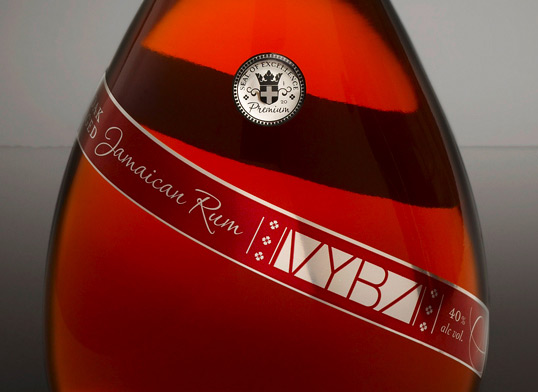 Designed by Project 13 | Country: United States
"Launching hits that are popular in the club scene is pretty sweet and all, but until you've launched your own branded non-music product, you haven't really made it in the music business.
That's why Adidja Palmer, known in the Jamaican dancehall world as Vybz Kartel, went into the rum business. Well, that, and having your own line of premium handcrafted rums is pretty damn cool.
June 4, 2009 | 1 Comment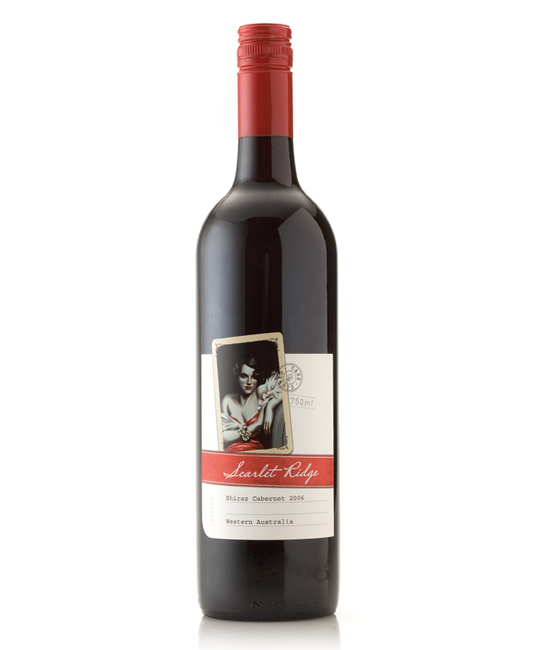 Designed by brainCELLS | Country: Australia | Fonts used: Courier, FF Trixie, Adobe Garmond, FF Dot Matrix, Miss Robertson
"If Scarlet Ridge wasn't a place, but a woman, what sort of woman would she be? Would she be a pin-up girl, a journalist, a seductress, a murderer?
The Scarlet Ridge wine label from Western Australia's Harvey River Bridge Wines brings the story of Scarlet Ridge to life. The concept is derived from Miss Scarlet a fictional character from the board game Cluedo and telling her story through a range of wine labels. Each label will uncover a new aspect of Miss Scarlet's personality like buidling a detectives suspect profile. The design of the label reflects this in its use of imagery and typography.
The label is printed on Fasson Estate 8 paper stock with a rolled laid texture, high build clear varnish to the playing card and a high build red silkscreen for the words 'Scarlet Ridge'."
Illustrations: Malcolm Lindsay @ Scribbles Illustration Studio.
June 2, 2009 | No Comments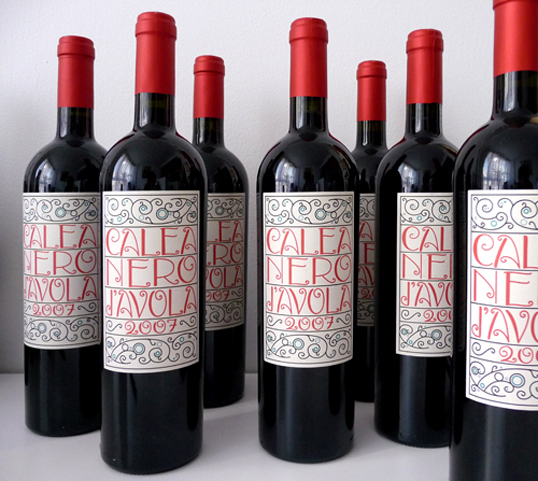 Art Direction: Louise Fili, Design & Lettering: Jessica Hische for Louise Fili Ltd. | Country: United States
Beautiful wine label design featuring ornate handlettering & illustration. Lovely!
May 30, 2009 | 1 Comment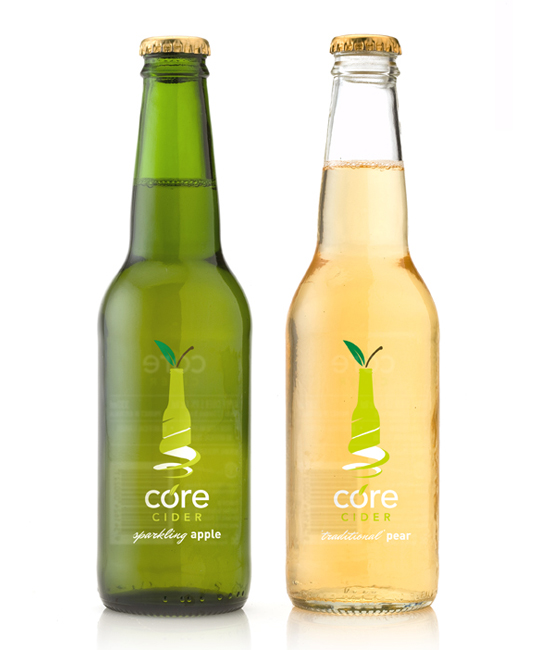 Designed by brainCELLS | Country: Australia | Fonts: Avenir, FF DIN, Mr Dafoe
"Core Cider is the latest product from the High Vale orchard in the foothills surround Perth, Western Australia. Core Cider contains no artificial colours or flavours and is made from organic apples grown on the High Vale farm.
The pure nature of the product lent itself to a clean, simple and sophisticated label design that would showcase the product. With this look in mind, a transparent 'clear on clear 'label stock was chosen and printed with 5 spot inks and a white silk-screen.
Core Cider will  be available from  all good bottle shops and available from the High Vale cellar door from  mid-2009."
May 28, 2009 | 1 Comment
Designed by Jordan Jelev | Country: Bulgaria
"Rousse Reserve wanted to look like classic vintage label. I have made custom calligraphy for the brandname and used strange form of the label in order to remind of torn page of an old book."
May 27, 2009 | No Comments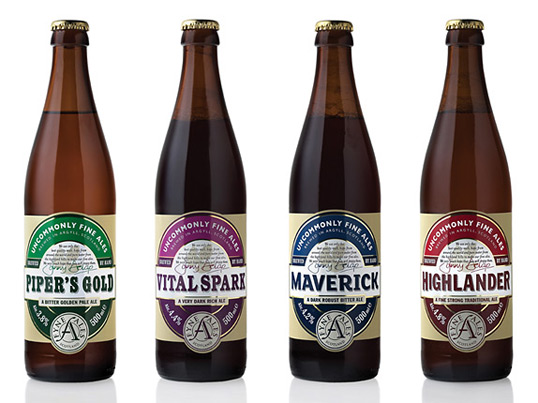 Designed by Good | Country: United Kingdom
"Fyne Ales at the head of Loch Fyne is what you might call a cottage industry. Started by Jonny Delap and his wife Tuggy, the brewery has grown up in their former farm buildings. Award winning and sought after by those in the know, the only thing holding it back was its presentation. We created a strong family theme, which is colourful but straight -forward, like the team behind these great beers, but the real personality lay in the fun you can have doing Sweet F.A."
May 26, 2009 | 9 Comments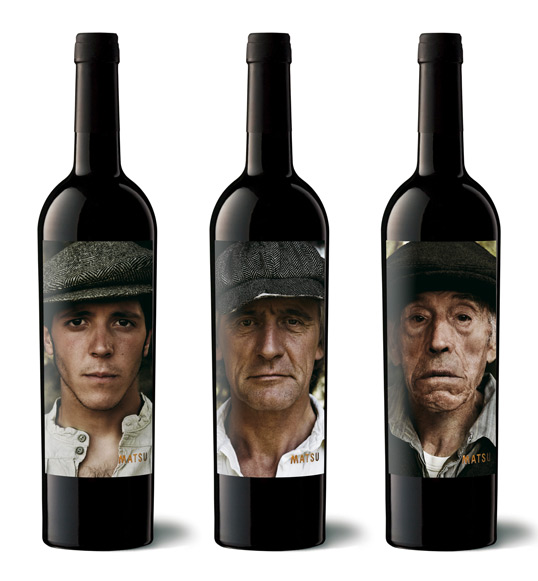 Designed by Moruba | Country: Spain
"Moruba has created the branding and packaging for Matsu, an organic winery from the Toro D.O. Matsu is a modern a project for sustainable viticulture that brings together a unique collection of high expression wines.
The solution adopted is faithful to Matsu's philosophy, his image has been stripped from all sorts of tricks to link directly with nature and with the people who cares about it. Thus, the Matsu's wine triology, 'El Pícaro', 'El Recio' and 'El Viejo' are represented by a portraits series of three generations that devote their lives to the field. Each one personality's embodies the characteristics of the wine that gets its name.
The renowned photographers, Bèla Adler and Salvador Fresneda, have been chosen by Moruba for the portraits realisation that brings life to the characters of Matsu."