August 9, 2012 | No Comments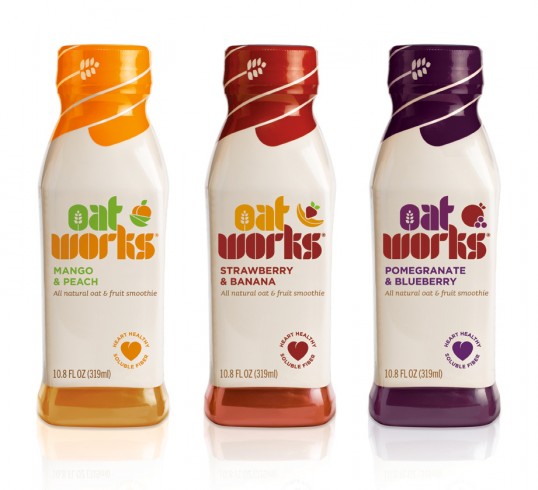 Designed by Pearlfisher | Country: United States
"The design for Oat Works uses vibrant color to reinforce the ingredients in each variant and emphasize the great taste cues. The background pack color is a beige tone to highlight the core oat benefits of the brand. Similarly, the oat is championed in the 'O' of the Oat Works identity and on the bottle top packaging. The ingredients of each variant are also brought to life through shapes inspired by the contours of oats. The heart icon on the front of the pack draws attention to the natural and heart healthy properties of the product, providing consumers with the information they need to know about Oat Works' health benefits.
Tess Wicksteed, Strategy Director at Pearlfisher comments, "Our task was to take oats to the next level, showing that Oat Works delivers all of the benefits but none of the bores. The design moves away from current oat cliches, using bold, rich and modern typography. We have communicated the smoothness and taste of Oat Works through vibrant fruity colors and icons that reflect flavor. A future focused design for next generation oats!" 
August 8, 2012 | 5 Comments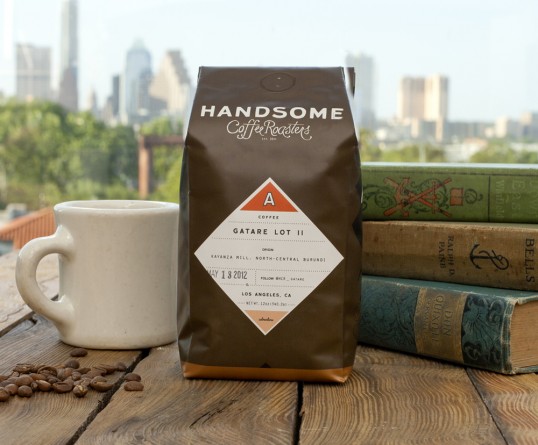 Designed by PTARMAK | Country: United States
"Handsome needed a robust label system and an all purpose bag that could serve as its backdrop. " We were briefed that Handsome intended to have two lines of coffees: Comfort and Adventure. Each line would have coffees and espressos, and each line (and its category) needed to be immediately recognizable. We employed color, shape and a little figure ground to differentiate between the lines and categories. The color system was developed loosely around a 1940's craftsman—workshirt blue, denim, utility orange, metallic copper, crisp white, no-nonsense black and a rich black-brown… in honor of the coffee." Continue…
August 7, 2012 | No Comments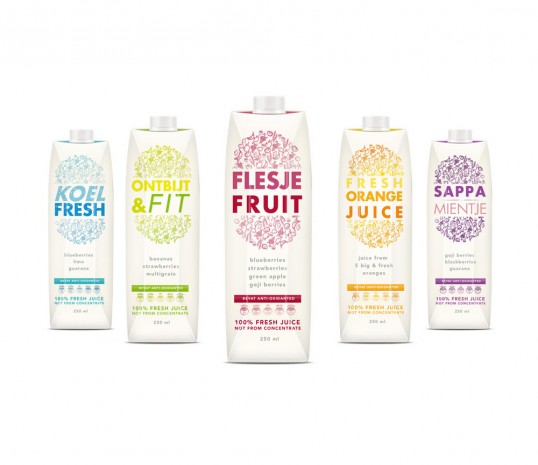 Designed by Dot Kite | Country: The Netherlands
"Koel Fresh is a new brand based in The Netherlands. Dot Kite | Lab developed several concepts for the new packaging of the fresh juices. The final design be distributed in The Netherlands, Belgium and Luxembourg."
June 27, 2012 | 4 Comments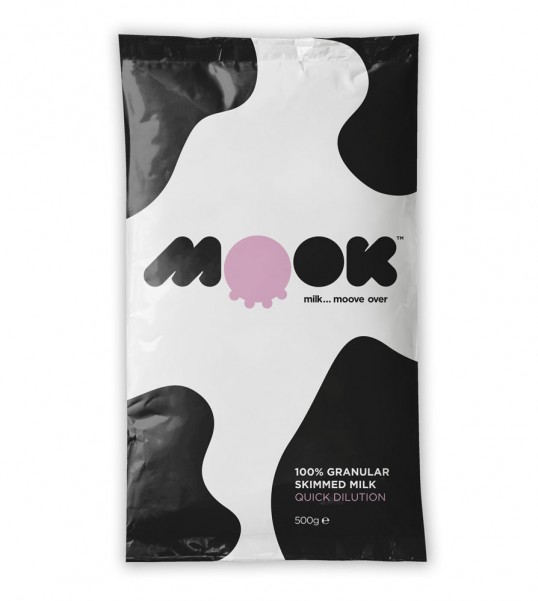 Designed by Hello | Country: United Kingdom
"Mook is a powdered milk product used by caterers. We were briefed to produce a quirky, humorous brand to stand out from the crowd."
June 24, 2012 | 1 Comment
Designed by Senyor Estudi | Country: Spain
"ES Poma ("apple is" in catalan) is a mistela elaborated with Grenache from the Emporda and apple  juice from Girona. Pep Nogué and La Vinyeta, apple and Grenache, Girona  and Empordà. Like two pieces of a puzzle, this is a mistela of fusions. Wood types printed in green and orange are overprinted."
June 21, 2012 | 2 Comments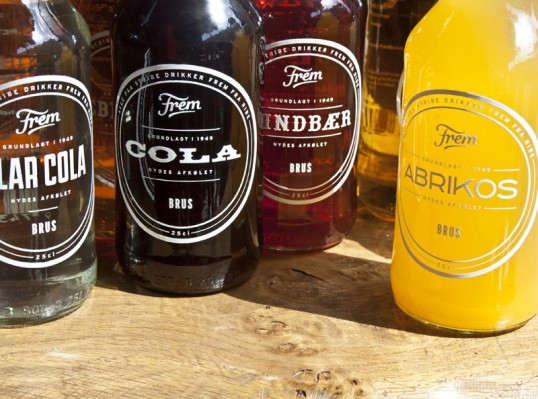 Designed by Jonathan Faust | Country: Denmark
"A packaging redesign of "Frem" which is a Danish soft drink company. I designed twelve unique bottles and some extra packaging just to show how their full identity could come to life. Ferm was established in 1949 and I have focused on their history, craftsmanship and authenticity. All the typography is hand drawn and the labels are white paint directly on the bottle – reveal rather than hide. The twelve display fonts are made from associations, cliches, shapes and so on. Raspberry and pear are for instance inspired by the shape of the fruit/berry and cola is an American cliche with a typical western wood type."
June 20, 2012 | No Comments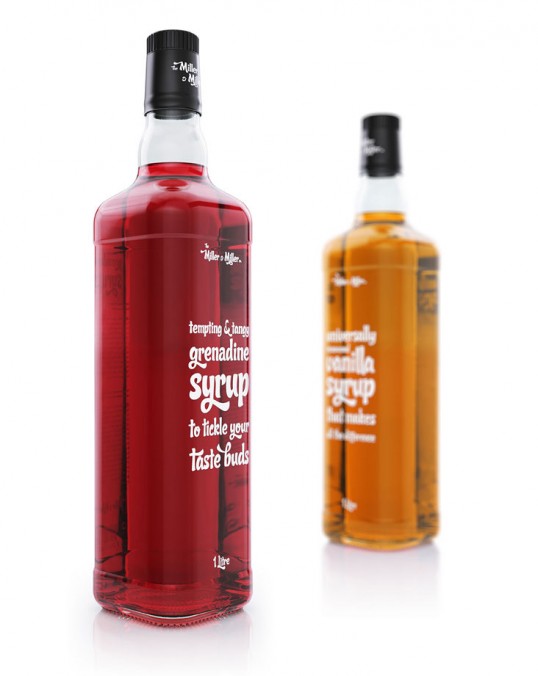 Designed by F26 Studio | Country: Russia
"F26 Studio has freshly developed a new line of packaging for the Russian foods producer Miller & Miller. The new line of syrups consists of 17 flavours, with more than 20 to come until the end of the year.
The concept behind our new production is based on the beauty of the English phrasing and on these special emotions one shares through savouring a certain syrup. Our best tongues have  tested and summoned up their inspirations in the shape of written symbols. The common impact of this design is straightforward with a curly look. Roll it on the tip of your tongue to sweeten your senses. Enjoy."
June 18, 2012 | 14 Comments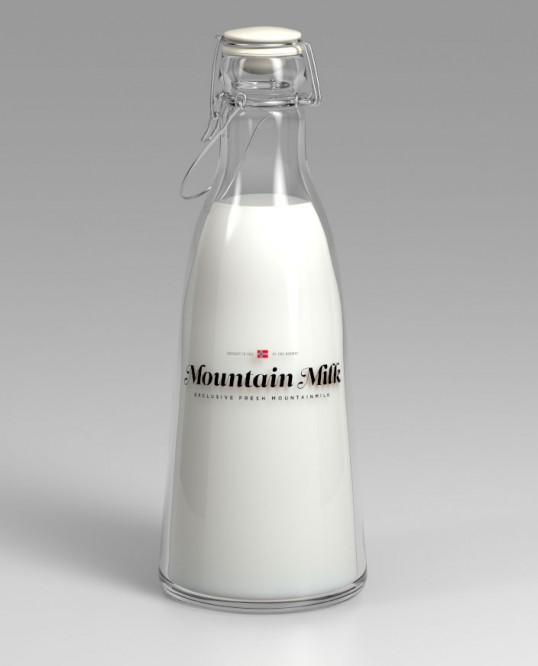 Designed by Anders Drage | Country: Norway
"I love milk.
But unfortunately milk never tastes the same outside Norway. I needed to make my self a problem I could solve. I wanted to make norwegian milk available outside of Norway, but I love the packaging design of high-end alcohol products. The brand Voss have had great success with their norwegian water internationally, so why not make an exclusive norwegian milk?
So how would a exclusive milk from the mountains of Norway look like, if it was to be sold internationally? The solution gives you a warm and good vintage feeling, while maintaining the exclusive look. The typeface that "Mountain Milk" is set in reflects the roots of Norway, and the image that is revealed after you've had a glass gives you a picture of the nature in Norway."
June 12, 2012 | No Comments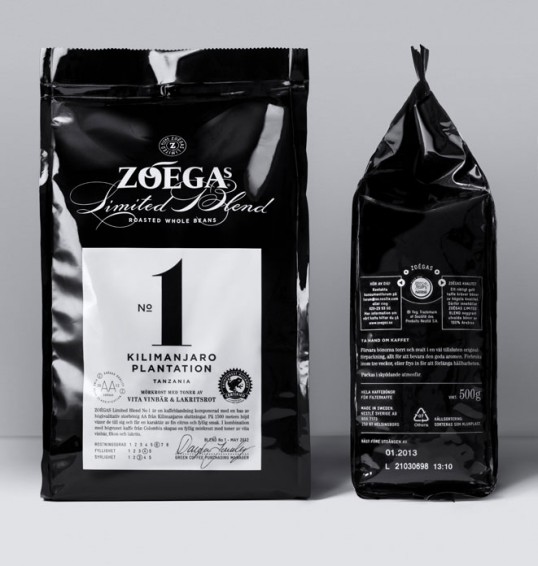 Designed by DDB Stockholm | Country: Sweden
"Zoégas is a Swedish coffee company founded in the 1800s, that specialises in dark roasted coffee.
Limited Blend No. 1 from Tanzania is the first edition of a limited series roasted whole beans from around the world. The design is created to stand out among competitors, generate interest as a limited edition premium series, and enhance Zoégas position as the best in knowledge and development of new blends and compositions."
June 8, 2012 | 3 Comments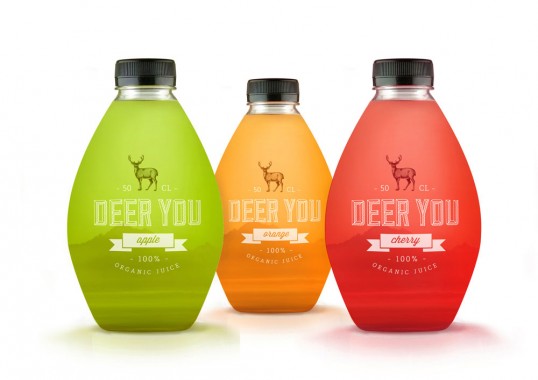 Designed by Mara Rodriguez | Country: Spain
"Deer You is a new honest brand based on an organic cultive that keep the natural properties of our fruit and save it from pollution and synthetic ingredients.
Deer You, a real and reliable fruit juice.
The brand as an stamp, tries to give quality to the product, but with a nowadays style, cause we don't want it to be an old fashion juice. Also the mountains on the background gives to Deer You Organic Juice a different and atractive feeling. The bootle tries to represent a canteen bottle, which people used to carry to adventure trips, or to a cabin in the middle of nowhere, so it help us to transport our minds to a fresher air place."