September 8, 2011 | 3 Comments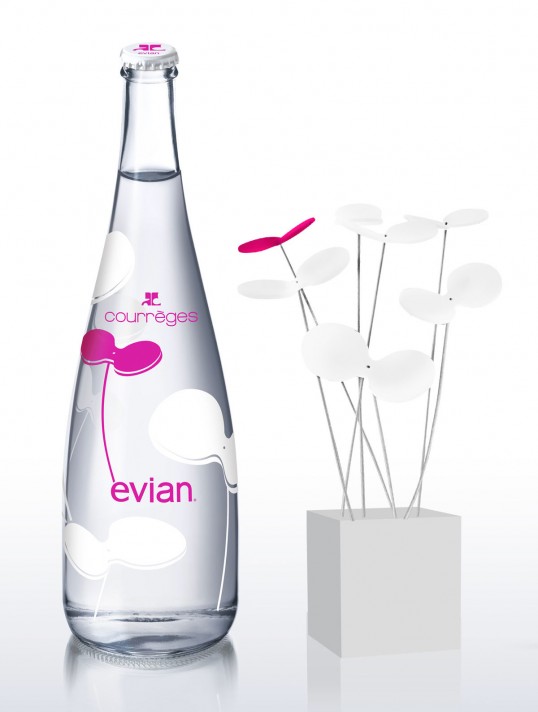 Designed by House of Courrèges | Country: France | Buy it
"This design combines evian's free-minded spirit with the House of Courrèges' nonconventional creativity.
Courrèges, approaching the eve of its 50-year anniversary, is known for pioneering key trends though the decades, from having discovered pants for women in 1963 to starting the mini-skirt revolution. The house of Courrèges is driven by the will to free women from the classical conventions of fashion by developing new forms, implementing new materials and using vibrant colors.
The evian bottle by Courrèges, launching globally September 8, features the design house's elegant white and pink emblematic flower (introduced in 1967) on the backdrop of evian's iconic glass bottle silhouette. Printed with organic ink for the first time, the bottle is composed of 100% recyclable packaging.
To celebrate its launch in conjunction with Fashion's Night Out, evian will be introducing the bottle at Jeffrey New York and Courrèges, 40 Rue François 1er, Paris, where the design will be on display."
September 2, 2011 | 2 Comments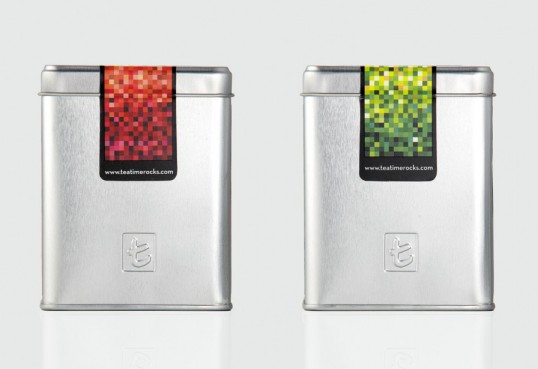 Designed by Manic Design | Country: Singapore
"We worked with long-time client Dilmah Tea to design a new look for the t-Series range of some 40-plus teas. Each label features its own unique brewed leaves infused on a block-colour background. The result is a vibrant collection of tins, all with their own matching sticker seals and unique tea quotes."
August 5, 2011 | 2 Comments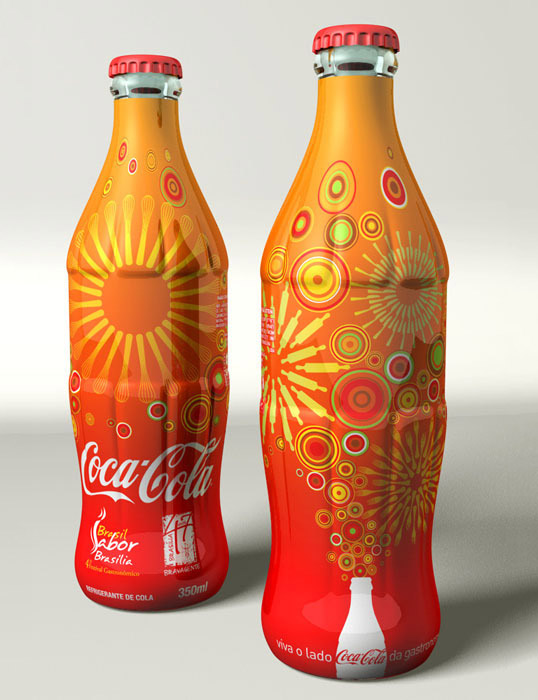 Designed by Fernando Malta | Country: Brazil
"Special Edition Bottle Sleeve for the event 4º Gastronomic Festival of Brasilia 2007. Pattern and Color Code based on kitchen utensils and food elements. A serie of bottles.
This project was designed as a Senior Designer at Oz Design."
July 20, 2011 | 5 Comments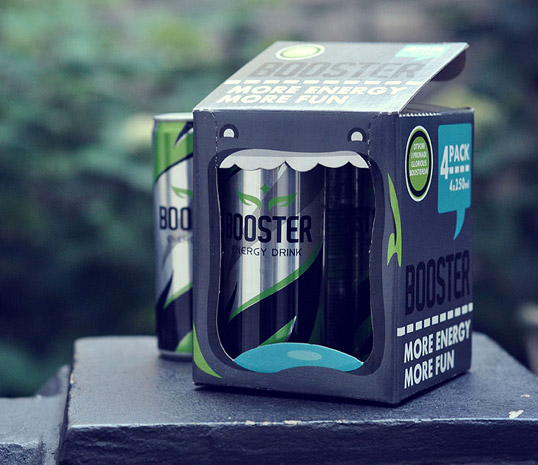 Designed by Saatchi & Saatchi Belgrade | Country: Serbia
"Packaging created for Booster Energy Drink in serbia as follow up to the accompanying advertising campaign. 'more energy – more fun'. The box is made from cardboard simple to keep production costs low and make them easy to manufacture. The design was kept simple by only using a few colours which also helped reduce printing costs."
July 12, 2011 | 1 Comment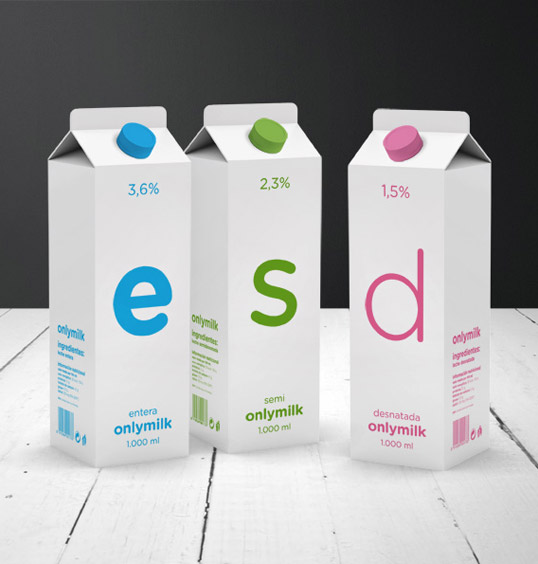 Designed by Pau Puig Vázquez | Country: Spain
"In a market as saturated as the milk, comes Onlymilk, a new brand with the intention communicate the purity of milk. An all white package with only the necessary information highlighting the various types of milk."
July 12, 2011 | 4 Comments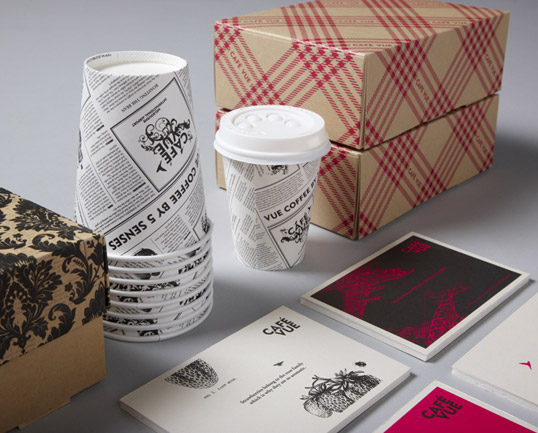 Designed by Designworks | Country: Australia
"Designworks has had the privilege of helping develop the growing Vue de Monde family of brands, extending from the initial restaurant's humble beginnings seven years ago, through a series of successful culinary based enterprises including their three cafe's. Designworks were set the brief to develop a distinct Cafe Vue identity and eyecatching packaging that sat within the current Vue de Monde family. By referencing a french modern chic aesthetic, the new brand needed to compliment the cafe's new location, architecture and interior finishings. The result was a Marie Antoinette inspired neon pink pattern with decorative elements. Bespoke menus and Cafe Vue lunch boxes were created in a similar style."
July 8, 2011 | 4 Comments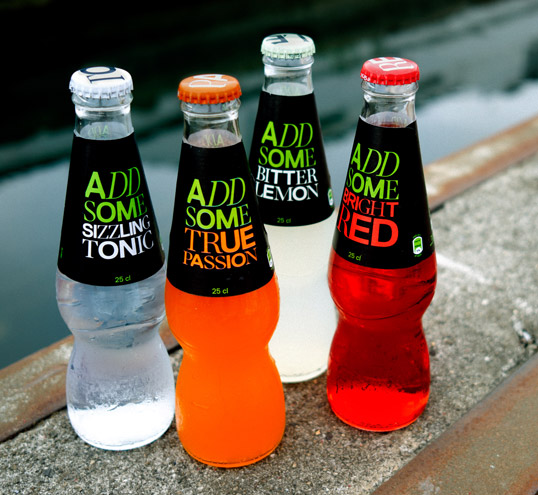 Designed by Designit | Country: Denmark
"The brief was to take their existing product, which was very old and outdated and give it a modern look and feel so bar owners would be proud to have the product in their bar."
July 5, 2011 | 1 Comment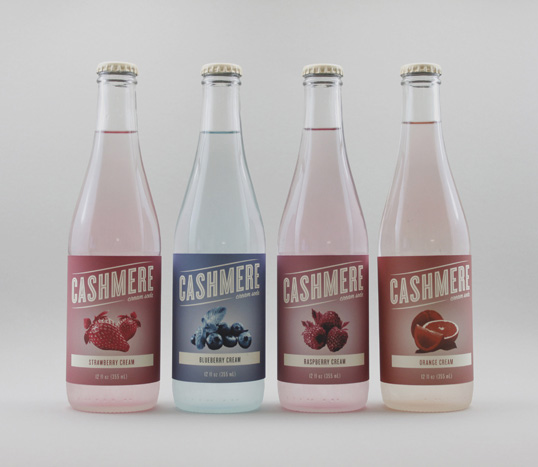 Designed by Marry Tonnu | Country: United States
"Package Design for Cashmere Cream Soda, a gourmet cream soda company looking for a refreshing design that would appeal to a large demographic. These soda's come in a variety of flavors. The colors used throughout the design are meant to represent to flavor of the soda; a delicious fruit paired with vanilla."
July 5, 2011 | 2 Comments
Designed by JJAAKK Design | Country: United States
"Identity and packaging redesign for a line of all-natural, carbonated fruit juice beverages. A bold and refreshing drink without the typical added sugars and other junk, the design neatly tells the whole story: bubbles and fruit are all you need."
June 11, 2011 | No Comments
Designed by Dustin Borowski | Country: Canada
"Sedo Tea is a fictional tea company dedicated to providing high quality, authentic taste to its patrons. The name Sedo is Latin for "to calm". I created an illustrative logo with a rugged hand-made feel with offset colors that could be used over a large number of flavours and still keep a consistent feel. On each package there is a different traditional Indian textile that coincides with it's flavour of tea."