July 8, 2011 | 4 Comments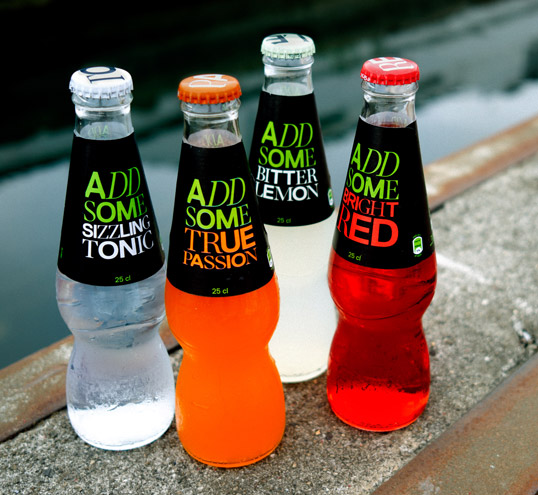 Designed by Designit | Country: Denmark
"The brief was to take their existing product, which was very old and outdated and give it a modern look and feel so bar owners would be proud to have the product in their bar."
July 5, 2011 | 1 Comment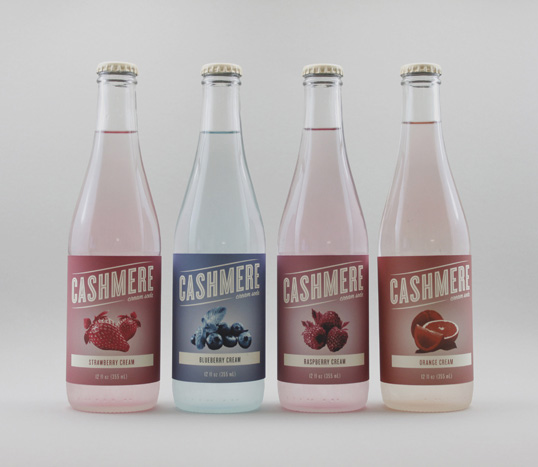 Designed by Marry Tonnu | Country: United States
"Package Design for Cashmere Cream Soda, a gourmet cream soda company looking for a refreshing design that would appeal to a large demographic. These soda's come in a variety of flavors. The colors used throughout the design are meant to represent to flavor of the soda; a delicious fruit paired with vanilla."
July 5, 2011 | 2 Comments
Designed by JJAAKK Design | Country: United States
"Identity and packaging redesign for a line of all-natural, carbonated fruit juice beverages. A bold and refreshing drink without the typical added sugars and other junk, the design neatly tells the whole story: bubbles and fruit are all you need."
June 11, 2011 | No Comments
Designed by Dustin Borowski | Country: Canada
"Sedo Tea is a fictional tea company dedicated to providing high quality, authentic taste to its patrons. The name Sedo is Latin for "to calm". I created an illustrative logo with a rugged hand-made feel with offset colors that could be used over a large number of flavours and still keep a consistent feel. On each package there is a different traditional Indian textile that coincides with it's flavour of tea."
June 10, 2011 | 1 Comment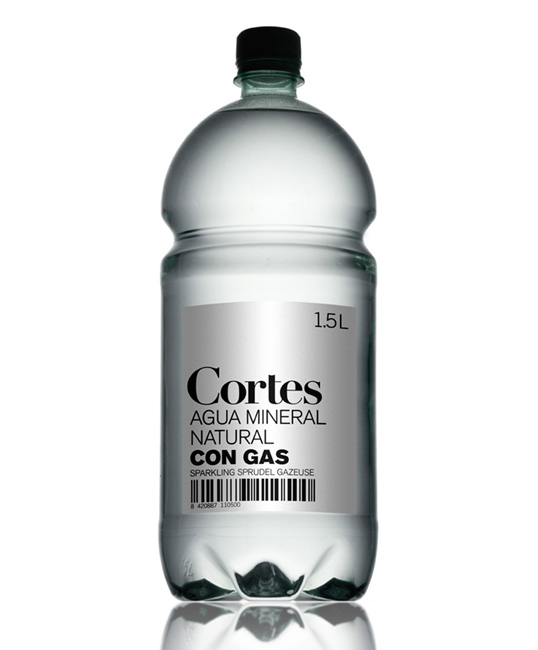 Designed by Lavernia & Cienfuegos | Country: Spain
"Packaging for sparkling mineral water. Agua de Cortes. 2011
The 1.5 litre bottle is the result of bringing together all the means of optimizing it for the size of the palette. The typographic solution helps differentiate the pack from its competitors and the unusual white background is used for both the label and the 6 bottle pack."
June 9, 2011 | 2 Comments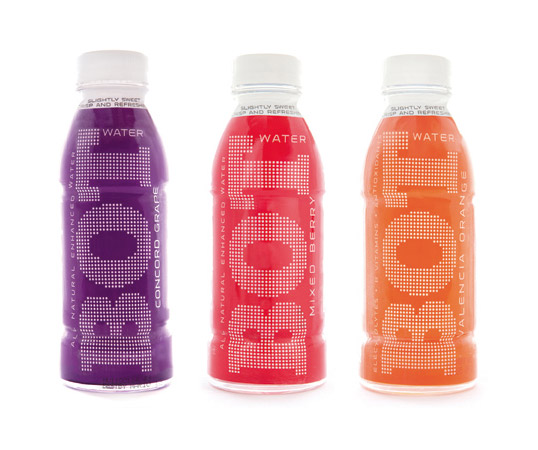 Designed by TDA | Country: United States
"New packaging for enhanced water Bot marks the brand's relaunch as an adult-targeted beverage. The new look is by advertising/design agency TDA.
The new brand identity is characterized by a prominent, white dot pattern, intended to appear modern, friendly and light. Super-primary color blocking (green, orange, blue, red, yellow, purple) across the different flavors aims to create a strong shelf presence. In their previous design format, the bottles shared a common white background, with different colored type and different kids' characters for the different flavors.
Bot was introduced in 2007 as a kids' beverage, with marketing targeted to moms. It is a slightly sweet, low calorie, flavored water with all-natural ingredients (no HFCS, no dyes) and enhanced with vitamins and minerals. The drink proved popular with adults and will now be targeted to health-minded adults, 18 – 34. The formula is unchanged."
June 7, 2011 | No Comments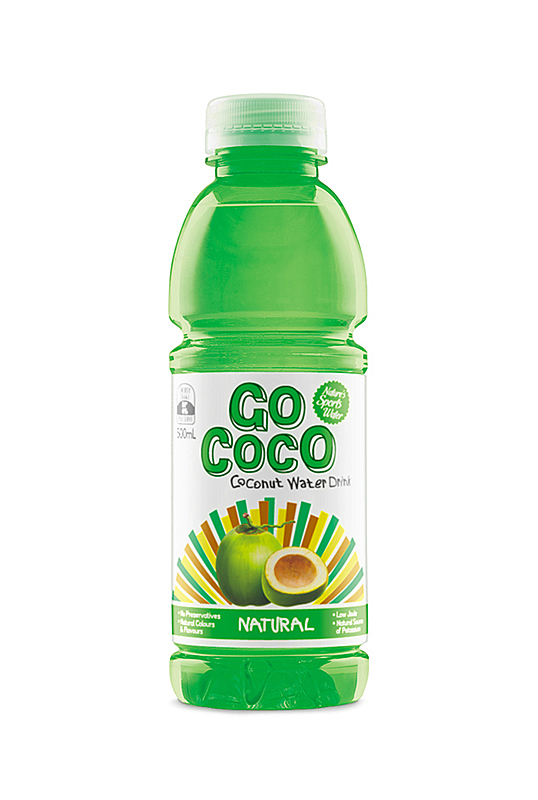 Designed by War Design | Country: Australia
Fun, upbeat label design from War Design for Go CoCo. "Nothing sings summer like P&N Beverages new coconut flavoured water, Go CoCo. We had a ball imagining ourselves sitting on a tropical beach whilst designing the identity and packaging."
June 3, 2011 | 5 Comments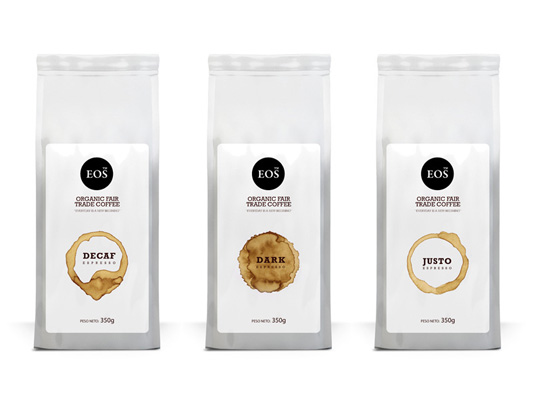 Designed by Noem9 Studio | Country: Spain
"The alarm might go off at 5:00 a.m., but the day doesn't start until the French press offers up that nutty cup of morning fuel. From the first sip, the discerning coffee drinker knows that no matter what the day holds, she's ready for it now.
Even better, she knows that she can face the world in good conscience: grown organically, distributed via fair trade and in packaging meant to reduce its carbon footprint. Eos represents the sensibilities of an enlightened, modern international food company – even its name (the Greek goddess of dawn) suggests a new beginning. With a nod to simple design elements and exotic roasts, the brand stands out for its flavor, not for fancy packaging."
May 31, 2011 | 7 Comments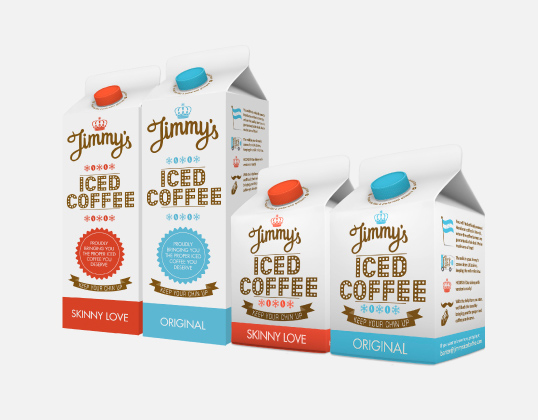 Designed by Interabang | Country: United Kingdom
"Jimmy's mission is to bring proper off-the-shelf iced coffee to the people of the United Kingdom and beyond. Launched in Selfridges and Harvey Nichols then rolled out across the UK's supermarkets, shops and festivals."
May 27, 2011 | 4 Comments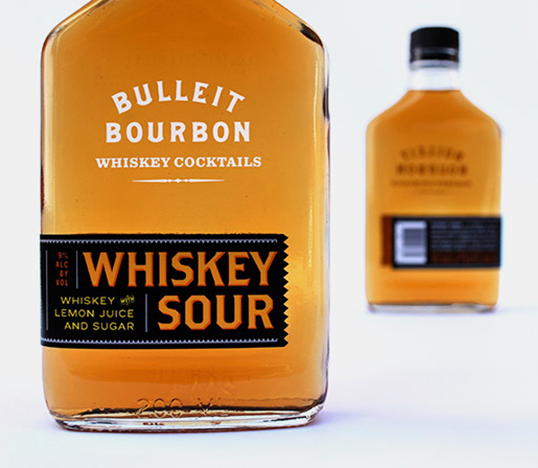 Designed by Nathan Godding | Country: United States
"I created a line of ready to drink whiskey sours from Bulleit Bourbon. I also designed a jug of non-alcoholic sour mix to compliment this new brand extension. I used elements from the original Bulleit packaging such as a wrap-around label and decorative borders to aid in brand recognition, while eclectic typography references the rich history of bourbon whiskey… but with a modern twist."