May 25, 2011 | 2 Comments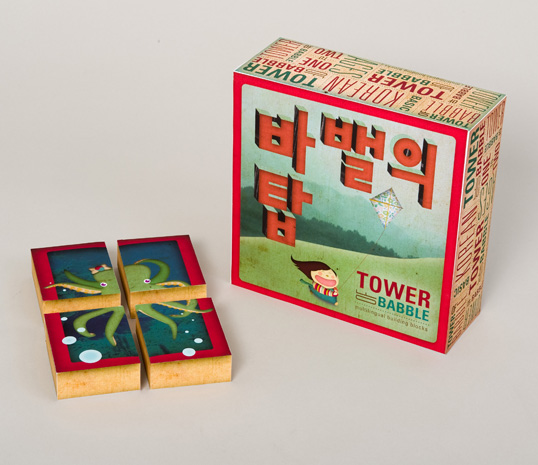 Designed by Monica O | Country: United States
"This assignment was to create a game called Tower of Babble which is a building block game for a language of our choice. I decided to choose Basic Korean for children ages 1-2 that requires them to put these blocks together to form an image. Once it is done, you flip the game pieces to find the corresponding word in Korean and the English translation. I chose to illustrate kid-friendly illustrations and chose a color palette that references the Korean flag."
May 23, 2011 | 1 Comment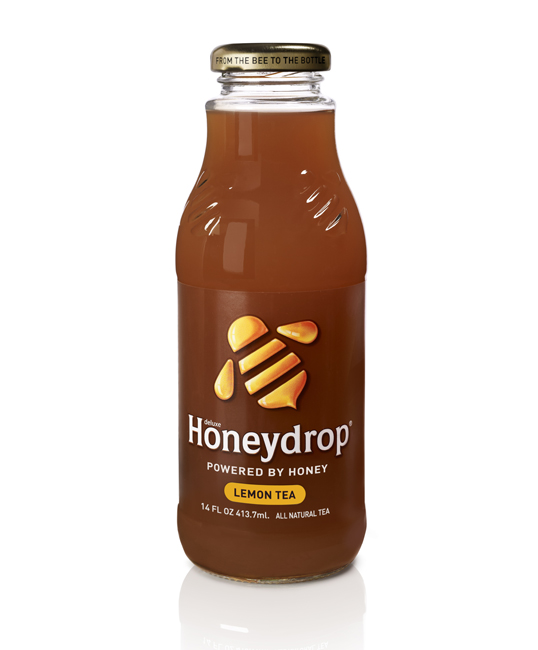 Designed by Monday Collective | Country: United States
"After two years on the market, Honeydrop realized it needed to simplify its messages. Its central brand concept – the only ready to drink brewed tea and juice sweetened solely with real honey – needed to be expressed in a way that connects with the natural beverage consumer, while differentiating within an overcrowded and fast growing natural beverage category. A new custom designed glass bottle gives Honeydrop a more natural and premium feel; a clear label allows for product transparency; a bee icon redesigned to have more character and look like real honey; a simple system for range differentiation; and new copy including "from the bee to the bottle". All of which sends a clear, unified message that Honeydrop is made with real honey."
May 10, 2011 | 8 Comments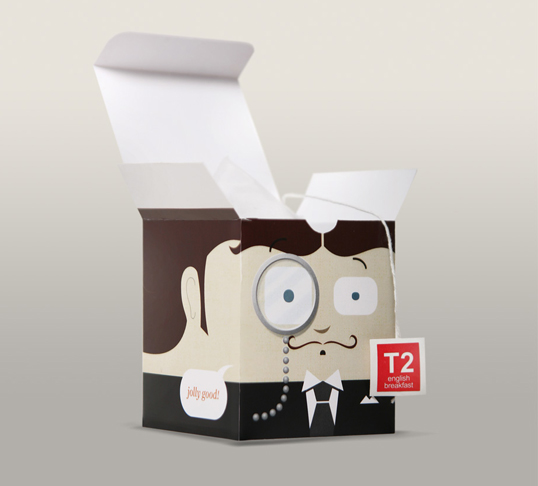 Designed by Grain Creative | Country: Australia
"As part of Grain Creative's 2011 new business plan we brainstormed what type of gift we could send out to potential new business clients. We understand how busy a working day can be so our objective was to find a way to introduce ourselves to these potential clients in less than five minutes. Using a selection of tea from T2 we created four individual tea boxes and personified them to reflect the names of the following popular flavours of tea: Gorgeous Geisha, English Breakfast, Chai and French Earl Grey. Each box holds a few tea bags and a small scroll showing images of recently completed work with an invitation to 'sit down for 5 minutes with a cup of tea and learn more about us'."
May 8, 2011 | 3 Comments
Designed by Robinsson Cravents | Country: Colombia
"A new pizza brand where I designed the visual identity. My inspiration was the colour of traditional pizzeria ingredients such as cheese, tomato, peppers, salami and also the classic pizza form itself."
April 24, 2011 | 3 Comments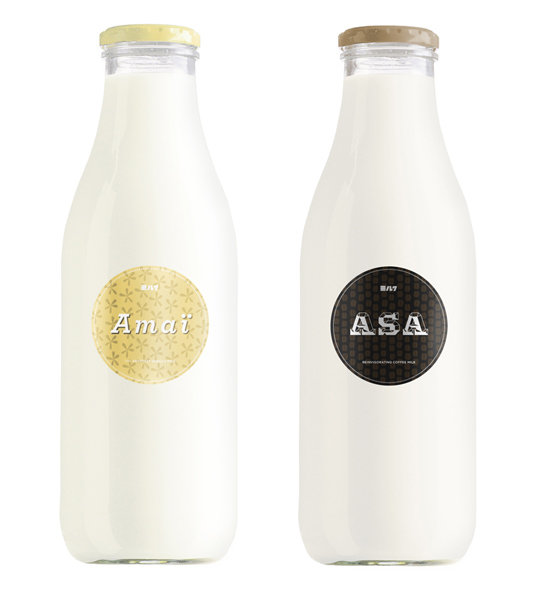 Designed by Michela Monterosso | Country: Italy
"I created a concept series of flavored milk with Japanese names. I imagined these bottles and cartons being sold in a cute artisan shop in Tokyo, maybe along with biscuits and teas.
I chose some Japanese words to represent the feeling of each milk. Amai (meaning sweet) for the vanilla one. Asa (meaning morning) for the coffee flavour milk. Shizuku (meaning drop) for strawberry. Midori (meaning green) for the green tea milk."
April 22, 2011 | 4 Comments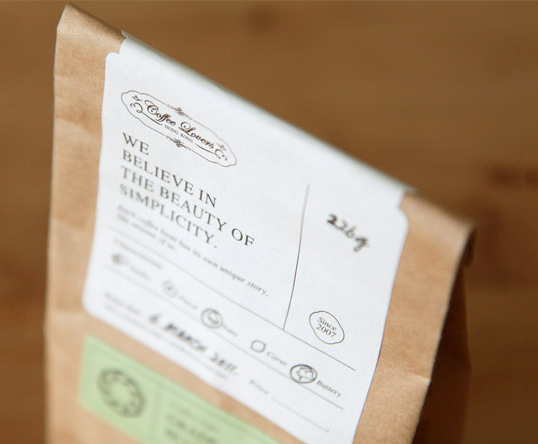 Designed by gardens&co. | Country: Hong Kong
"Coffee Lovers provides single origin coffee beans with its signature roast. We worked closely with the owner to re-develop the brand image from strategy, branding, packaging to website. After many hours of cupping, we brewed a unique packaging system to indicate the characters of different beans. At the same time, each type of coffee bean has its own symbol to visualize the favor. The selection of the design direction, colors and materials were based on the company philosophy – The Beauty of Simplicity. We tried to keep our marks as minimal as possible."
April 21, 2011 | 3 Comments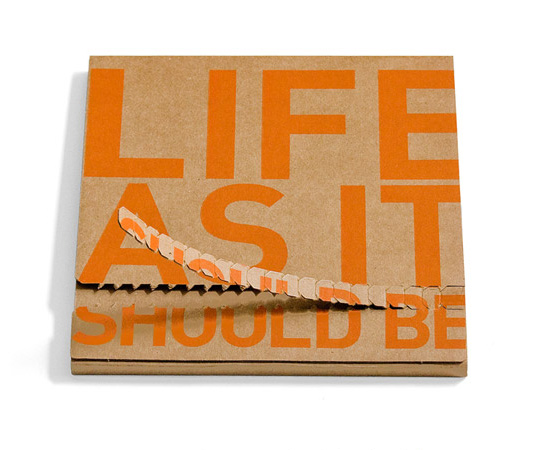 Designed by Wesley Thomas | Country: United States
"XANGO, a leading health and wellness company, needed a redesign of their Distributor Kit. At the same time they were looking to mature their brand but retain the essence of what made them stand apart. Clean lines and typography along with vibrant colors and emotive photography evoke the spirit of the tagline, "Life. As it Should Be." The cover sports an embossed logo and soft touch coating. The inside cover is also soft touch with a spot varnish pattern. The interior pages are printed on uncoated paper giving the entire piece a unique feel. This kit is often the first contact distributors/customers have with the company so it was important that the piece communicated the brand thoroughly to serve as a centerpiece."
April 3, 2011 | 2 Comments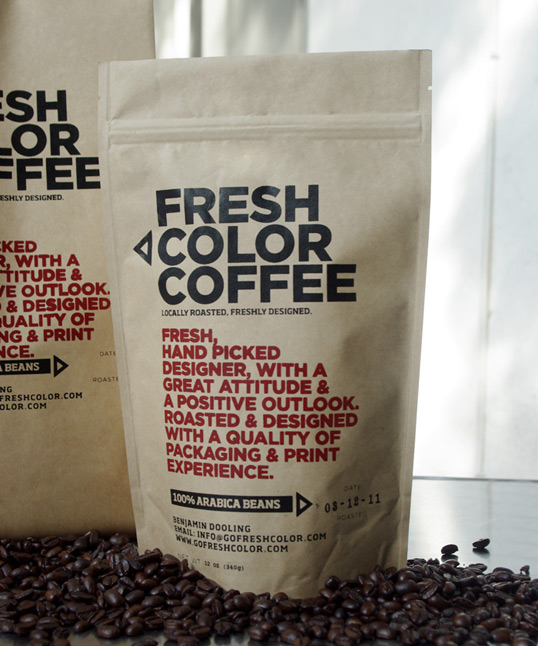 Designed by Benjamin Dooling | Country: United States | Fonts used: Gotham, Soho
"Designed and screen printed on kraft paper stand-up pPouches and gusseted bags filled with locally roasted coffee, with a message aimed at specific target audiences emphasizing on the skill set of typography, packaging and hands on creativity.
The design allows for placement of a "date roasted" area by using a traditional alphanumeric stamp giving a very custom and authentic effect on a carefully crafted bag.
Word play and large type throughout the packaging to reinforce portfolio and website theme of FreshColor (recently moved to benjamindooling.com).
Inside of the bag contains a small card reading "lets talk over a cup of coffee"."
March 30, 2011 | 4 Comments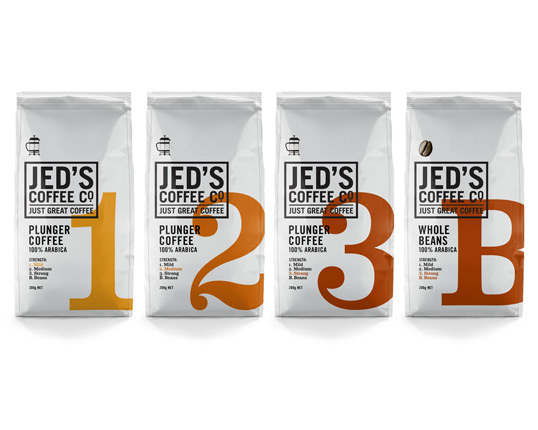 Designed by Shine | Country: New Zealand
"The mainstream coffee segment in New Zealand had the potential to be stimulated by an exciting new product that did not confine itself to the old category norms.
The opportunity was to demystify the Roast and Ground category by removing the coffee  jargon, be more open and informative to the consumer. Jed's Coffee Co. stands for Just Great Coffee.
Easy to follow design points you to plunger/filter or beans and takes you through the 3 easy steps in strength – mild, medium and strong.
With a clean, modern look, Jed's is designed to ping out on shelf in a heavily cluttered market."
March 28, 2011 | 3 Comments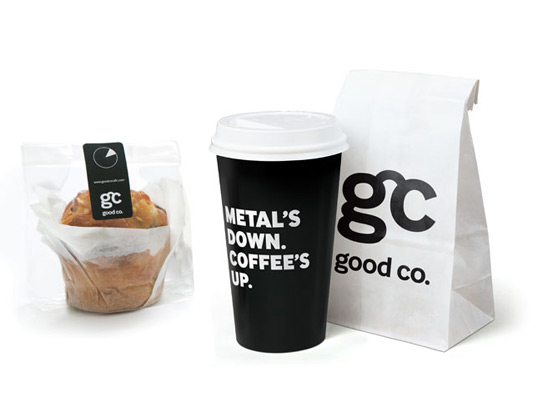 Designed by Landor | Country: Australia
"o give the brand its voice, we took inspiration from the shops' office-lobby locations and borrowed the corporate speak that a professional endures daily. The name we chose, Good Company Coffee, or Good Co. for short, is a dual play on the ideas of "being in good company" and "enjoying good coffee." Language plays an important role in the expression of the Good Co. brand, and through the use of double meanings and wordplay, we turned business jargon into dryly comedic, relevant commentary that also describes the varieties of coffee. The brand voice works in tandem with a black-and-white illustration–based visual style that similarly draws from corporate culture with infographics, iconography, stylized charts, and graphs. From the store environment, menus, packaging, and barista behavior—it all adds up to a strong and entertaining experience."