October 20, 2010 | 4 Comments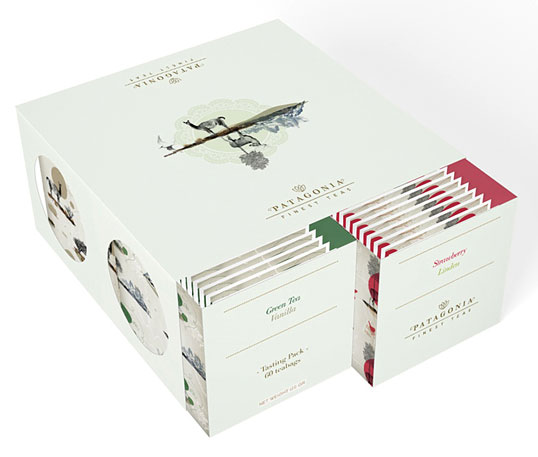 Designed by Valeria Moreiro | Country: Argentina
"The whole idea was to conceive a metaphor of the Argentine Patagonia, so that took me to propose four different collections representing our landscape: Mountains, Woodlands, Steppe and Shore. Each collection is also catalogued according to the blends: Montaña (mountain) includes the traditional teas from camellia sinensis, Bosque (woodland) contains the tisane infusions from dehydrated flowers and fruits; Estepa (steppe) is the collection for the flavored teas, and Costa (Shore) contains tisane infusions, but from traditional aromatic herbs.
The project also proposed additional packages to the actual brand behavior: individual envelopes for restaurants and spas, single blend packages, tasting packs, wooden chests, and point of purchase displays. The whole project also went beyond packaging including tea menus and advertising which can be seen in my online portfolio."
October 18, 2010 | 1 Comment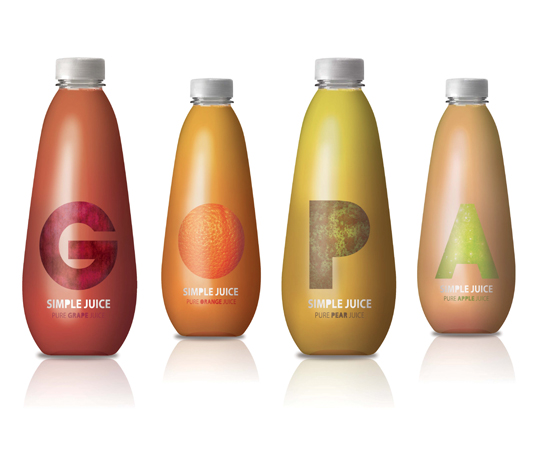 Designed by Clara Cabral de Sousa | Country: Spain
"The Simple Juice derives from the main idea of a pure pressed natural juice. In this particular project we developed the industrial and graphic design of the product. The softness and friendly form of the bottle versus the simplicity of the graphic aesthetics live in perfect harmony, leading the customer to a unique experience. You can differentiate each juice by the color of the fruits and the texture applied to the first letter of the fruit. This product line can be expanded and once you have enough packages (and therefore letters) you can create words with the bottles."
October 12, 2010 | No Comments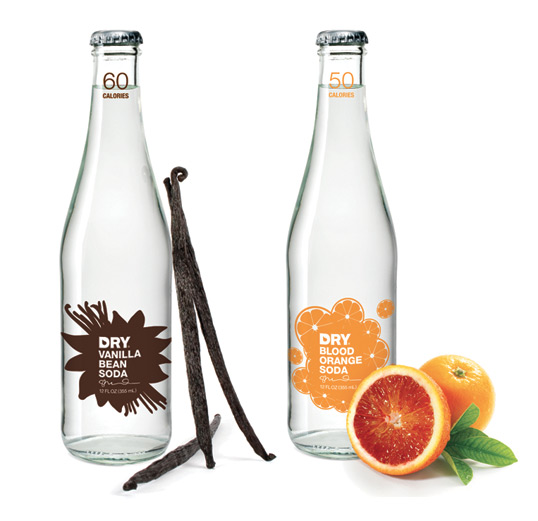 Designed by Turnstyle | Country: United States
"DRY Soda has introduced a fresh new packaging look with bold, graphic illustrations that pop the flavor on each bottle and 4-pack carrier. Clear bottles allow the purity of the product to show through and the founder's signature still on each bottle connotes a sense of craft behind each flavor's recipe."
October 12, 2010 | 1 Comment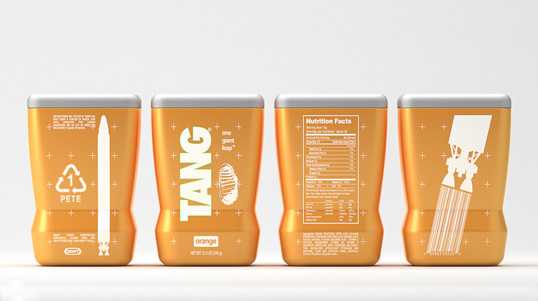 Designed by Streng | Country: United States
"Scope: Devise a consumer experience strategy to reintroduce the Tang brand in North America. Disrupt this market category. Design Research and Development must address the core user experience. Solutions must address packaging form, visual elements and retail presence. Concept development may also address formulation, platform and logistics process.
Brand Goal: Understand and quantify the potential customer through research and observation. Understand and design a Tang brand experience by leveraging key pillars of engaging delight, iconic presentation and state-of-the-art emotional insight in a designed user experience.
October 7, 2010 | 6 Comments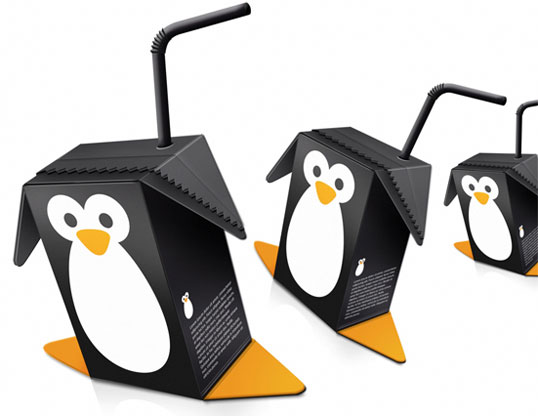 Designed by Mats Ottdal | Country: Norway
An adorable packaging concept for fruit juice using the form of the standard juice carton to create wings and feet for bird characters.
October 6, 2010 | No Comments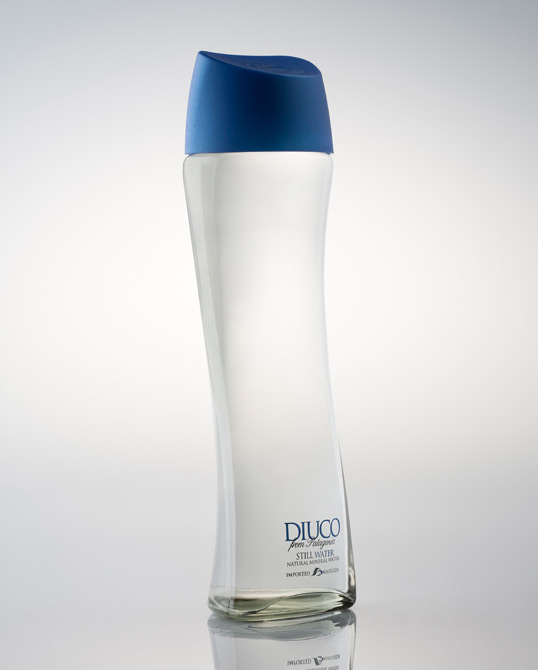 Designed by Plasmica Buro, Snail Studio & Wolk Design | Country:  Argentina
"Diuco from Patagonia is the perfect blend between the highest purity and innovative design. In order to fully represent our statement we needed to create not only a bottle that expresses purity and fluidity but also a mini fridge that would take the concept to the standard we wanted to. Simple lines inspired by nature. Diuco's mini fridge cools the bottle in 15 minutes to tasting temperature, allowing the customer to truly experience Patagonian Purity."
October 6, 2010 | No Comments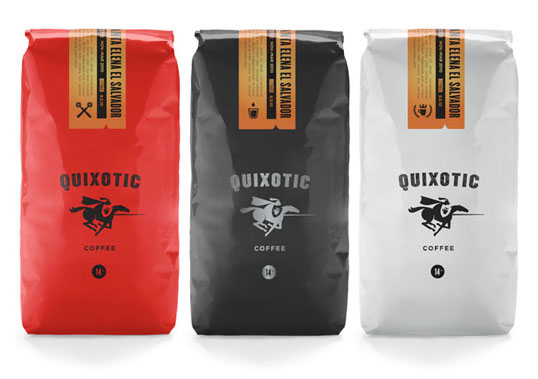 Designed by Studio Minneapolis | Country: United States
Simple type and logo driven packaging concepts using a bold range of colours to differentiate coffee types.
October 6, 2010 | No Comments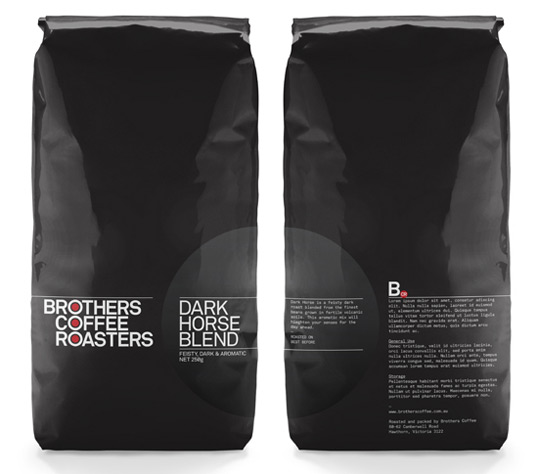 Designed by Verse | Country: Australia
"Coming from a science background, Nathan (the roaster behind Brothers Coffee Roasters) has approached roasting coffee with the same methodical reasoning as science. Using this as inspiration, the marque created for Brothers takes reference from the periodic table while the full logotype is inspired from the process of roasting the coffee. A whole range of 12 blends are in production, all featuring a different coloured circle on the packaging to appropriately represent the blend."
October 5, 2010 | No Comments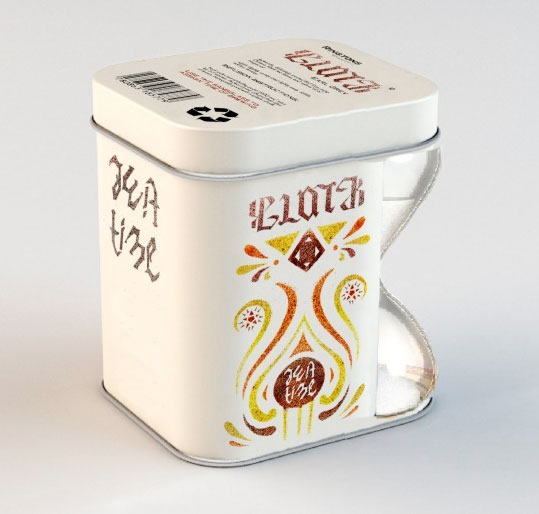 Designed by Darya Aksyuta | Country: Russia
This is the packaging design for Rington's tea range called Tea Time. I used Sand glasses to assign time of brewing for each special sort of tea. In order to make the name of the range and the sort of the tea readable upside down, I worked out special typographical compositions, ambigrams.
October 4, 2010 | 4 Comments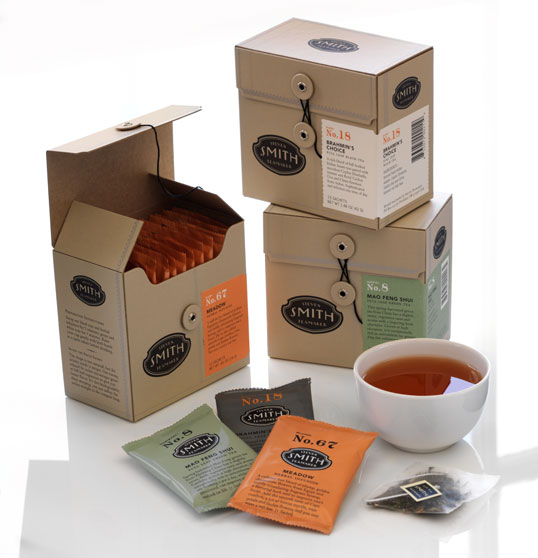 Designed by Sandstrom Partners | Country: United States | Fonts: New Yorker Type, Avenir, Depot
These gorgeous tea boxes, sachets and bags are made to an exceptional level of quality. Beautiful labels wrap around the front and side of the box, and lovely details like die cut box flaps and string tie closures make this packaging extra special.