May 25, 2010 | 3 Comments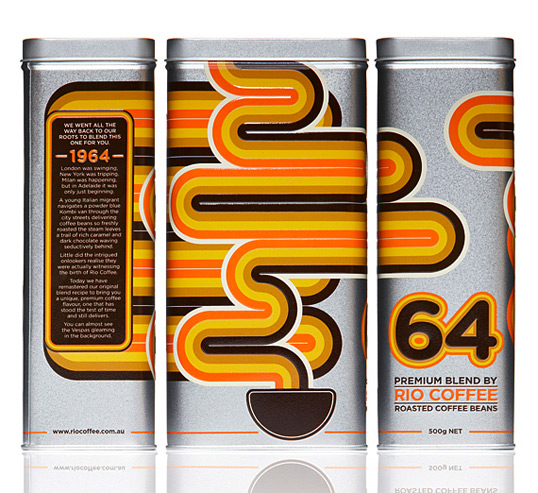 Designed by Voice | Country: Australia
"Rio Coffee has been hand roasting Australia's favourite Coffees since 1964, with 14 varieties already in their portfolio. The aim was to create a premium coffee product that reinforced Rio Coffee's longevity in the coffee industry and evoking a sense of nostalgia by looking back at the birth of the brand.
The aim was to create a premium, contemporary solution whilst maintaining a style reminiscent of the 60s. The design is influenced the by colours and patterns of the 60s. It uses simple geometric shapes and colours to represent the rising aroma and steam from a cup of coffee. Tin was chosen to package the coffee as to reinforce its connection to the past as well as underpin its premium status."
May 25, 2010 | 4 Comments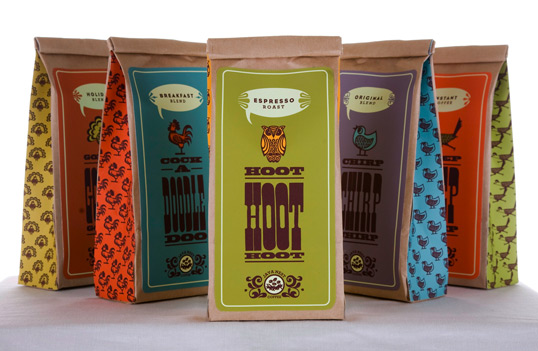 Designed by Cari Caldwell | Country: United States
"The concept for my packaging is a retro feeling coffee. It is a series of coffee that uses the onomatopoeias for the various blends of coffee, such as Cock-a-doodle-doo for breakfast blend. The brand name I made up was Java Nest Coffee because of the bird theme. This was an open project for my student portfolio, and was awarded 'Best Packaging' in Texas Tech's senior portfolio show for Communication Design."
May 23, 2010 | 11 Comments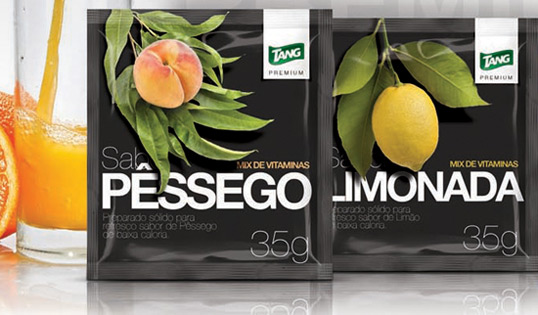 Designed by Diego Aguilar | Country: Brazil
A collection of work from Brazilian packaging design student Diego Aguilar.
May 22, 2010 | 7 Comments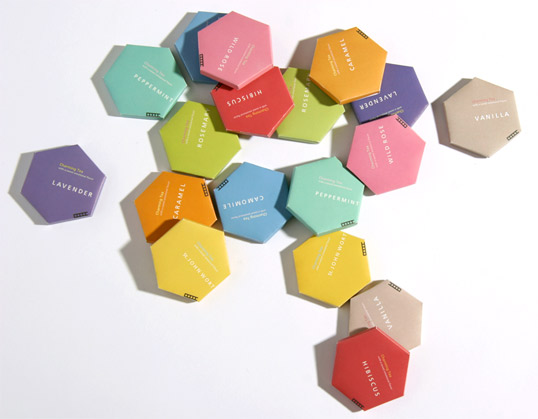 Designed by Daisy Dayoung Lee | Country: Korea
"The concept of this herbal tea packaging design is to attract young and beauty-oriented target audience's attention. It has 9 different colors based on different natural flavors, and is designed for purchasing individually or/ and all together. The logo has been inspired by Korean pronunciation of The' de The' in French, which means Tea of Tea in English."
May 20, 2010 | 4 Comments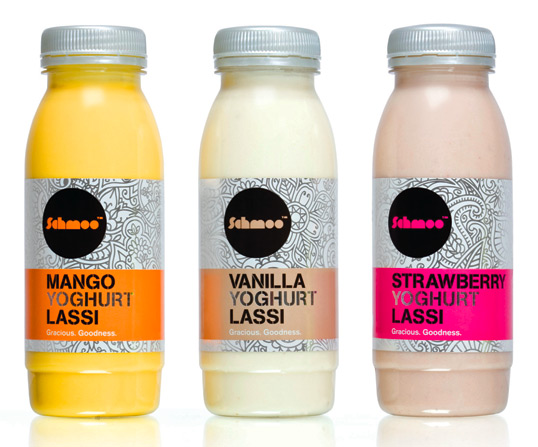 Designed by Believe in™ | Country: United Kingdom
"Schmoo, a Leeds based company, plan to bring the authentic Indian lassi to the UK mainstream. The brand positions itself uniquely between smoothie and dairy (which has also formed the basis for the new name) and uses 100% pure ingredients with no preservatives – created using genuine Indian recipes.
The identity draws influence from traditional Indian henna (mehndi) illustration but is executed in a contemporary aesthetic with a touch of modern opulence. East meets West if you will. The brand offers a clear point of differentiation from other drinks commonly sharing shelf space. An exciting, healthy product with a sense of confident sophistication – this formed the basis for our brand direction for Schmoo. The final result is both unique and eye-catching. It communicates beautifully and stands apart from anything else on the market."
May 19, 2010 | 3 Comments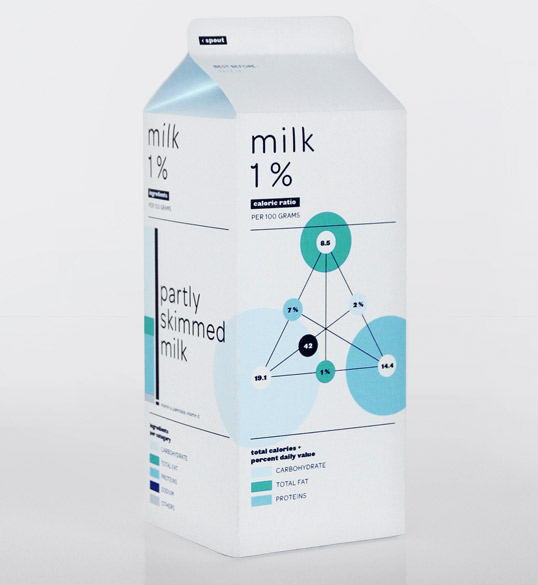 Designed by Audrée Lapierre | Country: Canada
"Our concept was to design a packaging using nutritional facts about the food product. For the milk carton, we used the four sides to inform about the caloric ratio, nutrient balance, ingredients and amount per serving. The diagrams and data visualizations give important and useful information. For example, they quickly show if a food product has a higher proportion of fat.
The data visualizations say more than a regular nutritional facts label. For example, ingredients are visually linked to their corresponding components (carbohydrate, total fat, proteins, sodium, others). In the case of a bag of chips, you would immediately see that it contains lots of ingredients without nutritive value.
Nutritional information becomes the main goal of the packaging, while still carrying a powerful branding by combining an expressive form with useful information."
May 19, 2010 | 2 Comments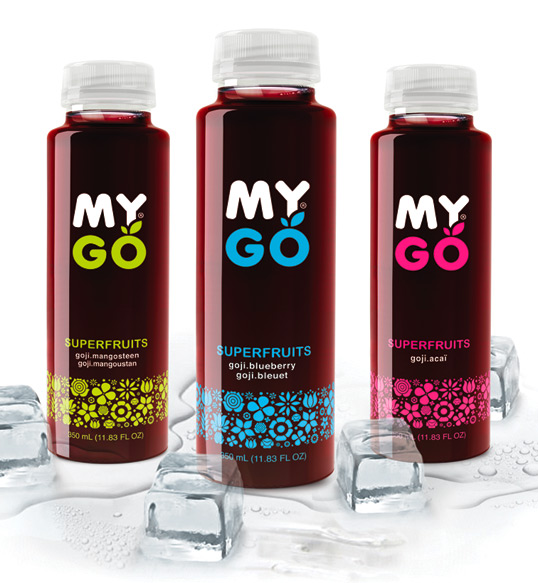 Designed by B&T Group | Country: Canada
"MYGO is a new generation of drink, a superfruit juice, rich in antioxidants. It contains GOJI berry, an ancient Chinese medicinal fruit, often called "the fruit of happiness".
May 15, 2010 | 6 Comments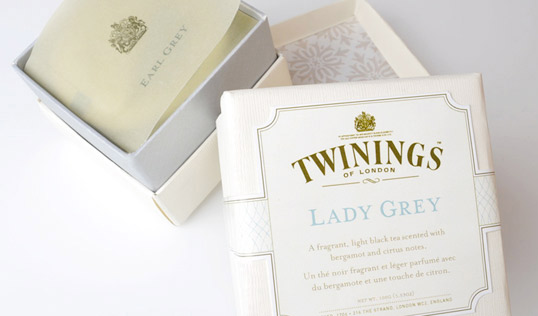 Designed by Dennis de Leon | Country: Canada
Freshly graduated from the Advanced Graphic Design program at Red River College in Winnipeg, Canada, Dennis de Leon has created this conceptual work for Twinings loose tea.
"The concept was to keep a light fresh, refined and royal look. Offering tea drinkers a beverage endorsed by Buckingham Palace and served for over 300 years worldwide."
May 13, 2010 | 7 Comments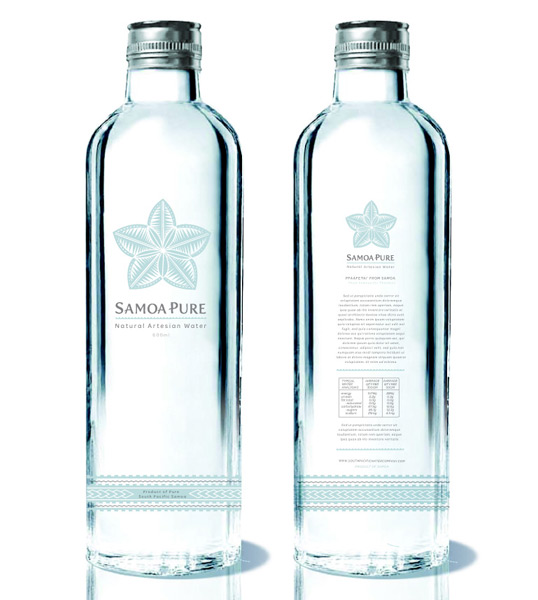 Designed by Ryan Marx | Country: New Zealand
We're assuming that this is concept work based on the bottle and application of the design. Either way we like the simplicity, cleanliness and the tropical feeling that it evokes.
May 13, 2010 | 8 Comments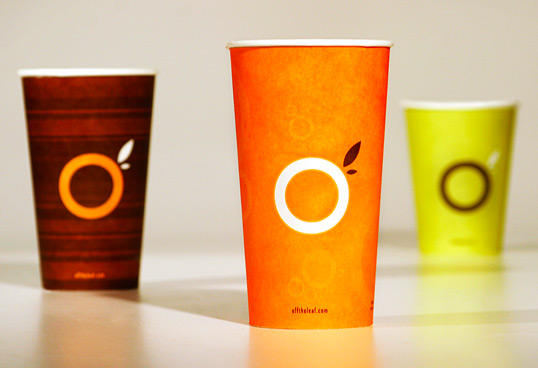 Designed by A|D Creative Group | Country: United States
"The goal for Off the Leaf was to create an experience where the packaging and the customer interact. The customer becomes part of the packaging experience by getting to choose their own combination of cup and sleeve design. This engagement allows the customer to have his or her own unique experience each time they order a cup of coffee. As hundreds of new coffee products are being marketed to the masses daily, it's those that generate enough buzz that find their way into the fabric of an audience. The opportunity to design a bold experience, has lead the new brand to successfully balance a premium product with customer interaction."