March 30, 2010 | 6 Comments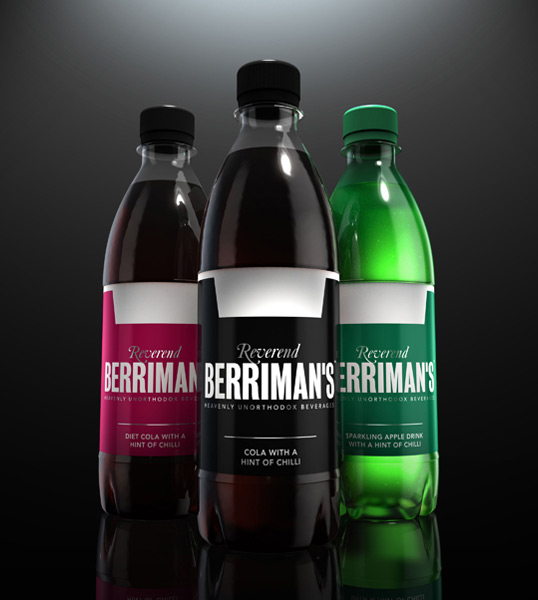 Designed by Lowestudio | Country: United Kingdom
"Our client, the Reverend John Berriman had created a taste revelation by adding natural chilli extract to homemade cola and apple drinks. The Reverend came to us for guidance in rebranding his product and relaunching it to compete within the specialist/premium soft drinks market. Our task was to create a strong brand direction which avoided negative associations of 'heat' often linked with chilli products. We identified that the real revelation was the Reverend himself – we simply created a brand with a personality that already existed. The Reverend Berriman saw the light!"
March 30, 2010 | 3 Comments
Designed by Arantxa Rues | Country: Spain
"Milk packaging design based on the Swiss International Style."
March 29, 2010 | 6 Comments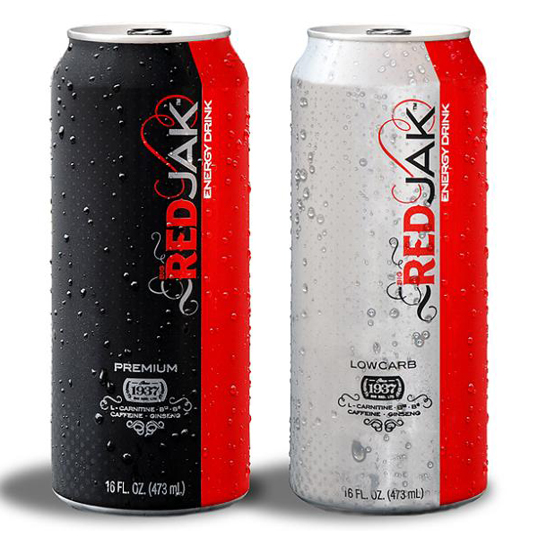 Designed by OFB | Country: United States
"Our brand sages found that the energy drink category had become saturated with adrenaline junkie hype and copy cat brands.  Our strategists suggested that we look to stylish trends in the beer industry and take a similar approach. The result was the complete reinvention of the Red Jak brand image and a unique personality in the category. The design created a new feel of sophistication and style geared toward a more discerning energy drink consumer who has an appreciation for style."

March 27, 2010 | 2 Comments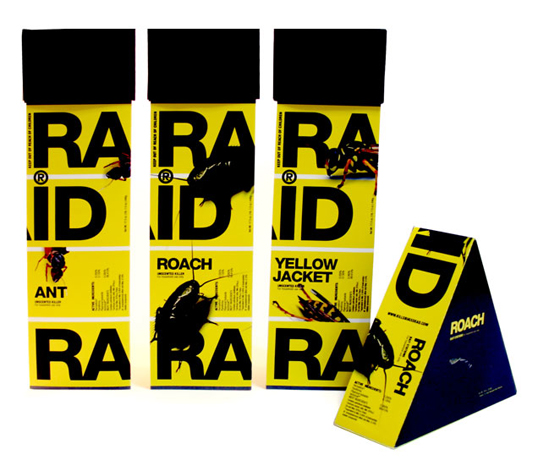 Designed by David San Miguel | Country: United States
A great portfolio of work from Art Center College of Design student David San Miguel.
March 26, 2010 | 4 Comments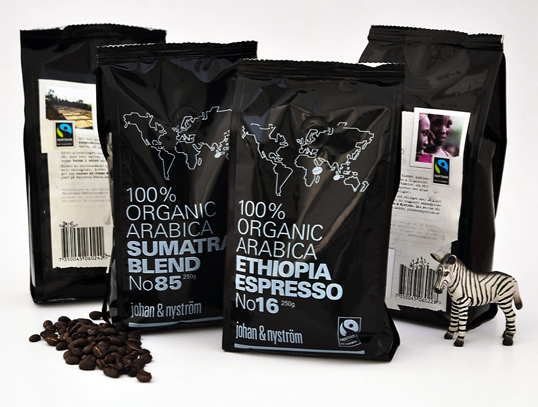 Designed by Summer | Country: Sweden
"Swedish coffee company Johan & Nyström slow roasts coffee in small batches on two roasting machines from 1956. Not because they are traditionalists, but because they believe that the coffee tastes better. The slow roasting (12-15 minutes) brings out the best in each coffee. They travel the globe in the hunt for the perfect coffee beans for the perfect cup of coffee. Summer has designed two bags for two different coffee blends – a Sumatra blend and an Ethiopian blend."
March 24, 2010 | 3 Comments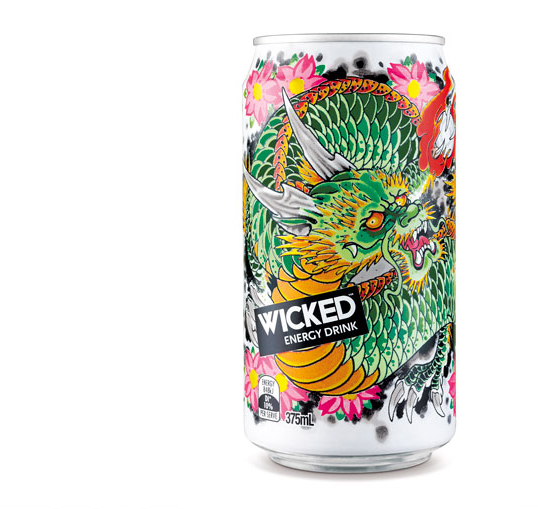 Designed by War Design | Illustration: Kian Forreal | Country: Australia
War teamed up with tattoo artist Kian Forreal to design P&N Beverages energy drink Wicked. Beautiful illustration and design aside, I love how this fits so well within the energy drink landscape while still being able to stand out and not look obnoxious like most of it's competitors.
March 23, 2010 | 7 Comments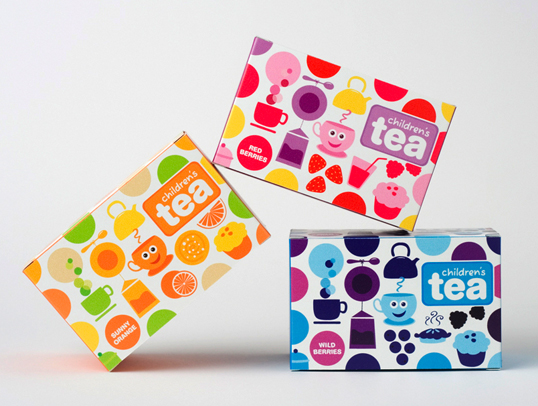 Designed by Sara Strand | Country: Sweden
"Children's Tea is the perfect choice for the young ones. All ingredients are organic and naturally caffeine-free. Children's Tea comes in three different flavours, Sunny Orange, Red Berries and Wild Berries."
March 18, 2010 | 1 Comment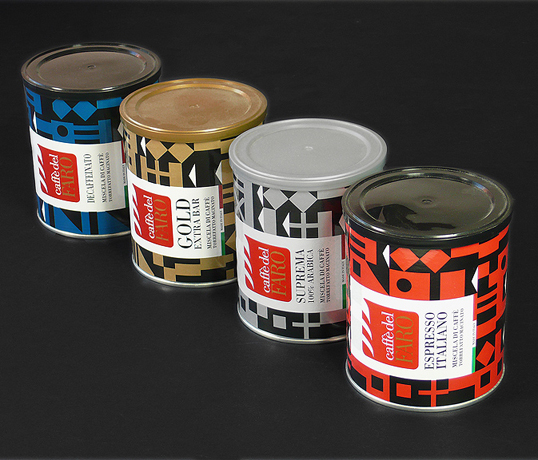 Designed by Iceberg | Country: Italy
"Iceberg created the corporate identity for "Caffè del faro". In a successive step, the studio designed two different product lines.  The classic line has a white background where the coffee description becomes the main graphic element.  The top line is based on textures composed by International Marine Signal Flags  (the name "Caffè del faro" means Lighthouse coffee). Using colours and the flags like an alphabet, the studio created the packaging textures, different for every blend."
March 10, 2010 | 2 Comments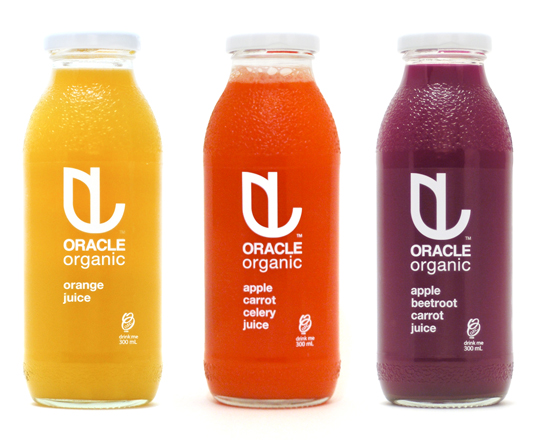 Designed by Fenetik Design | Country: Australia
"When we originally sat down with Oracle, the company had been in production for a little over a year, and with products starting to fill local and national grocery store and cafe shelves, they were ready to take a look at strengthening their labels and packaging.
After looking at the previous bottle, which had a bit of a busied pattern effect on an opaque wrap around label, the objective for our design seemed clear – to produce packaging that let the richness of the juice shine through. By allowing the juice to provide all of the needed colour, we were able to utilise minimal white text as the display for the company branding and juice variant details. In doing so, we were able to "fill up" the logo with the product itself. As the juice colour becomes the signifier for the variant, customers can easily spot their flavour on the shelf, and in their side by side combination, the entire range starts to take on the effect of a little fruit and vegetable garden ready for picking."
March 10, 2010 | 2 Comments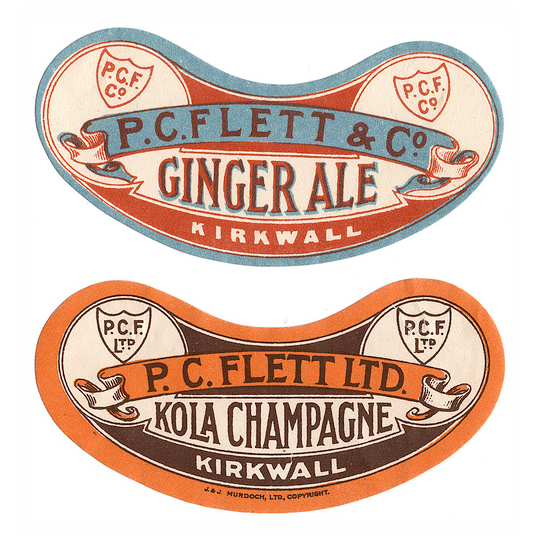 Designer: Unknown | Country: United Kingdom
We came across these beautiful soda labels on designer Jane McDevitt's Flickr and just had to share them.