October 13, 2009 | 2 Comments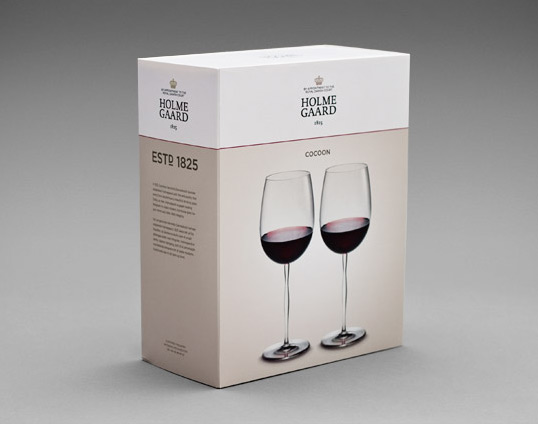 Designed by Make® | Country: Denmark | Fonts: DLT Documenta
"We supported Holmegaard in developing a new brand strategy celebrating the legacy without letting the past define the brand. The pivot point  was taken from brand surveys and internal interviews. It was clear that the brand should target a younger audience. A new strategy was needed to project the strong, emotional quality and Nordic design values present in the products. Therefore, the key objective was to transform an old fashioned brand and to grasp the sparkle in the products. To turn an occasional usage of the products to an everyday experience without losing the high-end design and quality feeling."
October 9, 2009 | 3 Comments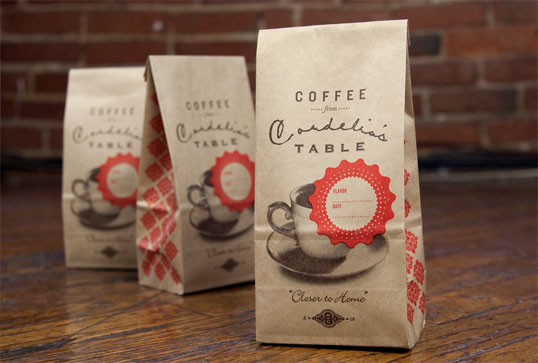 Designed by Perky Bros | Country: United States
"A neighborhood grocery needed to refresh its visual identity to more accurately communicate its fresh & friendly brand. The design takes inspiration from the simple palettes of homespun goods & the elegance of a southern matriarch's home."
October 8, 2009 | 5 Comments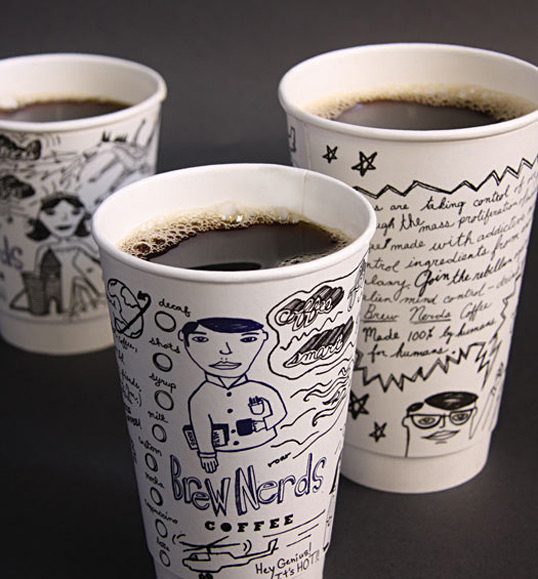 Designed by Mitre Agency | Country: United States
"Partnering with Brew Nerds from their inception, Mitre created a lo-fi, dry witted and whimsical brand identity that appeals to people who are serious about coffee but don't take themselves too seriously."
October 6, 2009 | 4 Comments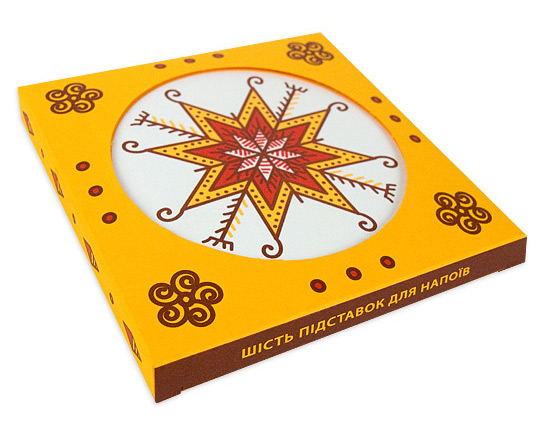 Designed by Artel Artyomovyh | Country: Ukraine
"Artel Artyomovyh graphic design bureau designed a set of coasters "Made in Ukraine" for Chiga-biga™ designer gifts on-line store. The package and coasters are decorated with traditional ukrainian ornaments. All of the symbols (Tree of Life, Sun, Fish, Bird, Deer) are filled with ancient meaning. It's a nice souvenir for a good memory of visiting Ukraine."
October 5, 2009 | 10 Comments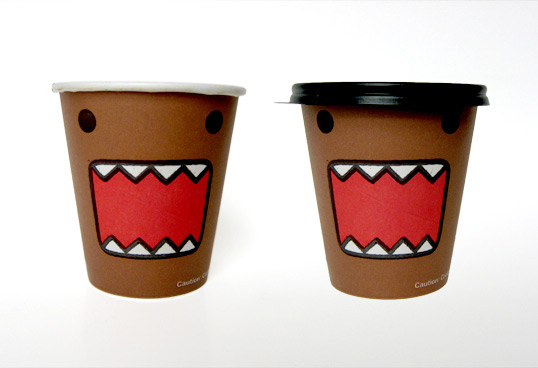 "Domo, the Japanese stop-action character and meme celebrity, is appearing this fall in an elaborate 7-Eleven storewide promotion, and his toothy brown face is plastered on everything imaginable. Tons of signage of all over, collectible Slurpee cups (and Domo's own custom flavor, Fuji Frost), character straws, coffee cups, and some truly inventive and funny packaging design for the hot dog containers. There's even Domo schwag like hats, t-shirts, and books. Evan Brody, the marketing manager for Slurpee, told Brandweek that 7-Eleven's consumers "love crazy Japanese shit."
October 3, 2009 | 43 Comments
The international jury of Pentawards, the first world competition devoted exclusively to Packaging Design, chaired by Grard Caron, announced its winners for 2009.
September 30, 2009 | No Comments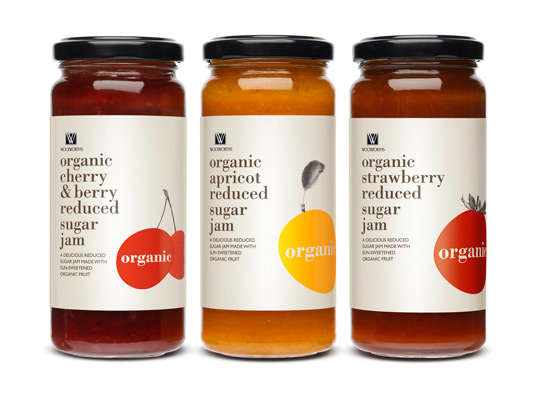 Designed by Pearlfisher | Country: United Kingdom
"New brand creation conveying modern South African authenticity, depth and taste."
September 24, 2009 | 2 Comments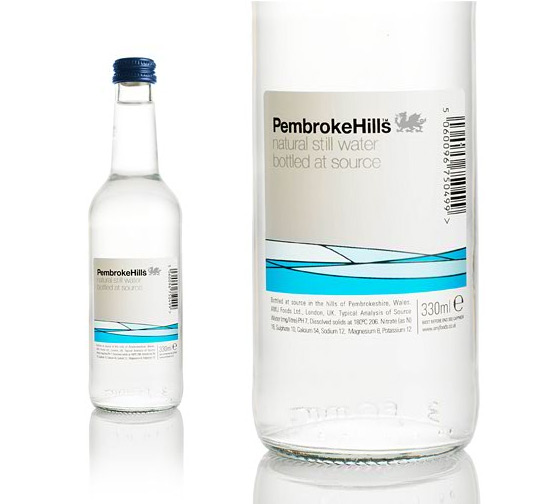 Designed by Davies Hall | Country: United Kingdom
"An elegant solution to the challenge of a single label that has to include a barcode as well as the branding."
September 21, 2009 | 10 Comments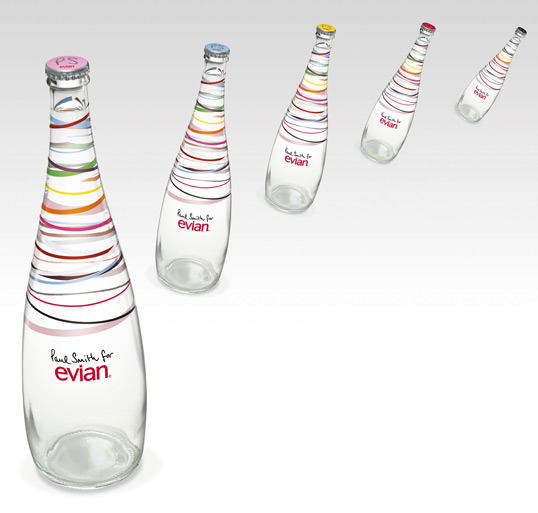 Designed by Paul Smith | Country: United Kingdom
"Following its annual trend in partnerships with Fashion Designers, Evian has linked up with one of the most creative designers, known for his sense of fun and optimistic attitude – Paul Smith!  The new exclusive Evian bottle (image below) is designed with a festive theme in vibrant colors – with a nod to the famous Paul Smith stripes – which elegantly underlines the purity of the natural spring water from the French Alps.  The annual Evian designer bottle tradition began in 2008 with a limited edition bottle designed by Christian Lacroix, followed in 2009 with Jean Paul Gaultier."
September 21, 2009 | 4 Comments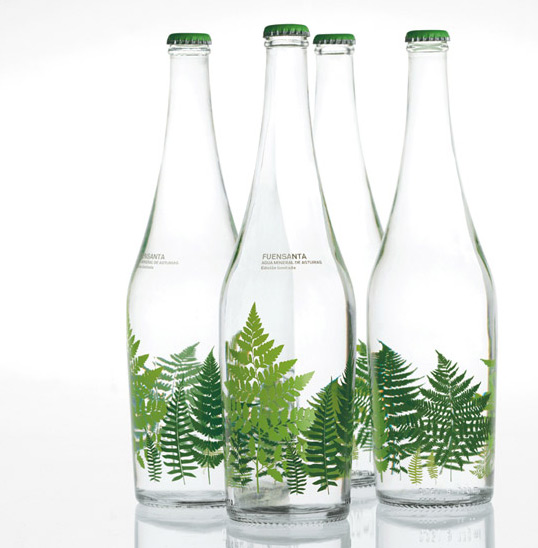 Designed by Pati Nunez Associats | Country: Spain
"Aguas de Fuensanta has commisioned us a series of designes to be printed on 75cl glass bottles and sold in restaurants and gourmet shops.
The aim is to place Fuensanta in the world of designer waters and to reach more 'chic' commerces.
Fuensanta's origin is linked to nature and this is what we wanted to transmit, so we tried to imitate mother nature's way and imagined what would happen to a glass bottle if we left it in a green forest: vegetation would wrap itself around the bottle.
This is the first design of the series, printed in May 2008 in three colours, two green tones and white for typography."