March 17, 2013 | No Comments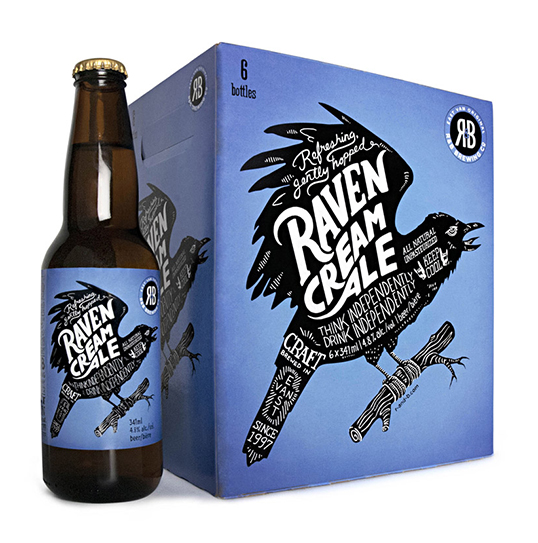 Designed by Saint Bernadine Mission Communications Inc. | Country: Canada | Fonts used: None (Handlettered)
"R&B Brewing is one of Vancouver's original East Van micro breweries, predating the current trend by almost two decades. Partners Rick ("R") and Barry ("B") asked St. Bernadine to help with a packaging redesign, initiated by the move from 650mL bottles to a standard 341mL 6-pack format.
The design language is inspired by R&B's resolutely hand crafted product – as such, every element on the packaging is rendered by hand, including the bar code. Bold silhouette key illustrations take their cues from the beers' quirky naming conventions, and strong colours aid standout and shelf blocking. Key brand story elements, hand rendered in expressive type, and additional varietal information, like IBU scale, boil information, aging temperature, hop and barley type and mix all support R&B's independent, craft positioning."
March 5, 2013 | 1 Comment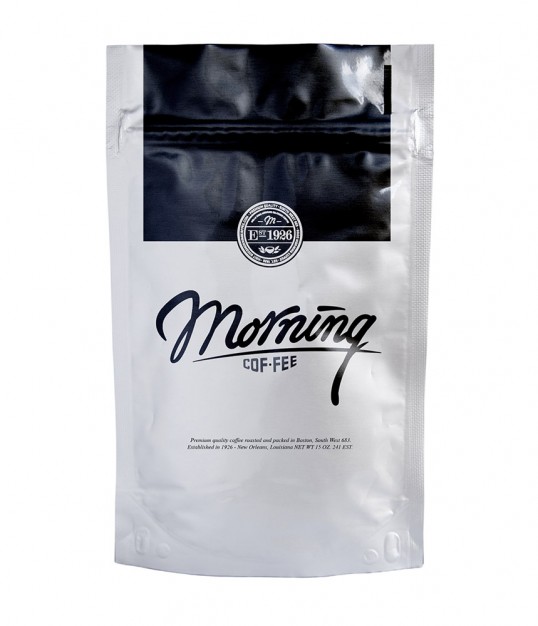 Designed by Studio Konfirm | Country: The Netherlands
"We were asked to create this new coffee brand called Morning Coffee. The main subject was to make it simple and make it questionable. What is in the bag? What's the brand about? The best things can be said in one line, that's what we did. Good Morning, Coffee! Who doesn't want to start the morning with a good cup of power beans?"
March 5, 2013 | 1 Comment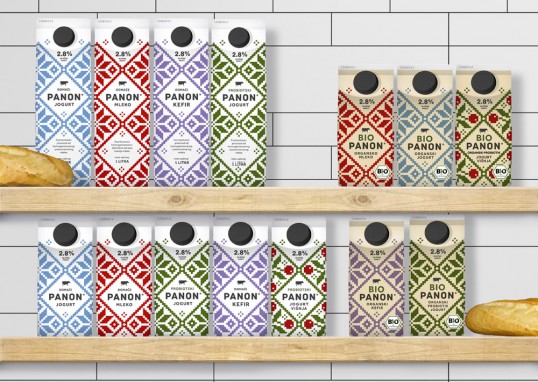 Designed by Peter Gregson | Country: Serbia
"Peter Gregson Studio designed the packaging and ID for new brands of organic and non-organic milk, yogurt and kefir called PANON® and BIOPANON®. They are produced in 0.5 and 1 liter packaging. We saw this task as an opportunity to go back to the "basics" both in design and tradition. So, we used the pattern of traditional embroidery and turned it into a simple graphic form."
March 1, 2013 | 2 Comments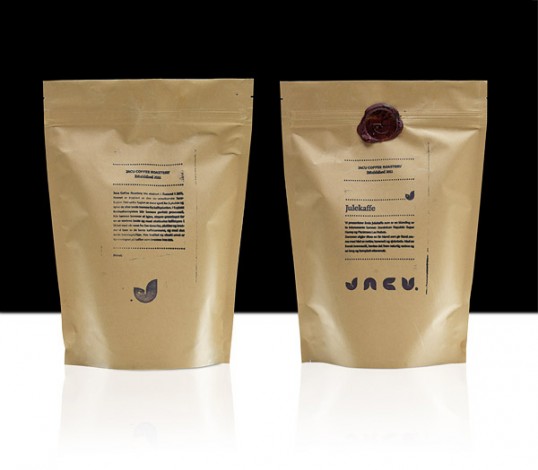 Designed by Tom Emil Olsen | Country: Norway
"The Jacu bird lives in South America and is known for something quite extraordinary; It flies from coffee plantation to coffee plantation and picks and eats the tastiest coffee cherries. The fruit makes its way through the bird's digestive system, and the seeds of the fruit – coffee beans – come out perfectly processed. These coffee beans are among the most exclusive in the world. This story has inspired us, and the bird has lent its name to the new micro-roastery in Ålesund, Norway. 
Jacu Coffee Roastery was established in 2011. Like the jacu bird, they pick and roast only the best beans. They look for great plantations, optimal processing, and the roasting profiles which will make the most out of each bean. They work with passion, patience, and without compromise."
February 28, 2013 | 3 Comments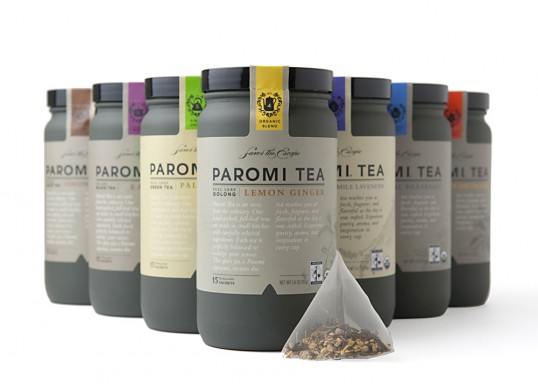 Designed by R/West | Country: United States
"Paromi Artisan Tea Company came to R/West looking for a complete brand overhaul. Their product was premium and unique, but lacked shelf presence and storytelling. Through new packaging, including a custom glass bottle, we painted the picture of Paromi's worldwide search for unmatched ingredients. The brand revival made an immediate impact as Whole Foods picked up Paromi across most of the continental United States."
February 26, 2013 | 3 Comments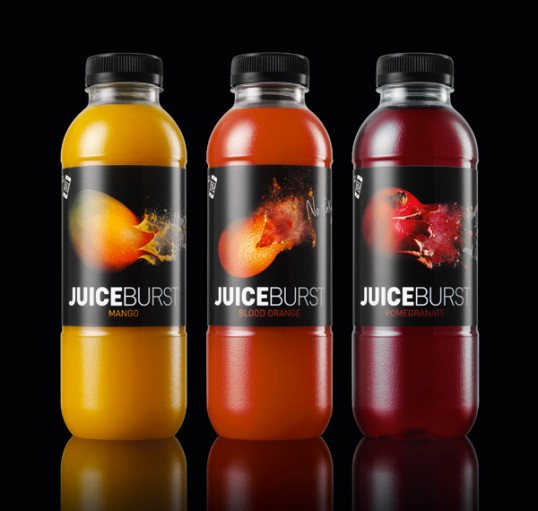 Designed by Williams Murray Hamm | Country: United Kingdom
"Purity Soft Drinks, today unveils plans to completely overhaul its leading brand – JUICEBURST™, which will be completely digitally interactive using Blippar technology. The brand, valued at £30 million, will receive a new look and feel and marketing campaign to support the launch.
New packaging, created by London based brand design agency, Williams Murray Hamm, will be unveiled at the start of February making JuiceBurst 'the world's first digitally interactive soft drink brand.' New to the industry, the interactive labelling will be incorporated across the entire JuiceBurst range. The fruit on each label will literally burst off-pack for consumers who have the easy-to-download Blippar app on their smart phones. The exploding fruit will reveal links to JuiceBurst social media channels inviting further consumer engagement including consumer competitions."
February 20, 2013 | No Comments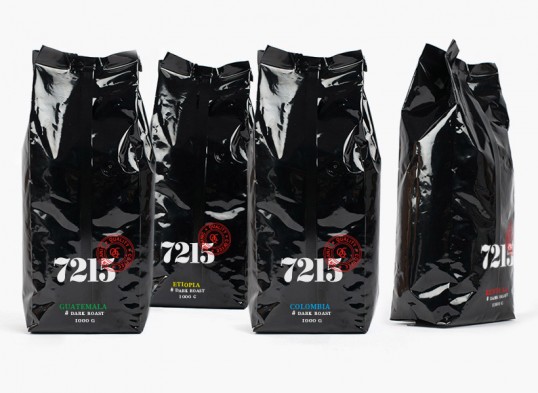 Designed by Blanc | Country: Sweden
"7215 is an all organic brand that specializes in coffee and chocolates with their own trademark – Organic Quality Coffee. 7215 wanted a modern and exclusive look for their products. The key words being Quality, Robust, Exclusive and Trendy. The aim is to get fashionable and wealthy city people, with a desire to choose organic products, to buy their high quality products and visit their coffee shops. The logo was created to capture the robust nature of coffee with the blackness of the font, together with the sense of exclusive quality in the stamped red seal."
February 14, 2013 | No Comments
Designed by Glasfurd & Walker | Country: Canada
"The Juice Cleanse is The Juice Truck's latest product to launch in Vancouver BC. The Juice Truck engaged Glasfurd & Walker to work on positioning, naming, identity, packaging, and art direction as an extension of their already successful brand. 
The cleanses come in 3, 5 and 7 day durations with a total of 12 packaged juices. Each Juice Cleanse is designed to promote overall health, energy and happiness. The brand is not focussed around a diet or starvation cleanse and were carefully formulated with their nutritionist to achieve maximum results, with flavour and taste being of primary importance. A health conscious and ethical approach to cleansing needed to be communicated in an educational, yet light hearted and friendly way.The brand language is a development and extension of the Juice Truck identity that uses light humour and direct, no-fuss language and iconography to communicate their products offer.
As with many cleanses, there are juices that focus on nutritional benefits over aesthetic appeal, therefore brand imagery was created that highlighted the core ingredients and freshness of the juices with distinct style and colour for promotional and brand material."
February 11, 2013 | 1 Comment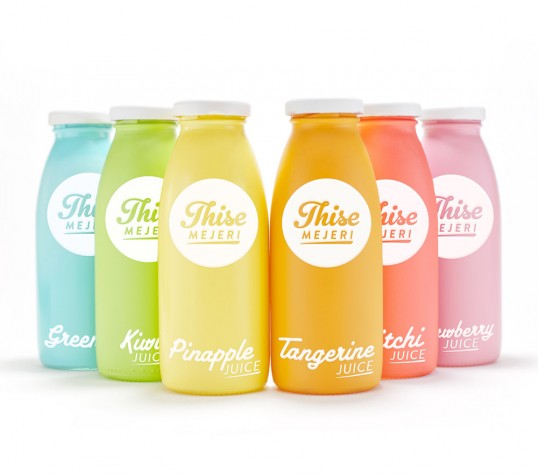 Designed by Randi Sjaelland | Country: Denmark
"This concept project was a BA school assignment. A corporate identity assignment to redesign Thise Mejeri, which is a danish dairy.
The target group for this particular milk brand are the consumers who value quality, niche products, uniqueness and design. Therefor this high-end packaging is aimed at the more secluded department stores and high-end retailers.
The CI was inspired by old milk glass bottles and round shapes which inspiration is reflected in the logo and packaging."
February 9, 2013 | 1 Comment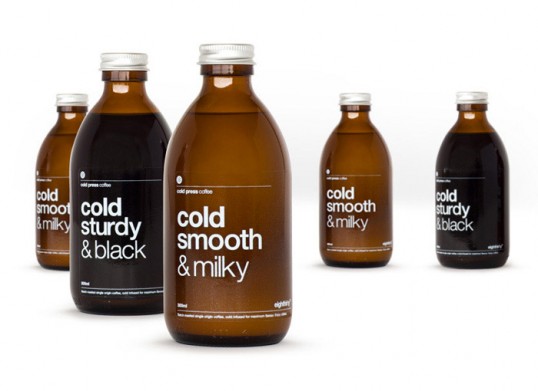 Designed by Butcher & Butcher ltd | Country: New Zealand
"Originally designed in 2009 Eighthirty Coffee Roasters asked Butcher & Butcher ltd to refresh their packaging for 2013. The packs talk directly to your taste buds, celebrating subtle differences in each flavour, origin and blend. 
We maintained a simple colour palate, while the ephemeral typographic treatment allows each pack to have a unique voice, yet change as the coffee flavours and brand evolve over time."