April 15, 2015 | 2 Comments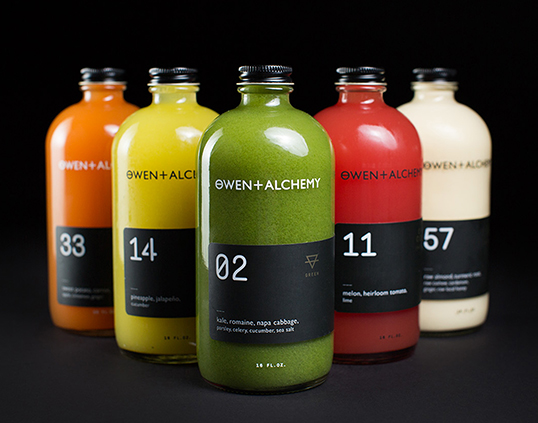 Designed by Jack Muldowney & Potluck Creative | Country: United States
"Owen + Alchemy is a small 'juice apothecary' in Chicago's Logan Square neighborhood, a very trendy and flourishing part of town. The owner, Anne Owen, has a background in fashion publications in Miami and wanted to bring that simple, stark and fashion-forward look to her juice bar. Her name, paired with the alchemic approach of their juice and food concoctions led us to create this brand inspired by old alchemic symbology, with a modern twist."
March 21, 2015 | 1 Comment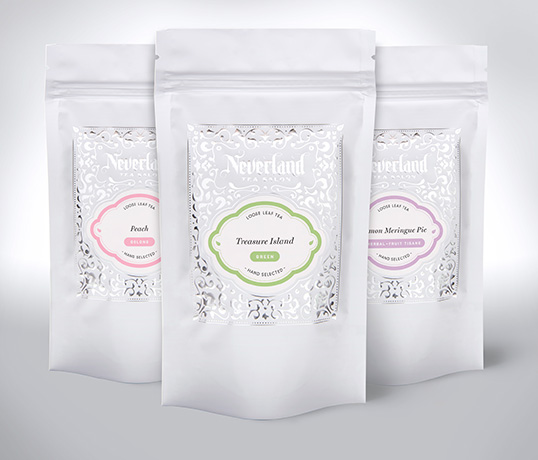 Designed by Saint Bernadine Mission Communications Inc. | Country: Canada
"Neverland Tea Salon partnered with Saint Bernadine Mission Communications to help them with the packaging for their proprietary branded line of hand-selected blended teas. With well over 75 flavours, in over 10 sub groups, the solution required a design system that was flexible, scaleable, and easily navigable. 
The solution resulted in a universal bag (for each net weight size) complete with silver foil branding and ornate detailing. A colour coded system of multiple stickers was developed to allow for a cost effective, yet easy to distinguish system, while easily accommodating a diverse range of sku's with different volume requirements."
March 21, 2015 | No Comments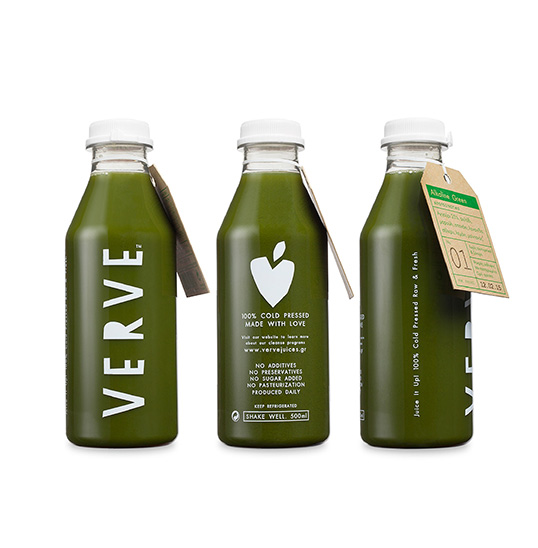 Designed by BOB STUDIO | Country: Greece
"Naming, logo design, branding and packaging for Verve, the first cold pressed juice and cleanse company in Greece, established in 2014. They offer a variety of 6 juices and 2 milks made with raw and fresh ingredients using only the cold pressed method.
Their identity is simple and clean, using a strong logo and the vivid colors of the juices themselves, revealing the freshness and purity of the brand. Logo typography is simple and primitive made by strong cut letters, inspired in a way on how we cut fruits and vegetables everyday at home.
Each juice is identified firstly by its color and secondly by a paper label on top, where you can find all information on the specific juice like ingredients, nutrition facts, series number on a cleansing program etc. Having a generic bottle and different labels reduces bottle production costs a lot and eases the way of everyday hand bottling. All applications follow the same branding rules and the strong identity of Verve."
March 15, 2015 | 1 Comment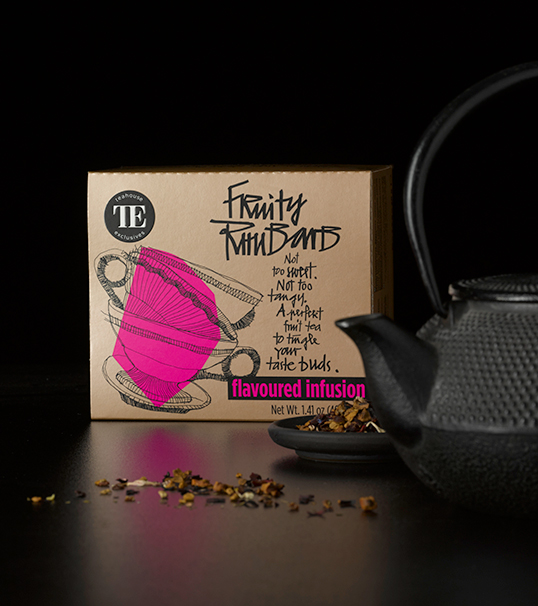 Designed by Peter Schmidt Group | Country: Germany
"Tea drinkers are individuals of strong character, people who like to indulge in a moment of deceleration in their daily lives, and this is the target group of Teahouse Exclusive's "Everyday Line". The packaging is of a bronze, shimmering quality and adorned with loosely drawn images of different cups and teapots, while thanks to a bold, colour coding approach, each tea variety immediately catches the eye. The typography has also been 100% handpicked, just like the teas themselves, with individual writing styles that promote their originality. This is as personal as it gets."
March 8, 2015 | 1 Comment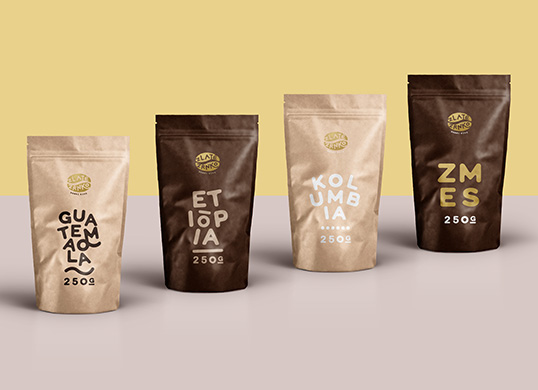 Designed by Michal Slovák | Country: Slovakia
"Zlaté Zrnko is premium arabica coffee roasted in Slovakia. The name Zlaté Zrnko means Golden Bean."
February 22, 2015 | 1 Comment
Designed by Sydney Goldstein | Country: United States
"A unique food truck, obsessed with oddities. The pigeon follows the traveling circus from city to city."
February 15, 2015 | No Comments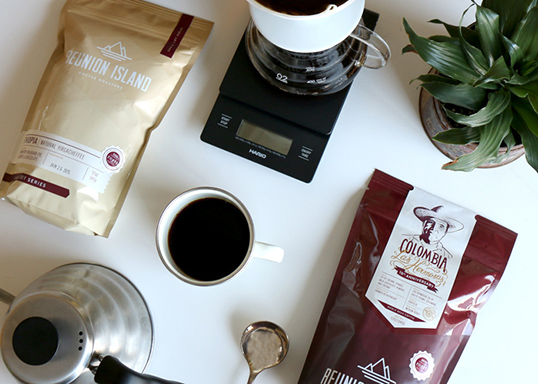 Designed by Reunion Island Coffee | Country: Canada
"In 2014, Reunion Island Coffee Roasters undertook the largest rebranding project in the company's 20 year history. The goal was to evolve the brand into a better space that reflected all we aim to be: quality-focused, sustainable, customer-driven, progressive and approachable. The natural place for us to begin this process was with our most public-facing packages: our 12 oz retail bags."
January 21, 2015 | 3 Comments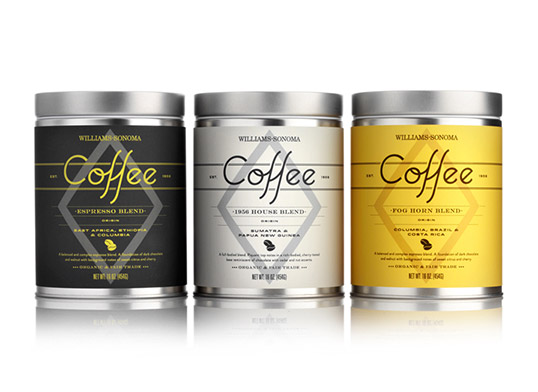 Designed by Pavement | Country: United States
"Pavement designed this simple, sophisticated label to help customers instantly connect Williams-Sonoma's famous culinary expertise with the quality and complex flavors to be found in their new gourmet blends of coffee. Following the inspiration of gourmet tasting notes, we created a typestyle, color palette and design that distinguishes each blend, while making each appear easily accessible for any occasion and method of brewing."
December 30, 2014 | No Comments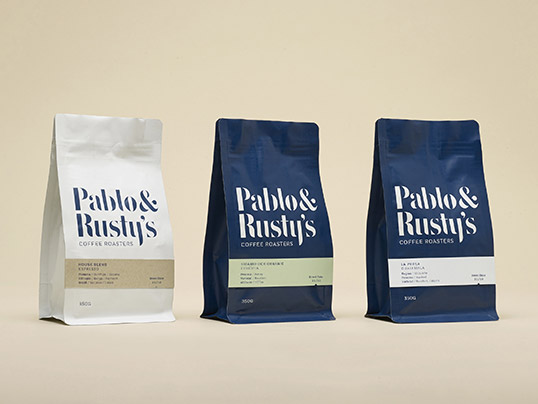 Designed by Manual | Country: United States
"Pablo & Rusty's is an award-winning small-batch coffee roaster based in Sydney, Australia. They strive to find amazing coffee; determine the best way to roast it; take it to one of their four stores and deliver an exceptional experience to their customers. Pablo & Rusty's have a strong company culture, are passionate about sustainability, and are in constant pursuit of perfection.
Pablo & Rusty's approached Manual to rebrand the company and better reflect the values they'd developed over the past decade. An immersion into the brand began with a brief research trip to Sydney to learn more about local coffee culture and experience Pablo & Rusty's retail locations."
December 17, 2014 | No Comments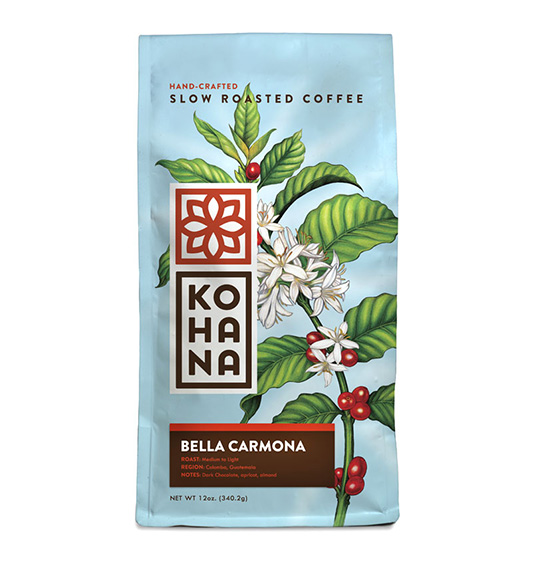 Designed by Helms Workshop | Country: United States
"Kohana's coffee is exceptional, but their brand identity was dated, out of sync with their values and missing the mark with contemporary coffee culture. With the brand poised to enter the national market and launch a new product line, it was a perfect moment to shun evolution in favor of revolution.
We proposed a bold transition from a dated packaging system to an identity focused on the islands that inspired the brand, its values and the ritual of enjoying a cup of coffee. To help, we invited artist Abi Daniel to capture the beauty and energy of the coffee plant. The result is a striking package that not only conveys a sense of Hawaii, but translates to just about anywhere people enjoy a moment of reflection."