August 27, 2009 | 6 Comments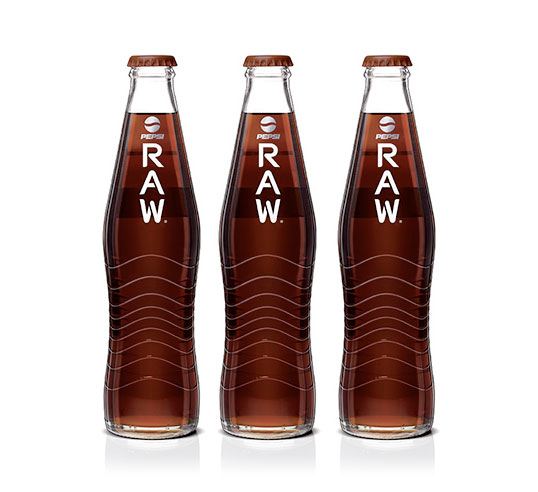 Designed by Ziggurat Brands | Country: United Kingdom
Simple yet distinctive packaging design for Pepsi Raw, a Pepsi product made with no artificial colours, flavours, sweeteners or preservatives. It is available in the United Kingdom as shown above and marketed in the US as Pepsi Natural using a different packaging solution.
August 27, 2009 | 8 Comments
Designed by For Love Art & Business | Country: Sweden
"Cubis Ltd introduces evolutionary beverage container Cubis, a new packaging concept designed for the grab-and-go generation with a one hand action for opening and closing. Cubis is the world's first stackable plastic beverage container with a flip-top cap, that reduces CO2 emissions and maximizes the retailers' shelf value. Cubis will be available for B2B customers in the beverage segment during fall 2009
August 25, 2009 | 6 Comments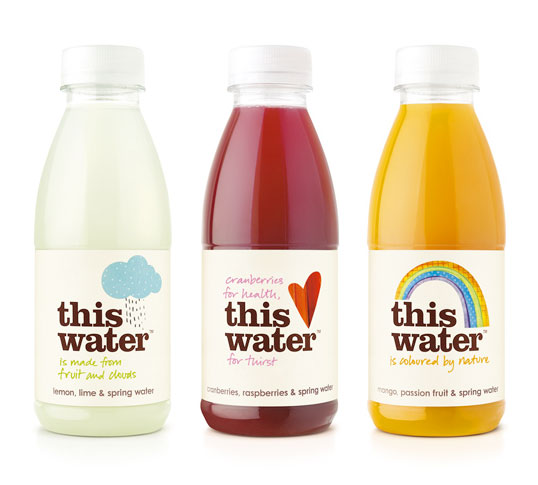 Designed by Pearlfisher | Country: United Kingdom
Having seen This Water in stores in the UK, we can attest to its shelf appeal. Copy-driven labeling with simple illustrations clearly differentiate the brand from competitors' products.
August 18, 2009 | No Comments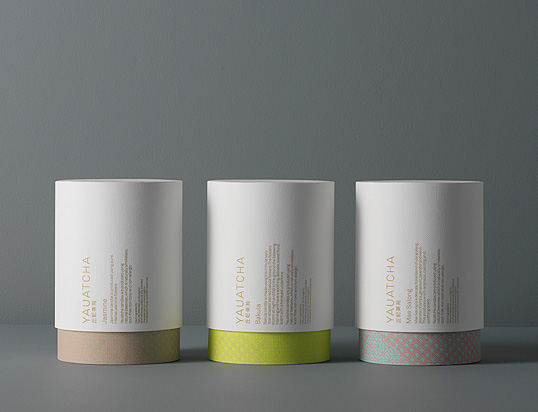 Designed by MadeThought | Country: United Kingdom
"Yauatcha, a high-end Chinese tea house and dim sum restaurant, is the concept of celebrated restauranteur, Alan Yau. In order to set the brand on a new direction, Yau identified the opportunity for a range of tea related products, providing a more retail-biased offering alongside the main restaurant activity.
After our initial task of creating a new logotype and core identity elements, MadeThought were charged with the creation of a bespoke packaging approach for a diverse array of products ranging from exquisite patisserie and rare teas, through to ceramic tea sets and scented candles.
Delicate patterning became a uniting aspect of this solution and also served to underline the oriental nature of the brand. Sourcing the very best packaging manufacturers and paying extraordinary attention to detail has resulted in products that offer the customer an additional level of discovery and an exciting and indulgent experience."
August 18, 2009 | 6 Comments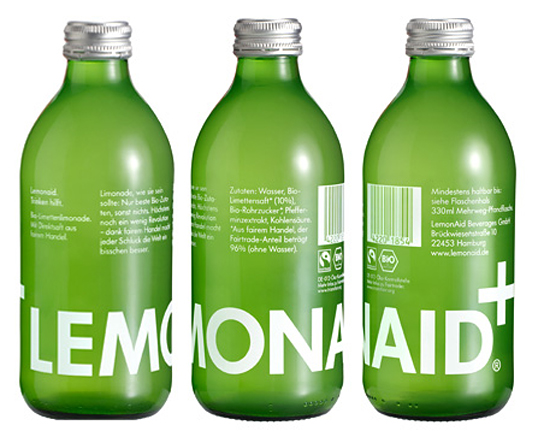 Designed by BVD (Blidholm Vagnemark Design) | Country: Sweden
"BVD's design of Blossa's annual edition mulled wine has achieved a good deal of attention internationally. So much so that the German company LemonAid Beverages GmbH contacted us when they were looking for innovative, iconic design for the new drinks ChariTea and Lemonaid, that will soon be launched all over Europe. Together ChariTea and Lemonaid form a unique charity venture, where most of the profits will be used for social purposes.
ChariTea is freshly brewed tea with natural additions of fruit, not to be confused with the so-called ice teas, made from extracts, which are on the market today. ChariTea will be launched in three flavours to start with, all totally organic and Fairtrade-labelled. "The world's oldest drink is getting trendy again", says BVD's Creative Director Susanna Nygren Barrett.
Tea is strongly connected to health and wellbeing, which is also reflected in the design. Lemonaid is intended to be primarily served in bars, where it can be used either as a mixer or on its own. Both drinks are packaged similarly in a classic standard bottle that BVD selected, as it feels good in the hand and looks authentic rather than over-designed. Labels are avoided by having the graphics silkscreen printed directly onto the bottles, allowing a more integrated design."
August 18, 2009 | 3 Comments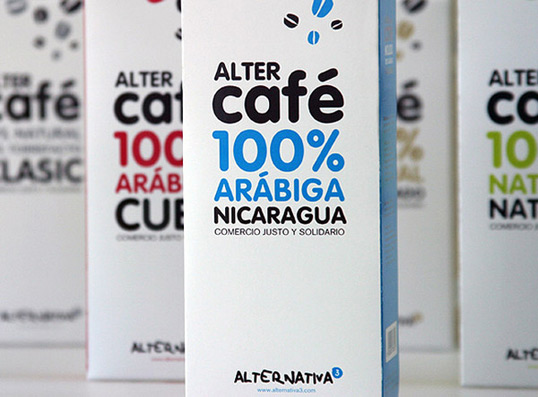 Designed by Nestor Urdanpilleta | Country: Spain | Buy it
"Alternativa 3, an organization working for Fair Trade since 1992, has come up with out-stand new packaging for their Fair Trade coffees range, within the process of the corporate identity change. The new design & identity are done by Nestor Urdanpilleta. The new identity captures the quality of the products and the clarity of Alternativa 3 philosophy as a Fair Trade organization. While the re-design is simple & clean, the message is clear as a Fair Trade organization."
August 16, 2009 | 1 Comment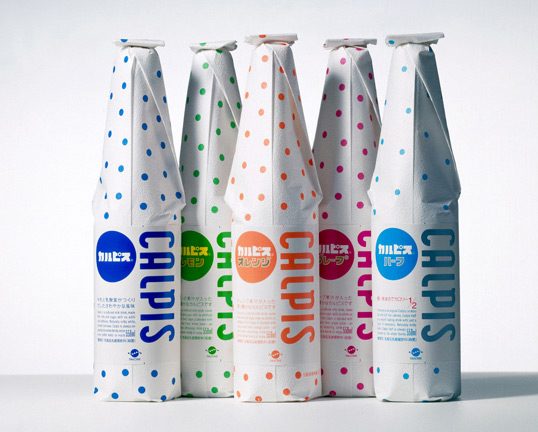 Designed by Taku Satoh Design Office | Country: Japan
Beautiful brand identity extending across multiple products for Japan's The Calpis Food Industry Co.
August 13, 2009 | 1 Comment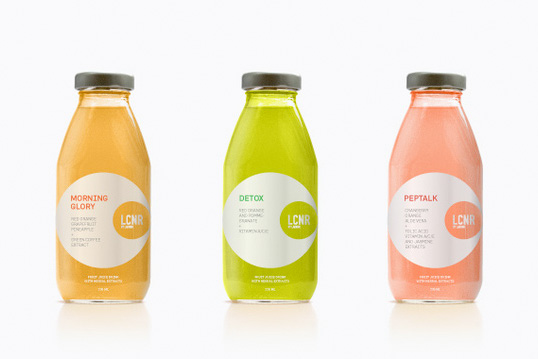 Designed by Muggie Ramadani Design Studio | Country: Denmark
Proposed designs for a vitamin juice which all share a beautiful sense of colour and simplistic labeling.
August 12, 2009 | 2 Comments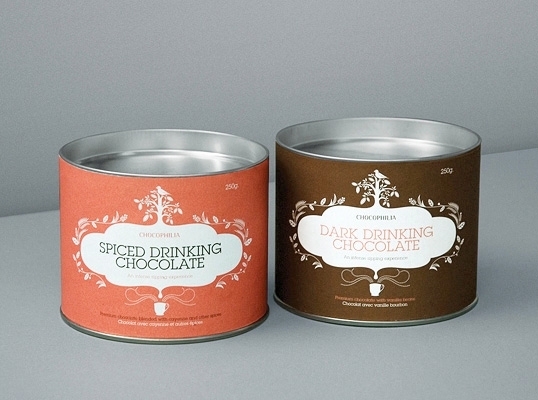 Designed by Vanguard Works | Country: Canada | Buy It
Flat graphics and rich colours differentiate this brand from their hot chocolate competitors: a category which surprisingly remains overrun with poor design solutions.
August 11, 2009 | 5 Comments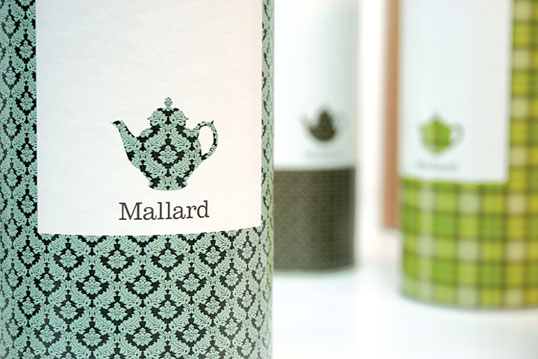 Designed by Sarah Walsh / Brahm | Country: United Kingdom
"Mallard is a specialist tea company which sells loose leaf tea through its shop and tearoom in Knutsford. The mix and match branding is inspired by the eclectic feel of the establishment which is quirky, eccentric and unmistakably English."