June 15, 2009 | 7 Comments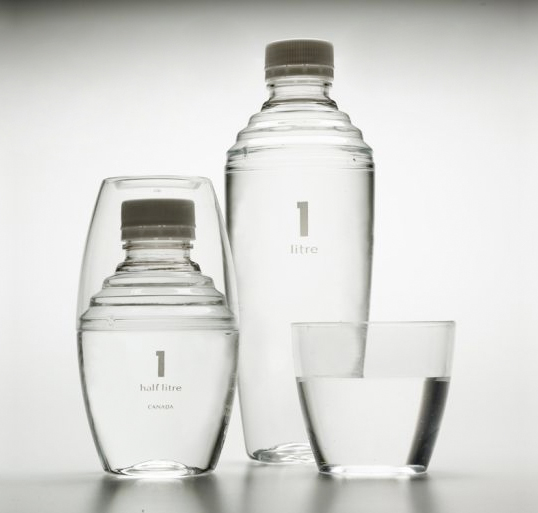 Designed by Perennial Design | Country: Canada
"1 litre water company and their design team have invented the first bottle in the world to feature an integrated cup. Our proprietary design has been acknowledged as the most functional, sophisticated and visually appealing bottle on the market. 1 litre™ was awarded the gold medal for "People's Choice in Packaging and Design at the Berkeley Spring Water Tasting Competition".
June 9, 2009 | 12 Comments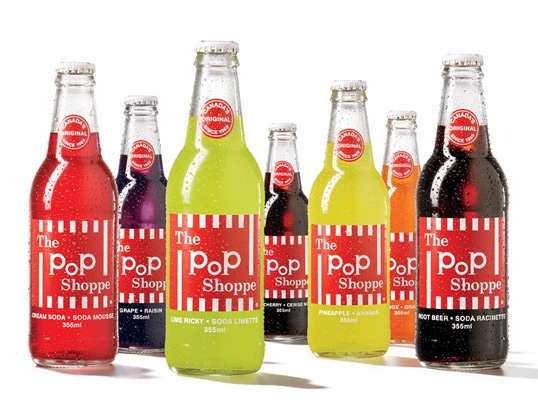 Designed by AmoebaCorp | Country: Canada
"Imagine you have a new client who wants to relaunch a 1970's Canadian icon. And not just any Canadian icon: The Pop Shoppe. Who doesn't remember that bottle? That label? Those crazy colours and flavours.
June 9, 2009 | 12 Comments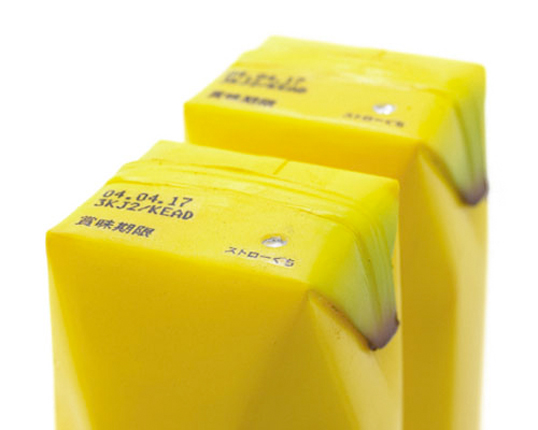 Designed by Naoto Fukasawa | Country: Japan
This brilliant packaging solution for banana juice even imitates the feel of real banana skin.
June 5, 2009 | No Comments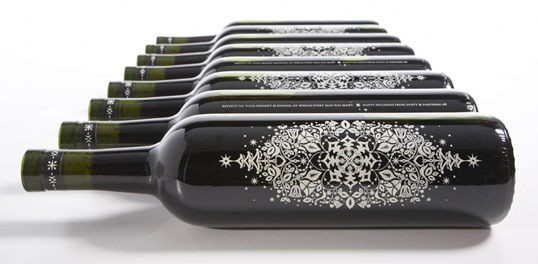 Designed by Duffy & Partners | Country: United States
Beautiful self-promotional piece from Duffy & Partners.
June 4, 2009 | 1 Comment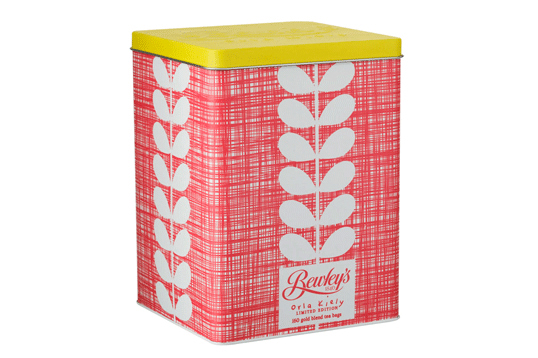 Designed by Orla Kiely | Country: United Kingdom
Serving as both protective packaging and tea storage solution, the Bewleys tea caddy is in its second limited edition run.
"Bewley's was an important sanctuary to me as a student living in Dublin and I am delighted to be working with them as they are an iconic Irish brand. We chose one of our signature prints – the 'Scribble Stem' in a classic red and cream with bright chartreuse contrast lid. We hope our tea caddy will add a flash of colour and become a treasured feature in the kitchen."
June 3, 2009 | No Comments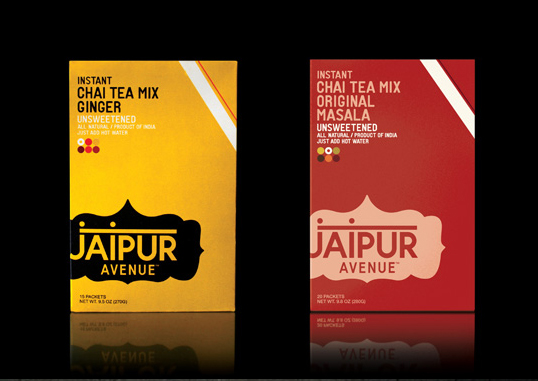 Designed by Turnstyle | Country: United States
"The faraway Indian city of Jaipur, famous for its royal palaces, colorful culture and romantic charm epitomizes the ancient chai tradition at its best. Jaipur Avenue is an instant passage to this magical land through an enthralling all-natural chai experience to be enjoyed anywhere, anytime. As diverse as the colors of India, so are the flavors of Jaipur Avenue chai: Ginger, Cardamom, Masala, Vanilla and Saffron."
May 23, 2009 | 6 Comments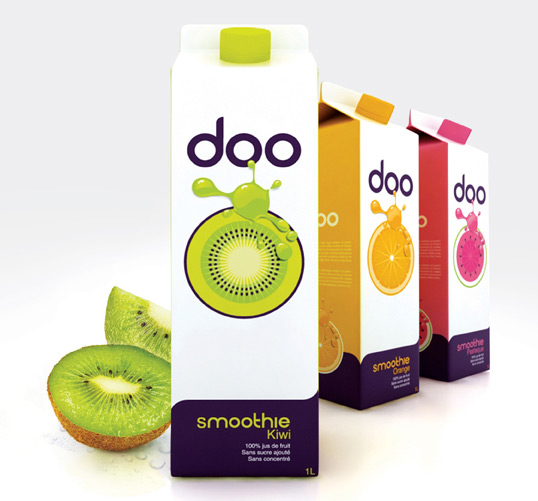 Designed by B&T | Country: France
"DOO is a new smoothie french Brand. The meaning of the name comes from the french word "doux" which means sweet in English. We made the name shorter and easier to read. Somehow we wanted to find a fun way to write this word and, in the same time, keeping the same pronunciation. A B&T design, we love to work on pure and fresh design without adding stuff that needlessly overwhelms our design. We wanted these smoothies to be efficient and obvious for the consumer.
As the design is uncluttered we also wanted our flavor to be so. That's the reason why chose 3 very simple flavors: Kiwi, Orange, and Watermelon, and we didn't go into the multi-fruit blend."
May 21, 2009 | No Comments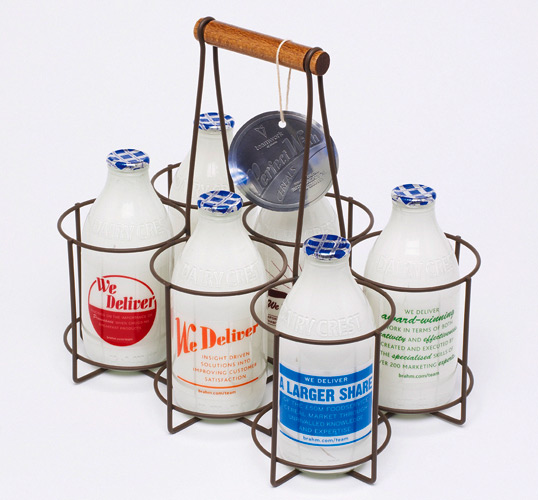 Designed by Si Thorpe | Country: United States
'We're Perfect with Cereals' — label designs for a self promotional item. Awarded silver at the Roses Advertising Awards 2009 — Best use of typography."
May 17, 2009 | 2 Comments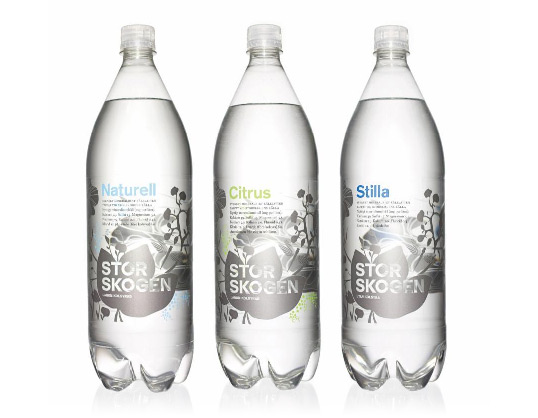 Designed by Happy Forsman & Bodenfors | Country: Sweden
"Within the tight parameters of bottles water design, Storskogen Water's packaging manages to turn out fresh, pretty and inviting."
May 15, 2009 | 3 Comments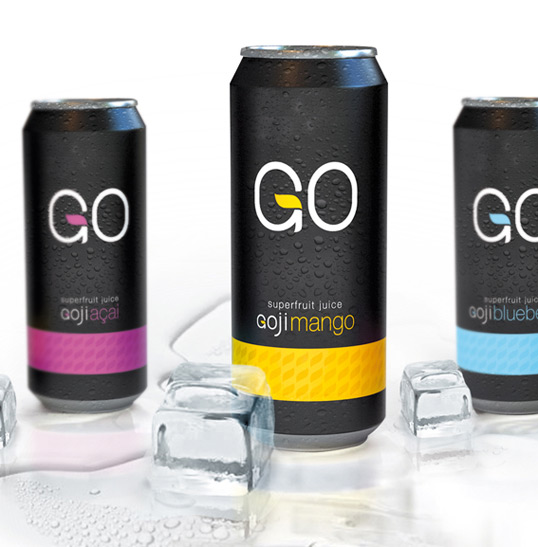 Designed by B&T | Country: France | Font: Helvetica
GO directly comes from our R&D branch. At B&T-design, we not only design packaging for our clients, we also create brands and products.
Goji berry juices are rich in vitamins and minerals (Beta carotene, B vitamins, amino acids, potassium, protein and polysaccharides). A drink that brings you all that your body needs. We blended our juice with other all natural fruit juices. We wanted our beverage to be sweet and delightful but we also wanted to keep our juice pure and 100% natural. The goji berry juice is traditionally known as an antioxidant, and it's very good for your health. But we didn't want our blended goji juice to look like medicine, like some other juices do. At B&T design we decided to make it a "ready-to-drink" beverage and to sell it in a can package, with a cool and fresh design."