February 25, 2014 | 2 Comments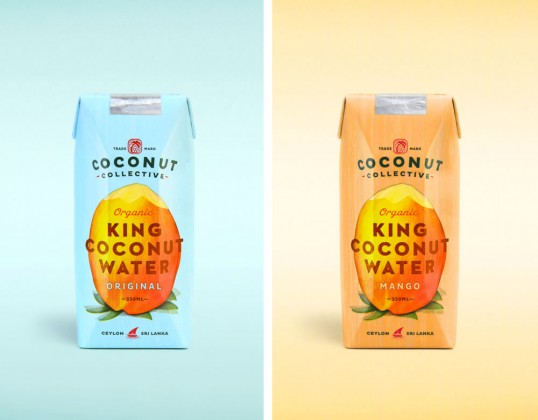 Designed by Marx Design | Country: New Zealand
"Marx Design was asked to create a new Coconut Collective brand that would work across a range of coconut-based products including waters, milks and cooking oils. First up was the organic King Coconut Water, a 330ml Tetra Pak available in original and flavoured variants.
Organic King Coconut Water is sourced from the famed coconut triangle of Sri Lanka, home to the golden thambili (king coconut) – the only coconut harvested specifically for drinking and chosen for its electrolyte content and natural sweetness."
February 20, 2014 | No Comments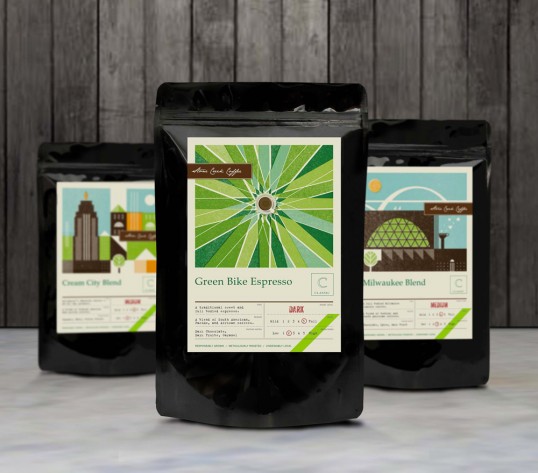 Designed by LP/w Design Studios | Country: United States
"For the past 5 months, LP/w has helped Stone Creek Coffee redefine and reposition their brand. We started with the first manual brew bar in Milwaukee, Wisconsin and now we are releasing all-new packaging. We'd like to introduce our three new series of coffee: Classic, Seasonal and Lab. The Classic series includes all-time favorites like French Roast and Cream City Blend. The Seasonal series is only special selections that will change over the course of the year. The Lab series is for the uber coffee geek, and will be very limited in availability and quantity (often single-sourced from a very small farm that only produces about 20 bags of coffee in total).
We are reorganizing our coffee line better reflects the complex palette of our customers. Often, our loyal customers simply want to wake up and drink a dark roast coffee like our French Roast, and we equate this to comfort food to start off the day. Different customers (or sometimes the same) want to be more experimental and see what is on the cutting edge of coffee. Foodies often discuss a so called "Third-Wave" of coffee and what they are referring to is the both the roast of the coffee and the way in which we serve it (i.e. our manual brew bar)."
February 17, 2014 | 1 Comment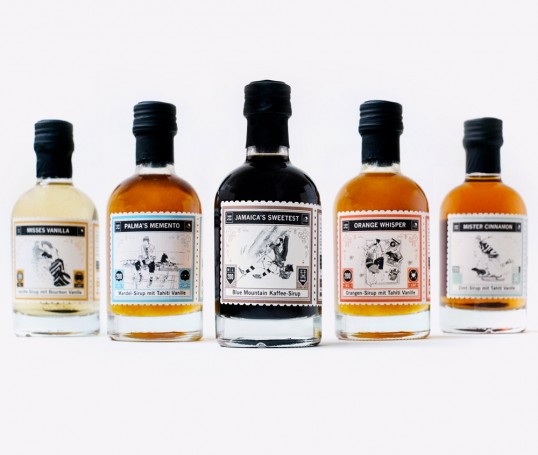 Designed by Studio Chapeaux | Country: Germany
"The story of Linvard Bo Lapp and his traveling companion Ephraim Fao is one of discovery. Scouring the globe to unearth the sweetest delicacies of far-away countries that they can then use for one of their delicious creations.
It's on those travels where they find the inspiration and ingredients for their unique concoctions. This is reflected within the new packaging creative for their syrup range: designed and illustrated to look like different stamps, the visuals show snapshots of those travels and discoveries – just like the Lapp & Fao syrups, each one a delicious souvenir in a bottle."
February 11, 2014 | 1 Comment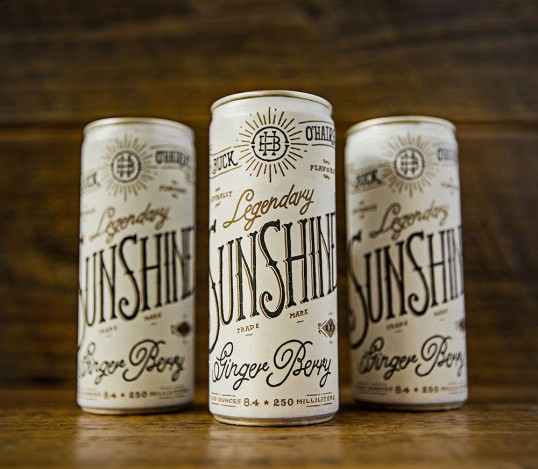 Designed by Device Creative Collaborative | Country: United States
"Inspired by the Appalachian legend of 19th century moonshiner Buck O'Hairen, Sunshine is a delightfully crisp, lightly carbonated pick-me-up with electrolytes, vitamin B12, natural ginger and flavors of blackberry.
The design harkens back to the hand lettering of the late 1800's and the boom of medicine show culture throughout the US."
February 10, 2014 | No Comments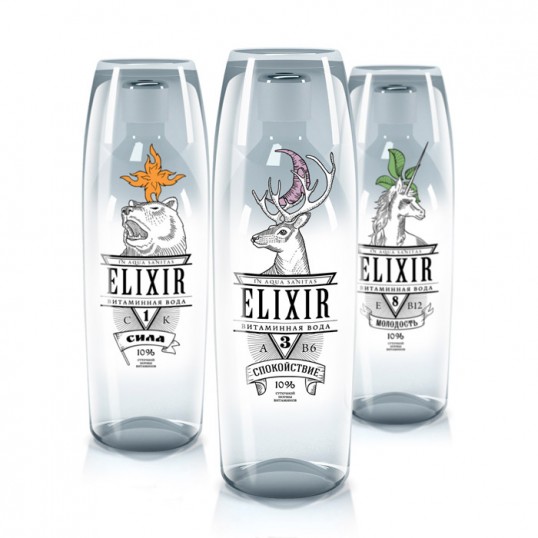 Designed by Barysheva Yana | Country: Russia
"Elixir was chosen as the brand name as it is widely known to represent eternal life, immortality, and well being. The brand logo was then set out in a clear and sharp font representing an up market professional appearance that will appeal to a broad consumer market.
In addition the logo includes the Latin slogan In Aqua sanitas this is taken from the Latin saying "In vino veritas, in aqua sanitas" . "In whine there is truth In water Their is health". This combined with Elixir adds to the overall feeling of health, youth and vitality. To complete the Logo the words Vitamin Water are clearly displayed to insure the consumer understands and relates to the product and its contents.
The brand is divided into 3 varieties each with, A different symbol, Animal, number, vitamin content, and subtitle name that all directly represents the benefits of the individual products. The symbols, numbers, and animals have been carefully selected and combined to create visually attractive graphics. Each with deep symbolic meaning, enabling consumers to relate to the benefits of each product on offer."
November 14, 2013 | 1 Comment
Designed by STUDIOIN | Country: Russia
"The target audience for smoothie's in Russia is primarily wealthy and active young woman. Be True's new crown identity formed from a splash speaks to the fresh quality of their product and the royalty of their customers."
November 11, 2013 | 1 Comment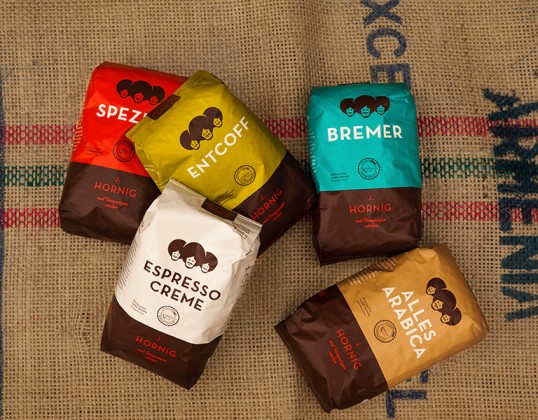 Designed by Moodley Brand Identity | Country: Austria
"For 100 years now, J. Hornig has been bringing delicious coffee to Austria. It's a popular family-run business with traditional roots. Nevertheless there's no better time than now to "restart" the brand. To focus on the future and to stop following the trends of the past few decades. J. Hornig still knows how coffee tastes best: Black, natural and home-made. It's the essence that counts most. And the pleasure when roasting coffee."
September 19, 2013 | 1 Comment
Designed by QNY Creative | Country: United States
"Victoria's Kitchen is a young californian start up, first launched their Almond Water in 2012. Inspired by a traditional and artisanal recipe from grandmother's kitchen, Almond Water is the perfect combination of delicate yet tasty flavors. Infused with natural extracts, flavors and a hint of sweetness, Almond Water is a refreshing alternative to lemonade or iced tea."
September 19, 2013 | 4 Comments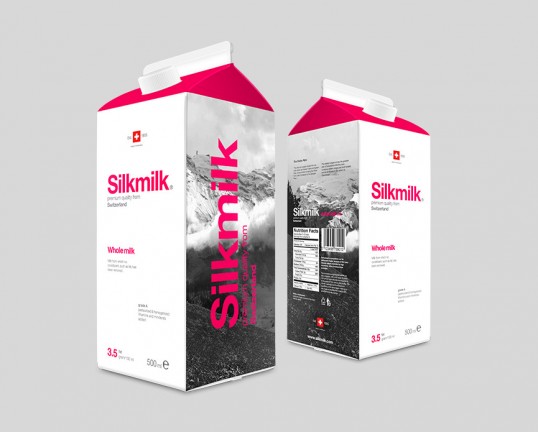 Designed by Darkoo | Country: Hungary
"I wanted to make a "half minimalistic" style conceptual package, with a traditional font of Switzerland. Different types of milks are given different rich colors to distinguish itself."
September 11, 2013 | 2 Comments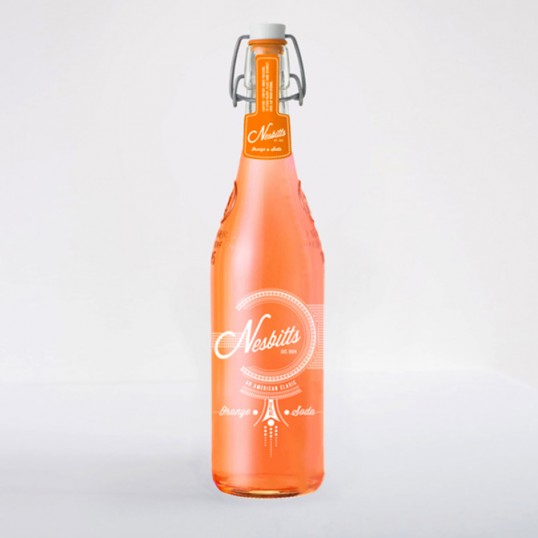 Designed by Emily Shaw | Country: United States
"Nesbitts was a popular brand of orange-flavored soda in the United States for a large part of the 20th century. Nesbitts was produced and distributed by the Nesbitt Fruit Products Company of Los Angeles, CA.
They also produced other flavors of soda under the Nesbitts and other brands, but none were as popular as the orange variety."