November 16, 2010 | No Comments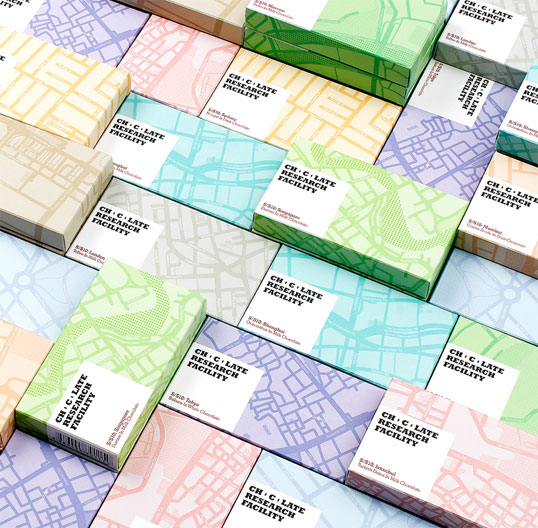 Designed by Asylum | Country: Singapore
"These are our seasonal flavours Spring/Summer 2010 and Autumn/Winter 2010. Each season has 10 new flavours that correspond to a particular theme. S/S10 was our Cities series ­ each flavour representing different global cities, pretzel chocolate for NY, Toffee chocolate for London, Vodka for Moscow and even Tom Yam for Bangkok! A/W10 was classic desserts ­ flavours like blackforest cake, blueberry muffin, lychee sorbet, peach melba and eve pudding."
See the original series here
November 12, 2010 | No Comments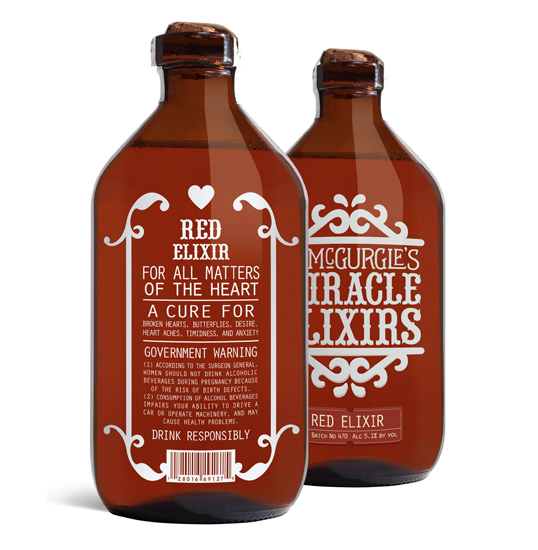 Designed by Adam Gerstner | Country: United States
"Lovestruck? Straining for that last drop of inspiration? Step right up! Dr. McGurgle's "elixir" ales cure all. New to the market, Dr. McGurgle's distinguishes their brand with a love of history, mysticism, lawlessness and deadpan humor. This 6-pack apothecary is an exclusive promotion giving customers a taste of the doctor's medicine."
November 11, 2010 | No Comments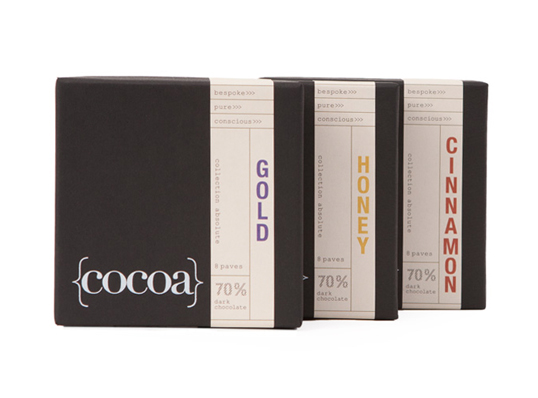 Designed by Naohiro Haitani | Country: United States
"{cocoa} founder, Jewel Zimmer, is a purist; a trusted curator, carefully crafting rare chocolates to reveal new innovations for her San Francisco-based boutique chocolate company. With {cocoa}, Jewel elevates the art of artisan chocolate, creating esthetically beautiful collections that balance fine craftsmanship and pure ingredients. Her integrity, originality and eye for fine design have combined to deliver the most innovative, conscious chocolate collections available."
November 2, 2010 | No Comments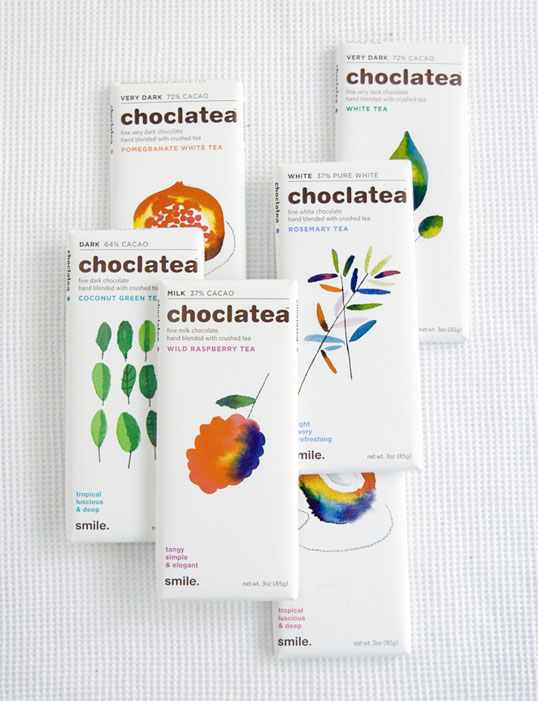 Designed by Air Conditioned + Ann Field | Country: United States + United Kingdom
The combination of beautiful colourful watercolour illustrations and white packaging would ensure this packaging stands out on a shelf.
October 28, 2010 | 1 Comment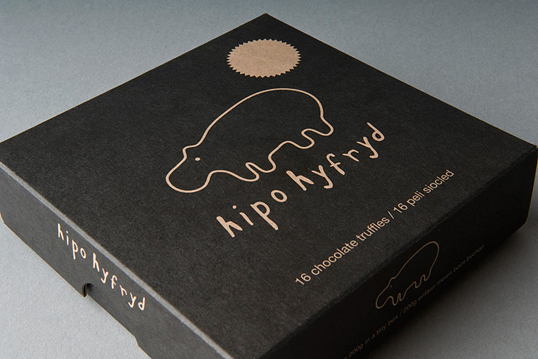 Designed by Kutchibok | Country: Wales, United Kingdom
"Welsh based company producing luxury vegan chocolate truffles. Kutchibok produced their new corporate branding and packaging."
August 21, 2010 | 10 Comments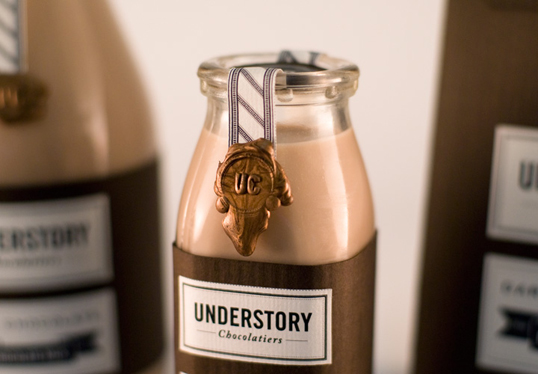 Designed by Mark Johnson | Country: United States
Some beautiful student work designed while Mark was at the Savannah College of Art and Design.
"Based in the understory of the Central American rain forest, Understory Chocolatiers is a company that cares about every step of the chocolate making process. Dedicated to making a great end product, Understory Chocolatiers takes every step into their own hands from bean to bar."
August 12, 2010 | 7 Comments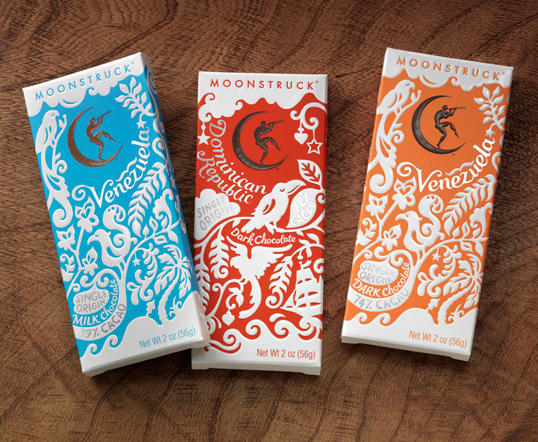 Designed by Sandstrom Partner | Country: United States
"Moonstruck Single Origin Chocolate Bar Collection. Moonstruck Chocolate is a Portland, Oregon based company known for making premium handcrafted truffles. This chocolate bar packaging line is Moonstruck's first entry into the premium, single origin chocolate category. Our goal was to create a chocolate bar packaging line that imbues the same qualities that drive Moonstruck brand enthusiasm through its truffles: handcrafted quality, visual beauty, multi-sensory experience and imagination. The illustrations and typography are a hand-cut paper style. The finishes include: Matte Soft-Touch (color areas). Glossy Soya-kote varnish with emboss (white areas). Thick UV varnish (chocolate logo). Matte silver foil."
August 5, 2010 | 7 Comments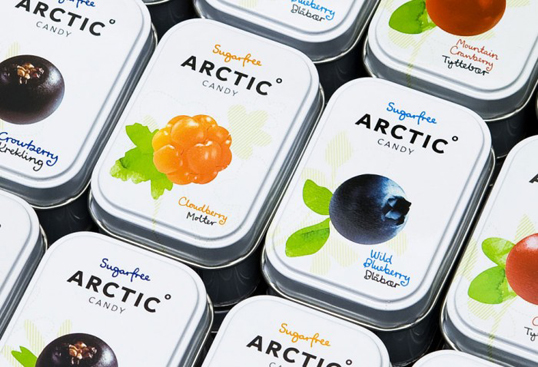 Designed by Neue | Country: Norway
"Sugarfree Arctic Candy are made of berries growing north of the Arctic Circle. Cooled by the arctic wind and warmed by the midnight sun, these berries ripen at a slow pace and grow to be sweeter than other berries. Extreme weather makes extreme berries. These are the extra sweet berries Eivind Glad use to make this candy."
July 25, 2010 | 8 Comments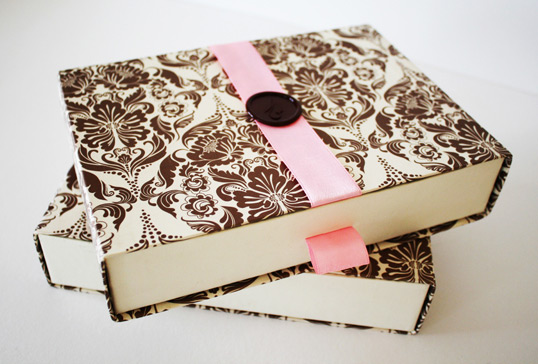 Designed by Natoof Design | Country: Dubai
"To indulge the invitees, the bride wanted to give her wedding invitations with a box of chocolate. The box was designed in an elegant way with a cover & a pull out drawer. At the back of the cover, a space was left for the names of the invitees. A custom wax seal (it carried the Arabic monogram for the bride's & groom's name) was attached to the wrapped ribbon around the cover; this is to add a sense of the Victorian era which was the theme of wedding."
July 1, 2010 | 4 Comments
Designed by Studio Output | Country: United Kingdom
"Pandora Bell is an artisan confectionery brand from the West of Ireland, practising under the philosophy that a high quality daily treat is healthier – and more satisfying – than a mouthful of artificial flavourings. We were asked to create branding and packaging to give their mouth-watering products the sophisticated presence they deserve. The resulting designs take inspiration from vintage food packaging and labels, giving them a contemporary twist through the use of different production techniques for the graphic components. The logotype, silhouette and patterns are used in varying degrees across the packaging, and executed in a range of finishes from foil to screenprinting."