August 12, 2010 | 7 Comments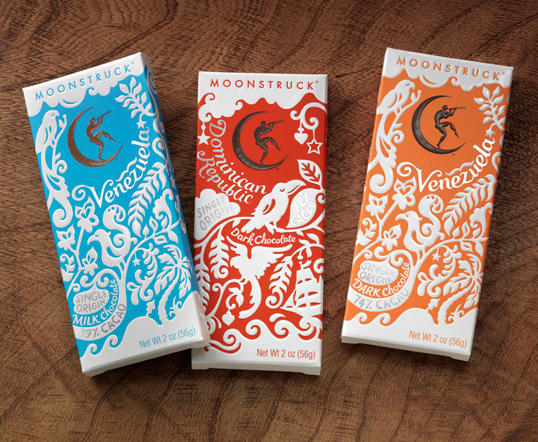 Designed by Sandstrom Partner | Country: United States
"Moonstruck Single Origin Chocolate Bar Collection. Moonstruck Chocolate is a Portland, Oregon based company known for making premium handcrafted truffles. This chocolate bar packaging line is Moonstruck's first entry into the premium, single origin chocolate category. Our goal was to create a chocolate bar packaging line that imbues the same qualities that drive Moonstruck brand enthusiasm through its truffles: handcrafted quality, visual beauty, multi-sensory experience and imagination. The illustrations and typography are a hand-cut paper style. The finishes include: Matte Soft-Touch (color areas). Glossy Soya-kote varnish with emboss (white areas). Thick UV varnish (chocolate logo). Matte silver foil."
August 5, 2010 | 6 Comments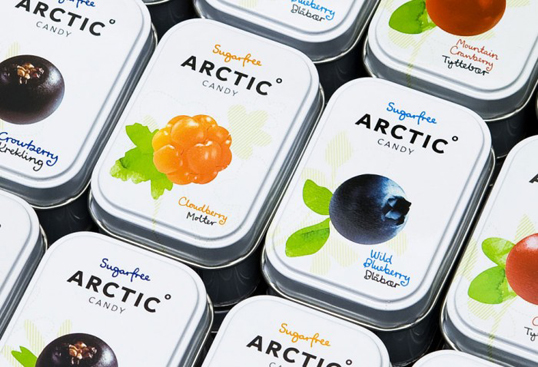 Designed by Neue | Country: Norway
"Sugarfree Arctic Candy are made of berries growing north of the Arctic Circle. Cooled by the arctic wind and warmed by the midnight sun, these berries ripen at a slow pace and grow to be sweeter than other berries. Extreme weather makes extreme berries. These are the extra sweet berries Eivind Glad use to make this candy."
July 25, 2010 | 8 Comments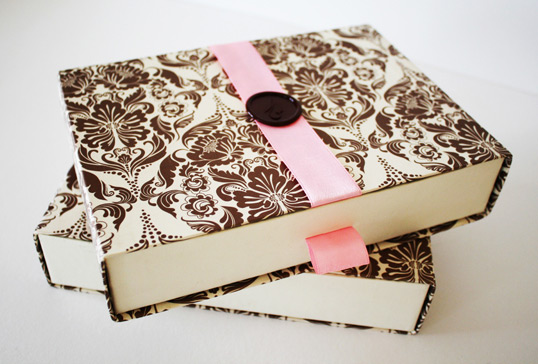 Designed by Natoof Design | Country: Dubai
"To indulge the invitees, the bride wanted to give her wedding invitations with a box of chocolate. The box was designed in an elegant way with a cover & a pull out drawer. At the back of the cover, a space was left for the names of the invitees. A custom wax seal (it carried the Arabic monogram for the bride's & groom's name) was attached to the wrapped ribbon around the cover; this is to add a sense of the Victorian era which was the theme of wedding."
July 1, 2010 | 4 Comments
Designed by Studio Output | Country: United Kingdom
"Pandora Bell is an artisan confectionery brand from the West of Ireland, practising under the philosophy that a high quality daily treat is healthier – and more satisfying – than a mouthful of artificial flavourings. We were asked to create branding and packaging to give their mouth-watering products the sophisticated presence they deserve. The resulting designs take inspiration from vintage food packaging and labels, giving them a contemporary twist through the use of different production techniques for the graphic components. The logotype, silhouette and patterns are used in varying degrees across the packaging, and executed in a range of finishes from foil to screenprinting."
June 18, 2010 | 6 Comments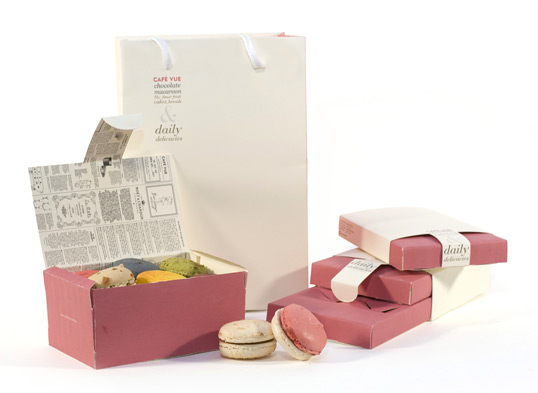 Designed by Kim Hei Ip | Country: Australia
"This is a packaging project to design a range of "packs" that can house the macaroons and chocolates produced by Café Vue. Also materials should be considered. Inside the macaroons box, a paper platform is added to separate the macaroons, so if the customer want to buy six macaroons, they can just put it under the paper platform. If they want twelve's, they can put another six on the top of it.
For the chocolates box, a tray that can holdup to six different shapes of chocolates is designed. And also, two different paper holder was designed that can fit one tray or two trays."
June 11, 2010 | 2 Comments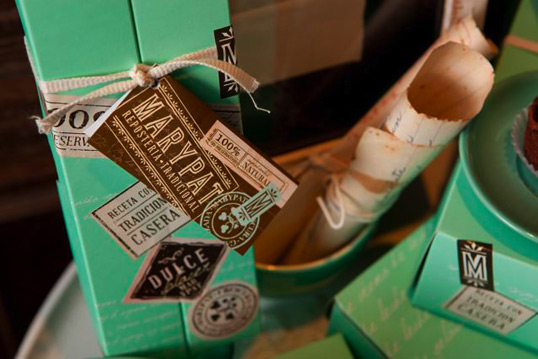 Designed by Walnut Studio | Country: United States
"The product is totally natural and only accesible by delivery… It just made me dream about all the places this products will end up. That took me to remember those vintage french suitcases filled with stamps of interesting, romantic places they went to.
I've designed a set of stamps and stickers that are placed randomly on every box and bag, and then tied in an old fashion way to make it all a unique experience."
June 9, 2010 | 3 Comments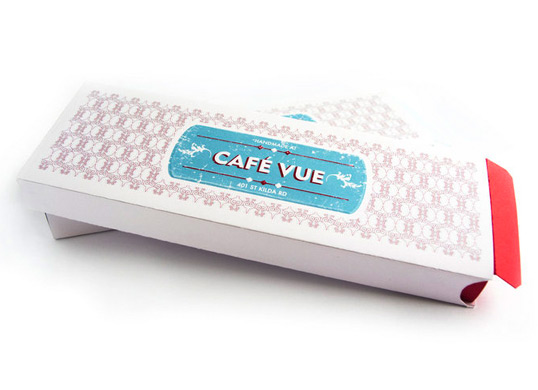 Designed by Ben Osborn-Macpherson | Country: Australia | Fonts used: Geometric 415, Gotham,
3rd year Communication Design student Ben Osborn-Macpherson from RMIT University in Melbourne sends us some of his work.
May 31, 2010 | 2 Comments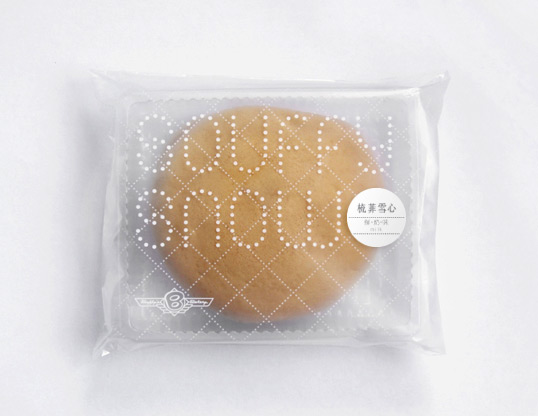 Designed by BLOW | Country: Hong Kong
"We have created the name and packaging design for a new product of Buffy's Bakery. Souffy Snow is a souffle-like cake that needs to be kept in the fridge. Different labels will be used for different flavors.
The simple and modern packaging design effectively delivers the feeling of the product – Souffy Snow."
May 28, 2010 | 4 Comments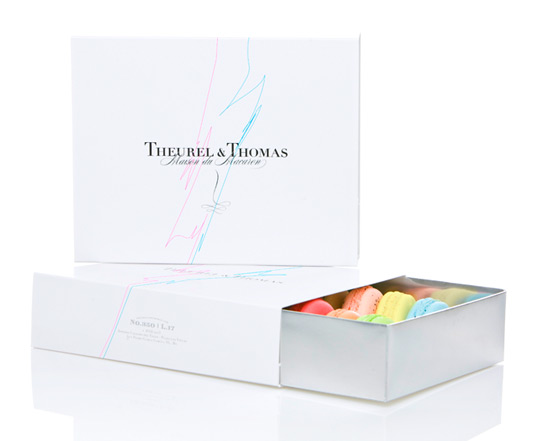 Designed by Anagram | Country: Mexico
"Theurel & Thomas is the first pâtisserie in Mexico specialized in French macarons, the most popular dessert of the French pastries.
For this project it was very important to create an imposing brand that would emphasize the unique value, elegance and detail of this delicate dessert.
White was our primary tool for design. As a result of this the attention was fully oriented to the colorful macarons. We placed two lines in our design in cyan and magenta, as a relation with a modern French flag to inject a vanguard vision to the identity. We selected Didot (created by Firmin and Pierre Didot), a French typography that would present the brand with sophistication."
May 24, 2010 | 2 Comments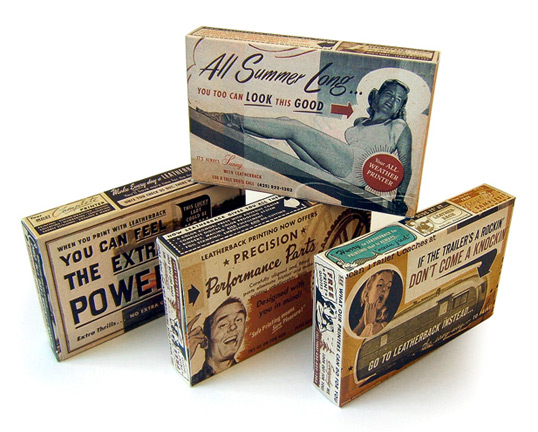 Designed by Niedermeier Design | Country: United States
"With summertime approaching, Leatherback wanted to create a self-promotional piece advertising the purchase of a new printing press and the expansion of their production capabilities. Having a sweet tooth of their own, the owners liked the idea of sending out nostalgic candy in small gift boxes. On a slow Tuesday afternoon, who doesn't like a little something sweet to help get them through the rest of the day?"