May 24, 2010 | 2 Comments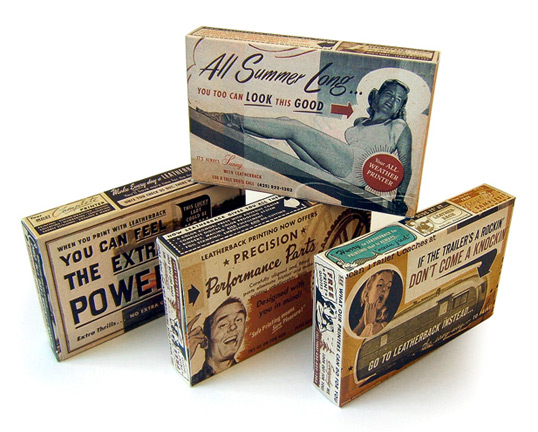 Designed by Niedermeier Design | Country: United States
"With summertime approaching, Leatherback wanted to create a self-promotional piece advertising the purchase of a new printing press and the expansion of their production capabilities. Having a sweet tooth of their own, the owners liked the idea of sending out nostalgic candy in small gift boxes. On a slow Tuesday afternoon, who doesn't like a little something sweet to help get them through the rest of the day?"
May 17, 2010 | 6 Comments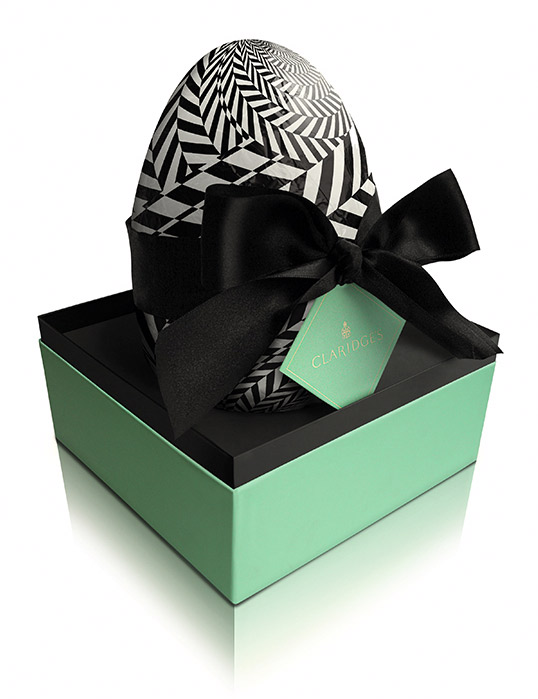 Designed by Construct | Country: United Kingdom
"London design studio Construct has given the branding of London's famous Claridge's hotel a thorough overhaul. Because it is a working hotel with a huge number of items traditionally branded (from teapots and egg cups through to slippers and dressing gowns), Construct's task of not just branding, but implementing a consistent and cohesive sense of identity throughout the hotel and the objects within it was by no means straightforward. In fact, the rollout of the new branding is ongoing throughout this year as there are so many different ideas to implement across a huge range of items.
As well as introducing a sophisticated colour palette of jade, gold, white and black, bold architecturally inspired chevron patterns appear on the inside of bags, envelopes and on various objects, publications and goodies guests at the hotel are lilkely to encounter."
May 14, 2010 | 6 Comments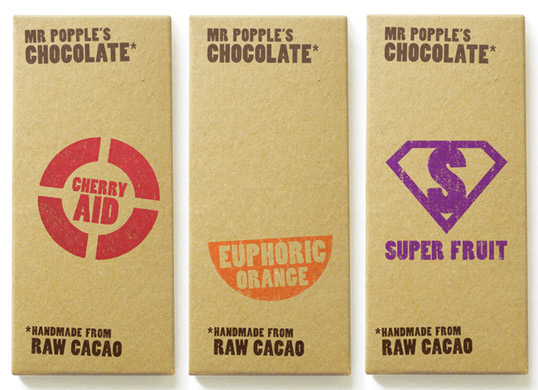 Designed by KO Creative | Country: United Kingdom
"Chocolate maker Mr Popple creates his bars using only raw cacao and organic, natural ingredients making them super healthy and super ethical. Each bar has a fun name which references the powerful nature and health benefits of the individual ingredients. These are each supported by a simple, solid graphic which is printed onto recycled card using rubber stamps and water based inks. The material for the boxes was chosen because of its rough appearance reflecting the raw nature of the ingredients. Using this technique means each time a box is printed, the graphic elements vary slightly in strength and position giving the customer a pack as individual as the handmade product inside. The chocolate bar inside is wrapped in soya based plastic, so in an all this is a totally environmentally-friendly product. Mr Popple's Chocolate stands out as looking quirky and unique compared to the mass produced confectionery in the health food shops where it is stocked."
May 13, 2010 | 4 Comments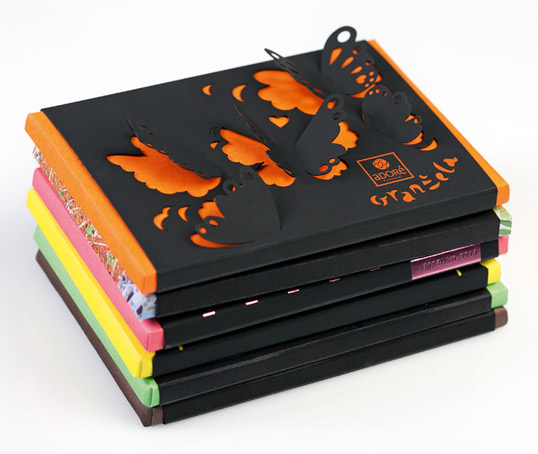 Designed by Coba & Associates | Country: Serbia
"Adoré are hand-made chocolates and as such fall under the category of higher quality status both in terms of product quality and packaging design, as well as consumer communication. Bearing in mind the active period in the development of the brand, we needed to create packaging for a new product – the chocolate tablet. The idea was to come up with packaging for 10 different flavors.
Each flavor got its own look and name! Whether it is Crunchy Mint or Orangella, each flavor received a specific packaging which are (from a production standpoint) very specific in this region. Using thermal block foil, laser-cut paper and special printing techniques have resulted in designs that communicate that Adoré Chocolate provides more than just taste – it is a brand that takes you on a journey."
April 14, 2010 | 7 Comments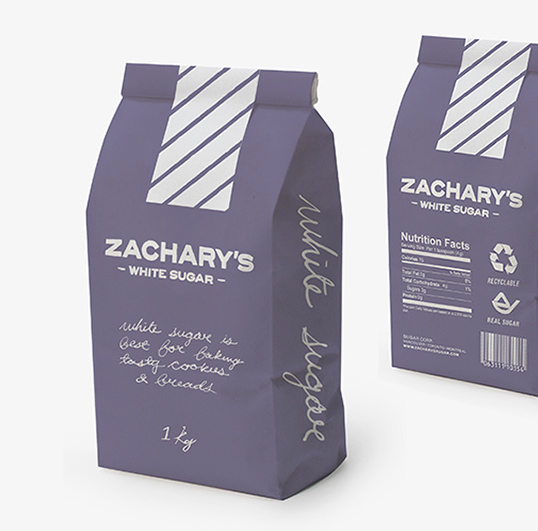 Designed by Pamela Rounis | Country: Canada
Capilano Universtiy graduating student Pamela Rounis sent us some of her great package design work.
April 11, 2010 | 5 Comments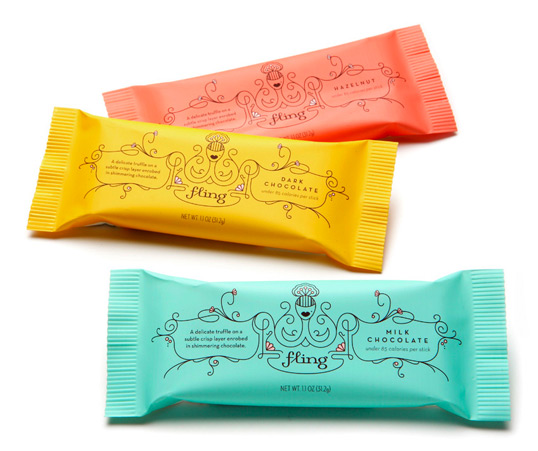 Designed by Anchalee Chambundabongse | Country: United States
"While at BBDO DesignWorks, I had the opportunity to design identity and packaging concepts for Fling, a new chocolate bar for the calorie-conscious, chocolate-loving fashionista."
April 4, 2010 | 5 Comments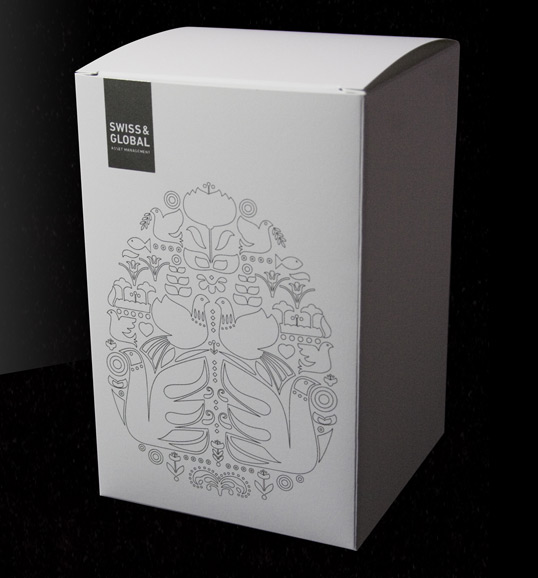 Designed by f-o-r-m-e | Country: Italy
"We designed this package for our client Swiss & Global Asset Management. They are dedicated asset managers in Switzerland and worldwide and every year they make a little Easter present for their clients. They usually send some particular sweets from Sicily and we usually create a very simple package for them. On October 2009 they changed their company name – formerly Julius Baer Asset Management – so they decided to use the gift to communicate to their clients that the company name changed, but not the quality of their service. We decided to change the package to support this really important concept. We used a very beautiful kind of paper, Arjowiggins Skin, and a very refined illustration. All printed in Pantone Silver. We also used a "more vertical" form so that you think – also because of the illustration – that you'll can find a chocolate egg inside. But when you open the package you find a card saying you 'E' cambiata la forma, non la sostanza' (The form has changed, not the substance)."
April 2, 2010 | 7 Comments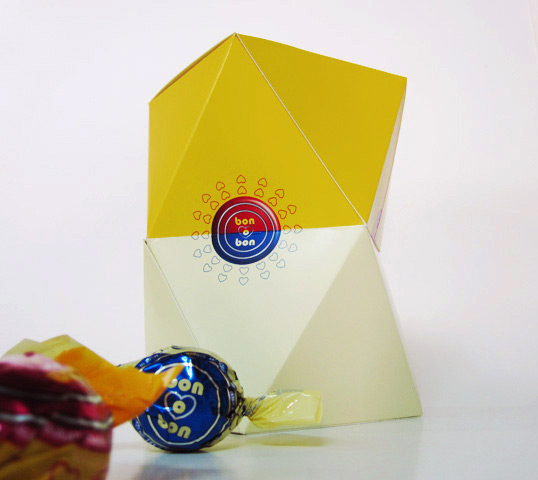 Designed by Diego Hodgson | Country: Chile
"The idea of the product is the Bon o Bon chocolates (classic and white chocolate) are given as a gift or present, packaging both varieties in one."
March 18, 2010 | 8 Comments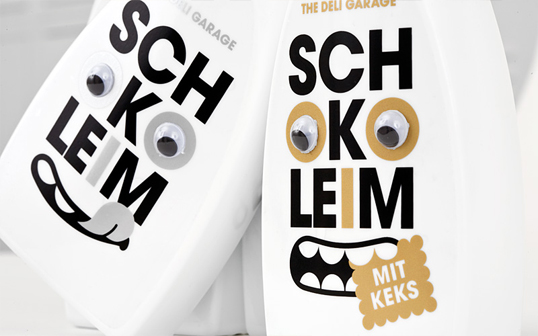 Designed by KOREFE | Country: Germany
"Schokoleim is a chocolate paste, packaged in the classic wood glue bottle. The Food Label The Deli garage offers "artisanal" delicacies made with high quality design and functionality of tools from the garage."
March 10, 2010 | 1 Comment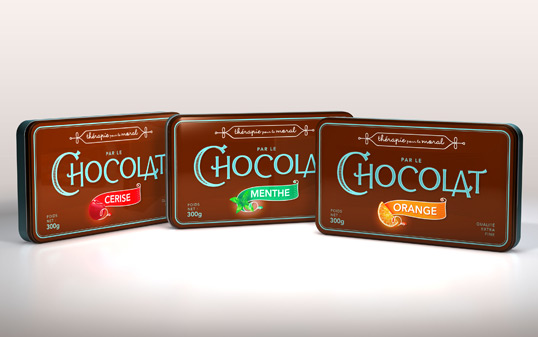 Designed by Samy Halim | Country: France
Concept work from designer Samy Halim.
"Thérapie pour le moral is a little joke, that means this brand can buck up the moral of the person if she was in a sad mood. I was inspired by the packaging design of the last century, but I wanted to keep in mind some modern and actual codes."