July 9, 2009 | 4 Comments
Designed by Marque | Country: United Kingdom | Fonts: FF DIN | Buy it
"Since founding Kshocolat only four years ago, entrepreneur Simon Coyle has made an impressive impact on the international luxury chocolate market.  Our brief has been to help Simon carefully target a design conscious, modern market through his expanding range that incorporates innovative flavours – including lemon and pepper, and orange and cardamom.
Through an engaging, ongoing relationship Marque have worked to develop this British brand success from the base up, creating the brand identity, positioning and a range of over fifty different pieces of packaging. Kshocolat now export to two dozen luxury markets worldwide and can be seen in places such as British Airways First Class, Harvey Nichols, Liberty and Wholefoods Market."
July 9, 2009 | 4 Comments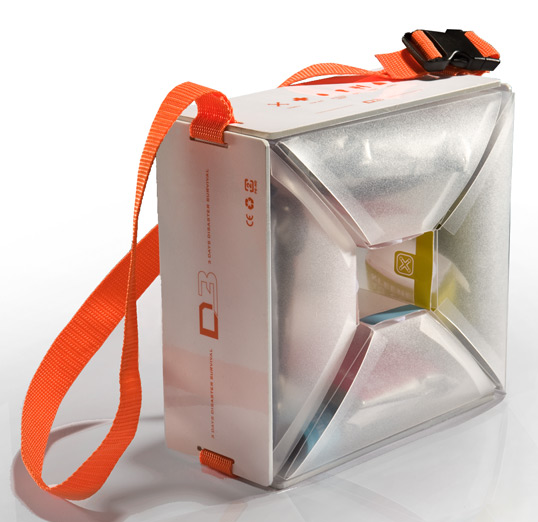 Designed by Angela Wang | Country: United States
Great work from graphic design major Angela Wang who is currently studying at Art Center College of Design.
July 2, 2009 | 6 Comments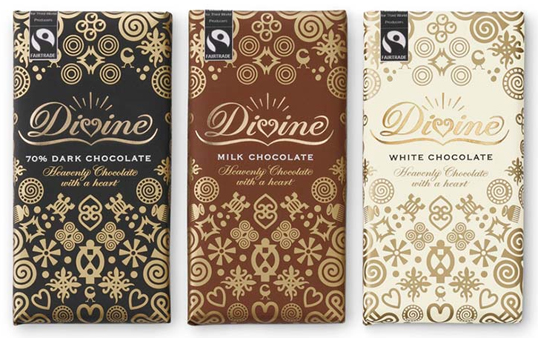 Designed by Williams Murray Hamm | Typography: Alison Carmichael | Country: United Kingdom
It is refreshing to see a fair trade product packaged as beautifully as this.
July 1, 2009 | 5 Comments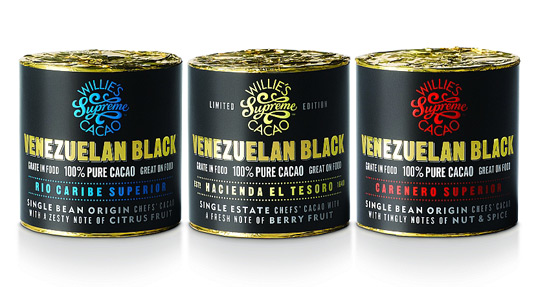 Designed by Taxi Studio | Country: United Kingdom | Buy it
Taxi Studio recently picked up a 2009 Cannes Silver Lion for their lovely work on Willie's Cacao.
"Willie's 100% Chef's Cacao Bar needed a little sweetening. We tied up the typography, introduced a Supreme brand identity and added the strapline 'Grate on food, Great on food' to communicate the product's purpose.
Sales have increased significantly since the redesign; so has our award count. (Not to mention our waistlines.)
June 29, 2009 | 1 Comment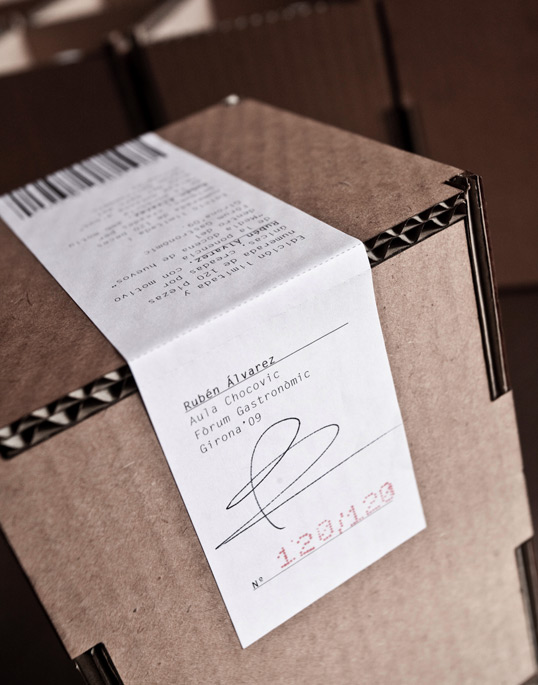 Designed by Zoo Studio | Country: Spain
"Packaging design for the limited edition chocolate work of art, "Huevo Código" (Code Egg), by the chocolate artist Rubén Álvarez. Each chocolate egg is numbered individually, and a label encloses the cardboard box, also signed and numbered by the artist."
June 10, 2009 | 10 Comments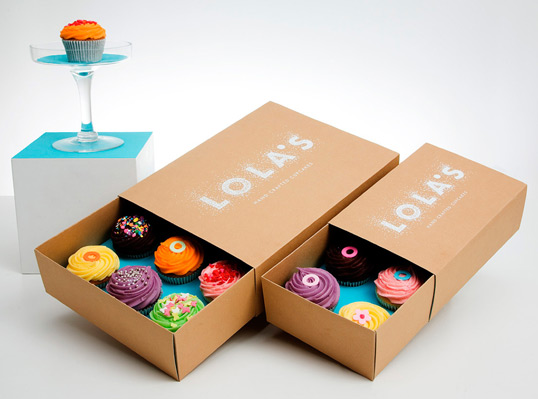 Designed by Campbell Hay | Country: United Kingdom
"Lola's Kitchen bake yummy cupcakes and bring them round to your house. The obvious popularity of this idea meant Lola's needed a strong brand identity to help support their growth.
We coined the line 'Hand Crafted Cupcakes' to communicate the essence of what they do, and designed them an identity to illustrate the nature of their business across all media, from a sugar coated logo to pastel coloured stationery and packaging, and even – quite literally – the icing on the cake."
May 29, 2009 | 2 Comments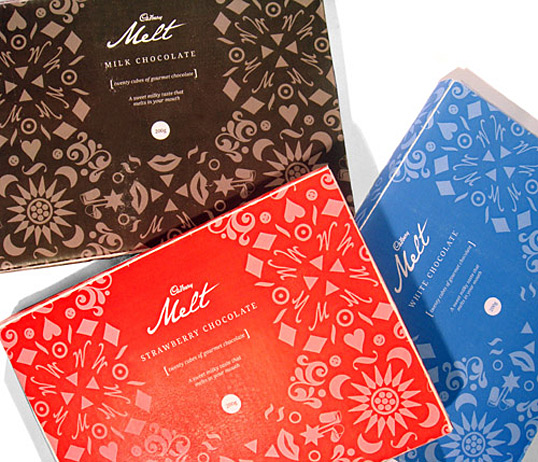 Designed by Daniel Elliot | Country: Australia
"Shown is a selection of three gourmet chocolate packaging solutions for world leader in chocolate Cadbury. The brief was to create a range of packs that would be exclusive, attractive and above all stand out from the shelves as being a 'luxurious' product."
May 22, 2009 | 2 Comments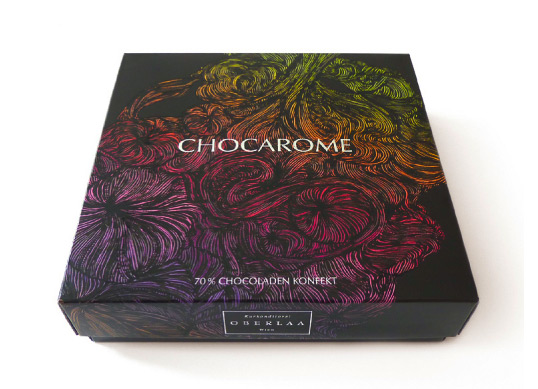 Designed by Wortwerk | Country: Austria
"Chocarome, a new creation of confectionery. It is a fusion of different flavours of fruit creme and 70% chocolate. Designed by Verena Panholzer for the confectionery Oberlaa, Vienna."
April 23, 2009 | 5 Comments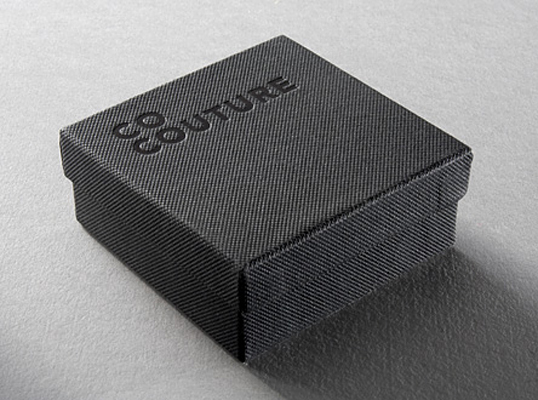 Designed by Sort Design | Country: Ireland | Font: Avenir
"Co Couture produce award winning handmade chocolates and chocolate bars, supplying many high-end retailers including Liberty in London. Sort have developed the brand and packaging and are currently working on launching the Co Couture e-commerce web site."
April 22, 2009 | 2 Comments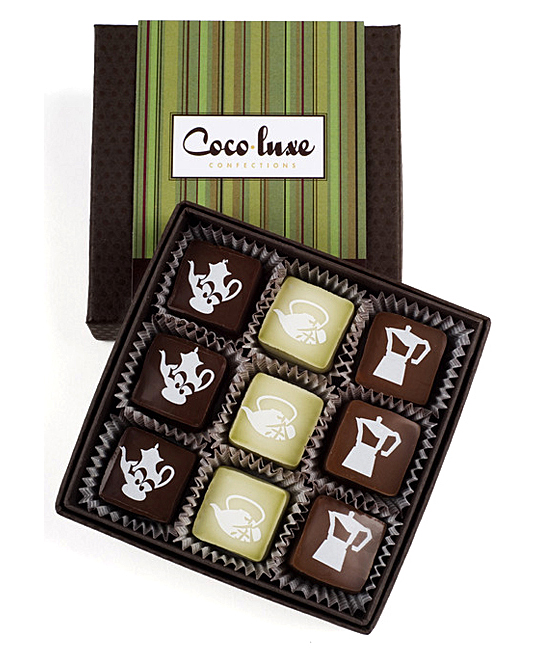 Country: United States | Buy it
Chocolate décor is not really packaging, is it… But I think that the "print" on these is very nice and in fact better than the box, I'm not totally convinced by the stripes and the white box with the logo. Would the logo directly on the brown dotted box (in white, for example) been more effective and more in line with the chocolates themselves?