June 29, 2009 | 1 Comment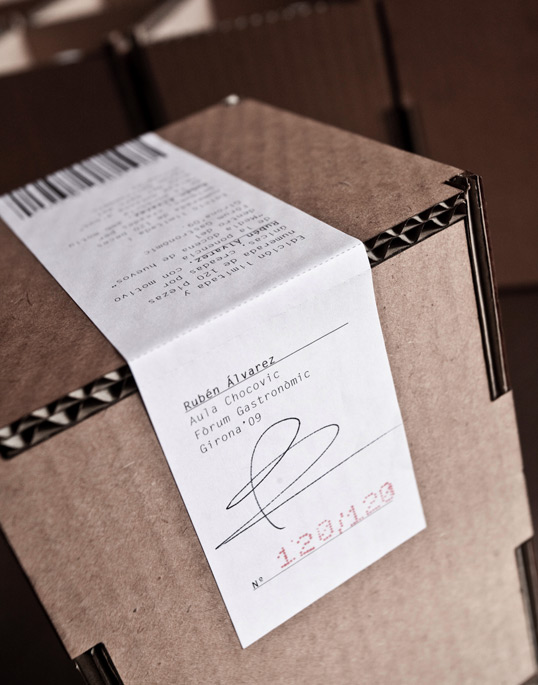 Designed by Zoo Studio | Country: Spain
"Packaging design for the limited edition chocolate work of art, "Huevo Código" (Code Egg), by the chocolate artist Rubén Álvarez. Each chocolate egg is numbered individually, and a label encloses the cardboard box, also signed and numbered by the artist."
June 10, 2009 | 10 Comments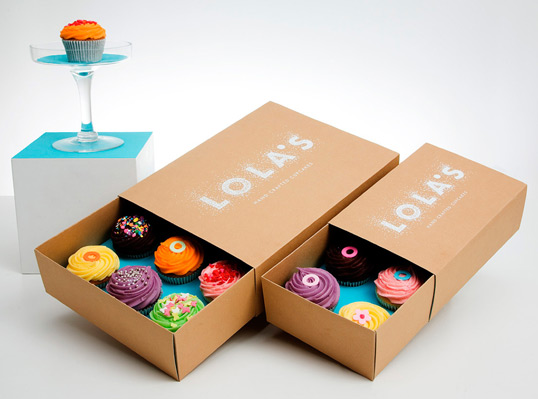 Designed by Campbell Hay | Country: United Kingdom
"Lola's Kitchen bake yummy cupcakes and bring them round to your house. The obvious popularity of this idea meant Lola's needed a strong brand identity to help support their growth.
We coined the line 'Hand Crafted Cupcakes' to communicate the essence of what they do, and designed them an identity to illustrate the nature of their business across all media, from a sugar coated logo to pastel coloured stationery and packaging, and even – quite literally – the icing on the cake."
May 29, 2009 | 2 Comments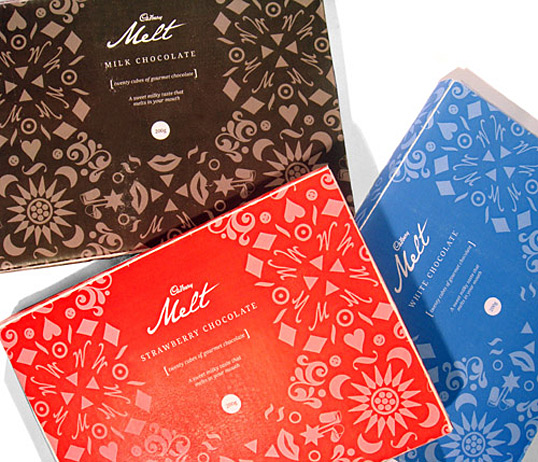 Designed by Daniel Elliot | Country: Australia
"Shown is a selection of three gourmet chocolate packaging solutions for world leader in chocolate Cadbury. The brief was to create a range of packs that would be exclusive, attractive and above all stand out from the shelves as being a 'luxurious' product."
May 22, 2009 | 2 Comments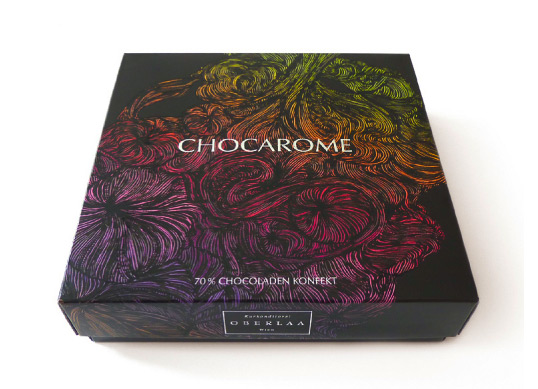 Designed by Wortwerk | Country: Austria
"Chocarome, a new creation of confectionery. It is a fusion of different flavours of fruit creme and 70% chocolate. Designed by Verena Panholzer for the confectionery Oberlaa, Vienna."
April 23, 2009 | 5 Comments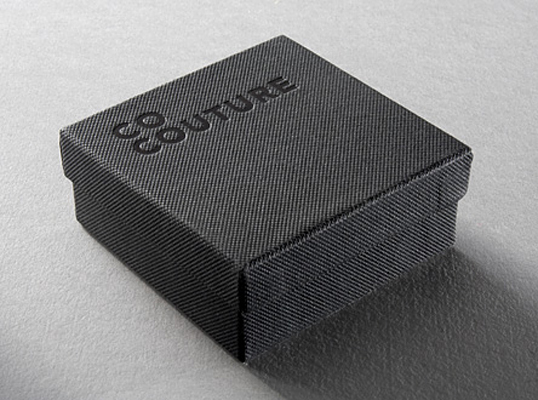 Designed by Sort Design | Country: Ireland | Font: Avenir
"Co Couture produce award winning handmade chocolates and chocolate bars, supplying many high-end retailers including Liberty in London. Sort have developed the brand and packaging and are currently working on launching the Co Couture e-commerce web site."
April 22, 2009 | 2 Comments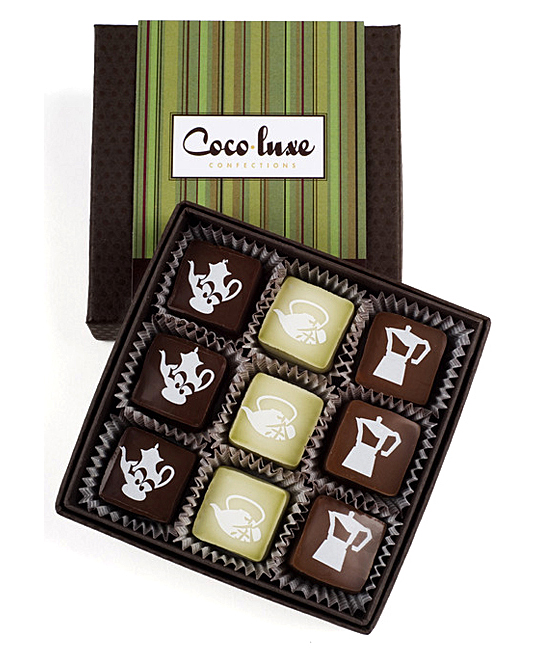 Country: United States | Buy it
Chocolate décor is not really packaging, is it… But I think that the "print" on these is very nice and in fact better than the box, I'm not totally convinced by the stripes and the white box with the logo. Would the logo directly on the brown dotted box (in white, for example) been more effective and more in line with the chocolates themselves?
April 15, 2009 | 4 Comments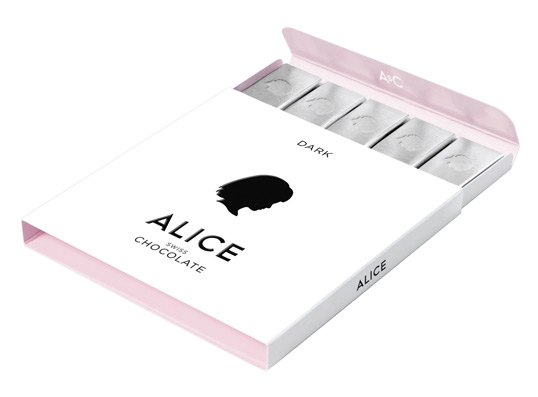 Country: Switzerland
"From the matchbox-like packaging to the slender bars of dark chocolate contained within, Alice Chocolate is an exquisite treat through and through. The brainchild of brand consultants Michael Felber and Steven Mark Klein, the pair are working to restore the tradition of Swiss chocolate by making their chocolate at a factory in Bern, Switzerland that has been around since 1919. Sourcing the chocolate (fairly and sustainably of course) from the Amazon, brings the tradition into the 21st century. Adding only sugar to the handpicked beans, Alice chocolates are exceedingly pure, free of stabilizers and additives and at 68% cacao content, the little wands are a pleasing not-too-bitter-nor-too-sweet blend .
April 14, 2009 | 10 Comments
Country: Japan | Font: ITC Avant Garde Gothic
100% Chocolate Cafe, located in Kyobashi  is a cafe dedicated to chocolate. Chocolate is used in all of the food and drinks in the menu.
They offer 56 different types of solid, square chocolate. Numbers 1-22 are single-bean chocolate. Each chocolate is made of cacao from one country. Numbers 23 & 24 are bitter chocolate with small pieces of cacao beans. Numbers 24 to 28 are variations of sweetener – one uses brown sugar, another one uses honey, etc. Numbers 26 to 36 are the variations of milk. Numbers 37 to 51 are the variations of flavors including fruits and herbs, and Numbers 52 to 54 are the healthy choices. Numbers 55 and 56 are the early blends of Japan's longseller chocolate.
April 9, 2009 | 1 Comment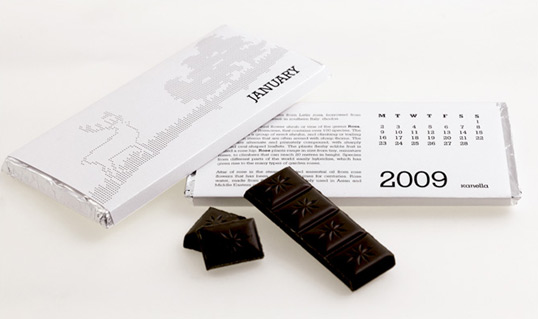 Designed by Kanella | Country: Greece
"This is a corporate gift, designed to wish clients a Happy and Sweet 2009. It is a box with a set of 12 chocolates, after the 12 months of the year, each with a different illustration that incorporates an element characteristic of the month (like a rose for Valentine's Day in February). It works as a calendar… and the chocolate has to be eaten at the end of each month.
The illustrations are designed with dots, just like the corporate identity of Kanella studio is. At the back of each chocolate pack one can see the days of the month and details about the illustration (like botanical information about roses). Metal White 120 gr. paper was used for the box and the chocolates wrapping. The black sealing wax with the monogram makes the whole pack more prestigious."
April 1, 2009 | 7 Comments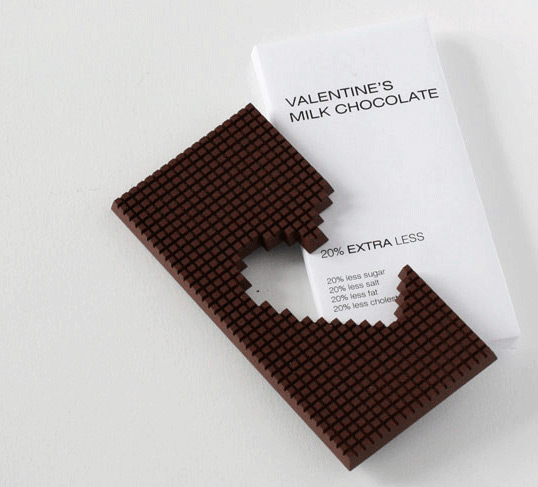 Designed by Tithi Kutchamuch | Country: United Kingdom | Fonts: Helvetica
"I buy Twix extra because it's only 10p more expensive than regular one. I finish it in one go, and feel guilty for the rest of the day.
Bargain food persuades people by playing with the value of money, which has brought a lot of problems to society: over nutrition, eating disorders, obesity, illness, guilt, wasting food, wasting resources, over production, etc.
Can design make people buy food that offers LESS?
*Winner, Pyramid awards, Deutsche Bank 2007
*Finalist, Design for our Future Selves Awards 2007, Helen Hamlyn Centre"