February 18, 2009 | 2 Comments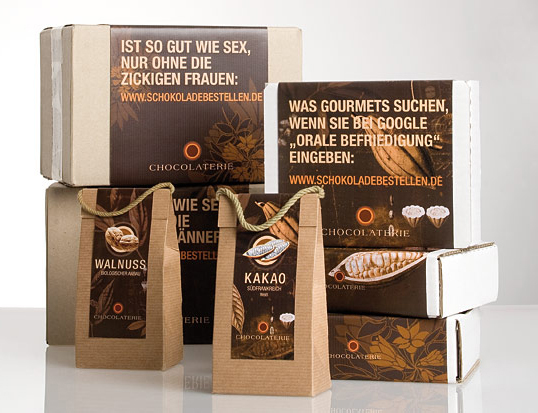 Designed by Permanent | Country: Germany | Fonts used: Helvetica
"It is proven that chocolate stimulates the production of some hormones which are responsible for pleasant feelings. Chocolaterie should make chocolate addicts very, very happy. It is an online shop providing the connoisseur with the finest that European sweemeat shops are able to manufacture. The corporate design pleases the eye as excellent as the shop thrills the tongue. The style reminds of traditional craftsmanship from the 20s and gives an impression of the superb quality of the goods. Since men and women favour different styles, a sex-specific design was invented: floral femal and humboldtous male."
February 15, 2009 | 1 Comment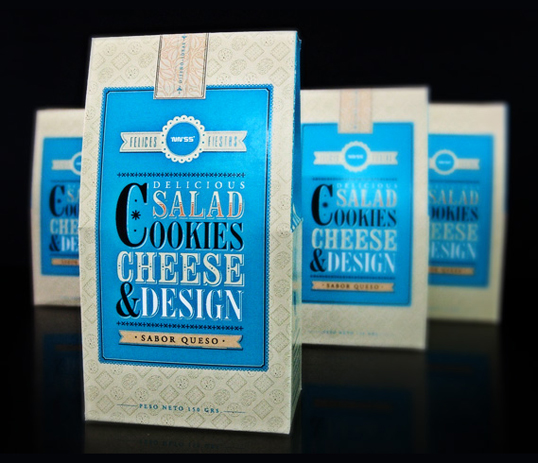 Designed by 'NN'SS™ | Country: Argentina
"Every time NNSS starts a project, we try to make something different, creative and with conceptual content. Our new year gift wasn't the exception. We made a cheese cookies pack, but we included inside it self one just different whit a blue sky bath sugar. The cookie had a label with a sentence on it: 'Between all… Different'."
February 8, 2009 | 1 Comment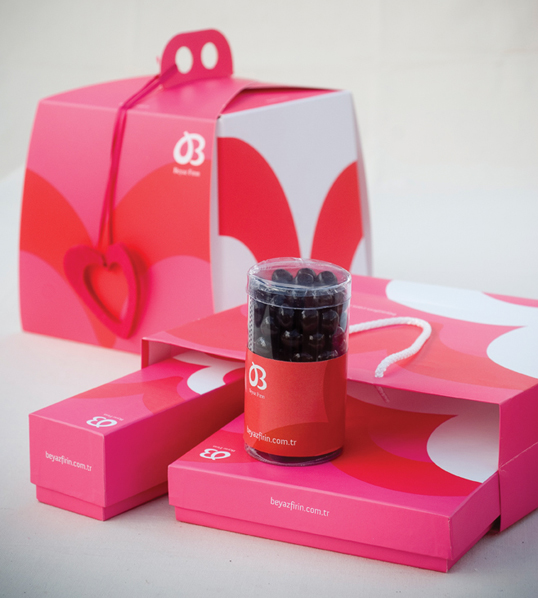 Designed by Karbon | Country: Turkey
"Karbon's customer 'Beyaz Firin' is a bakery/patisserie in Istanbul, very well known by the residents of the Anatolian side of the city. Founded in 1836 by George Stoyanof, a baker migrated from Macedonia, the bakery has been serving for 5 generations.
For the Valentine's season, Nathalie Stoyanof Suda, the 5th generation owner of the company, prepared special products. A special packaging design has been created by Karbon for these cakes, macaroons, cookies.
The authentic logo of Beyaz Firin, which has been revised by Karbon, has been the starting point of the packaging design as it looks like a heart shape. The visual identity embraces Orange as it's main color, however this artwork is created in pink and red, colors of love, in accordance with the season's spirit."
January 17, 2009 | 2 Comments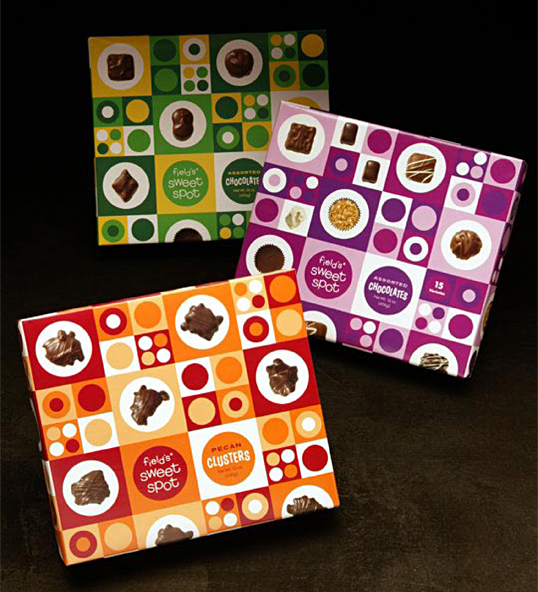 Designed by Wink | Country: United States | Fonts used: Futura, perhaps hand lettering (see MVB Grenadine).
"Field's Sweet Spot is a nostalgic candy destination of the Midwest department store Marshall Field's. The vernacular (a nod to the mod '60s) is equal parts fashion and fantasy, a concoction that combines both the department's retro-candy product selection and fashion driven branding efforts of Marshall Field's itself. The identity creates a playful aesthetic that appeals to both children and Marshall Field's female core guest alike."
December 28, 2008 | No Comments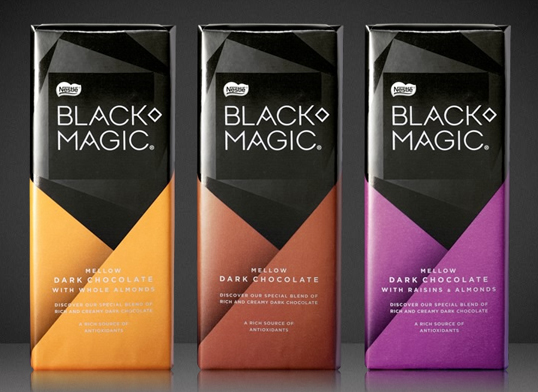 Designed by Elmwood | Country: United Kingdom
"Nestlé was keen to bring dark chocolate into the mainstream using it's much-loved Black Magic brand. It required a repositioning of the category as well as the brand and great packaging to communicate it."
December 25, 2008 | 1 Comment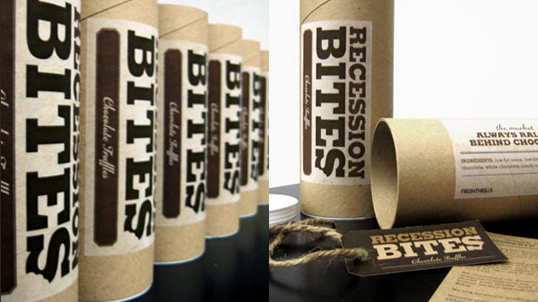 Designed by FRESHTHRILLS | Country: United States
"It's an annual tradition, which began long, long ago: The spread of holiday cheer to everyone you know. A celebration, if you will, of a good year that's past and the hopes for an even better one to come. But this year we found ourselves wondering how we could spread holiday cheer during a time when cheer was in short supply. This was the year where it seemed like bad news was everywhere; Unemployment hit an almost all-time high, and morale, an all-time low. Advertising spending went down, unemployment benefits, up. We knew it was bad when even the president admitted that not only were we approaching a recession, but we were deep smack in the middle of one. 'This bites!' a voice yelled.
And from there…an idea was born."
December 22, 2008 | 2 Comments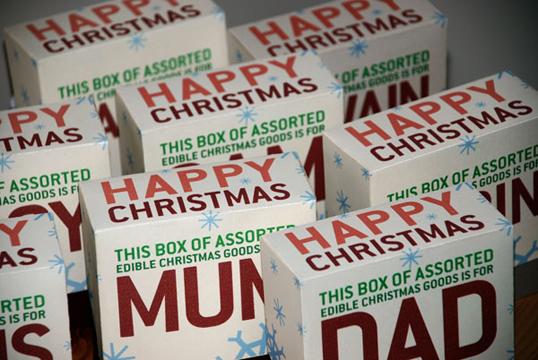 Designed by Mike Andrews | Country: United Kingdom | Fonts used: ITC Conduit
"This year I am a little tiny bit poor so I made everyone boxes and put various sweets and chocolates and things that are sweet and nice and sickly."
December 22, 2008 | 3 Comments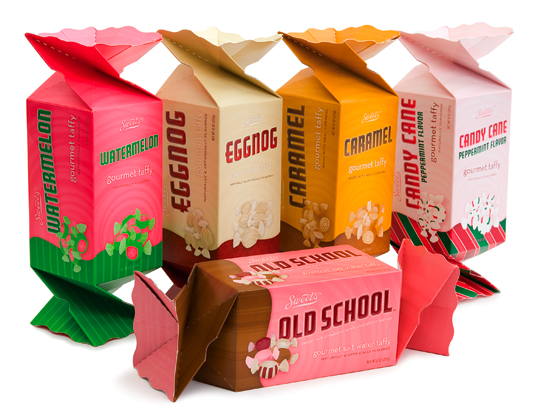 Designed by Struck | Country: United States | Fonts used: FF Golden Gate Gothic, Neutraface
"Sweet's Candy needed a rejuvenation for their century-old product and a face lift for their decades-old packaging. Something to match the quality of the product and launch it into a category all its own, Gourmet Taffy. The solution came in the form of the Sweet's custom Taffy Twist Box. This unique design leveraged the talents of a local manufacturer to get out-of-country prices at an in-state establishment. As a result, Sweet's has now sold over 750,000 units and counting of Signature Series products based on design alone. Now that's tasty."
December 18, 2008 | 2 Comments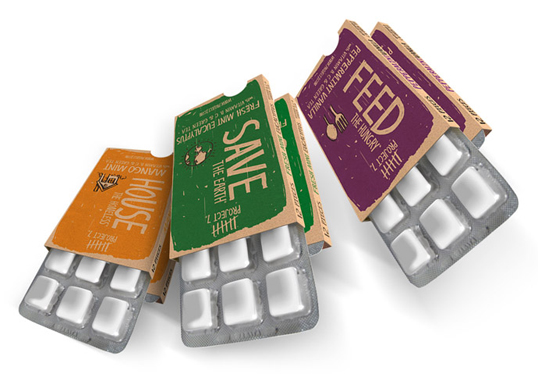 Designed by 29 Agency | Country: United States
"Project 7 was developed on a cold fall night 2 years ago when the thought of the 7 deadly sins came up.  I began to do some research on the history and origin and had a simple thought.  What if man in his selfishness instead of focusing on abstaining from the 7 sins worked to help those that were a consequence of one of these 7?  What if the "glutton" in this example which I fall into regularly stopped focusing on myself and started focusing on helping those that were starving.  So take that concept and spread it over what we call the 7 most critical areas of need in the world, hence the name Project 7.  So then the vision started playing itself out and I needed something to help get this initiative out there.  So having a consumer goods background and a heart to see real change come about this company was created.  I believe like most of you, that if we spent more time helping others, we can in fact, "Change the Score."
December 7, 2008 | 3 Comments
Designed by Asylum | Country: Singapore | Fonts used: Rockwell, Vineta, Yearbook, Mexcellent
"Consider it a world's first: Chocolate bars offered in 100 different flavours. If you are in search of the yummiest and widest range of chocolates, start at the Chocolate Research Facility. Conceptualized by a serious chocolate lover, this new brand and concept boutique-cum-cafe located at Millenia Walk, draws focus to chocolates – both in taste and packaging. We put on our creative hats and taste buds to the test in this year-long project."