March 23, 2009 | 3 Comments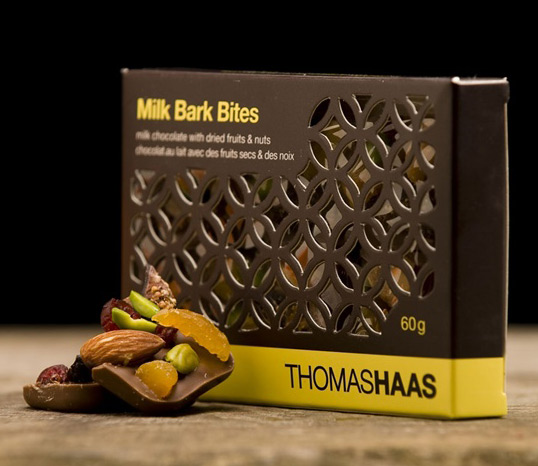 Country: Canada | Via Chocolatierra | Font: Helvetica
"At Thomas Haas Chocolates, we carefully choose our raw ingredients and select only the best. Our chocolates are perfumed with fine BC wine, oak barrel aged maple syrup from Quebec, vanilla beans from Tahiti, fresh citrus zest, loose leaf teas and organic herbs and spices.  Our cakes and pastries are adorned with Fraser Valley hazelnuts and berries, Okanagan fruits and infused with fresh roasted coffee and liqueurs from Alsace and the Black Forest.  Whenever possible we source our products directly from the farmer.  There are no preservatives or artificial flavours in our kitchens!"
March 18, 2009 | 2 Comments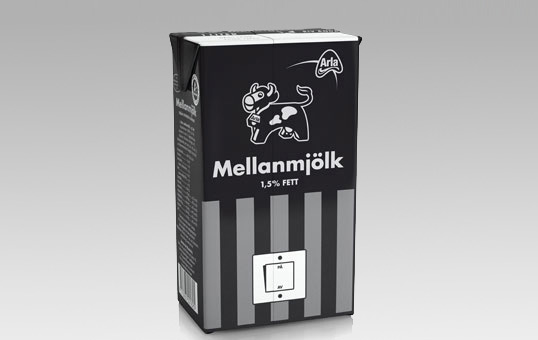 Designed by Milk | Country: Sweden | Fonts used: Futura
"Swedish advertising agency Milk has turned the classic white Arla milk carton black.
It is a campaign for WWF's Earth Hour. A worldwide event encouraging people to raise environmental awareness by turning off the lights for one hour."
March 17, 2009 | 21 Comments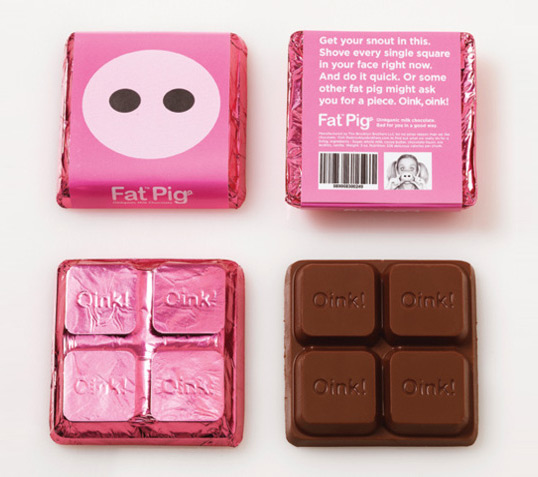 Designed by The Brooklyn Brothers | Country: United States | Fonts used: Arial Rounded
"Fat Pig is a totally organic milk chocolate bar and is currently available in one flavor: delicious. It has none of the bitter aftertaste of regular milk chocolate nor is it cloyingly sweet: it's just pure, creamy excess.
It's already the favorite chocolate of Contagious Magazine.
The Chocolate Nerd said "Nice chocolate! It's super creamy, quality milk chocolate and organic too. The bars are more substantial then I thought – a weighty 3. oz each."
And Divine Caroline added "I honestly don't think I've ever enjoyed a piece (okay a whole bar) of chocolate as much when I pigged out on Fat Pig. It's delicious!"
March 11, 2009 | 3 Comments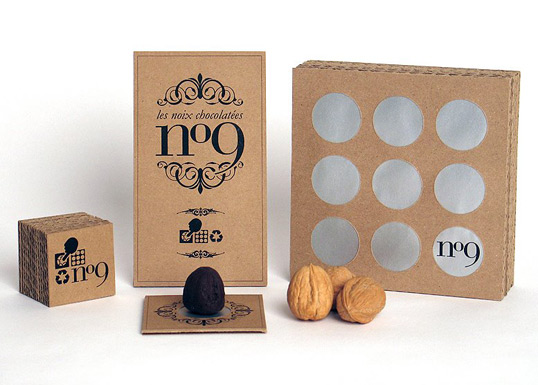 Designed by Thomas Jonkajtys | Country: Canada

Sylvain Allard, Professor at the University of Quebec in Montreal sent us this work by one of his students, Thomas Jonkajtys.
"Here's Thomas Jonkajtys' work in my packaging class. First, a mold was designed in a nut shape. Le package is designed out of laminated layers of corrugated board. A break through metallic sheet protects the nine chocolates. The name of the products is a French rebus where the roman number IX create the word NUT (NOIX)."
March 9, 2009 | 19 Comments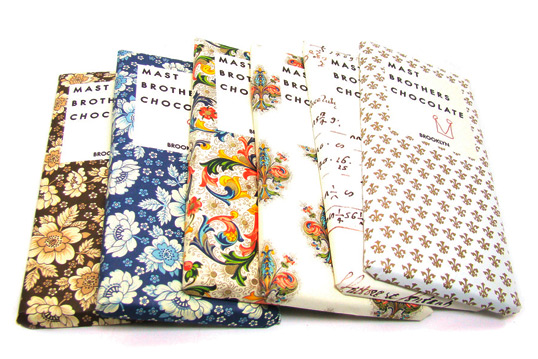 Designed by Mast Brothers | Country: United States | Fonts used: Metro
Beautiful detailed packaging for Brooklyn based artisan chocolate brand, Mast Brothers Chocolate.
February 19, 2009 | No Comments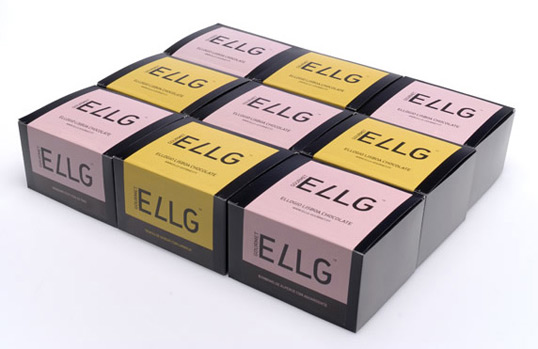 Designed by thisislove™ | Country: Portugal | Fonts used: FF DIN
Beautiful work from Portugal based thisislove™ for ELLG Gourmet chocolate.
February 18, 2009 | 2 Comments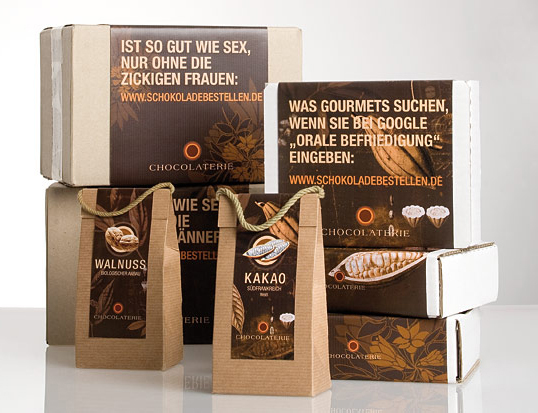 Designed by Permanent | Country: Germany | Fonts used: Helvetica
"It is proven that chocolate stimulates the production of some hormones which are responsible for pleasant feelings. Chocolaterie should make chocolate addicts very, very happy. It is an online shop providing the connoisseur with the finest that European sweemeat shops are able to manufacture. The corporate design pleases the eye as excellent as the shop thrills the tongue. The style reminds of traditional craftsmanship from the 20s and gives an impression of the superb quality of the goods. Since men and women favour different styles, a sex-specific design was invented: floral femal and humboldtous male."
February 15, 2009 | 1 Comment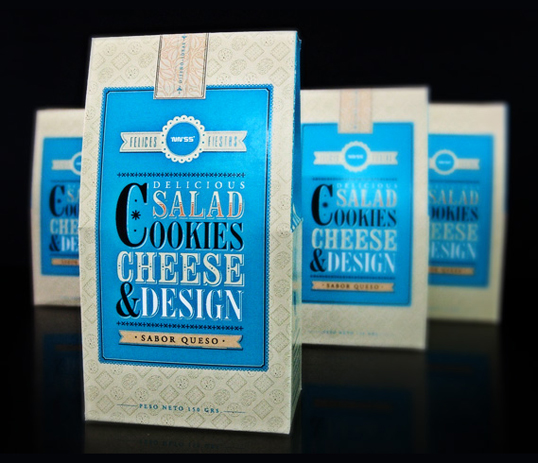 Designed by 'NN'SS™ | Country: Argentina
"Every time NNSS starts a project, we try to make something different, creative and with conceptual content. Our new year gift wasn't the exception. We made a cheese cookies pack, but we included inside it self one just different whit a blue sky bath sugar. The cookie had a label with a sentence on it: 'Between all… Different'."
February 8, 2009 | 1 Comment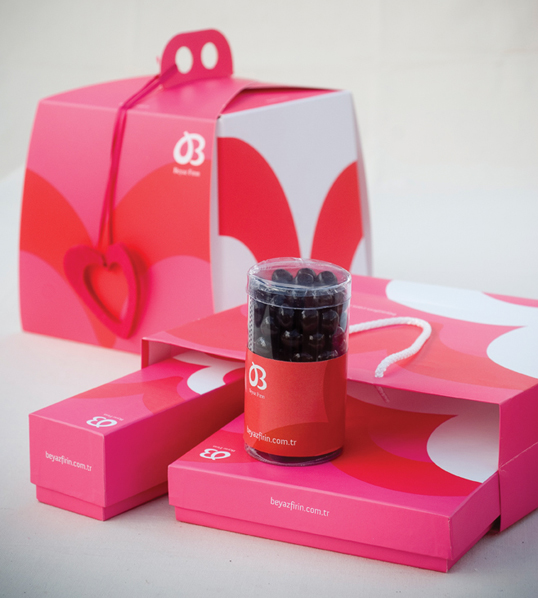 Designed by Karbon | Country: Turkey
"Karbon's customer 'Beyaz Firin' is a bakery/patisserie in Istanbul, very well known by the residents of the Anatolian side of the city. Founded in 1836 by George Stoyanof, a baker migrated from Macedonia, the bakery has been serving for 5 generations.
For the Valentine's season, Nathalie Stoyanof Suda, the 5th generation owner of the company, prepared special products. A special packaging design has been created by Karbon for these cakes, macaroons, cookies.
The authentic logo of Beyaz Firin, which has been revised by Karbon, has been the starting point of the packaging design as it looks like a heart shape. The visual identity embraces Orange as it's main color, however this artwork is created in pink and red, colors of love, in accordance with the season's spirit."
January 17, 2009 | 2 Comments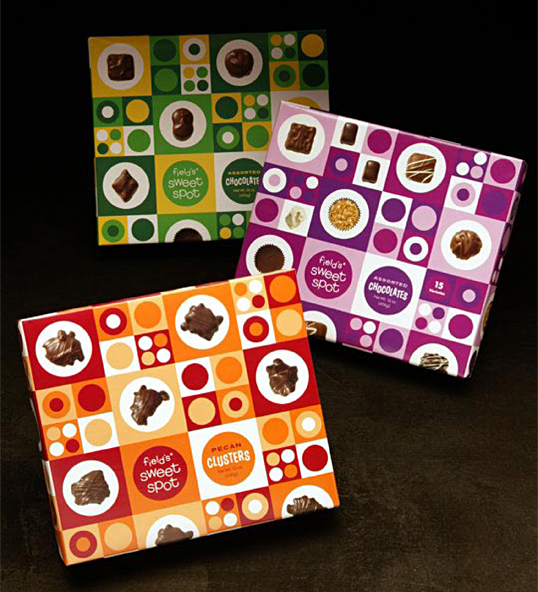 Designed by Wink | Country: United States | Fonts used: Futura, perhaps hand lettering (see MVB Grenadine).
"Field's Sweet Spot is a nostalgic candy destination of the Midwest department store Marshall Field's. The vernacular (a nod to the mod '60s) is equal parts fashion and fantasy, a concoction that combines both the department's retro-candy product selection and fashion driven branding efforts of Marshall Field's itself. The identity creates a playful aesthetic that appeals to both children and Marshall Field's female core guest alike."