February 12, 2014 | No Comments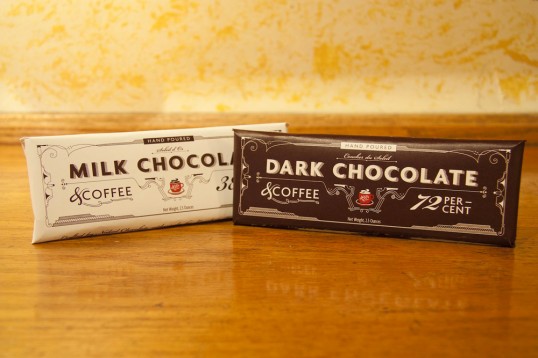 Designed by Physical Pixel | Country: United States
"Looking to expand their specialty offerings, I worked with Lambertville Trading Company to create a new product that incorporated two varieties of their delicious coffee with chocolate from Bucks County, Pennsylvania's Naked Chocolate. Influenced by the historical use of LTC's location as a pharmacy/soda fountain in the late 1800's, my goal was to make these chocolates feel special, considered, and unique, and in keeping, each bar is made by hand in small batches and individually wrapped.
The chocolate is available in two styles, a 38% milk with a light roasted coffee and a 72% dark with a dark roasted coffee, each lending their unique flavor characteristics to the bars."
December 28, 2013 | 2 Comments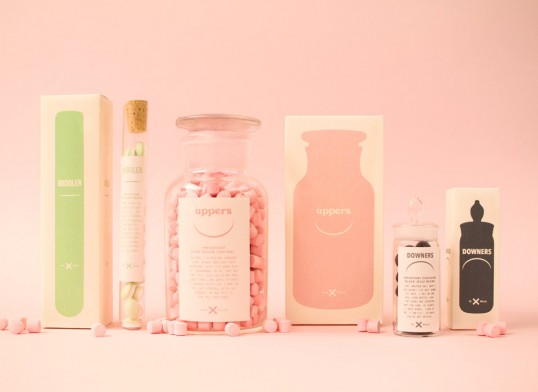 Designed by Marx Design | Country: New Zealand
"A little while ago Marx Design issued a promotional piece so daring that some lawyers representing a certain 80s popstar sent us a letter politely asking us to cease and desist. We're scared of lawyers, so we obliged and then promptly went into hiding waiting for the heat to die down. Fast forward a few years, and the dust has settled: it's time for a new Marx Design Promotional Gift.
Balance is a tenet of good graphic design, but life with its ups and downs is a bit of a balancing act too. We decided to visually represent this idea in our new promo gift. With a cheeky nod to the pharmaceutical industry, we developed a selection of pill-like balancing aids."
September 17, 2013 | 3 Comments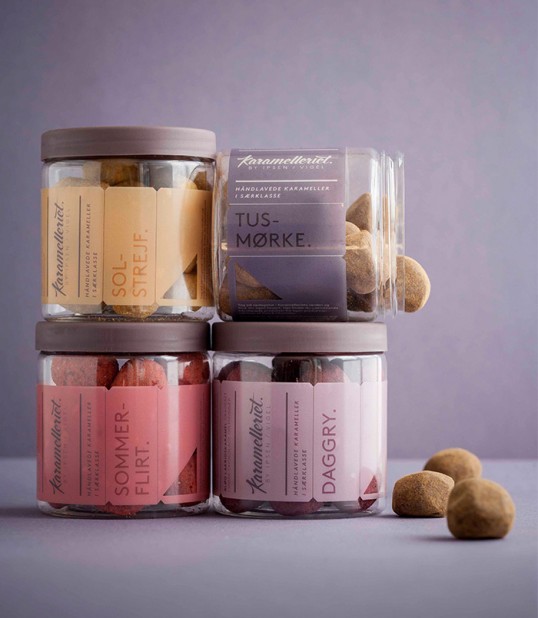 Designed by Bessermachen | Country: Denmark
"Karamelleriet is the result of two enthusiasts, a common dream, and a respect for old handcraft. This is reflected in their completely handmade products and personal production. 
The new visual identity had to reflect these values while at the same time being innovative, and daring to be different. With this Karamelleriet has achieved an expression that their caramel production is the best. 
The design was developed by Bessermachen design studio in close collaboration with Karamelleriet."
September 9, 2013 | No Comments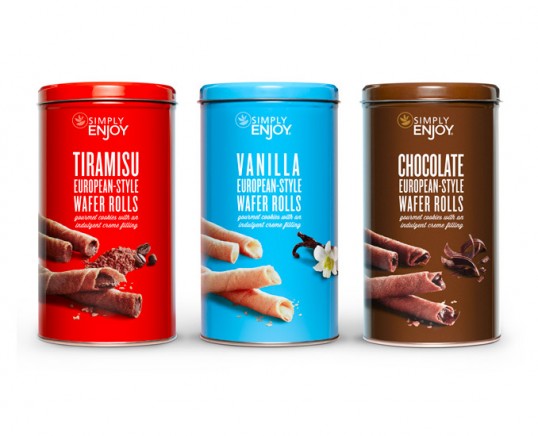 Designed by Pearlfisher | Country: United States
"Task: Strategic redesign of the Simply Enjoy range to reflect the brand's new super premium offer and positioning.
Scope: Brand strategy, identity design, tone of voice and packaging graphics.
Solution: A design that speaks to luxurious indulgence, focusing on the pleasures of food from around the world through vibrant color and photography that highlights the artisanal-style of the range."
August 19, 2013 | 1 Comment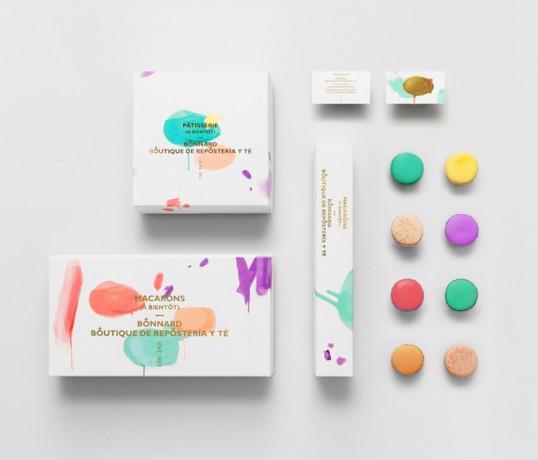 Designed by Anagrama | Country: Mexico
"Bonnard is a Mexican french-inspired tea and confectionary shop.
The brand's distinct brush strokes and color selection are based on Pierre Bonnard's postimpressionist paintings. The simple art direction, together with french words and phonetics round up the brand's gallic concept effortlessly, spontaneously and efficiently.
Our approach with clean, sans-serif typography gives Bonnard a luxurious feel mostly associated with high-end fashion brands.The gold foil stamp and clean type directly contrasts and at the same time elevates the would-be informal paint marks.
The rounded cross icon detail found in the wording relates to the shapes of macaroons, one of Bonnard's prime delicacies."
August 9, 2013 | 1 Comment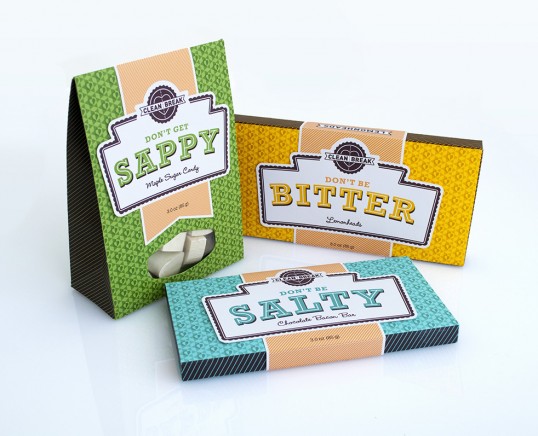 Designed by Kathy Mueller | Country: United States
"Clean Break offers tongue-in-cheek parting gifts for that not-so-special someone. The concept is a line of confections, gift cards, and gift bags to deliver a "dear john" break-up message with humor. Our hope is that mismatched lovers can share a laugh in what is naturally an awkward moment, and perhaps even start a lasting platonic friendship.
Candy product packaging, like the "Don't be Bitter" Lemonheads, proclaims such messages as, "Someone once told me, when life gives you a lemon… dump him." And the cards offer options such as "I hope you… A) Find love. B) Call me to hook up. C) Go to hell or D) Get an STD."
July 3, 2013 | 5 Comments
Designed by B&B studio | Country: united Kingdom
"B&B studio has rebranded Jealous Sweets, a UK entrepreneur looking to bring credibility to candy with its range of delicious and high quality sweets for grown-ups. Jealous specialises in gummy and jelly treats that are made without gelatine, artificial colours or flavours, so they're 100% vegetarian, gluten-free and full of natural fruit juices."
"The existing Jealous packaging wasn't working hard enough to communicate the brand's premium positioning and the purity of its products," explains B&B studio Creative Partner Shaun Bowen. "And the Jealous name had no real link back to the sweets themselves. We set about linking the two through the idea of 'covetable candy' – a concept that we visualised using a precious jewel icon and a characterful Magpie with an eye for something special."
April 23, 2013 | No Comments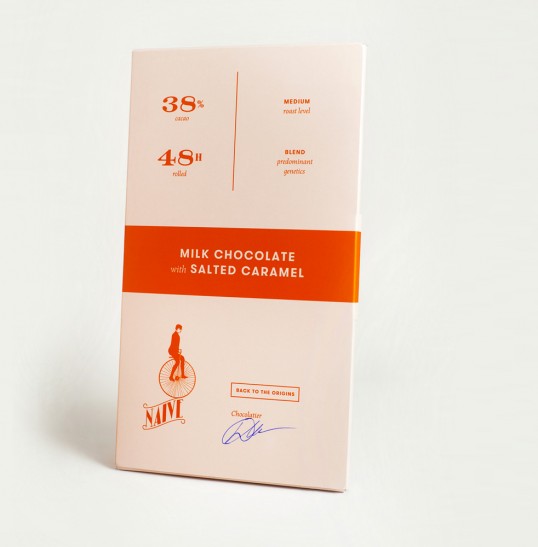 Designed by Chocolate Naive | Country: Lithuania
"In a little town named Giedraičiai by the beautiful lake Kiementas on the Eastern side of Lithuania, Chocolate Naive make their bean-to-bar chocolate.
Each and every morning, the chocolate master carefully roasts fresh cacao beans whose delicious aroma gently awakens the residents of the town. Just as they were hundreds of years ago, cacao beans are slowly rolled and conched to release their extraordinary bouquet of fruits, nuts and flowers in a delicately finished chocolate bar. These hand crafted bars are later stored to mature and form a complicated array of tastes and seasonings.
Chocolate Naive has great pleasure in introducing the "Back to the Origins" collection. With every piece of chocolate made, we try to give away a piece of our philosophy, our land and our fresh countryside air. We take great pride in informing eaters not only where we source our cacao beans from, but who actually produces our honey or which farmer supplies the butter for making the caramel. We are pleased to cooperate with growers from around the world, but we also celebrate local heritage."
April 10, 2013 | No Comments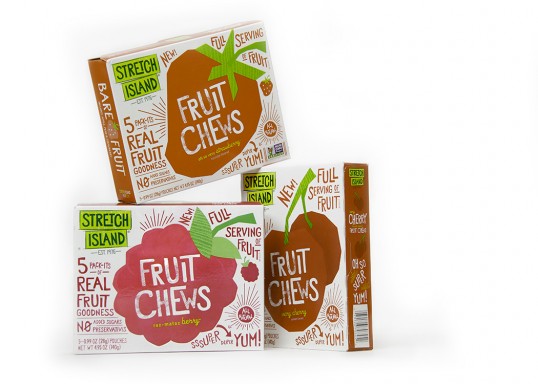 Designed by Ptarmak, Inc. | Country: United States
"Stretch Island Fruit Company has an extensive line of fruit snacks. They came to us looking for a brand refresh and packaging overhaul that would bare fruit. We responded with a concept that truly focuses on the benefits of real fruit in a fun and playful way, appealing to both kids and kids at heart. We used a gloss coating to add depth to the design in a unique way for each sku, and created a truly versatile design system. We hope you enjoy the fruits of our labor."
April 7, 2013 | No Comments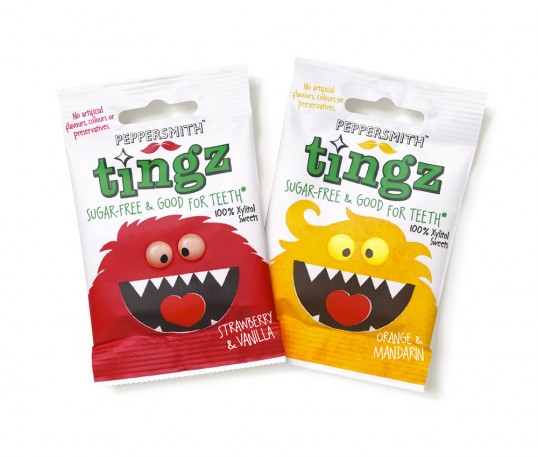 Designed by B&B studio | Country United Kingdom
"For the past four years, we've been helping Peppersmith reinvent the healthy confectionery market, first with chewing gum then with mints. With the grown-ups satisfied, it was time to turn our attention to kids with the launch of tingz – little bags of delicious sweets that are actively good for teeth. Made with xylitol – a natural wood sugar – these British Dental Health Foundation accredited sweets help reduce plaque and lessen the risk of tooth decay."