December 9, 2012 | 2 Comments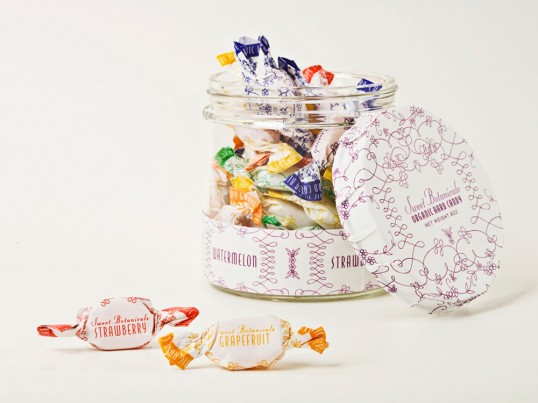 Designed by Kate Yip | Country: United States
"Sweet Botanicals is a line of organic hard candies of various flavors packaged in a nostalgic design from the 19th Century."
November 28, 2012 | 1 Comment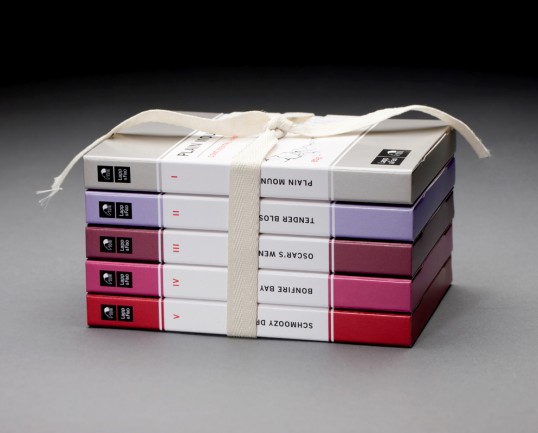 Designed by ONLYFORTHEFUTURE | Country: Germany
"The story behind Linvard Bo Lapp and his partner Ephraim Fao is full of discoveries. When they are off travelling the globe curious to discover sweet delicacies from far-away places, they like to sit down at the end of a long and eventful day and record their thoughts and experiences in a diary – it is these pages that later provide them with valuable inspiration for their unusual chocolate creations.
These records are now available in the form of the Lapp&Fao Chocolate Books. This process is visualised strikingly by the new look of the chocolate packaging. Each bar is designed to look like a diary and contains the essence of Lapp&Fao's travels – each bar is a delicious souvenir."
November 2, 2012 | 3 Comments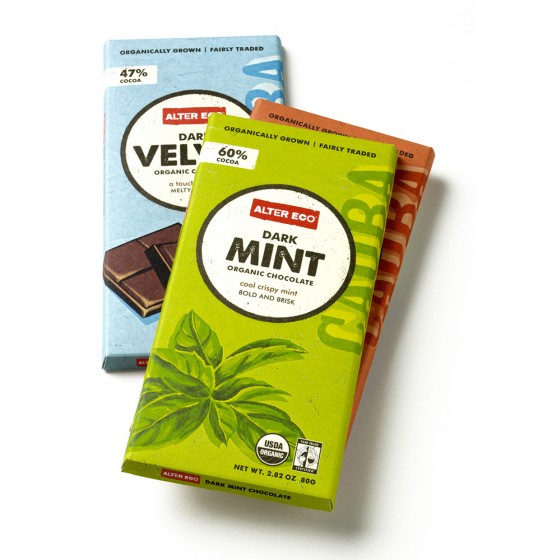 Designed by Tomorrow | Country: United States
"Alter Eco is a brand on a mission. Based in San Francisco with roots in France, this intrepid band of activists is wielding the food business as a weapon against poverty and inequality in developing nations: their offering of chocolate, rice, quinoa and sugar is certified Fair Trade, Organic and on its way to Carbon Zero.
An opportunity to expand their distribution also meant expanding the brand promise – adding a heaping spoonful of taste appeal to their values-driven enterprise. We worked with the Alter Eco team to create a shelf experience that transports mainstream foodies to an exotic, delicious and sustainable place."
October 9, 2012 | 4 Comments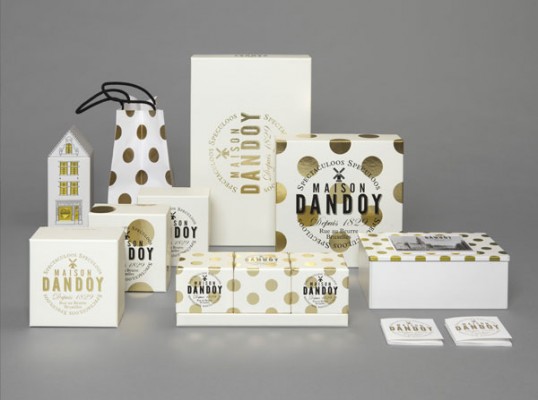 Designed by Base Design | Country: Belgium
"With values rooted in the past but a business plan oriented toward the future, Dandoy asked Base Design in 2011 to modernize and rethink its visual identity, packaging range and website. The main questions to solve were "How do you transform a small-scale, local family business into a global family brand, without losing the image of local craftsmanship and true tradition?" and "How to reach a broader audience?".
To tackle these questions, Base Design started with interviews in the field to gauge the context. This was followed by an analysis of Dandoy's assets, opportunities and brand experience, a benchmark study, ideas for improvement and a workshop with the client. All this resulted in about ten design-strategy recommendations followed by a graphic design phase."
September 21, 2012 | 3 Comments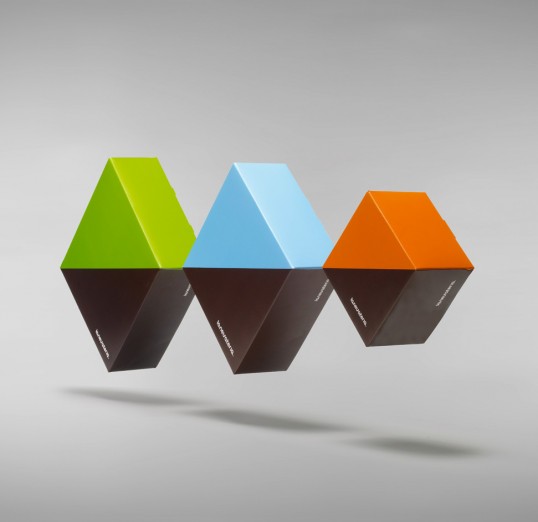 Designed by Bisgràfic | Country: Spain
"La Nevateria is a "sweets and coffe" shop which carries out both activities at 50%. Packaging is divided equally between brown (symbolizing the coffee) and different basic colors (symbolizing sweets)."
August 20, 2012 | 1 Comment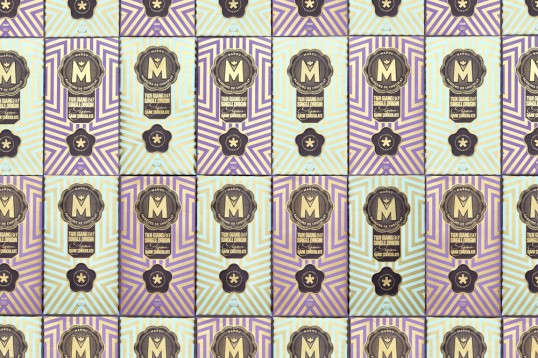 Designed by Rice Creative | Country: Vietnam
"When Wallpaper* Magazine discovered Marou Chocolate, our client, they felt that this singular dark chocolate, hand-crafted in Saigon using purely local ingredients was a perfect match for their third annual Handmade issue (an issue with a focus on unique products combining luxury, craft and inspiration). Marou offered to create a special edition Wallpaper* chocolate bar in time for exhibiting at the 2012 Salone de Mobile in Milan. The packaging we designed for this occasion would stay true to the inspiration behind the standard Marou chocolate bars and press further the attention given to lovingly hand printed details. We strayed some from the traditional motifs of the standard bars to embrace a more modernist approach while incorporating the well known Wallpaper* asterisk mark. It began by creating a new background pattern, which moved away from the traditional lattice and organic elements, replacing them by geometric elements forming an extension of the Wallpaper* asterisk.
The same hand mixed inks and screen-printing methods used on the standard Marou packs were employed, but a new palette of hues would be used, derived from the Wallpaper* handmade seal. The seal even informed a limited edition version of Marou's Monogram for this occasion. The final touch of hand embossing some of the pack's design elements set the stage for a fully considered hand crafted piece."
August 13, 2012 | 4 Comments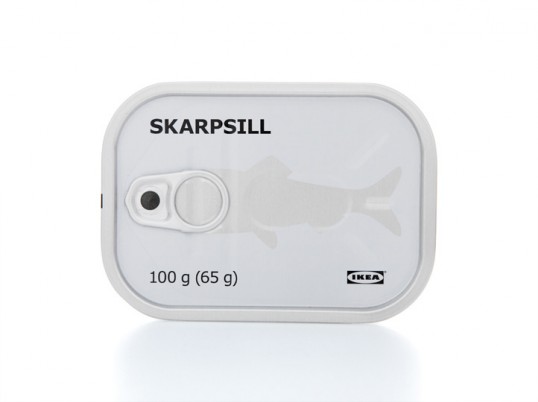 Designed by Stockholm Design Lab | Country: Sweden
2012 Cannes Gold Lion winner.
"IKEA is a worldwide Swedish home furnishing company with 28 distribution centres and a global network of 267 stores attracting a total of 590 million visitors.
Stockholm Design Lab created a design and packaging concept when the company combined its various food and catering units under the IKEA brand. The aim of the Swedish Food Market is to enhance the Swedish identity of IKEA."
August 6, 2012 | 4 Comments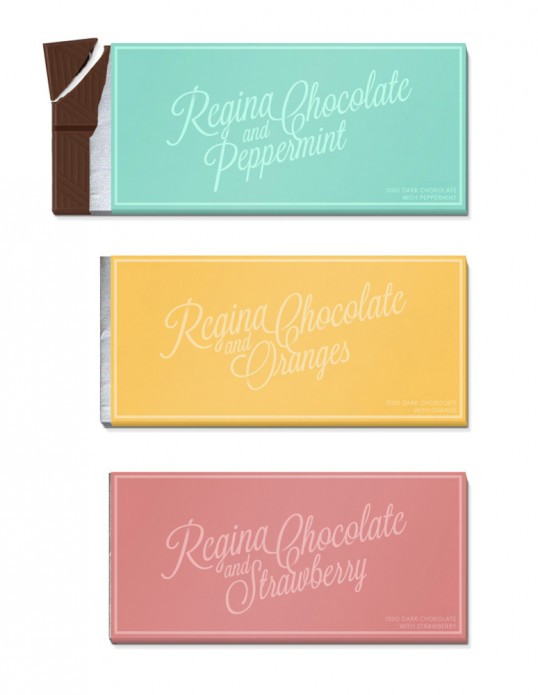 Designed by Jonathan Faust | Country: Denmark
"Regina is a Portuguese chocolate brand founded in 1928. Their products are delicious but their identity really needs some love. 
I have focused on the logo and packaging.The logo is combined with the flavour. As you see every flavour has it's own unique logo. Combined with the colours you get a new product which stands out. Logo and flavour-text is hand drawn. The rounded corners and swashes is a reference to their history and what it's all about – chocolate."
July 12, 2012 | 1 Comment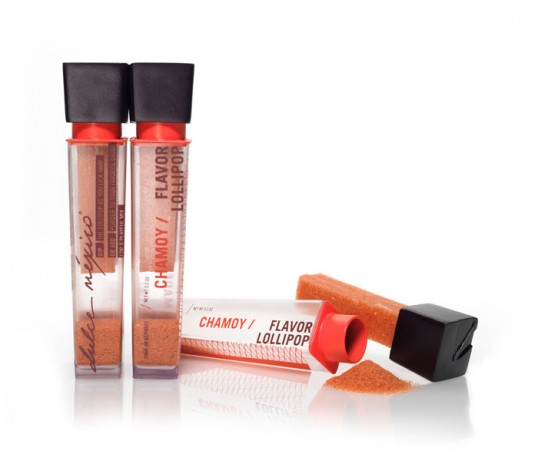 Designed by Olivia Paden | Country: United States
"Brief: Repackage items for the existing online retailer, Dulce Mexico, that provides traditional Mexican candies, fruit snacks, and drinks from a variety of sub-brands. Rethink how Dulce Mexico can introduce themselves to a US market with a stronger brand presence.
Concept: As Dulce Mexico, currently an online candy retailer, is in a unique spot right now as they're basically introducing themself to a US market, they have a unique opportunity and range of what they can do and how far they can push the brand. My solution to Dulce Mexico's branding strategy is to play up the elements that are already unique to their candies, the oral experience and sinful indulgence of the sweet and spicy.
And so, the fun is in the foreplay, as Dulce Mexico's packaging highlights the opening ceremony and sequence of indulging in Mexican candy. Adding intuitive elements such as tequila and tamarind mix further embraces the very experimental nature of these traditional desserts. Whether its girls' night out, or girls' night in, Dulce Mexico's redesigned packaging catches the US market's attention with a more playful, sexy, and contemporary eating experience."
July 4, 2012 | 3 Comments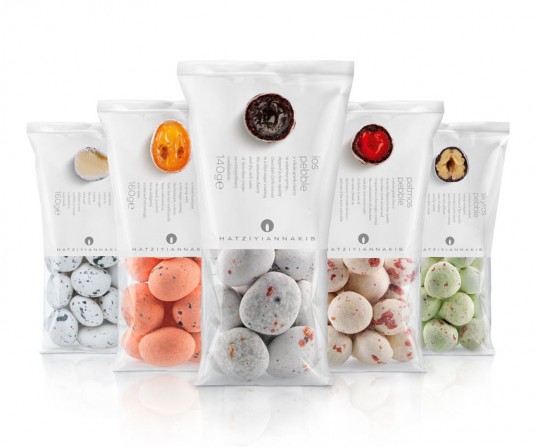 Designed by mousegraphics | Country: Greece
"Brief: our product is strange and unique. We want to make this clear.
Audience: bold and brave consumers, with a sweet tooth and a flair for discoveries. intellectuals of the gourmet type.
Design: to paraphrase the famous Marshall McLuhan expression, "the medium is the content" in this packaging extravaganza. Τhe symbiotic relationship of medium and message, (of which the media guru preached), is here translated into the eccentric coupling of package-product. Αn 'outer-inner' game of illusions is played here, for the eyes of the consumer. Τhe paradox of a sweet, eddible, even appetizing pebble, the beauty of an open crop, with its shockingly realistic flesh, fake cherries which can fool birds into coming to nibble at them like in the ancient paintings of Zeuxis, rocky-tasty formations: all these are mind treats we prepared for the consumer within a heightened – reality design environment."