February 19, 2013 | No Comments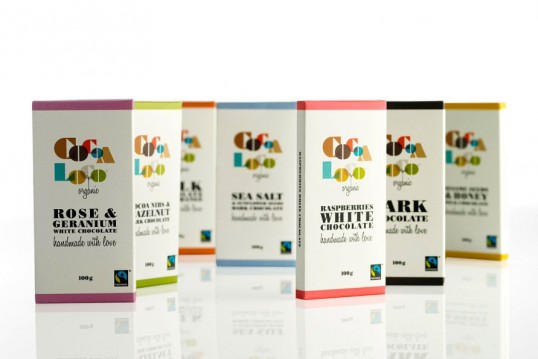 Designed by burst* design | Country: United Kingdom
"burst* created a new identity, packaging, website and promotional material for the hand made chocolatiers Cocoa Loco. The challenge within the design process was to communicate the premium quality of the chocolates while retaining the playful character at the heart of the brand.  Through the combination of a colourful logo, strong typography and a slight retro touch burst* created a strongly recognisable and elegant identity that made Cocoa Loco's passionate founders proud and even more creative than before."
January 28, 2013 | 5 Comments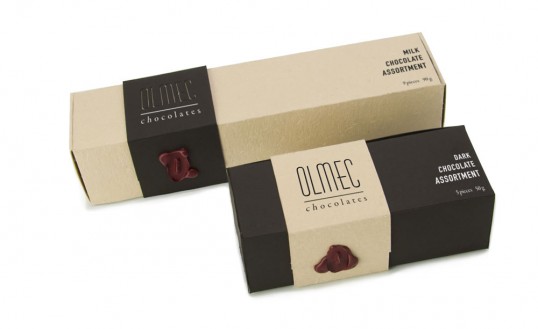 Designed by Lia McMillan | Country: Canada
"The project was to create an environmentally sensitive package for a box of chocolates.
Olmec Chocolates differentiate themselves by showcasing their raw, organic aesthetic. The box itself is made of 100% recyclable material. The chocolates are stacked on top one another and separated by a single strip of wax paper, eliminating the usual plastic mould and individual wax paper cups. The name of each chocolate is printed on the inside the box and coincides with the chocolate itself, as apposed to a more traditional legend that is typically printed on a separate piece of paper. The belly band is also made of recyclable material, and is held together by a wax seal."
January 14, 2013 | 6 Comments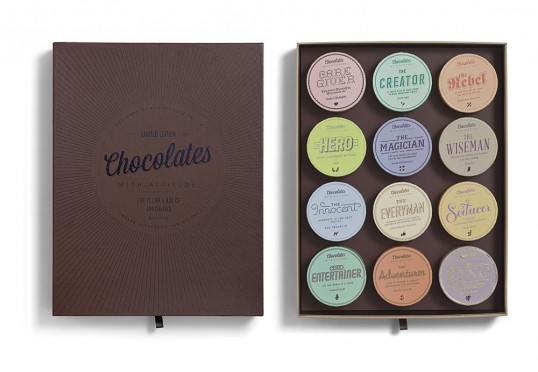 Designed by Bessermachen | Country: Denmark
"One big and beautiful box contains 12 smaller boxes and each box represents an archetype/a personality. The personality is expressed through a unique quote, a unique design and a unique type of chocolate.
The design differentiate the 12 personalities with a diverse and colorful use of typography and the small boxes are round like tiny hat boxes.
The chocolate is created by Coca Luxery Chocolates from unique recipes.
Everything was developed from the ground. The design and the packaging were created by  Bessermachen DesignStudio, and the archetypes and the idea were created by Stiig Helgens Binggeli / Brandhouse."
January 8, 2013 | 5 Comments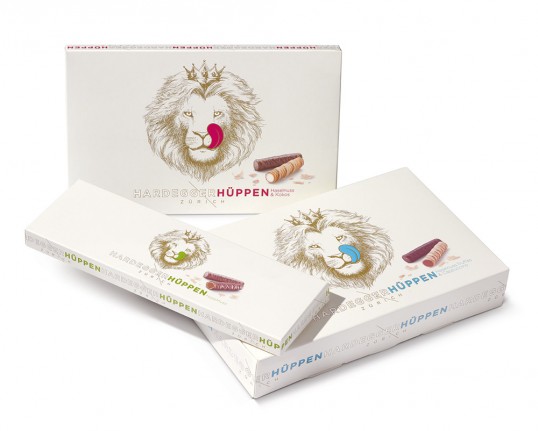 Designed by Nadine Geissbühler | Country: Switzerland
"Hardegger bakes original Zurich Hüppen from a decades-old secret family recipe, using only natural ingredients. Geissbühler was briefed to give the traditional Company a refreshing Deign and Image without losing the value of old traditions. That's how Geissbühler came up with the Lion as it is the main symbol of Zurich. With the coloured tongues it gives it all a twinkle in the eye and puts it into modern times."
December 9, 2012 | 2 Comments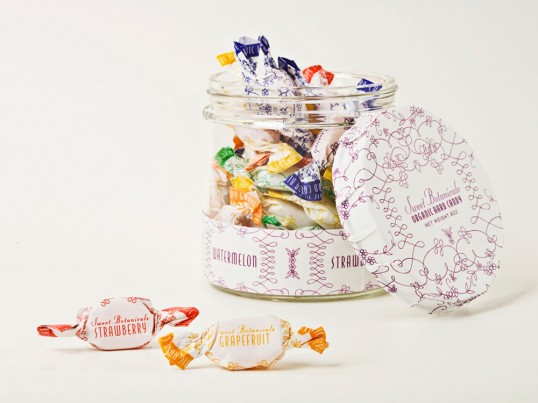 Designed by Kate Yip | Country: United States
"Sweet Botanicals is a line of organic hard candies of various flavors packaged in a nostalgic design from the 19th Century."
November 28, 2012 | 1 Comment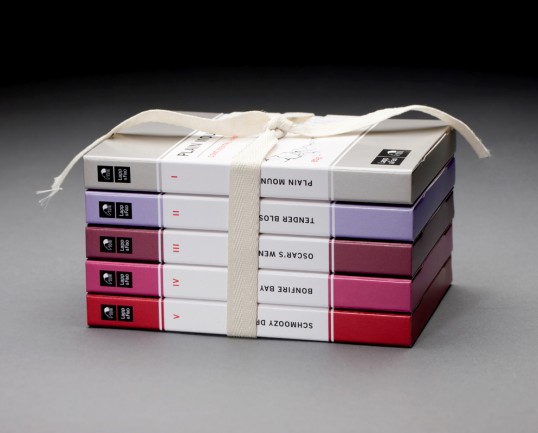 Designed by ONLYFORTHEFUTURE | Country: Germany
"The story behind Linvard Bo Lapp and his partner Ephraim Fao is full of discoveries. When they are off travelling the globe curious to discover sweet delicacies from far-away places, they like to sit down at the end of a long and eventful day and record their thoughts and experiences in a diary – it is these pages that later provide them with valuable inspiration for their unusual chocolate creations.
These records are now available in the form of the Lapp&Fao Chocolate Books. This process is visualised strikingly by the new look of the chocolate packaging. Each bar is designed to look like a diary and contains the essence of Lapp&Fao's travels – each bar is a delicious souvenir."
November 2, 2012 | 3 Comments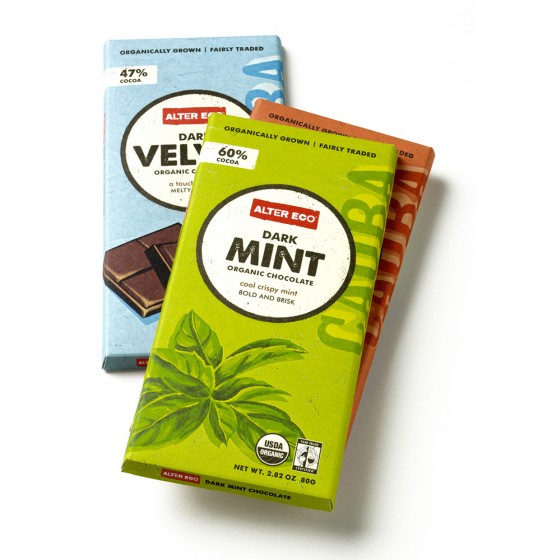 Designed by Tomorrow | Country: United States
"Alter Eco is a brand on a mission. Based in San Francisco with roots in France, this intrepid band of activists is wielding the food business as a weapon against poverty and inequality in developing nations: their offering of chocolate, rice, quinoa and sugar is certified Fair Trade, Organic and on its way to Carbon Zero.
An opportunity to expand their distribution also meant expanding the brand promise – adding a heaping spoonful of taste appeal to their values-driven enterprise. We worked with the Alter Eco team to create a shelf experience that transports mainstream foodies to an exotic, delicious and sustainable place."
October 9, 2012 | 4 Comments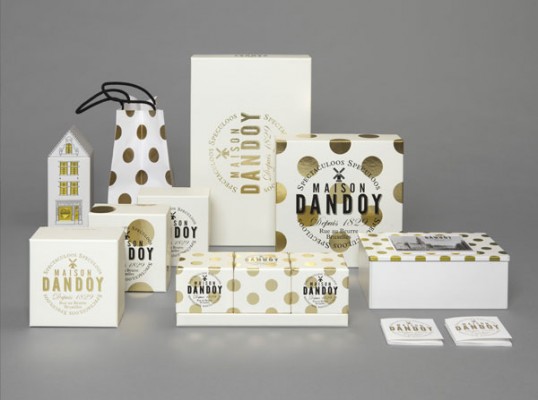 Designed by Base Design | Country: Belgium
"With values rooted in the past but a business plan oriented toward the future, Dandoy asked Base Design in 2011 to modernize and rethink its visual identity, packaging range and website. The main questions to solve were "How do you transform a small-scale, local family business into a global family brand, without losing the image of local craftsmanship and true tradition?" and "How to reach a broader audience?".
To tackle these questions, Base Design started with interviews in the field to gauge the context. This was followed by an analysis of Dandoy's assets, opportunities and brand experience, a benchmark study, ideas for improvement and a workshop with the client. All this resulted in about ten design-strategy recommendations followed by a graphic design phase."
September 21, 2012 | 3 Comments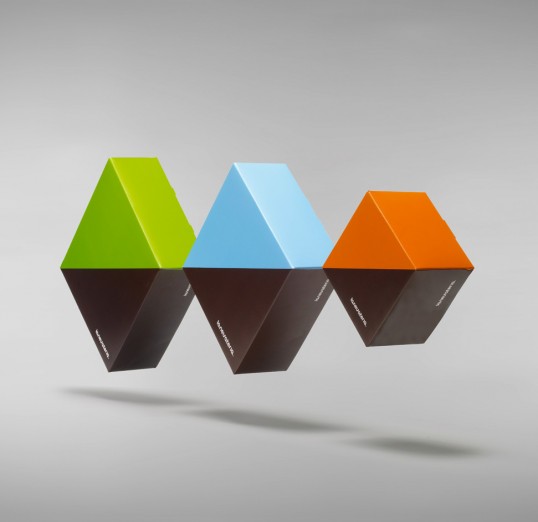 Designed by Bisgràfic | Country: Spain
"La Nevateria is a "sweets and coffe" shop which carries out both activities at 50%. Packaging is divided equally between brown (symbolizing the coffee) and different basic colors (symbolizing sweets)."
August 20, 2012 | 1 Comment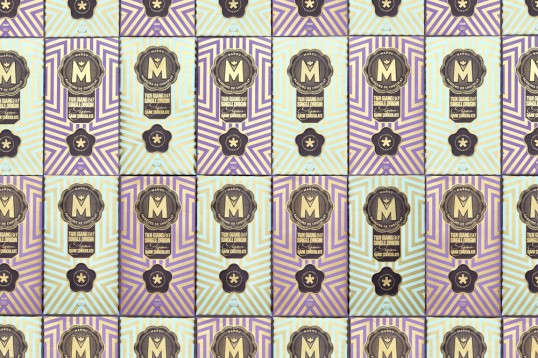 Designed by Rice Creative | Country: Vietnam
"When Wallpaper* Magazine discovered Marou Chocolate, our client, they felt that this singular dark chocolate, hand-crafted in Saigon using purely local ingredients was a perfect match for their third annual Handmade issue (an issue with a focus on unique products combining luxury, craft and inspiration). Marou offered to create a special edition Wallpaper* chocolate bar in time for exhibiting at the 2012 Salone de Mobile in Milan. The packaging we designed for this occasion would stay true to the inspiration behind the standard Marou chocolate bars and press further the attention given to lovingly hand printed details. We strayed some from the traditional motifs of the standard bars to embrace a more modernist approach while incorporating the well known Wallpaper* asterisk mark. It began by creating a new background pattern, which moved away from the traditional lattice and organic elements, replacing them by geometric elements forming an extension of the Wallpaper* asterisk.
The same hand mixed inks and screen-printing methods used on the standard Marou packs were employed, but a new palette of hues would be used, derived from the Wallpaper* handmade seal. The seal even informed a limited edition version of Marou's Monogram for this occasion. The final touch of hand embossing some of the pack's design elements set the stage for a fully considered hand crafted piece."