December 13, 2011 | No Comments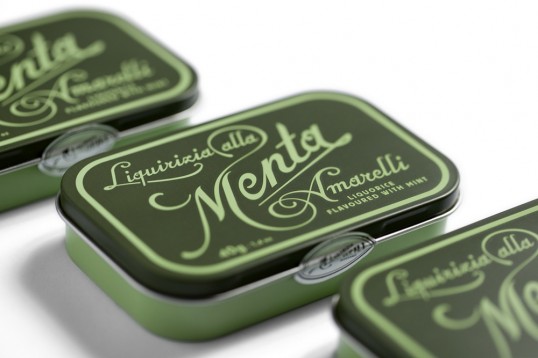 Designed by Angelini Design | Country: Italy
"New Amarelli packs by Angelini Design. This new packaging is the latest "pearl" that Angelini Design has created for centenary Calabrian confectionery company Amarelli. The small boxes are made in metal and mimic the colors of anise and mint. The typically retro style, material and finish are the result of a mix of quality, refinement and attention towards tradition, values that Amarelli has always carried forward with coherence, allowing it to maintain a solid position as one of the longest standing Italian brands."
December 7, 2011 | 4 Comments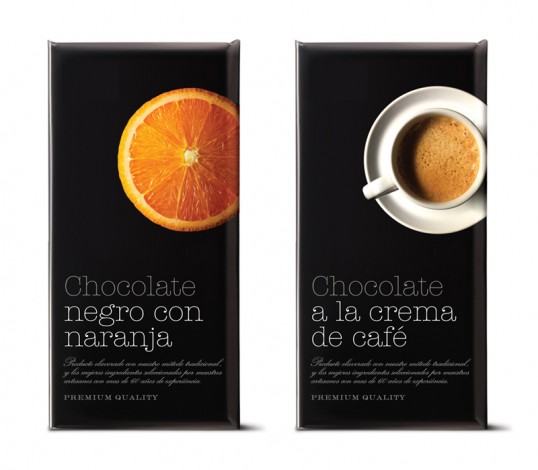 Designed by Puigdemont Roca | Country: Spain
"In a hyper-competitive market, standing out from the competition is crucial. To this end, we decided to show the basic ingredient of each flavour of premium chocolate with a fresh perspective, shooting the images from a zenith angle. In this way, we managed to convey the concept of 'top end', and in turn raise a range of emotions in the consumer."
December 2, 2011 | 4 Comments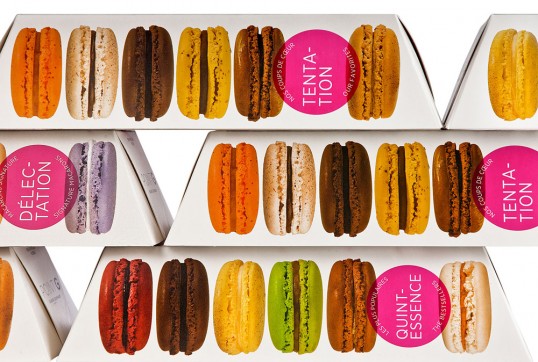 Designed by Chez Valois | Country: Canada
"Point G a French word, meaning the G spot… but make no mistake, don't get any ideas, we are talking here about a gourmet spot, the rallying spot of all foodies!  Because gastronomy mixes both pleasure and sensuality, it can be shared, offered, discussed… in flavours, colours, images and words. Ode to gastronomical delights in all their forms. With the new packaging platform, you lick (léchez), drink (buvez), crunch (croquez), experiment (expérimentez)… gulp (gobez), spread (tartinez), roll (tirez), pearl (perlez), sear (saisissez), share (partagez), and so on…
November 2, 2011 | 7 Comments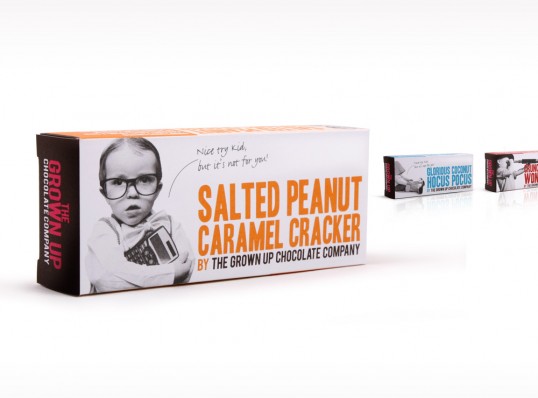 Designed by Toast Design | Country: United Kingdom
The Grown Up Chocolate Company had created a range of luxury hand-made chocolate bars inspired by childhood favourites.  This company and its wonderful bars offered a unique way of satisfying the most discriminating chocoholic, but needed to be branded and designed to ensure the customers experience started before they even tasted the goods – so they turned to Toast Design.
October 5, 2011 | 1 Comment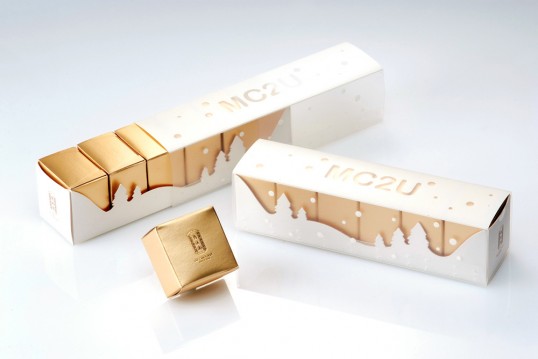 Designed by Gidea Group | Country: Taiwan
"As the leader of Taiwan's traditional cake industry, JZM has be worldwide known for its pineapple cakes packaged in this little golden  box for a long time.
On this  seasonal packaging design, we implemented  the classical golden pineapple cake package with the joyful Christmas design, also bringing out a sense of East meeting West.
This special Christmas packaging was a commercial success for JZM, especially loved by Japanese and Hong Kong tourists who came to Taiwan to spend their Christmas Holidays, a chic and lovely souvenir to take home with!"
October 4, 2011 | 4 Comments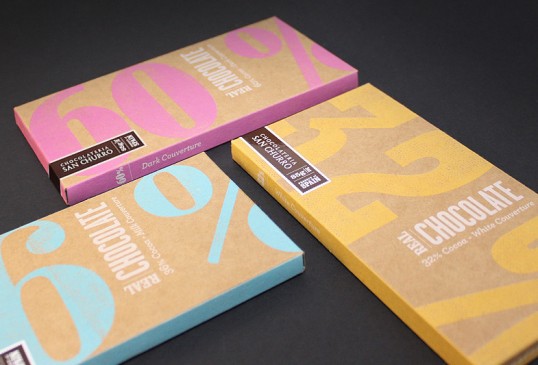 Designed by Studio Alto | Country: Australia | Fonts: Garage Gothic, Archer
"San Churro's Real Chocolate is a product range developed in reaction to a chocolate market flooded with inferior 'confectionary' chocolate.
In the words of San Churro – "When it comes to chocolate, the truth is that there's no substitute for REAL cocoa butter. It's like ketchup without tomatoes, or an omelette without eggs – it's the key, essential ingredient. Chocolate without it simply is not chocolate, but rather a sub-standard B-grade pretender: all show, no substance."
October 3, 2011 | 6 Comments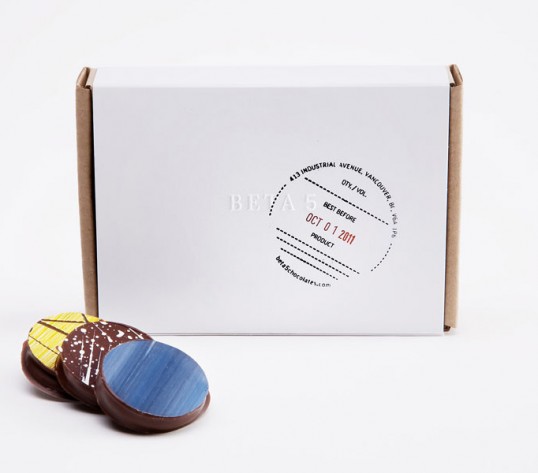 Designed by Glasfurd & Walker | Country: Canada
"BETA 5 chocolates are produced in small batches using ethically sourced estate chocolates and premium ingredients.
The name comes from the form-5 beta crystal structure which is the most stable form of cocoa butter crystallization, formed through the controlled melting, and subsequent cooling (tempering) of liquid chocolate.
As a result, the identity reflects this approach to the chocolate making process – a careful blend of science and craftsmanship.
The packaging design was a carefully considered and executed aspect of the brand development. Understated and refined, the packaging doesn't distract from beauty and vibrancy of the products inside them which are an exciting discovery."
September 16, 2011 | 5 Comments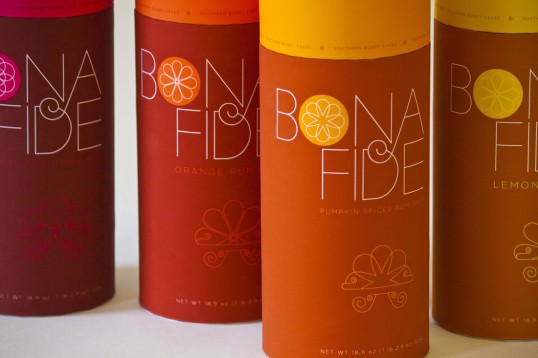 Designed Amy Nortman | United States
"Bonafide is a concept brand and product line that I named and created from scratch. The idea was to design a modern take on the tradition of Southern hospitality, creating a genuine Southern eating experience through beautifully handcrafted baked goods that anyone can access and enjoy, but taste as if ones own grandmother has baked them herself. The look and feel are designed to reflect this sentiment, and the illustrations to create a simple and friendly-fun, yet effective way to communicate."
September 14, 2011 | 8 Comments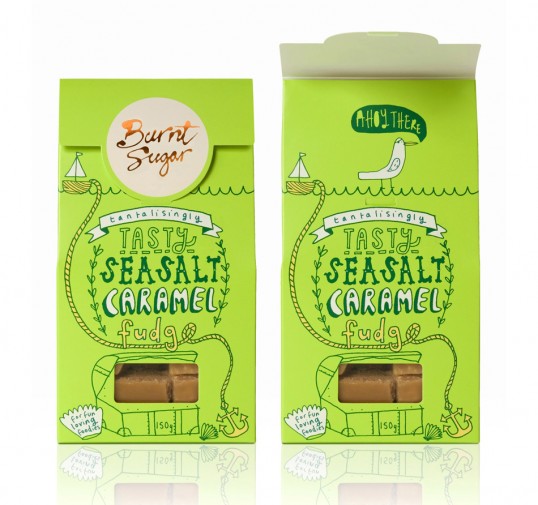 Designed by D. Studio | Country: United Kingdom
"Burnt Sugar is a boutique brand of fudge with humble beginnings. Started by Justine Cather, who nabbed her mum's recipe and took it to market (London's famous Borough Market to be precise), word soon got out about the delicious lumpy, bumpy pieces of sweetness and its popularity soared.
Having worked with Justine on her gift ranges, she asked us to create a new direction for the brand and redesign the packaging for the core range. Working closely with Justine, we developed the 'every one is different' concept, which not only celebrates the perfectly irregular pieces of taste bud-tingling randomness but also all the wonderful variety of foodie folk who like to indulge in her fudge.
September 9, 2011 | 1 Comment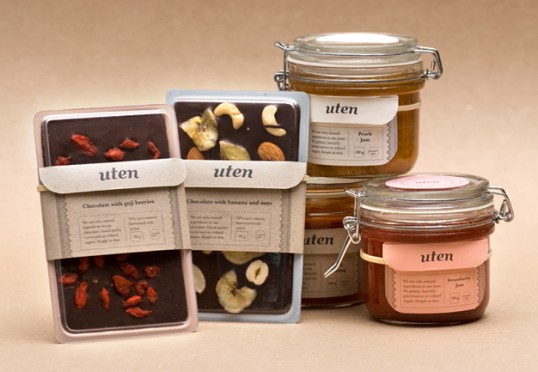 Designed by Marcin Rusak Studio | Country: The Netherlands / Poland
"Uten is a Norwegian product line containing natural and seasonal jams, chocolates and condiments that are home made and free from gluten, milk, soy, refined sugar and preservatives. The packaging encourages the buyer to re-use, with recipes and tips inside the label folder. When the jar is empty and the chocolate is eaten, simply take of the tags (the string makes sure you'll have no sticky glue marks!) and use the empty containers to create your own delicious foods."