October 3, 2011 | 6 Comments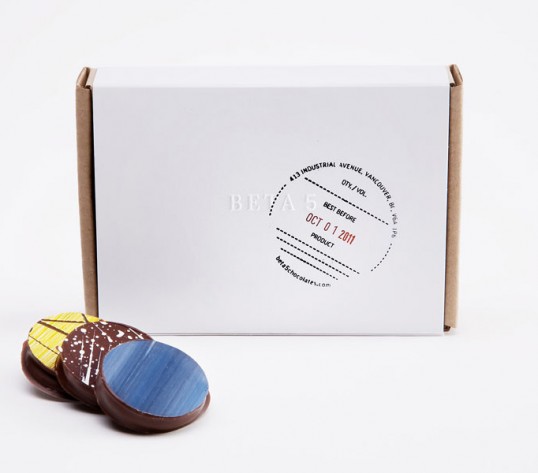 Designed by Glasfurd & Walker | Country: Canada
"BETA 5 chocolates are produced in small batches using ethically sourced estate chocolates and premium ingredients.
The name comes from the form-5 beta crystal structure which is the most stable form of cocoa butter crystallization, formed through the controlled melting, and subsequent cooling (tempering) of liquid chocolate.
As a result, the identity reflects this approach to the chocolate making process – a careful blend of science and craftsmanship.
The packaging design was a carefully considered and executed aspect of the brand development. Understated and refined, the packaging doesn't distract from beauty and vibrancy of the products inside them which are an exciting discovery."
September 16, 2011 | 5 Comments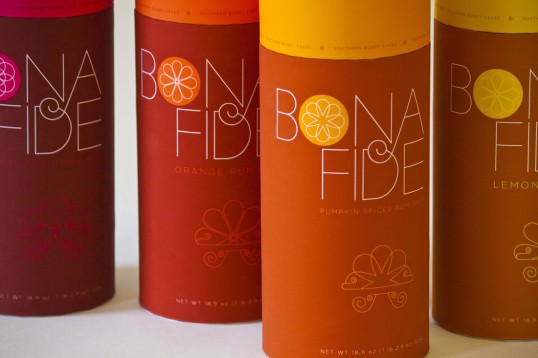 Designed Amy Nortman | United States
"Bonafide is a concept brand and product line that I named and created from scratch. The idea was to design a modern take on the tradition of Southern hospitality, creating a genuine Southern eating experience through beautifully handcrafted baked goods that anyone can access and enjoy, but taste as if ones own grandmother has baked them herself. The look and feel are designed to reflect this sentiment, and the illustrations to create a simple and friendly-fun, yet effective way to communicate."
September 14, 2011 | 8 Comments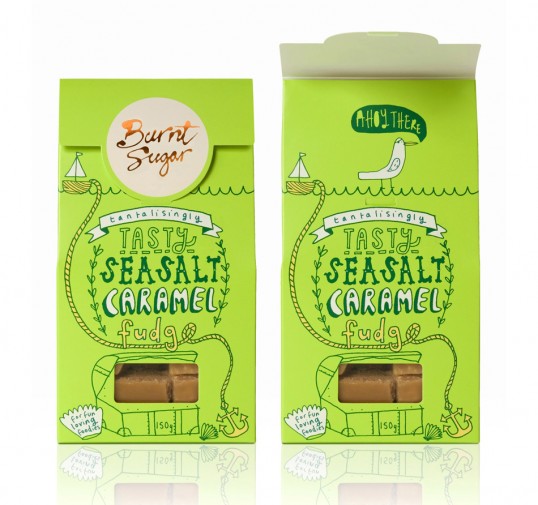 Designed by D. Studio | Country: United Kingdom
"Burnt Sugar is a boutique brand of fudge with humble beginnings. Started by Justine Cather, who nabbed her mum's recipe and took it to market (London's famous Borough Market to be precise), word soon got out about the delicious lumpy, bumpy pieces of sweetness and its popularity soared.
Having worked with Justine on her gift ranges, she asked us to create a new direction for the brand and redesign the packaging for the core range. Working closely with Justine, we developed the 'every one is different' concept, which not only celebrates the perfectly irregular pieces of taste bud-tingling randomness but also all the wonderful variety of foodie folk who like to indulge in her fudge.
September 9, 2011 | 1 Comment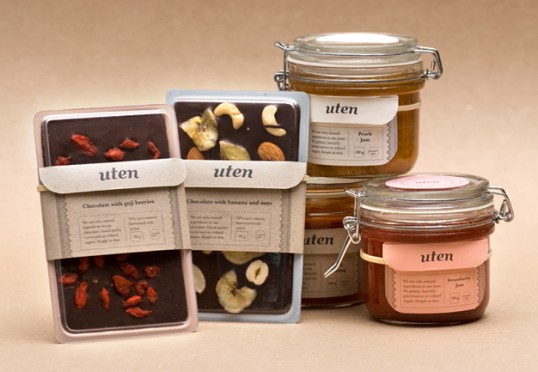 Designed by Marcin Rusak Studio | Country: The Netherlands / Poland
"Uten is a Norwegian product line containing natural and seasonal jams, chocolates and condiments that are home made and free from gluten, milk, soy, refined sugar and preservatives. The packaging encourages the buyer to re-use, with recipes and tips inside the label folder. When the jar is empty and the chocolate is eaten, simply take of the tags (the string makes sure you'll have no sticky glue marks!) and use the empty containers to create your own delicious foods."
August 26, 2011 | 7 Comments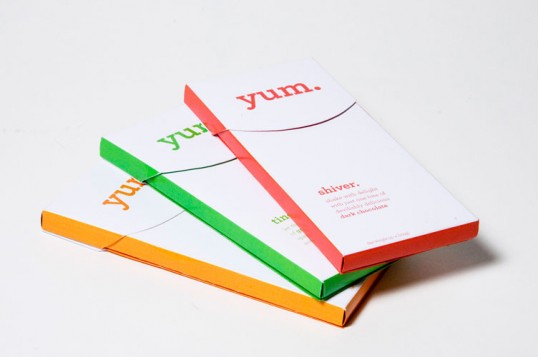 Designed by Kyla Tom | Country: United States
"yum. is a playful and fictional chocolate bar brand I created for a class in college. We had to create a brand identity and theme as well as the packaging. The idea behind yum. is to embrace the simplicity of chocolate. Chocolate is a joyful experience that can be felt as soon as it hits the tongue. Ultimately, this experience can be summed up in one word: yum. Color pops were brought in to a stark white background to hint at the burst of flavor and the fulfilling experience as soon as the chocolate is eaten. When the packaging is opened, the chocolate bars smile, bringing in a fun and playful nature to the brand. Simple, delicious chocolate. That is yum."
August 12, 2011 | 4 Comments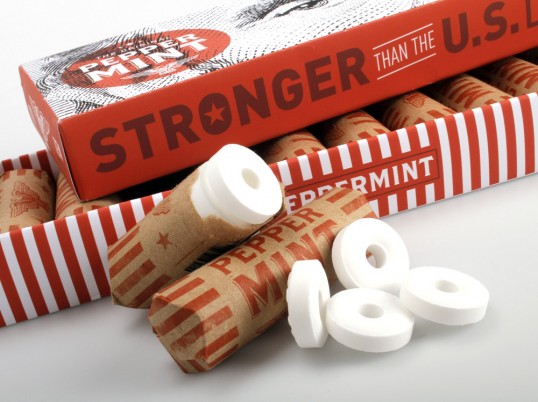 Designed by Cory Etzkorn | United States
"What's fit for the oval office, flyer than Airforce One, and Stronger than the U.S. dollar? The Original PepperMint, of course! These federal-reserve-fresh mints come in two delicious and highly stylized varieties sure to please your inner capitalist.
June 30, 2011 | 1 Comment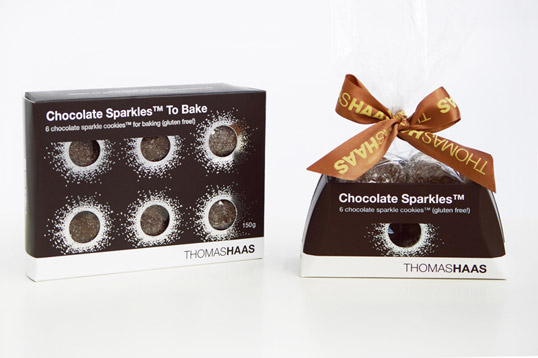 Designed by Cameron Snelgar | Country: Canada
"What started as a label replacement project, gained momentum and we soon found ourselves responsible for delivering two packages for the "The World's Best Cookie" (Vancouver Sun, Feb 2003).
Initially, Thomas Haas' freshly baked Chocolate Sparkle Cookies were presented in a cellophane wrapping with a sticky label attached. The refrigerated home bake cookies were in stock paper with a sticky label attached.
I knew that the Chocolate Sparkle Cookies as with most of Thomas' creations were innovative and unique. The challenge was to communicate the "Sparkle" within, while simultaneously preserving the carefully crafted Thomas Haas brand.
The package for the home bake set of six Chocolate Sparkle Cookies came first. Wrapped in Thomas' signature ribbon branding and logo, it includes angled sides. Earlier in the design process all of the sides were angled, naturally conforming to the spacer tray within. However, the option for additional front display and stacking was needed, hence the flat top and bottom.
June 29, 2011 | 6 Comments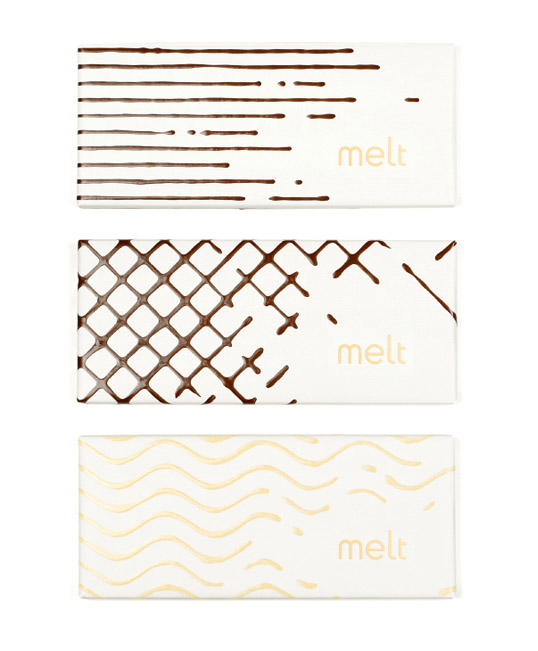 Designed by JJAAKK Design | Country: United States
"Packaging and logo design for a gourmet chocolate shop. The classic characteristics of melted chocolate are used throughout, providing a tantalizing glimpse at the wonderfulness contained within."
June 27, 2011 | 2 Comments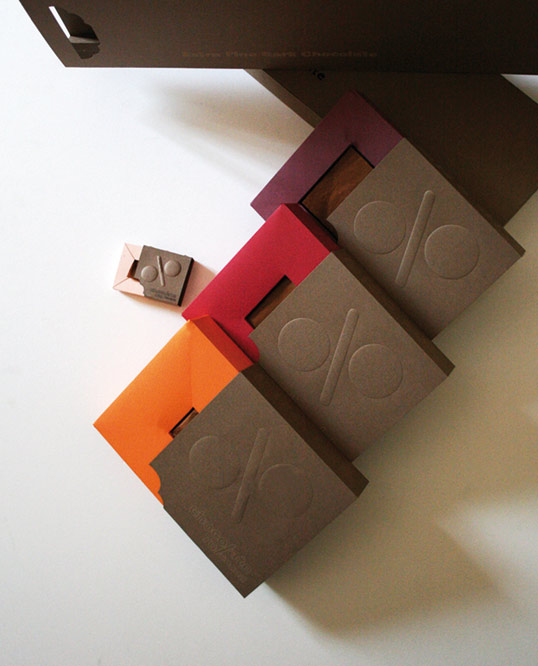 Designed by Vasily Kassab| Country: Italy
"The Bite Me brand was developed based on the concept of healthy life with correct portions. Now we can have a correct portion of chocolate since the new packaging is taking into consideration the percentage of cocoa. The more the percentage of cocoa to milk and other ingredients the bigger the chocolate size and vise versa, the less cocoa the smaller the chocolate becomes. Packaging took into consideration distinguishing colors according to different percentages as well, 70%, 80% and 90% as well as small gift chocolate. Shopping bags were customized to suit the boxes. The technique used is 100% ink free, its a play on the sense of touch, embossing, die cutting and laser engraving was used."
June 25, 2011 | 2 Comments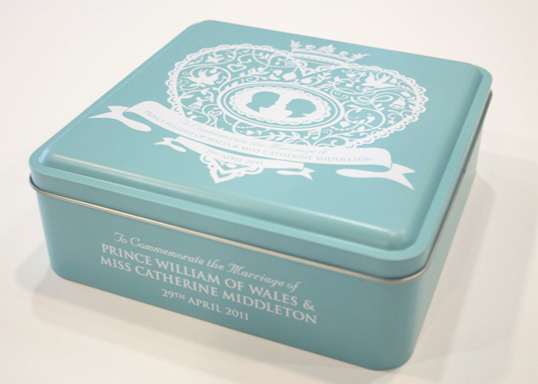 Designed by Kate Forrester | Country: United Kingdom
This vintage-inspired commemorative biscuit tin was created to mark April's wedding of Prince William and Kate Middleton.