June 29, 2011 | 6 Comments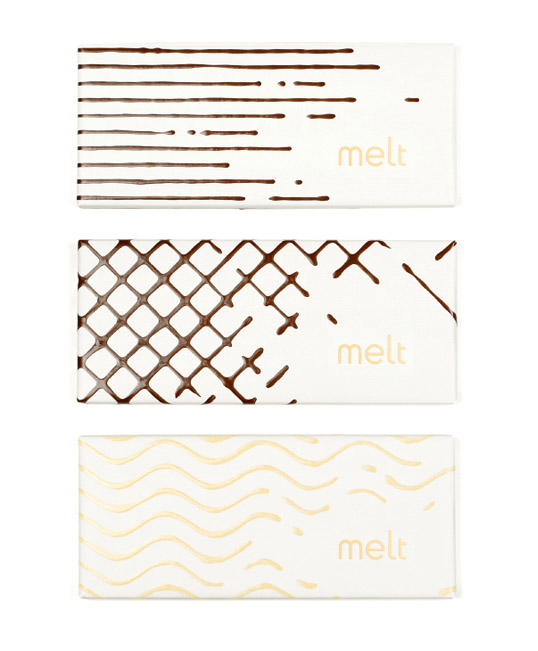 Designed by JJAAKK Design | Country: United States
"Packaging and logo design for a gourmet chocolate shop. The classic characteristics of melted chocolate are used throughout, providing a tantalizing glimpse at the wonderfulness contained within."
June 27, 2011 | 2 Comments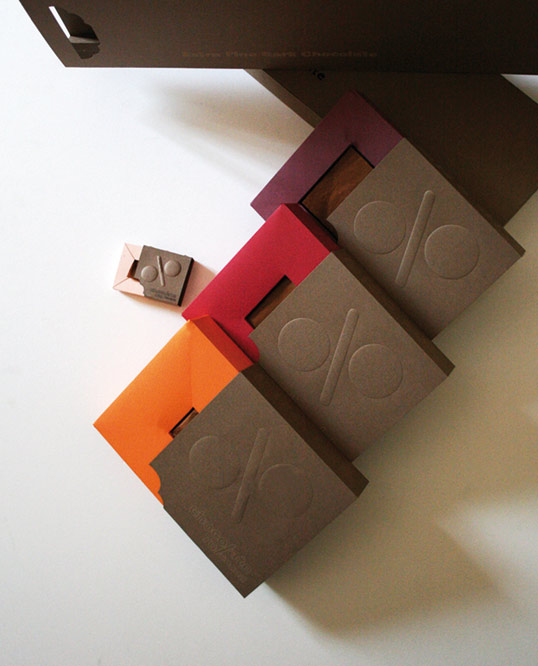 Designed by Vasily Kassab| Country: Italy
"The Bite Me brand was developed based on the concept of healthy life with correct portions. Now we can have a correct portion of chocolate since the new packaging is taking into consideration the percentage of cocoa. The more the percentage of cocoa to milk and other ingredients the bigger the chocolate size and vise versa, the less cocoa the smaller the chocolate becomes. Packaging took into consideration distinguishing colors according to different percentages as well, 70%, 80% and 90% as well as small gift chocolate. Shopping bags were customized to suit the boxes. The technique used is 100% ink free, its a play on the sense of touch, embossing, die cutting and laser engraving was used."
June 25, 2011 | 2 Comments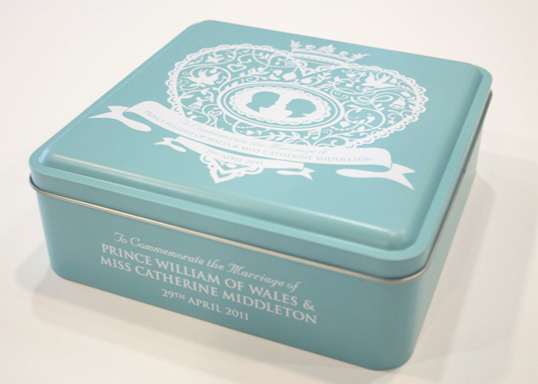 Designed by Kate Forrester | Country: United Kingdom
This vintage-inspired commemorative biscuit tin was created to mark April's wedding of Prince William and Kate Middleton.
June 22, 2011 | No Comments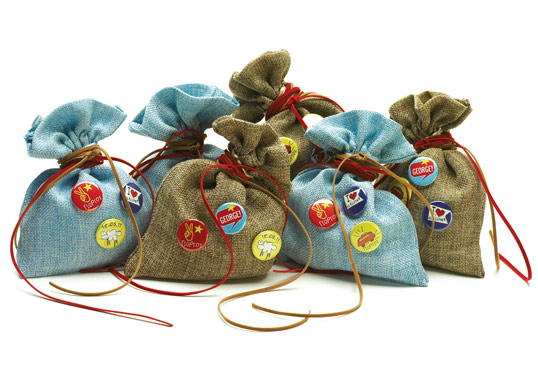 Designed by Sophia Georgopoulou | Country: Greece
"For a baby-boy christening ceremony in the city of Elassona (Central Greece), small linen pouches, in brown and light blue color, were created as baptism giveaway gifts and were given at the end of the christening ceremony. These pouches contained sweets and they were decorated with small cockade pins with various slogans and in a variety of colors. The themes on the cockades were taken from the key cockade of the invitation."
June 18, 2011 | 2 Comments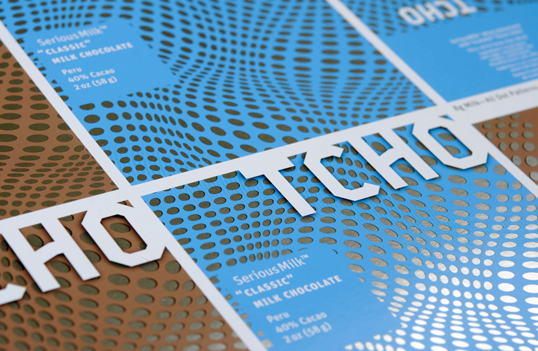 Designed by Edenspikermann | Country: Germany
"How do you attract the attention of milk chocolate lovers without abandoning your dark chocolate roots? By relying on the design values practiced for four years and injecting them with a bold visual direction.
Our design for SeriousMilk is hypnotic, drawing one into the rolling optics that say creamy, smooth, you have to try me, I'm different. The illusion appears to move and flow because of the precise mathematically based composition. These "tessellations" fill the visual plane leaving the viewer wanting to move around the box edges looking for more."
June 6, 2011 | No Comments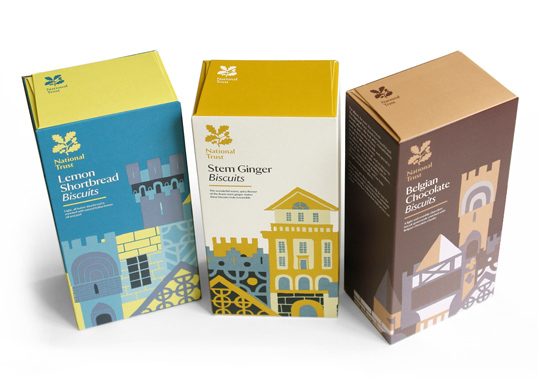 Designed by Studio H | Country: United Kingdom
"Studio H was commissioned to re-design National Trust's entire retail packaging, with a brief to refresh public perception and bring coherence to a hugely diverse product range. The National Trust is the UK's largest heritage charity, preserving and protecting buildings, countryside and coastline for future generations and encouraging everyone to visit and enjoy their national heritage. It was important that the re-design reflected National Trust's culture and engaged with their visitors.
Studio H created a range of icons depicting images associated with National Trust that can be flexibly applied across different several product ranges from chocolate to stationery. For confectionery and biscuits Adrian Johnson was commission to produce a range of architectural based illustrations."
May 29, 2011 | 3 Comments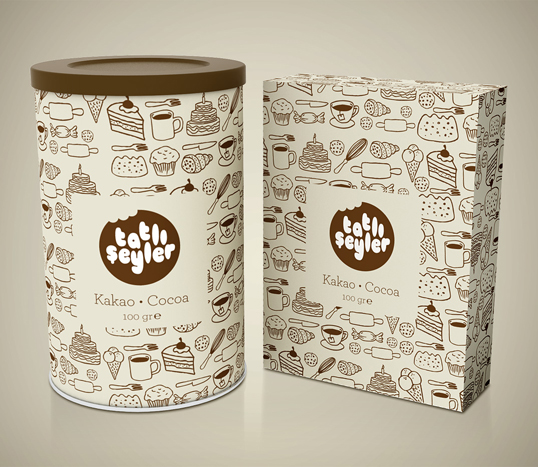 Designed by Bora Mesut Palas | Country: Turkey
"Logo, illustration and packaging for my package design class at Marmara University – Faculty of Fine Arts. Tatlı Şeyler (Turkish for "Sweet Things") was an imaginary client who's about to release some bakery decoration products like cocoa, sesame and coconut. These are the two alternatives I've done (metal cylinder and regular box) for the cocoa version."
May 24, 2011 | 5 Comments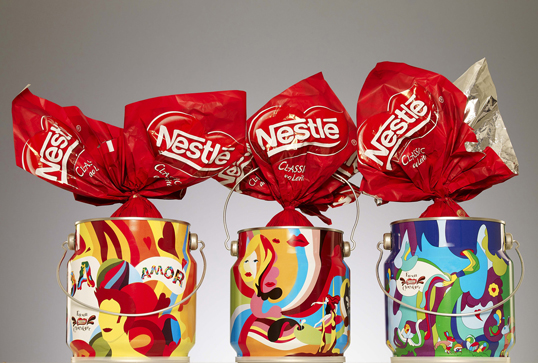 Designed by FutureBrand | Illustration: Cako Martin | Country: Brazil
FutureBrand commissioned Brazilian illustrator Cako Martin to illustrate these chocolate egg filled metal cans for Nestlé Easter.
May 13, 2011 | 6 Comments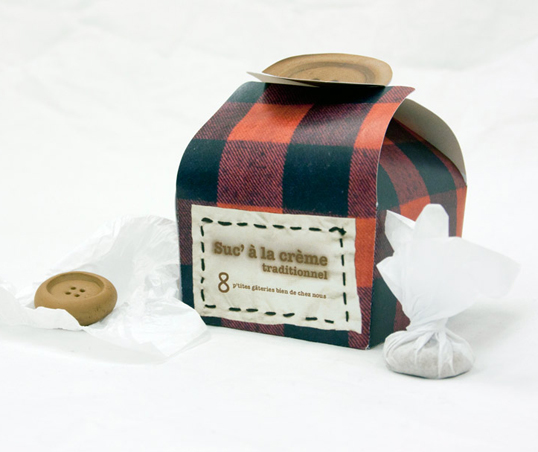 Designed by Camille Brunelle | Country: Canada
"We Canadians have many traditions; amongst them is the sugar cream fudge. Recipes are passed down from generation to generation and remain a staple in our Christmas holidays and also remain a not so commercialized sweet. A simple recipe made from brown sugar and cream, mixed and cooled off before being chopped into cubes like regular chocolate fudge. When it came to the packaging of this traditional sweet, I wanted to stay close to our canadian roots, reminiscent of our past; the lumberjack and hunter jacket. The concept would be that the sugar cream fudge be moulded in the form of the buttons, as if they were the coat's buttons themselves. The outside packaging would represent the manliness of each Canadian and the inside lace would represent the sweet and reassuring aspect of all Canadian women."
April 19, 2011 | 2 Comments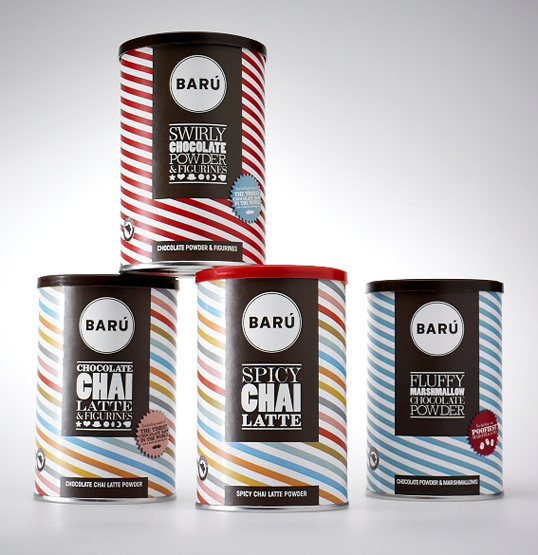 Designed by Creneau International | Country: Belgium
"Dark and pure, rich and honest, funny and crazy … as long as it says Barú on the outside, you know you're in for a delicious treat. Drawing inspiration from Barú's finest fluffy, swirly and nutty chocolates and sipping from their sensational chai tea, Creneau International designed a range of packaging that put the funk back in the chocolate and the glee back in the tea.
The best chocolates are little bites of happiness and the designers wanted the packaging to show just that. Adorned with retro colours and patterns, central to each wrapping is the signature element of the brown rectangular bar with the round Barú logo in it. The packaging features an array of typefaces reflecting the crazy playfulness and wonderful taste sensations."