April 18, 2011 | 3 Comments
Designed by Cowan London | Country: United Kingdom
"Cowan London have redesigned the packaging for Panda's traditional soft liquorice, making use of the product to produce a simple, unique and distinctive pack."
April 10, 2011 | No Comments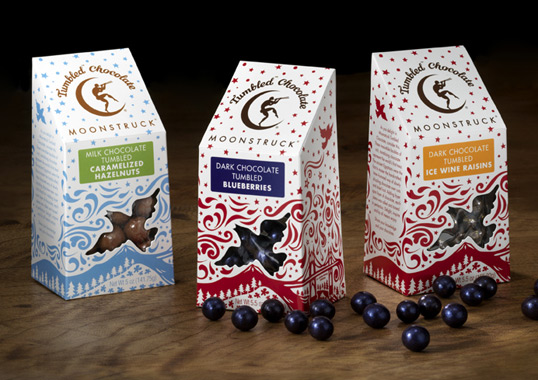 Designed by Sandstrom Partners | Country: United States
"Moonstruck Chocolate asked us to help them name and develop a packaging system for a new chocolate covered fruits and nuts product line. Tumbled™ was the name that quickly rose to the top of the naming list and was much improved over the industry standard term of Chocolate Covered. The container study was a long, multi-faceted process which led us to a very unique, custom box shape. Oregon's Western Meadowlark became a die-cut reveal to showcase the often iridescent coatings of the different tumbled products. Red illustration for dark chocolate and blue illustration for milk chocolate helps discerning consumers find their preference quickly at retail. Also integrated into the packaging design are a beaver, more Western Meadowlarks, a salmon, Mt. Hood, Doug Fir trees and of course, last but not least, a Sasquatch, which can be found on all of the new Moonstruck packaging by Sandstrom Partners. The Sasquatch is hidden in a different location for each flavor of the Tumbled Chocolate packaging line. Cut paper style Illustration by Kate Forrester."
March 11, 2011 | 4 Comments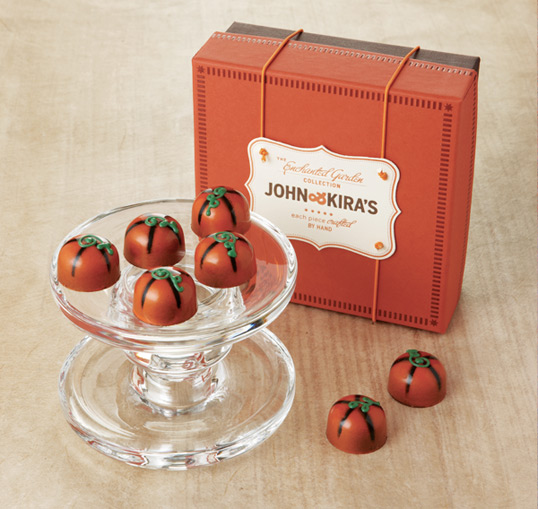 Designed by studio AG | Country: United States
"A great deal of heart goes into every piece of chocolate at John & Kira's. Their exquisite products are made by hand with the finest ingredients available from local and family farms. "Real people, really good chocolates" is not only their tagline, it's their business philosophy. The chocolate boxes needed to appeal to a wide audience; from the thoughtful fancy food lover, to the impulsive farmer's market shopper. And the goal of Studio AG was to create a system of boxes that communicated the core values of the company.
For the chocolate consumer; the packaging represents the handcrafted and careful aesthetic instilled in the John & Kira's brand. For the chocolatier; the system of boxes is extremely versatile and can be efficiently assembled easily during busy seasons."
March 7, 2011 | 5 Comments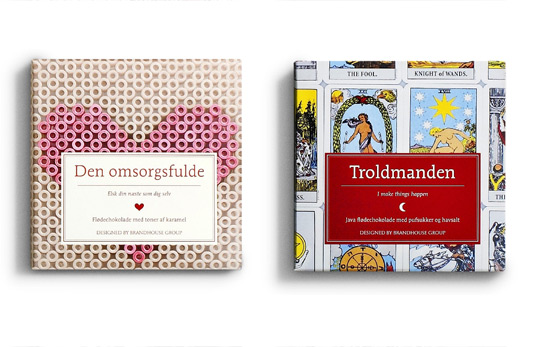 Designed by Bessermachen DesignStudio | Country: Denmark
"These chocolates were designed in cooperation with chocolate artist Henrik Konnerup.
12,000 pieces of chocolate have been produced – 1,000 large boxes. Every piece of chocolate weighs 50 grams and can be divided into four squares, each mould with the Brandhouse symbol in the middle. All 12,000 pieces are handmade.
Every piece of chocolate and each packages design has the same characteristics as the archetypes, thereby showing how to create the personality of the brand through product development as well as packaging design."
March 5, 2011 | No Comments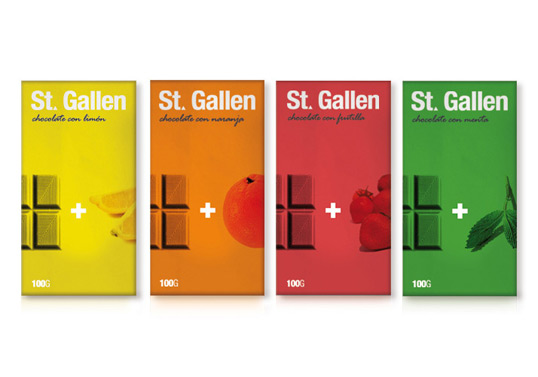 Designed by Martín Azambuja | Country: Uruguay
"The goal was to create a vintage Chocolate Bars with direct references to swiss design. The colors use in each pack represent the flavour of each chocolate bar."
February 15, 2011 | 1 Comment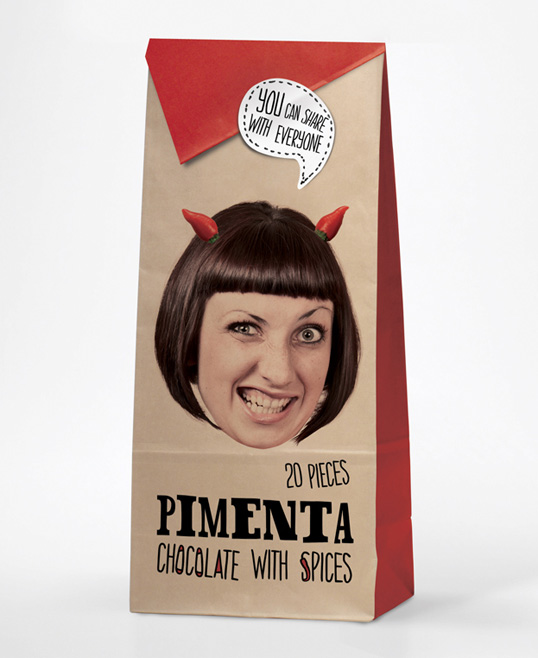 Designed by Ivanna Shashkina | Country: Russia
"Sweet & Hot is a product that pairs chocolate with spices. The project concept is that different faces show the varied degree of peppered spice."
February 4, 2011 | 4 Comments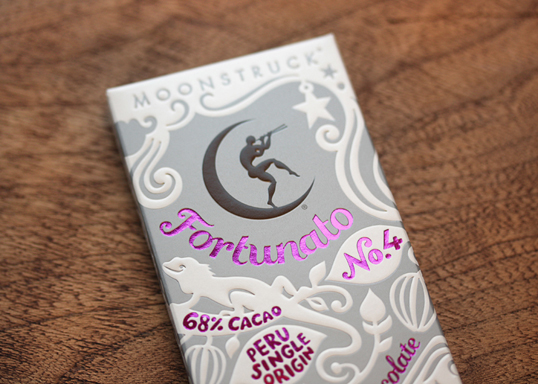 Designed by Sandstrom Partners | Country: United States
More great work from Portland based Sandstrom Partners for Moonstruck Chocolatier. Check out some of their past work we've showcased here and here.
"Moonstruck Single Origin Peruvian Fortunato No.4 chocolate bar packaging. Moonstruck Chocolate is a Portland, Oregon based company known for making premium handcrafted truffles. This chocolate bar packaging is Moonstruck's fourth entry into the premium, single origin chocolate bar category. The chocolate itself was described as the ultimate in single origin chocolate, so we needed to create a package that reflected this. Our goal was to create a package that families with the current Moonstruck Single Origin chocolate bar collection but would be notably more premium in look and finish. The illustration and typography continue on in Moonstruck's now signature hand-cut paper style. The finishes include: Matte Soft-Touch (Metallic Silver areas). Embossed Glossy Diamond-Kote Varnish (White Illustration + Logo). Purple foil (Typography)."
January 20, 2011 | 1 Comment
Designed by Sissi Edholm & Lisa Ullenius | Country: Sweden
This chocolate bar packaging was created for sale during an Olle Baertling exhibition at the Museum of Modern Art in Stockholm.
December 30, 2010 | 1 Comment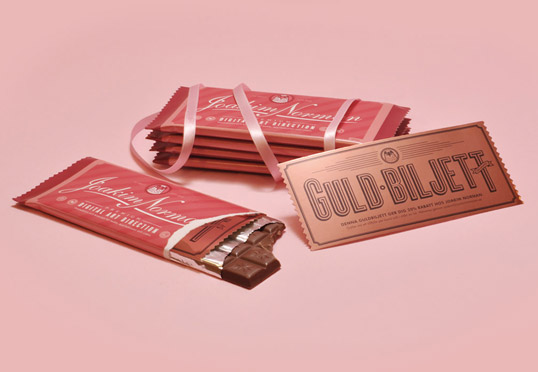 Designed by Joakim Norman | Country: Sweden
"I've always been intrigued by candy and confectionary aesthetics. The colors, the blissful feeling and total unpretentiousness. That's what I wanted my own business to feel like.
So I made hundreds of chocolate business cards, bigger chocolates to give away (with a golden coupon inside, Willy Wonka style), letters in classic swedish candybag-paper style, a bag with nougats that represents my services and a big box to send to potential customers. And of course a website. Everything folded and designed hand (except for the actual chocolate, I don't wanna poison people…) with lots of love."
December 23, 2010 | 8 Comments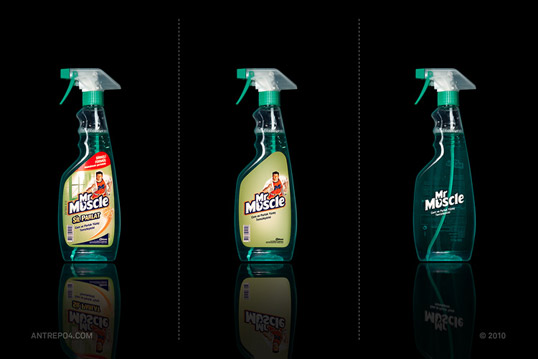 Produced by Antrepo | Country: Turkey
"Our latest project is about simplicity and we try to find alternate simple versions for some package samples of international brands. We think almost every product needs some review for minimal feeling."