March 5, 2011 | No Comments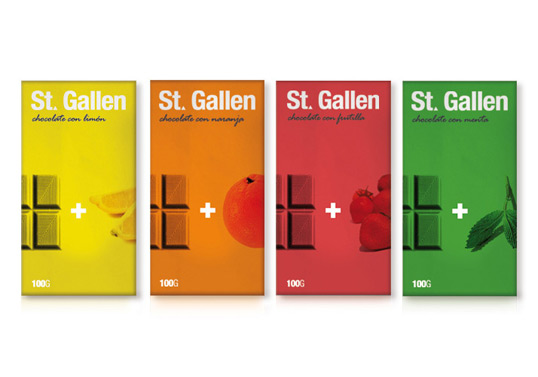 Designed by Martín Azambuja | Country: Uruguay
"The goal was to create a vintage Chocolate Bars with direct references to swiss design. The colors use in each pack represent the flavour of each chocolate bar."
February 15, 2011 | 1 Comment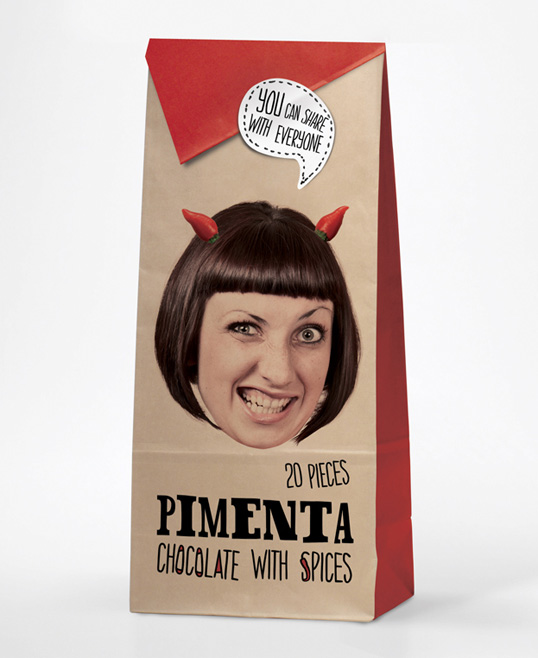 Designed by Ivanna Shashkina | Country: Russia
"Sweet & Hot is a product that pairs chocolate with spices. The project concept is that different faces show the varied degree of peppered spice."
February 4, 2011 | 4 Comments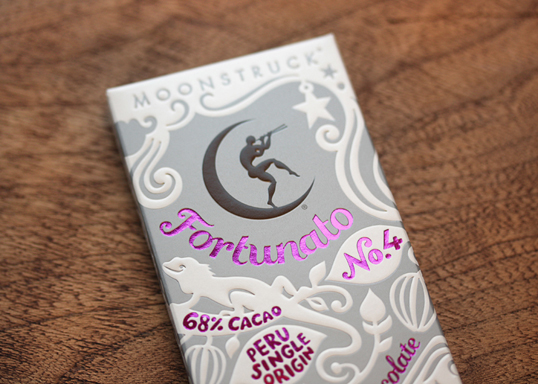 Designed by Sandstrom Partners | Country: United States
More great work from Portland based Sandstrom Partners for Moonstruck Chocolatier. Check out some of their past work we've showcased here and here.
"Moonstruck Single Origin Peruvian Fortunato No.4 chocolate bar packaging. Moonstruck Chocolate is a Portland, Oregon based company known for making premium handcrafted truffles. This chocolate bar packaging is Moonstruck's fourth entry into the premium, single origin chocolate bar category. The chocolate itself was described as the ultimate in single origin chocolate, so we needed to create a package that reflected this. Our goal was to create a package that families with the current Moonstruck Single Origin chocolate bar collection but would be notably more premium in look and finish. The illustration and typography continue on in Moonstruck's now signature hand-cut paper style. The finishes include: Matte Soft-Touch (Metallic Silver areas). Embossed Glossy Diamond-Kote Varnish (White Illustration + Logo). Purple foil (Typography)."
January 20, 2011 | 1 Comment
Designed by Sissi Edholm & Lisa Ullenius | Country: Sweden
This chocolate bar packaging was created for sale during an Olle Baertling exhibition at the Museum of Modern Art in Stockholm.
December 30, 2010 | 1 Comment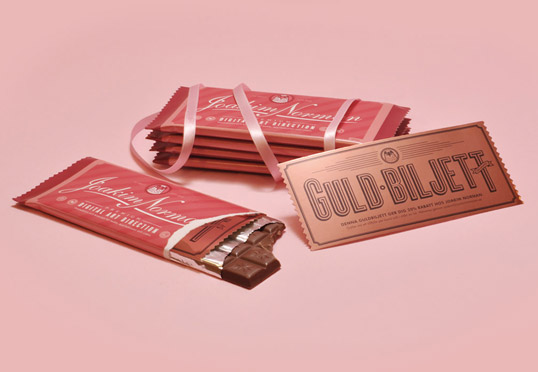 Designed by Joakim Norman | Country: Sweden
"I've always been intrigued by candy and confectionary aesthetics. The colors, the blissful feeling and total unpretentiousness. That's what I wanted my own business to feel like.
So I made hundreds of chocolate business cards, bigger chocolates to give away (with a golden coupon inside, Willy Wonka style), letters in classic swedish candybag-paper style, a bag with nougats that represents my services and a big box to send to potential customers. And of course a website. Everything folded and designed hand (except for the actual chocolate, I don't wanna poison people…) with lots of love."
December 23, 2010 | 8 Comments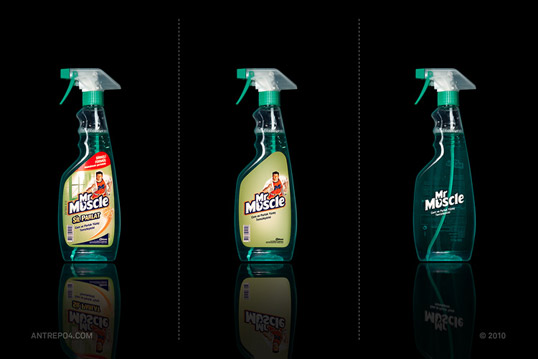 Produced by Antrepo | Country: Turkey
"Our latest project is about simplicity and we try to find alternate simple versions for some package samples of international brands. We think almost every product needs some review for minimal feeling."
December 16, 2010 | No Comments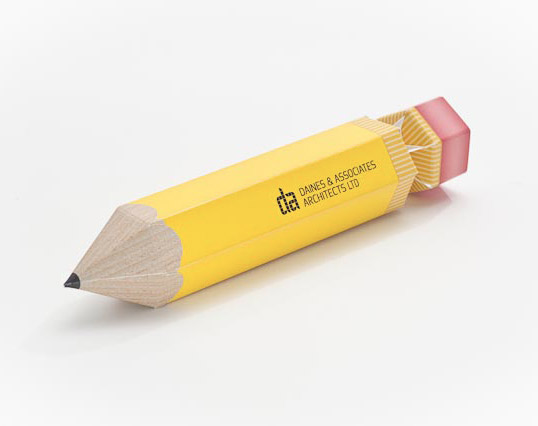 Designed by THINK Packaging | Country: New Zealand
"Concept developed for an architect. A perfectly executed pencil, with a twist open end. Designed to place handmade chocolates inside and passed out as a gift."
December 4, 2010 | No Comments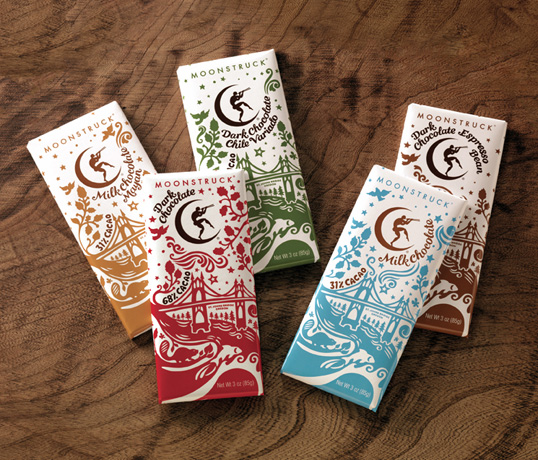 Designed by Sandstrom Partners | Country: United States
"Moonstruck Chocolate Co. is known for making premium handcrafted truffles. Our assignment was to revive a dusty line of chocolate bars. Our goal (and challenge) was to create packaging line that imbues the same qualities that drive Moonstruck brand enthusiasm through its truffles: handcrafted quality, visual beauty, multisensory experience and imagination. We focused the cut-paper style illustration subject matter on Northwest imagery. Specifically the Portland area's landmark St. Johns Bridge, under which Moonstruck is located. Also integrated into the wrapper design are a beaver, Western Meadowlarks, a salmon, Mt. Hood, Doug Fir trees and of course, last but not least, a partially hidden Sasquatch. We also created 3 unique chocolate bar impressions that are randomly used throughout the entire line in production, so that consumers will have a discoverable to enjoy upon unwrapping."
November 24, 2010 | No Comments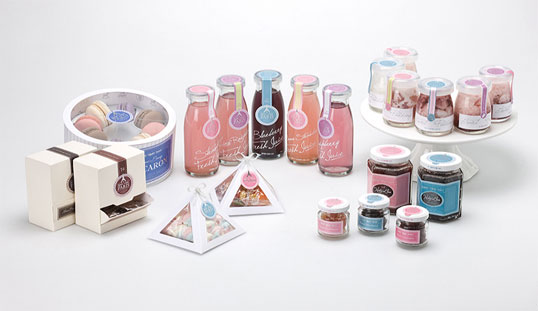 Designed by Chong-Min Kang | Country: South Korea
"The Berry Verry Paris is a trendy lifestyle dessert, which provides stress relief to tired modern people with its fresh and sweet flavor. This is a dessert to help relieve fatigue and restoring health by using berries. Berry Verry Paris's design concept is sweet in color, slim in form, and uses Paris as a motif."
November 23, 2010 | No Comments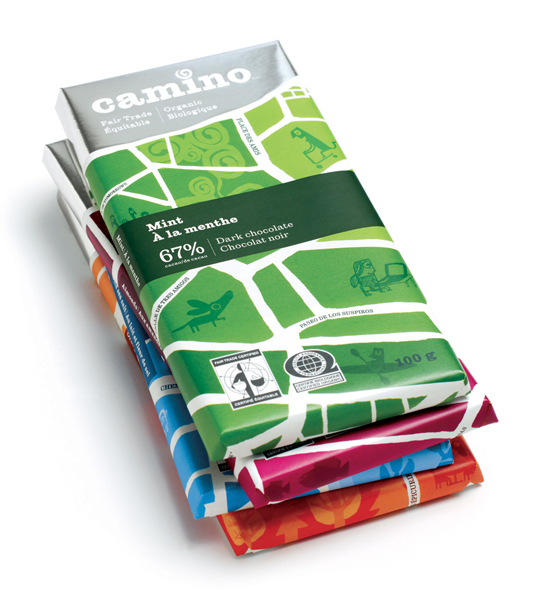 Designed by Karacters Design Group | Country: Canada
"To coincide with a greater availability in stores across Canada, Camino is unveiling a new brand packaging system for its line of premium organic and fair trade products, gradually expanding outside the realm of cocoa and sugar products.
Developed by Karacters Design Group, the brand idea "a joyful food revolution" captures Camino's belief that through the joy of eating great tasting food made from quality ingredients, people will be encouraged to think differently about their food – where it came from, who made it and what's in it.