July 20, 2010 | 4 Comments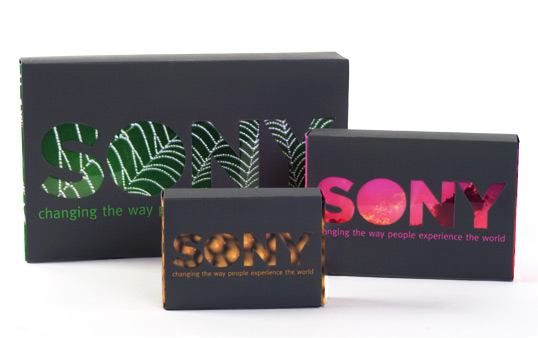 Designed by Jamie Prendergast | Country: United States
"I redesigned the Sony packaging for their Vaio, Cyber Shot and EX ear buds. While researching the company, I found a letter from the CEO to stockholders explaining that Sony products "change the way people experience the world." This statement inspired these packages, which have an outer sleeve with die cuts of the Sony logo and the product name on the back. On the inner boxes are images of nature that relate to the products inside. I wanted the packaging to be clean and simple, but still have an exciting and smart element that would accurately reflect the personality and functionality of Sony products."
July 19, 2010 | 28 Comments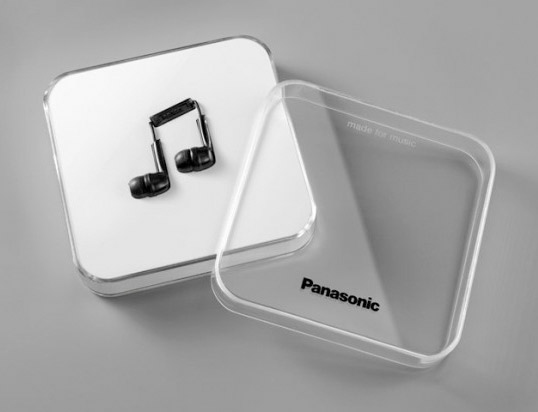 Designed by Scholz & Friends | Country: Germany
A beautifully minimal and memorable design for Panasonic Note headphones.
June 29, 2010 | 2 Comments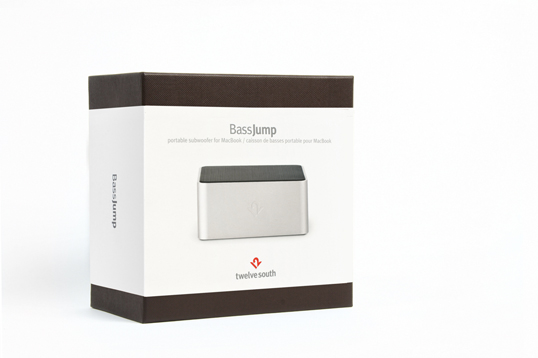 Designed by Twelve South | Country: United States
"Twelve South is a company that brings luxury accessories to Mac users. Our products are of the highest quality and we wanted our packaging to reflect that. We put a lot of value into our packaging, as it is considered a product itself. We believe that the customer re-using the packaging is far better than recycling. We wanted to design packaging that not only looks good but can be used by the customer over and over."
May 20, 2010 | 1 Comment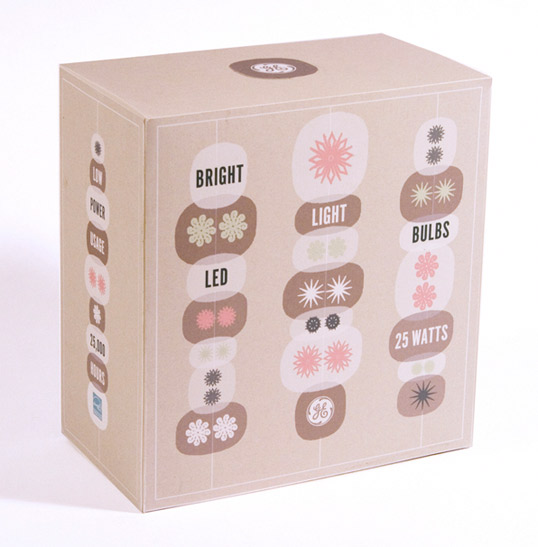 Designed by Kayla Jang | Country: United States
A charming, retro-inspired conceptual design for GE Christmas Lights using a colour palette not normally seen in this product sector.
"The assignment was to redesign the packaging and identity of an ordinary object. I chose the GE Christmas Light Package and I wanted to make it bright and cheerful as christmas light by avoiding clichés. The colorful overlapped shapes are expressed as translucent bulbs and snow flakes as light inside the bulbs."
May 18, 2010 | 12 Comments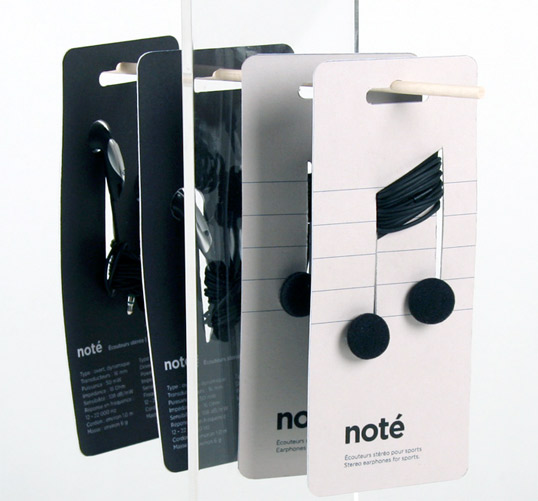 Designed by Corrine Pant | Country: Canada
"Choosing plastic wrap for non-perishable items is often a choice that is unjustifiable for the real needs of the product. To address this problem, Corinne Pant looked at the real needs of electronic parts packaging. In a poetic and very functional gesture, it shows us once again that "less is more"."
via UQAM
March 27, 2010 | 2 Comments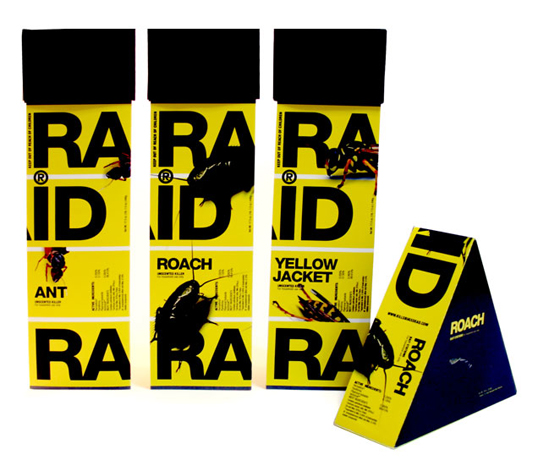 Designed by David San Miguel | Country: United States
A great portfolio of work from Art Center College of Design student David San Miguel.
February 22, 2010 | No Comments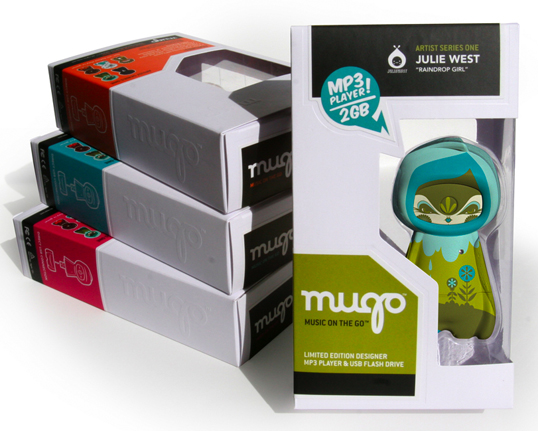 Designed by Mugo | Country: United States | Buy it
"The perfect mash up of the 3 things you love? Well yes, if designer Aaron Atchison of Feed the Beasts' new project Mugo, has anything to say about it. Mugo is a USB flash based MP3 player and storage drive wrapped around an urban vinyl skin by acclaimed artists such as: Julie West, Shin Tanaka, Tougui, Yup and Pulco Mayo.
The packaging emulates the product by using a blind embossed box that acts as a foundation for custom designed labels. The labels can change to mimic the character or the personal style of it's artist."
February 5, 2010 | Comments Off on Objectified Limited Edition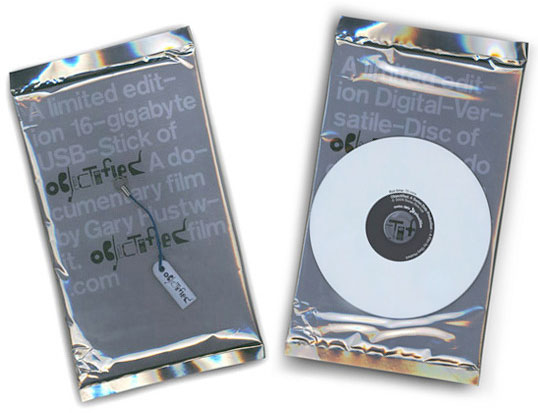 Designed by <a href="http://www.wearebuild.com/" target="
_blank">Build | Country: United Kingdom
A lovely limited edition packaging solution for Gary Hustwit's movie Objectified.
via Objectified
zp8497586rq
December 11, 2009 | 7 Comments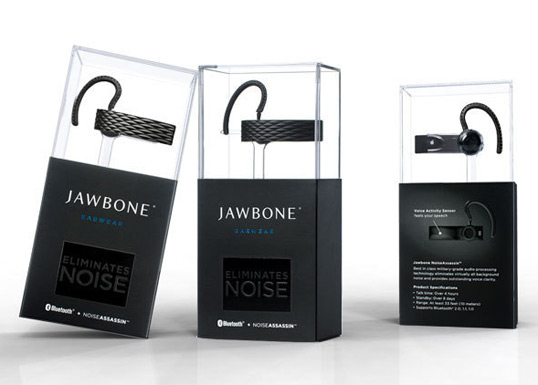 Designed by fuseproject | Country: United States
Thanks to Lovely Package® reader Barton for alerting us to some of his favorite packaging. In this case, fuseproject's work for Jawbone bluetooh headsets. They're not only are they responsible for the package design, but also for designing the product itself.
December 10, 2009 | 4 Comments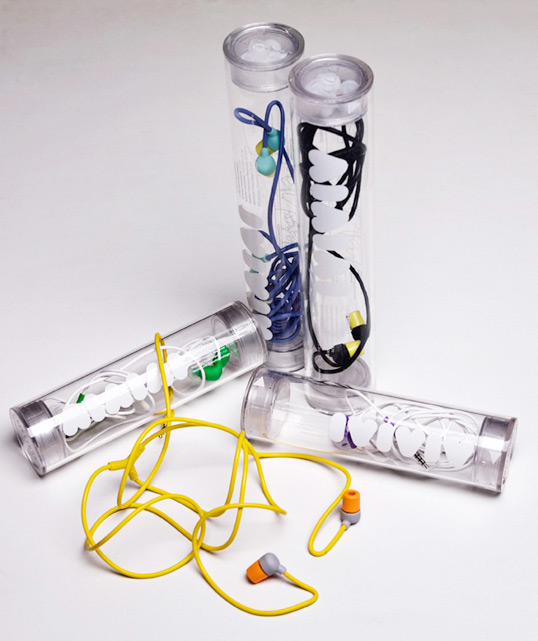 Designed by AIAIAI | Country: Denmark
Unique packaging for Danish headphone brand AIAIAI.