May 30, 2011 | 1 Comment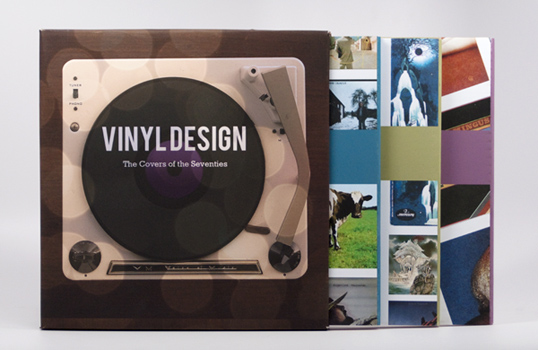 Designed by Susanna Tremaine | Country: United States
"As a three book series about Vinyl covers of the seventies, this box set promotes Hipnosis, Roger Dean, and Paula Scher. Each book cover displays some of the most popular vinyl covers designed by each artist. The box set comes in a compact case, all to scale with an actual record."
May 25, 2011 | 2 Comments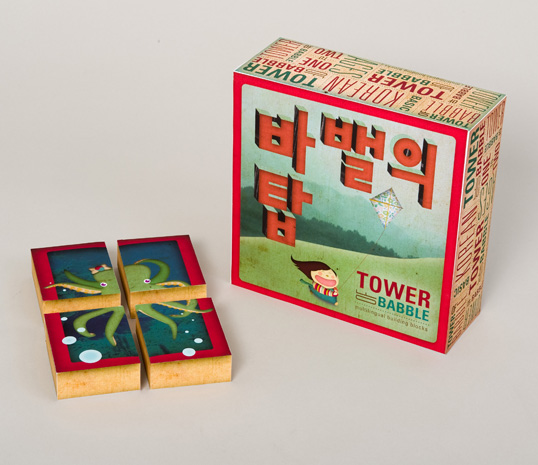 Designed by Monica O | Country: United States
"This assignment was to create a game called Tower of Babble which is a building block game for a language of our choice. I decided to choose Basic Korean for children ages 1-2 that requires them to put these blocks together to form an image. Once it is done, you flip the game pieces to find the corresponding word in Korean and the English translation. I chose to illustrate kid-friendly illustrations and chose a color palette that references the Korean flag."
May 23, 2011 | 1 Comment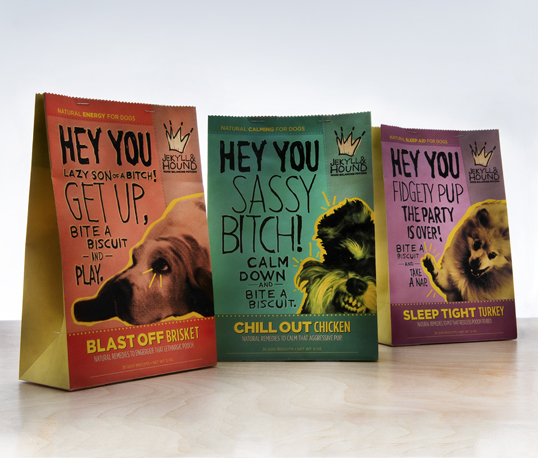 Designed by Matt Smiroldo | Country: United States
"From pesky pup to mopey mutt, Jekyll & Hound is the perfect fix of natural remedies that balance every mood. Your dog will be howling for more."
May 16, 2011 | 1 Comment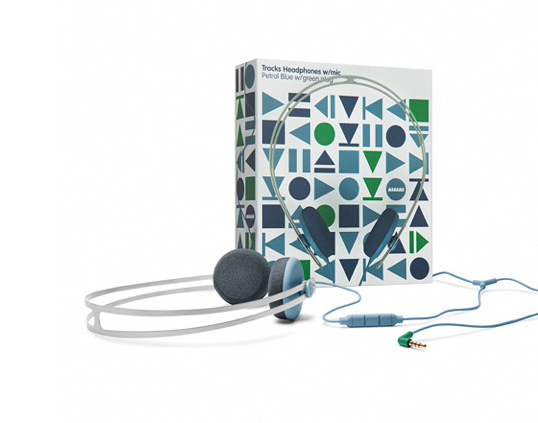 Designed by AIAIAI | Country: Denmark
Packaging design for AIAIAI's Tracks Headphone Collection for Spring/Summer 2011.
"The Tracks Headphone is an award winning, supra-aural headphone with a subtle design focusing on elemental lines and an overall iconic shape. The simple brace design is easily adjustable and ensures a comfortable and secure fit. The customizable slider comes in 3 different colors and the 40mm speaker offers a better frequency distribution and a full-spectrum sound quality with a lighter bass and detailed high frequency notes."
April 26, 2011 | 1 Comment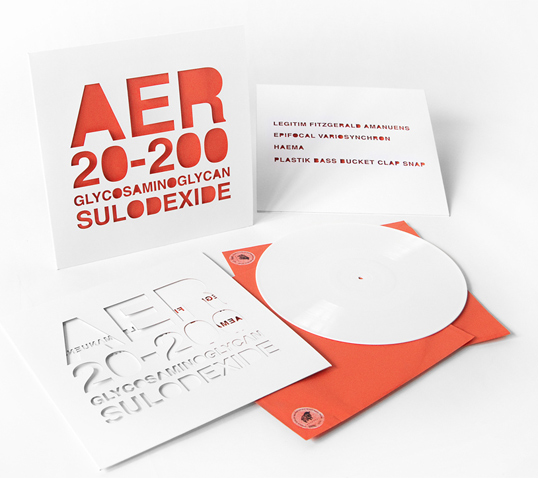 Designed by Antti Kangas | Country: Finland
"Record cover for the debut 12″ vinyl EP of my personal electronic music project, AER20-200. The aim was to create an interesting, unique and catchy package, which would also be in line with the style of the music.
In this design, the cover consists of an outer sleeve made of white cardboard and an inner sleeve made of red paper. On the outer sleeve, all of the text, such as the names of the artist and the tracks is written by cutting out letter with a laser allowing the red inner sleeve to show through. There's nothing printed on the outer cover itself – it's pure white. As is the actual record. Only small engravings near the blank white center label tell which side of the record is which. The music itself is electronic and falls between styles such as glitch, idm, noise and techno. The machine made nature of the album is represented in the simplistic and almost mathematically precise form of the cover."
April 18, 2011 | 2 Comments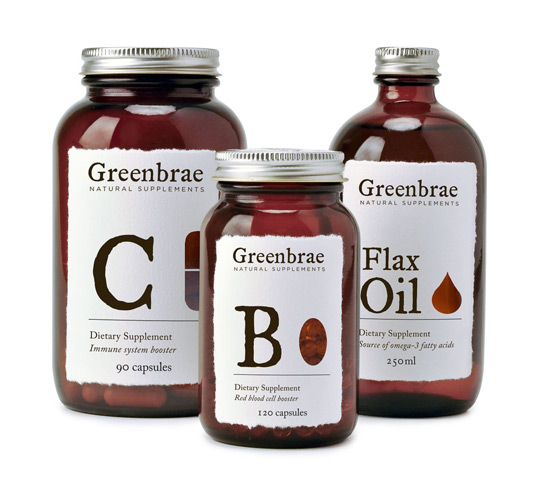 Designed by Ryan Chung | Country: Canada
"The brief: To create an identity for a line of vitamins sold in upmarket health food stores and organic markets. Design a logo and packaging.
The solution:The wordmark's hand-cut feel, paired with modern typography communicates quality. Deckle-edged labels with die cuts reveal the contents of the bottles. The warm brown of the bottles adds a nostalgic touch while protecting the contents from the sunlight."
April 12, 2011 | 3 Comments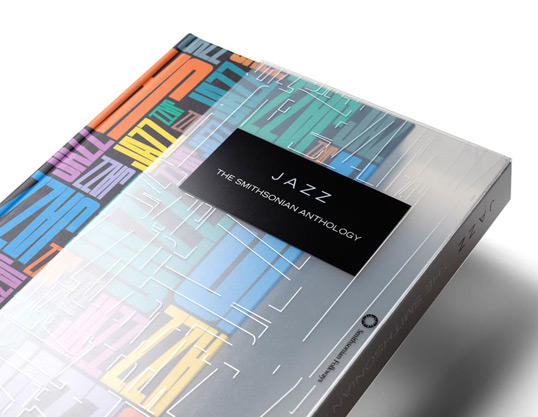 Designed by Visual Dialogue | Country: United States
"Problem: How do you put the history of jazz in a box? Not an easy task, but one Smithsonian Folkways Recordings was eager to take on. Using the historic compilation The Smithsonian Collection of Classic Jazz as the starting point, a team of over 50 experts set about selecting 111 tracks tracing 100 years of jazz. In addition to the music, the set need to include liner notes by 30 leading writers and a treasury or rarely-seen jazz photographs.
Solution: Visual Dialogue referenced the graphics and color palette of original Folkways JAZZ LP covers in creating an entirely new design for Jazz: The Smithsonian Anthology. The package combines a 200-page book and 6 CDs inside a translucent slipcase, befitting what Time magazine reviewed as "the single best introduction to America's great musical form."
March 24, 2011 | 5 Comments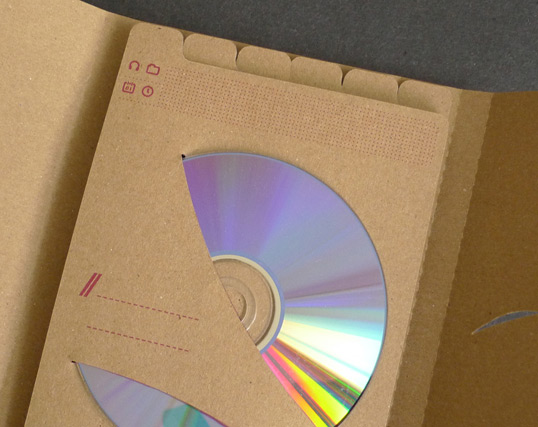 Designed by Oussama Mezher | Country: Canada
"Although CD and DVD formats will certainly be replaced in the near future, I worked on a classification system which reduces the handling of plastic cases and complex envelopes, gathering all of the discs into a standard sized DVD box. The material used is made of simple recycled kraft chipboard, uses no glue and is printed in one color. The design allows generous space for the identification and description of content."
March 8, 2011 | 4 Comments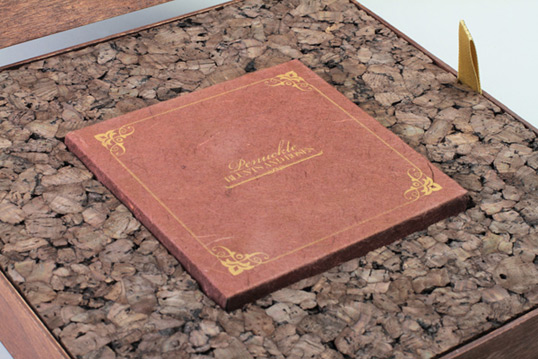 Designed by Savage Diplomacy | Country: United States
"Blunts & Roses is a limited re-release by an artist by the name of Penuckle, offering more than just music on a disk, Savage Diplomacy explored the album and designed a package that fits the album/title. Every piece was hand crafted and much detail was added. Everything from stained wood to gold foil screen printing on parchment that represents a cigar wrap. Within the packaging, you will find a vinyl, a thumb drive with the music, and a album credit booklet."
February 23, 2011 | 2 Comments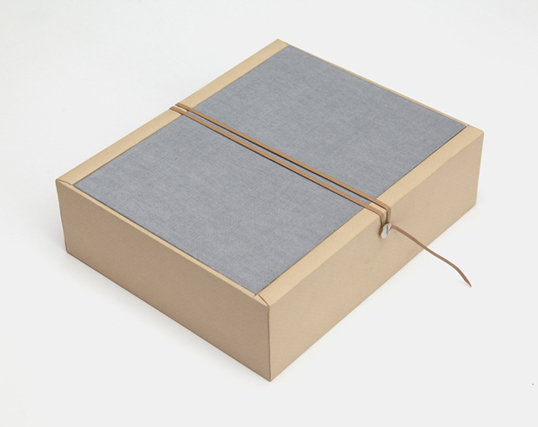 Designed by Jackson Dickie | Country: Australia
"Australian Forensic Investigations is a documentary style series which reveals how forensic and science techniques are used in the solving of major crime and accident cases. To communicate the intricate aspects involved in the series, a chest was designed with features such as a concertina with concealed magnetics, invisibly attaching each DVD case. The chests anonymous facade masks its immediate identification."