April 21, 2009 | 4 Comments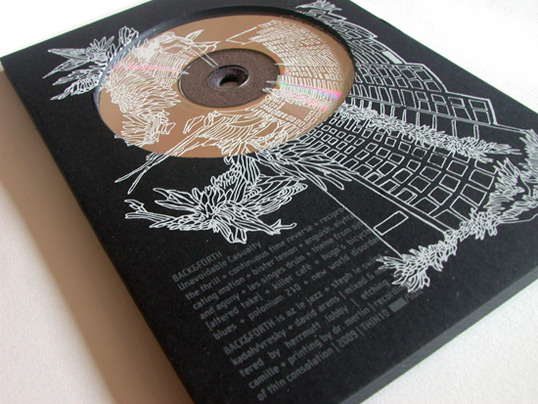 Designed by ThinConsolation | Country: Belgium
"We decided to have a sleeve close to the DVD format. After some tests, we agreed on 3 layers of cardboard with a big hole to see the CD, an opening on right side where you drag the CD and a small hole on the back side (this hole matches perfect with center of the CD, but is just for aesthetics). We added some felt where you put the CD which comes in red or grey.
For the graphics, the musicians wanted something without 90º angles and we (at the label) wanted something with a lot of detail, a reminder of their music. A friend – Camille, makes etchings and was working on feathers… We decided to work with her. It was going to be a bit too though to make 500 + promos copies only by etching, so we decided to screen print her work instead. We used white and red or grey for the front (it depend of the felt) and black + silver for the back."
April 16, 2009 | 4 Comments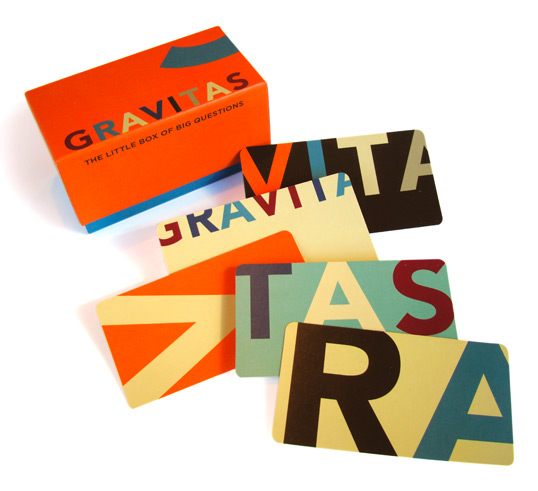 Designed by Hambly & Woolley | Country: Canada
"GRAVITAS is a game of discovery – of who we are and how we have lived. There is no right or wrong answer. Although the questions call for reflection, they can be dealt with in a thoughtful manner or a more light hearted one. A certain savoir faire is accumulated in life that reflects our individual stories and experiences. Everyone can offer some GRAVITAS on life's big questions. The game consists of 143 cards (three questions per card) totalling 429 questions."
April 9, 2009 | 4 Comments
Designed by Jeffery Docherty | Country: United States
"Japan released EP due out for release later this month. EWH is a trio based in New Zealand and are well worth a listen."
April 3, 2009 | 2 Comments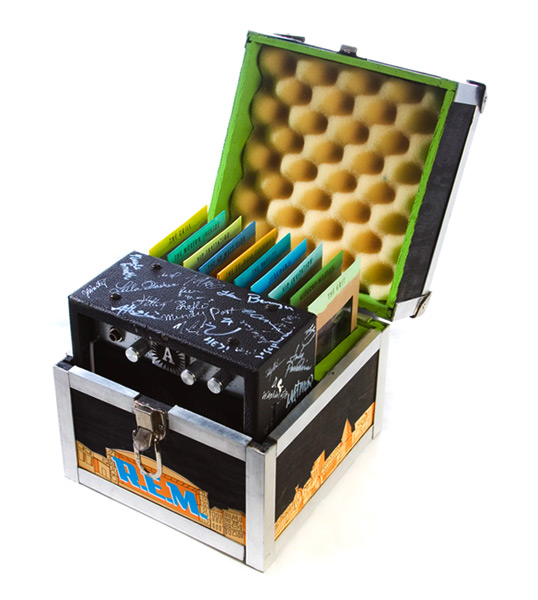 Designed by Jonathan Elliot | Country: United States
Recent The Creative Circus graduate Jonathan Elliot sent us this concept.
"Athfest is an annual music and arts festival held in Athens, Georgia. The following custom VIP mailer is sent to a big name band that originated from Athens. Pictures of relevant and meaningful areas in town are used to try to excite nostalgia to convince the bands to return and perform during the festival.
The amp serves as a light-up slide viewer and is adorned with signatures of event planners and city officials."
March 27, 2009 | 1 Comment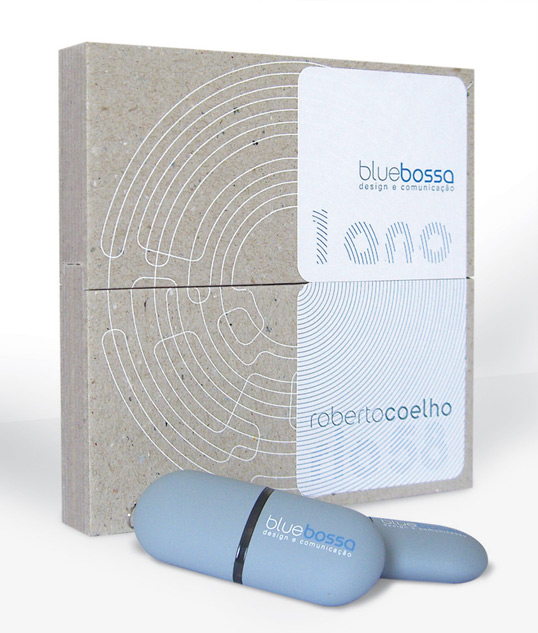 Designed by BlueBossa | Country: Brazil
"Commemorative toast made celebrating the first year of BlueBossa. Pen-drive containing songs of the artist Roberto Coelho, packed in a container made with several layers of paper, which refers to the format of a CD."
March 17, 2009 | 1 Comment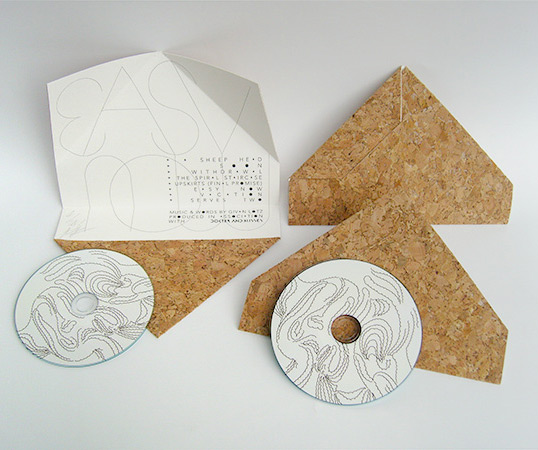 Designed by Givan Lötz. | Country: South Africa | Buy it
"EASY NOW album: hand packaged CD Limited to 20 / singed and numbered."

March 15, 2009 | No Comments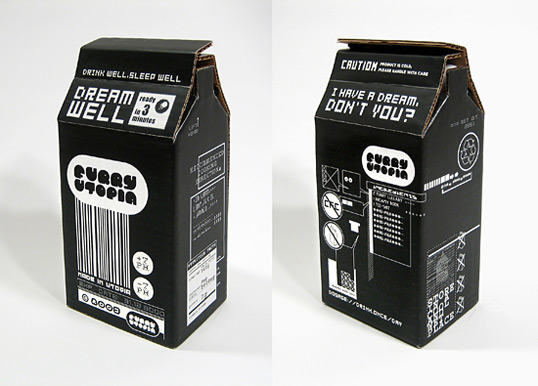 Designed by Undoboy | Country: United States
"Create design goodies for our concept store Furry Utopia. A music album."
March 13, 2009 | 2 Comments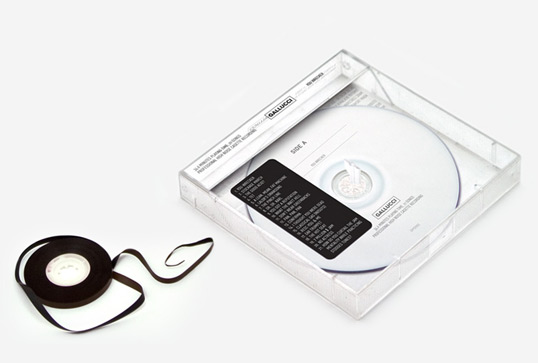 Designed by Hampus Jageland | Country: Australia
Nice unique tape cassette style package for Gallucci, designed by Australian based Hampus Jageland.
"Gallucci is a modern punk band with major influences from the late 80's. They've got a clean and neat punk sound and their whole record was recored on a tape to capture the 80's feel and sound."
March 8, 2009 | 10 Comments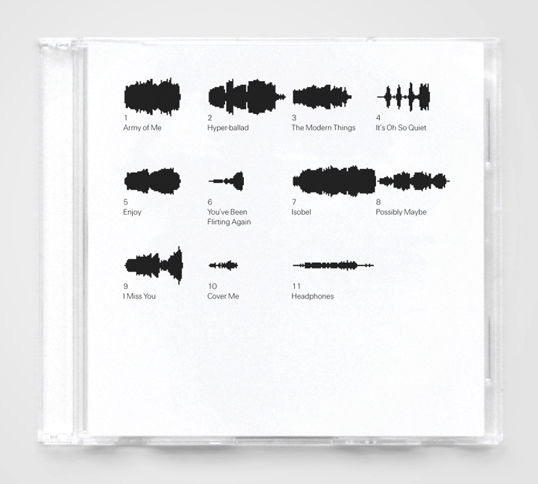 Designed by Joshua Distler | Country: United States | Font used: Helvetica
"Compact disc labeling concept. Each waveform accurately depicts a complete song in a 1-inch square."
March 5, 2009 | 4 Comments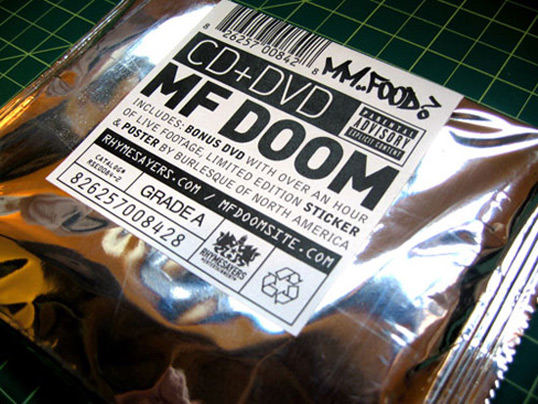 Designed by The Pressure™ | Country: United States
"For the re-release of hiphop artist MF Doom's food-themed album Mm..Food, the team at Rhymesayers put the album in a durable, silver mylar-wrap reminiscent of pop-tarts or food packaging. The sticker on the outside not only contains all of the essential information, but is scratch-and-sniff, and smells like hamburgers. Yum."