August 29, 2009 | 1 Comment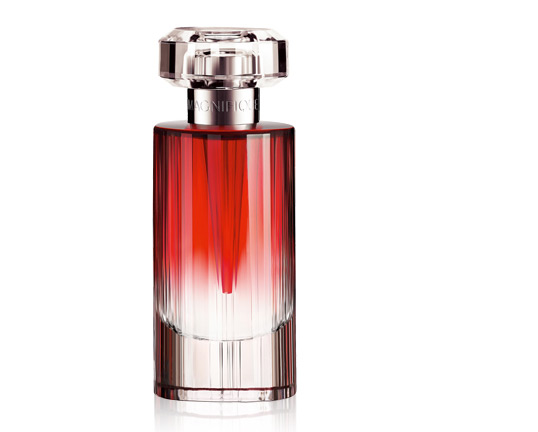 Designed by H5 | Country: France
This bottle designed by H5 for Magnifique almost looks like silk curtains. I'm interested to know whether it's all visual or if there is a tactile feel to the bottle as well.
August 28, 2009 | No Comments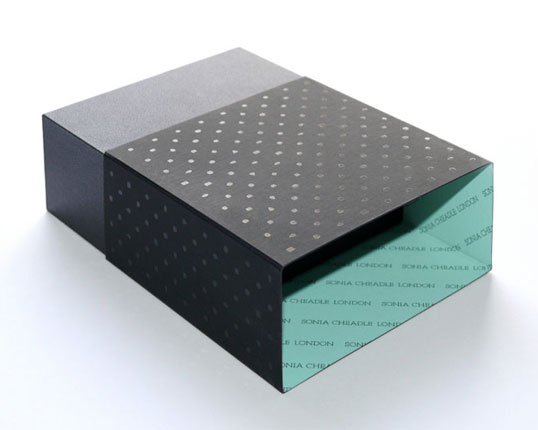 Designed by William Hall | Country: United Kingdom
"Sonia Cheadle has established a reputation for luxurious and innovative contemporary diamond jewellery. The packaging was designed to help display the work at shows such as London's Goldsmiths Fair, and as a gift-box for Cheadle's discerning clients.
The varnished grid gives the box movement as light passes over the box. Seductive despite its comparatively modest materials, the box also hints at its valuable contents.
The brand name is only on the inside of the sleeve – visible to anyone opening the box, but otherwise hidden, allowing the box to retain its enigmatic qualities."
August 22, 2009 | 8 Comments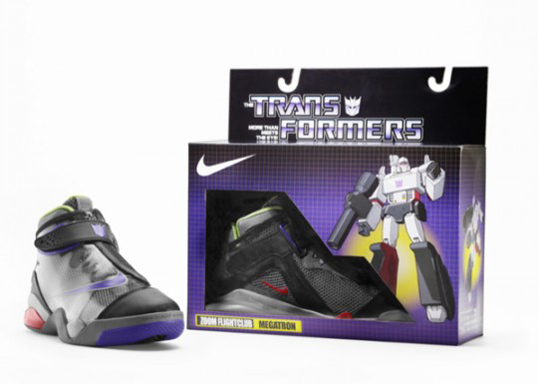 "Nike has launched a limited edition set of three performance basketball shoes commemorating the worldwide premiere of the Transformers film sequel. The collaboration includes the Nike Zoom Flight Club, Nike Zoom FP and Nike Sharkalaid complete with special packaging, retro graphics and vibrant color combinations.
August 15, 2009 | No Comments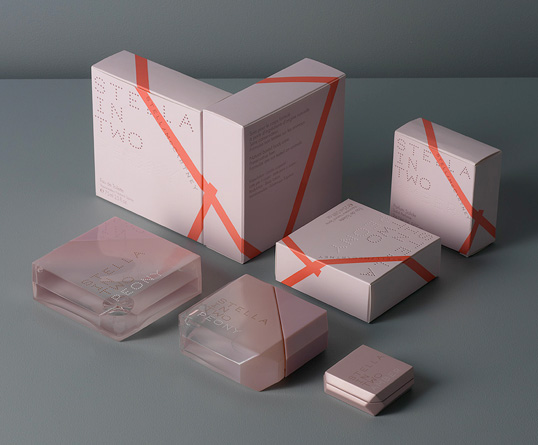 Designed by MadeThought | Country: United Kingdom
"A more conceptual incarnation of the first fragrance, Stella In Two employed the use of graduated opaque glass to simulate traditional ceramic bottles combined with more contemporary geometric forms."
August 8, 2009 | 11 Comments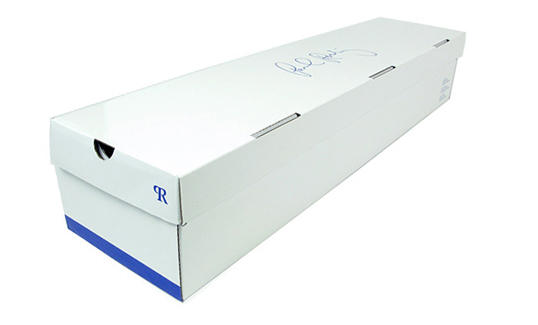 To celeberate the realease of Nike SB's Zoom Paul Rodriguez 3 skate shoe Nike have pulled off yet another legendary collaboration, this time with Plan B skateboards. This highly sort after pack features Nike SB x Plan B wheels/deck, Diamond hardware, griptape, Silver trucks, and Sawblade 3 bearings which are supplied in their very own highly unique custom packaging. The packaging itself has been modeled on the actual packaging of the Nike SB's Zoom Paul Rodriguez 3 skate shoe, featuring the same white box, cool blue graphics and Nike's customary SB wood grain print on the inside.
August 5, 2009 | 1 Comment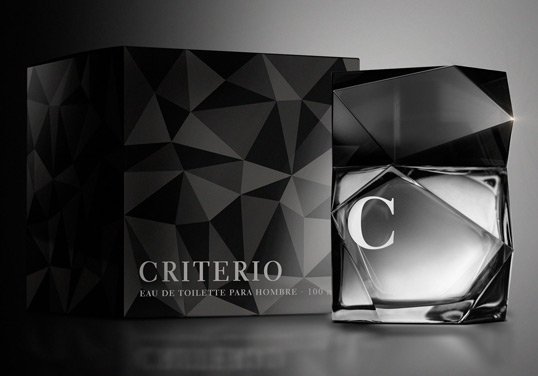 Designed by Lavernia & Cienfuegos | Country: Spain
"CRITERIO is a fragrance targeted for men searching for an exclusive product of quality, but at a lower price than perfumes of luxury range. The container suggests masculine elegance. It is a glass transparent polyhedron with edges and planes producing shines and reflections, helping to create a double sensation of hardness on one side and luxury on the other.
The packaging was solved with graphics that make reference to the faceted shape of the container. It is exclusively distributed at MERCADONA"
August 2, 2009 | 17 Comments
Designed by Lavernia & Cienfuegos | Country: Spain
"The collection of mass-market fragrances COMOTÚ, designed for Mercadona, was aimed to be a simple product, in harmony with its price, but with a surprising presentation. In order to achieve a good brand image and minimize the costs of production, only one bottle design was used for the eight different fragrances, four in black for men and four in white for women. The distinct fragrances can be differentiated thanks to the different colours of their tops.
The shape of the bottle is rounded and curved, and the packages show shiny and metallic colours.
The final design both of the bottle and its package has the gift to transmit high quality and modernity at a competitive price. It proves that a mass-market product with a good design can be very successful."
July 7, 2009 | No Comments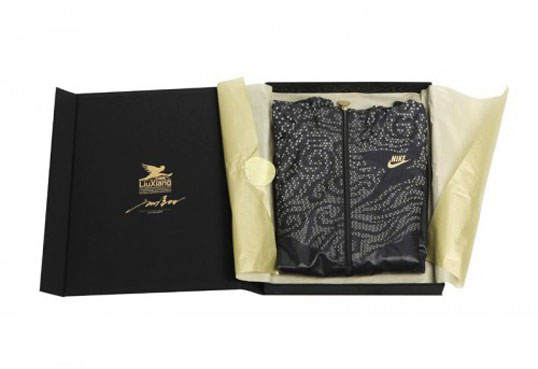 Another fine example of Nike's ability to create that extra bit of detailing which finishes a product off perfectly. This special edition Nike Windrunner comes in its own black and gold box set and was created to honour the Chinese hurdler Liu Xiang.
July 3, 2009 | 1 Comment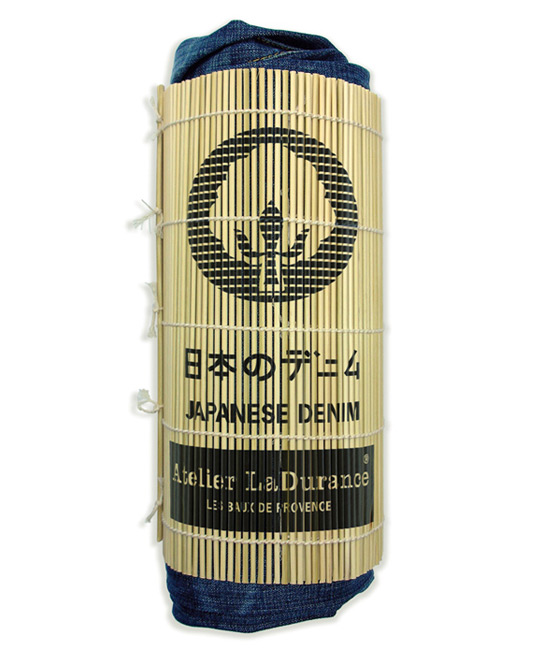 Designed by Stormhand | Country: The Netherlands
"Atelier LaDurance is a small scaled, independent French denim label that has the passionate drive to make top crafted products. It develops limited runs at a traditional atelier in the south of France.
The Atelier LaDurance comprehensive visual identity. Packaging, labeling and point of sale items are designed purely from a practical point and they display the kind of logical simplicity you are likely to find deeply rooted into the French aesthetic of every day.
Like the repairkit: an emergency capsule that has been put together to an autonom-ous design with only off-the-shelf metal components. Manually assembled, one by one and attached to all Atelier LaDurance denim products with a keyring. Containing a thimble, 2 buttons and a piece of lining and a piece denim cloth."
June 28, 2009 | No Comments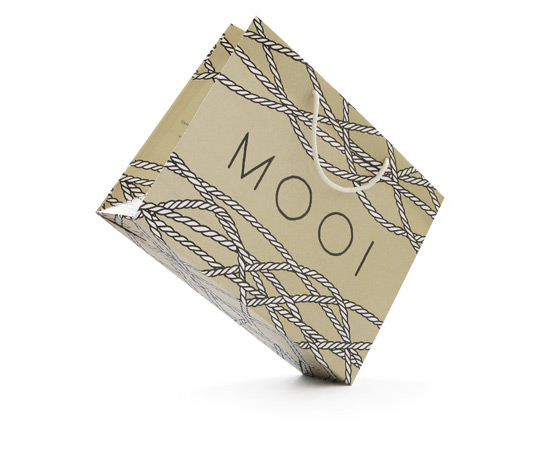 Designed by Maximilian Combüechen | Country: Germany
MOOI is a store for exclusive cashmere knitwear in Hamburg, Germany. The pattern on the bags is web of hand-illustrated threads, which repeats itself through all the applications of visual communication.