January 12, 2011 | 10 Comments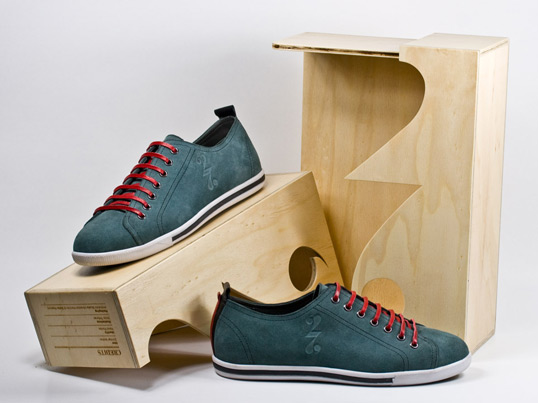 Designed by Society27 | Country: Germany
"The idea behind Society27 is to create a global product based community, where every member can work and influence on the future products. Every item would be manufactured in only 27 pieces.
For Sneaker/Shoe Model No.1, our first product, we used high quality suede, leather lining and for the packaging we created a wooden box. The project has been in development for quite some time now and we believe it's time to show it to the world."
January 4, 2011 | No Comments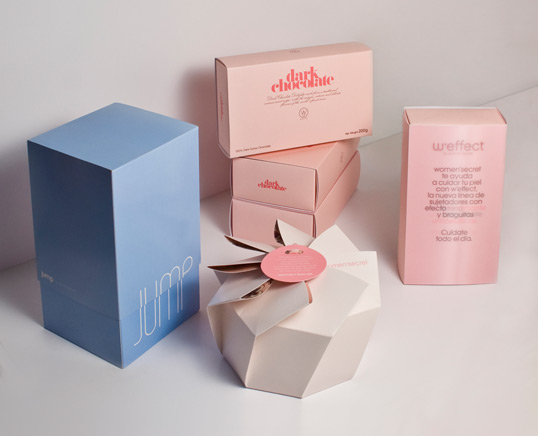 Designed by Base | Country: Spain
"Every season Women'secret sends out press gifts. Creative pieces which contain the seasons key garments which continue to surprise the press season after season."
December 23, 2010 | 1 Comment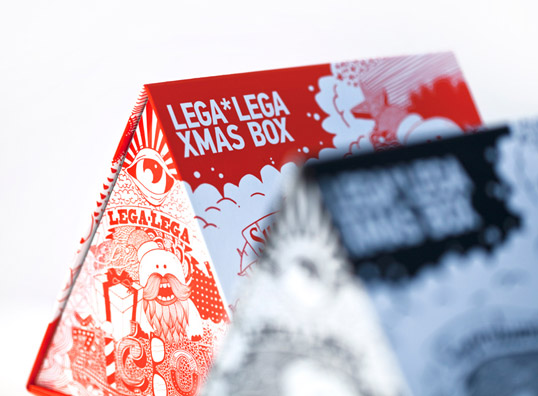 Designed by MIT | Country: Croatia
Seasonal T-shirt packaging from MIT for Lega-Lega.
December 21, 2010 | 1 Comment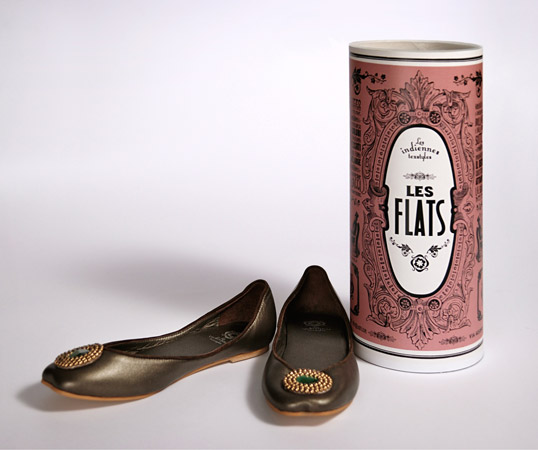 Designed by H-57 Creation Station | Country: Italy
"Les Indiennes TexStyles is a textile company which deals with home and garment collections made out of hand block printed cottons, silks and organic cottons.
The main concern was to keep tradition alive with a modern touch, re-elaborating old craft secrets from various parts of the world to create unique pieces."
December 20, 2010 | 1 Comment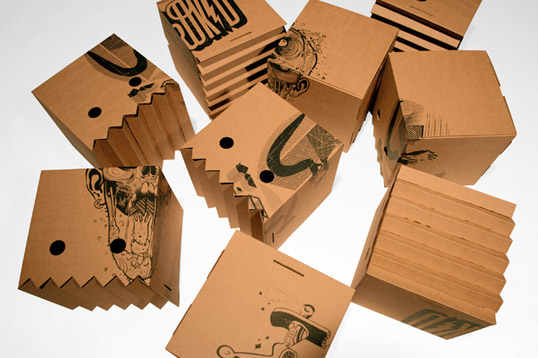 Designed by Andreu Zaragoza | Country: Spain
"Herokid™ is a clothing brand created by Robert Roman (Registred Kid). The main reference for this brand and the people who compose it, is the culture of skateboarding and street art from the streets of Barcelona.
The concept for this package was to create a box that can be a T-shirt package and also a decorative and promotional element. The Herokid logo served as inspiration to design a package in corrugated carton that needs no adhesive for assembling.
There's also a small version which you can download and make yourself."
December 15, 2010 | 5 Comments
Designed by Krisna MacDonald | Country: United States
"Humphrey Bow Ties was a project for my production class where we had to package an everyday item (I created the brand myself). The box is constructed out of chipboard with gold paper on the outside and velour paper on the interior to mimic velvet. There are four different styles of bow ties and endless amounts of pattern options. Each bow tie also comes with a tag which describes what you can wear with each style of bow tie (for the bow tie newbies)."
December 14, 2010 | 3 Comments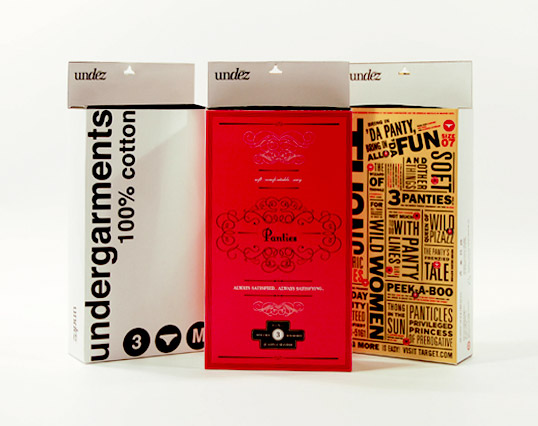 Designed by Ashley Gaffney | Country: United States
"I created a non-existing brand of women's underwear that could be adopted as an in-house brand for Target. Hypothetically, this Target brand, 'Undez' would collaborate with AIGA to promote female designers in the industry and inform consumers of their impact on society through the design field. Each designer was matched to a personality, which also spoke to the style of the packaging. Conceptually, this simple store brand embodies a woman's "underwear buying experience," while pinpointing the main attractions of it from both a high and low end purchasing level."
November 15, 2010 | 1 Comment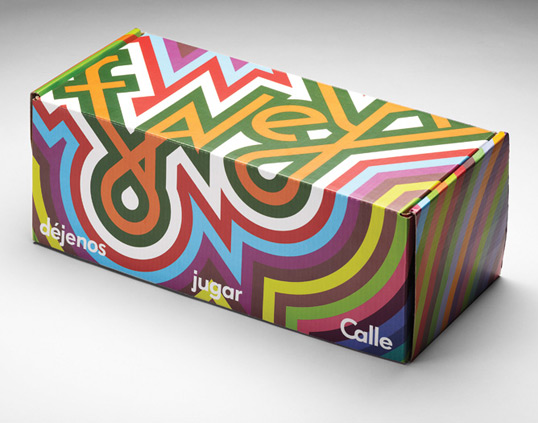 Designed by HORT | Country: Germany
"We love streetsoccer. We play every monday. So we were really happy when Calle commissioned us to work on their re-branding.
First thing we did – we worked on their new shoe named Favela.
We designed a typetreatment. From there we designed a shoe sole that leaves some special footprints in the dust of the streets, a nice box, some wrapping paper and a promotional poster."
November 8, 2010 | No Comments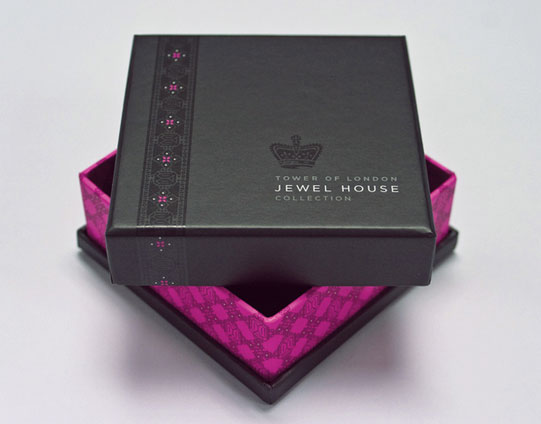 Designed by Aukett Brockliss Guy | Country: United Kingdom
"The Tower of London Jewel House Collection is the premium retail brand for Historic Royal Palaces, which has been completely re-positioned with a unique identity and complementary range of luxurious packaging and gift wrapping products.
The iconic crown symbol draws inspiration from St Edwards Crown, and forms a powerful centre piece to the Jewel House Collection identity. All luxury gift boxes, wrapping and gift bags have been carefully designed and detailed to deliver the highest levels of quality and customer satisfaction.
A bold repeat pattern, inspired by the Crown Jewels, is combined with an unexpected fluorescent pink colour to give a wholly contemporary twist on a traditional theme.
November 2, 2010 | No Comments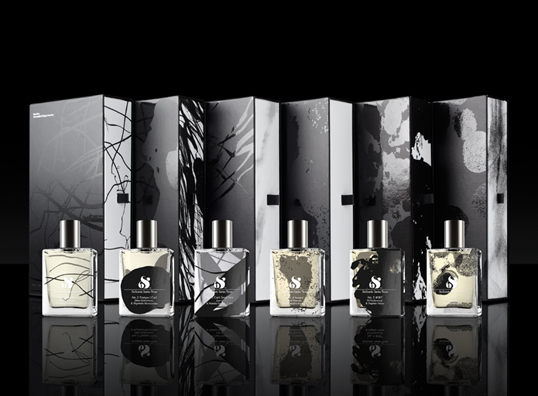 Designed by 3 Deep Design | Country: Australia
"Smells like modern art. At their most compelling the creative arts go deeper than the aesthetic brilliance of a beautiful painting or the auditory indulgence of sa superb sonata. They explore the boundaries of our perception and the intersection of our senses, our emotions and our intellect. And we do not normally think of fragrance or the olfactory world as a typical playground of such ambitious art. But experimental project Six Scents is working hard to challenge this assumption" – Mavia Popova, Editor. brainpickings.org
Six Scents: Series Three is the third year that 3 Deep has collaborated with Six Scents Parfums. Series Three is an exploration into the nature of childhood memories and the influence of adolescence on identity. Six designers from six different parts of the world were invited to remember the most definitive experiences of their youth that led to their sense of identity today and to recall some of their most intimate childhood memories involving the sense of smell. Exploring the stories from one through six, innocence begins to fade and rebellion, reality and mischief kick in.