August 9, 2013 | 4 Comments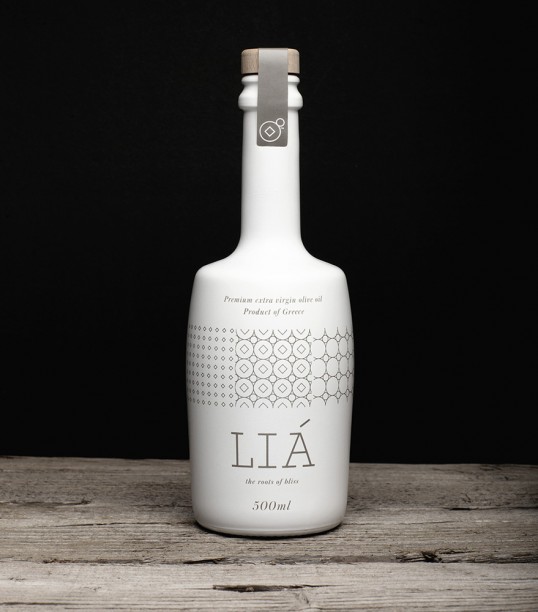 Designed by Bob Studio | Country: Greece
"Brand and packaging design for LIA extra virgin olive oil producing company.
The logo refers to the traditional way and means used to produce olive oil. Multiplying the logo creates a pattern, also used to decorate the packaging, that resembles ways used to decorate objects in older eras, bringing out the place's great cultural history."
July 24, 2013 | 1 Comment
Designed by Marios Karystios | Country: Cyprus
"Alexandra Manousakis left the U.S. back in 2007 to manage her family winery in the island of Crete. Her admiration for Crete, a magical place, rich in history and natural beauty, made her conceive a selection of local products under the name of Terroir, a line of products that serves as a showcase of Cretan nature as well as its unique and unforgettable terroir.
The approach on the design was influenced by Alexandra's simplicity  in character and her love for supporting local communities and charities. Each bottle of the olive oil and sea salt jar, is handmade by a local ceramist, and a percentage of the profits is donated to ELEPAP, a very special school for children with disabilities."
July 23, 2013 | 2 Comments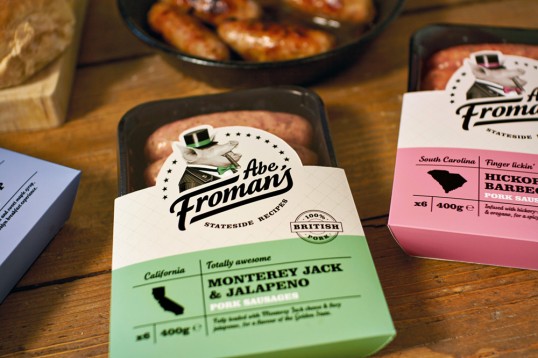 Designed by Robot Food | Country: United Kingdom
"Anyone who saw the 1986 coming of age movie Ferris Bueller's Day Off, will know just how important Abe Froman was to the sausage producing industry of Chicago.
Although a private man, Abe was a tenacious and powerful food industry magnate. From humble beginnings as a butcher shop apprentice, he went on to dominate sausage production in the northern states. Often referred to as "the sausage king of Chicago" he foolishly diverted attention, investing heavily on the stock market, losing most of his fortune in a one day 1987 market crash, known as Black Monday."
July 21, 2013 | No Comments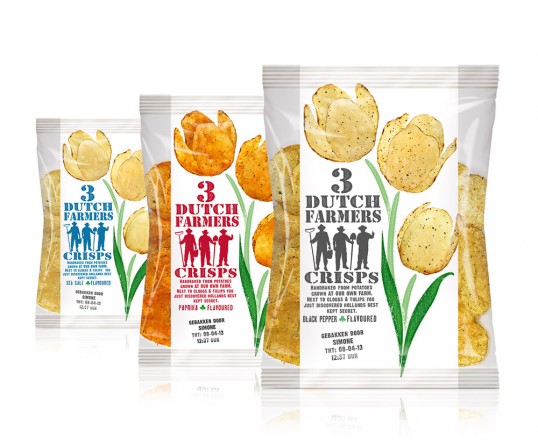 Designed by Sogood | Country: The Netherlands
"Sold and developed exclusively for Schiphol (Amsterdam) Airport, these crisps are hand-baked from potatoes grown at the farm of three real Dutch farmers. They started in 2004 to cook crisps from their farm grown potatoes. The special taste is not only due to the good quality of the soil in the Dutch national landscape "the Hoeksche Waard", also the skin of the potato contributes to the fine potato flavour, that is characteristic for the Dutch Farm Crisps. The most naturally delicious potato chips you have ever tasted!
The name was developed for the international traveller. The typical Dutch theme is visualised by a tulip of crisps. It underscores the authentic and natural character. The product itself is seen through the transparent foil."
July 15, 2013 | 7 Comments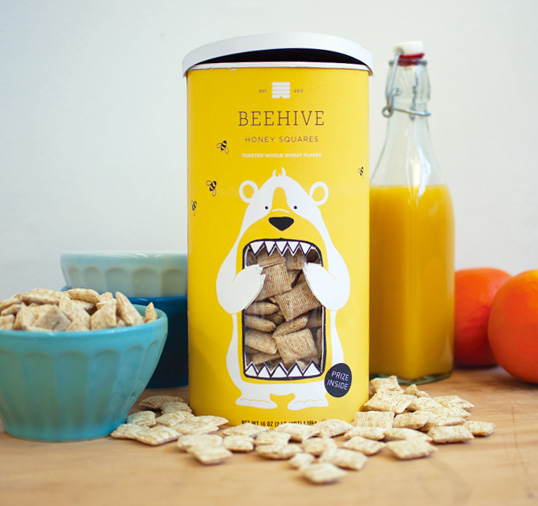 Designed by Lacy Kuhn | Country: United States
"The Heartland line of breakfast cereals is a newly conceived experiment by the National Cereal Corporation. The marketing strategy is based on the celebration of breakfast cereal's all-American roots. Each flavor will be named after a state's nickname; the pilot being Beehive Honey Squares. The packaging seeks to stand out from the competition, a blatant contrast to the standard cereal box approach."
July 3, 2013 | 5 Comments
Designed by B&B studio | Country: united Kingdom
"B&B studio has rebranded Jealous Sweets, a UK entrepreneur looking to bring credibility to candy with its range of delicious and high quality sweets for grown-ups. Jealous specialises in gummy and jelly treats that are made without gelatine, artificial colours or flavours, so they're 100% vegetarian, gluten-free and full of natural fruit juices."
"The existing Jealous packaging wasn't working hard enough to communicate the brand's premium positioning and the purity of its products," explains B&B studio Creative Partner Shaun Bowen. "And the Jealous name had no real link back to the sweets themselves. We set about linking the two through the idea of 'covetable candy' – a concept that we visualised using a precious jewel icon and a characterful Magpie with an eye for something special."
June 12, 2013 | 1 Comment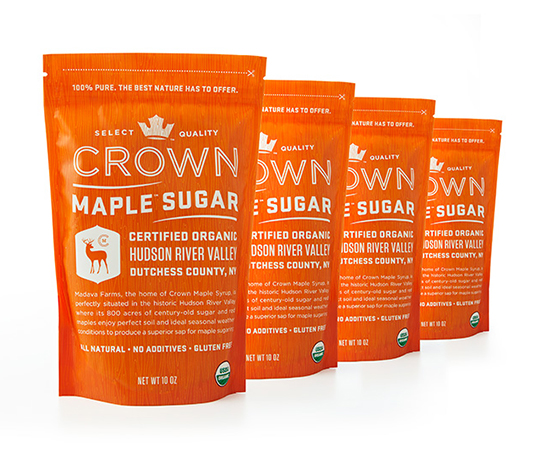 Designed by Studio MPLS | Country: United States
June 9, 2013 | 1 Comment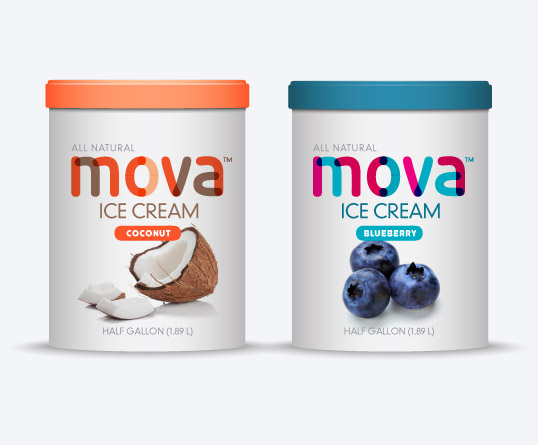 Designed by Luko Designs | Country: United States
"Mova Ice Cream is an English brand ice cream and is now being introduced to the American market. Based in the heart of England's beautiful Camden District, the business is run and owned by husband and wife team Matthew and Isabel Mova.  Mova Ice Cream is full of the finest ingredients skillfully blended into an exciting feast of flavours that are purely indulgent.
In order to captivate the consumer, we brought a quiet purity to the overall design of the packaging yet enlivened it by introducing a whimsical and artistic approach to the Logo/Branding, which was a perfect representation of the bright taste and quality of their products."
May 27, 2013 | 8 Comments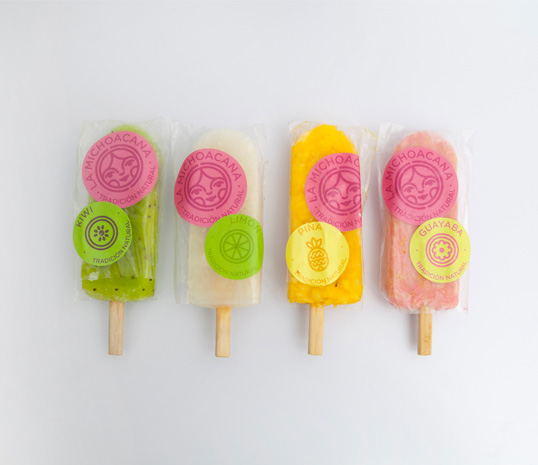 Designed by Parallel | Country: Mexico
"La Michoacana is a traditional Mexican "paleteria" wich has been in the market for a long time now. During this period, the brand has suffered a constant changing on its corporate identity caused by the non attendance to its marketing, leading to a misunderstanding of the brands core. We decided to change the concept by using a new packaging system focused on the substrate and product speech. This will lead to a more natural feel of the product, being able to see it and almost taste it by its natural colors and textures. The logotype was re-designed to make it modern and adjust some old aspects of the first logotype. We decided to conserve the rounded shape and the rounded typography making it more playful and fun. Using just the traditional "rosa mexicano" we designed a vibrant but sophisticated color palette, leading to a more specific target; a traditional brand adjusted to modern times."
May 27, 2013 | 2 Comments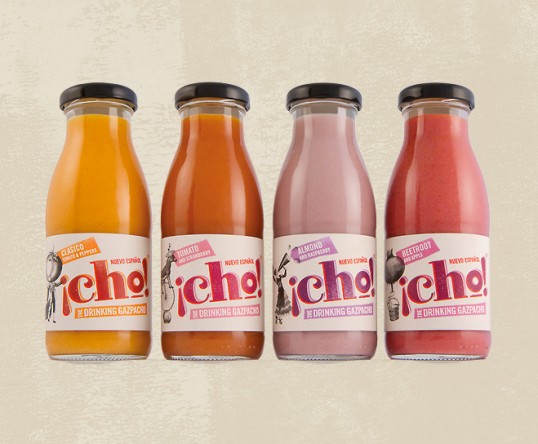 Designed by Blast | Country: United Kingdom
"¡Cho! is a completely unique range of on-the-go drinking Gazpacho recently launched to the UK market. Created by English entrepreneurs and a Michelin starred Spanish chef ¡Cho! is made from organic fruit and vegetables sourced and bottled in Adalucia.
¡Cho! needed to be positioned as a completely different product, and in doing so create its own place in the market. It required a brand identity that communicated a uniquely daring and different gourmet product with real provenance and exquisite taste."