February 13, 2013 | 2 Comments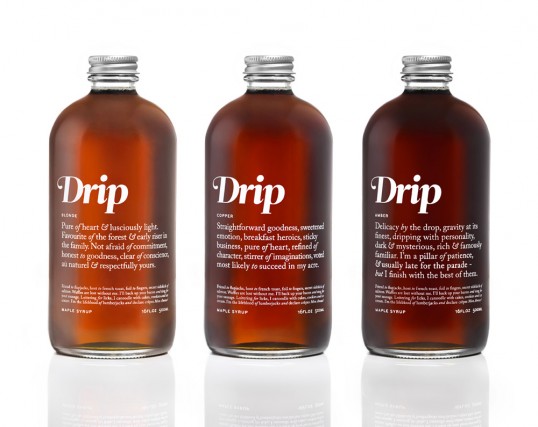 Designed by Drip Maple | Country: Canada
"Small Batch, Organic Certified, 100% pure Canadian Maple — harvested from a single forest in Northern Ontario. Each run is unblended & true to Mother Nature. Limited in production, & available in three distinct personalities. Meet Blonde, Copper & Amber."
February 12, 2013 | 1 Comment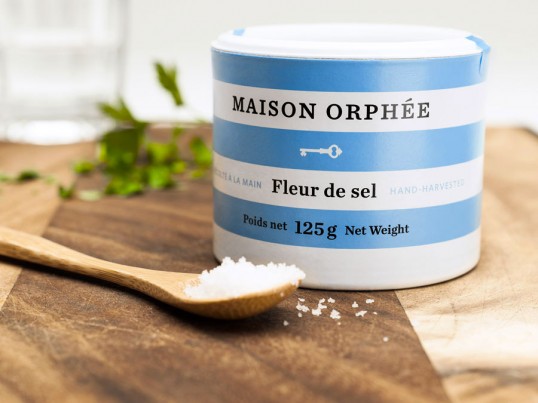 Designed by lg2boutique | Country: Canada
"As an importer and producer of exceptional oils and condiments, Maison Orphée is proud to extend its product offering with the launch of a new line of sea salts. Inspired by the company's 35 other products (also created by lg2 three years ago), the new packaging definitely has its own personality.
Naturally reminiscent of the sea, the look is minimalist, and modern using stripes to evoke the allure of lighthouses and sailing. As unique as the packaging is, it is these same stripes that create a link to the other products in the Maison Orphée product range, adding to the growing family of fine products."
February 10, 2013 | 1 Comment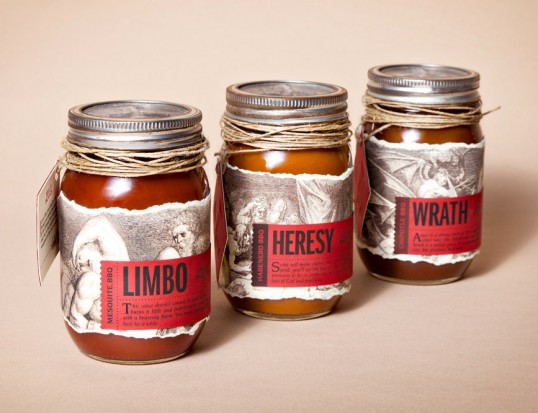 Designed by Eric Lowery | Country: United States
"Hell's Mouth is a fictional, restaurant catered to those who prefer even their most top-notch steaks covered in sauce. Founded by a priest who left the church to become a chef, their branding needed to portray true devotion to barbecue."
February 8, 2013 | 2 Comments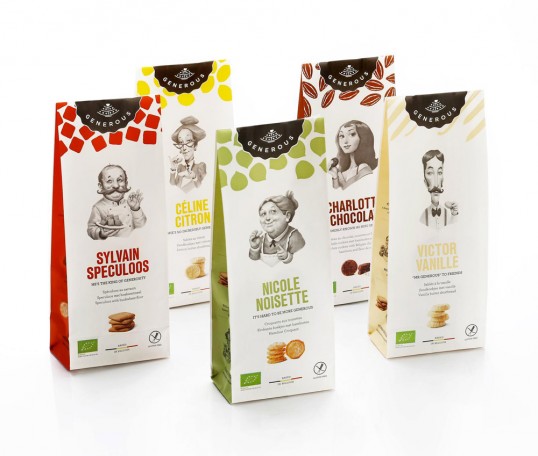 Designed by Bowling | Illustration: Jens Claessens | Country: Belgium
"The idea was to create a family and to give each flavour a matching personality."
February 8, 2013 | 6 Comments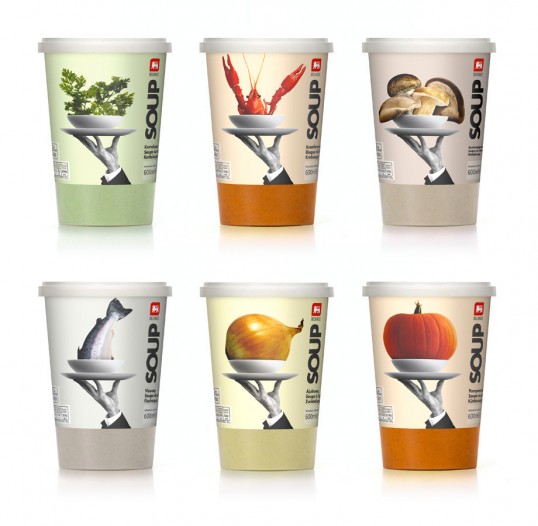 Designed by Lavernia & Cienfuegos | Country: Spain
"The brief was to bring to life the principle ingredient, preferably through the use photo-realistic images, with something that adds a touch of good humor before serving. 
The romantic image of the waiter's hands gives positive connotations of good service and quality. The steady black and white photography helps to visually unify the whole range, which is complimented by use of simple bold typography to balance the design. The size of the ingredients, in colour,  have been exaggerated in relation to the plate to emphasise the high natural vegetable content of the soups in comparison to its competitor's. This play on size coupled with the waiter concept adds the touch of humor. Bon appétit!"
February 8, 2013 | 1 Comment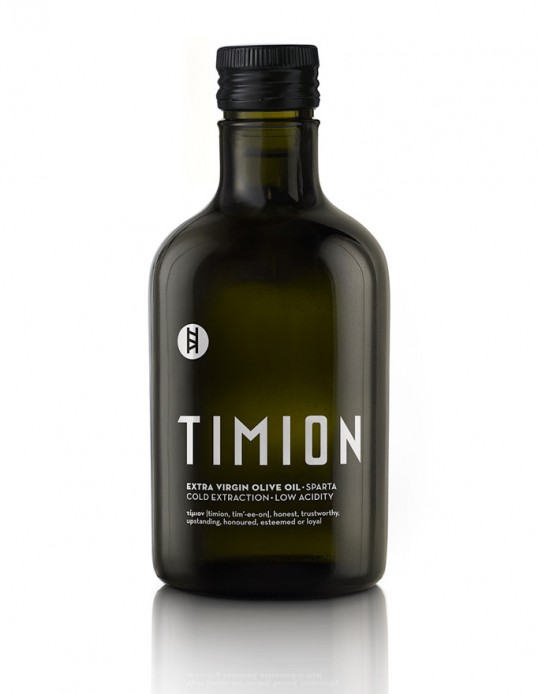 Designed by mousegraphics | Country: Greece
"Τhe brief: we want to emphasize with explicit directness, the honesty and fine quality of our olive oil production.
Τhe target audience: foreign clientele. people who value smartly presented quality.
The design: Honest Hellenic Products-Timion is one of the most present -relevant brand identities we have developed. At a time when Greece is openly criticized for misconducts, this brand identity adopts an unusually bold approach that verges on the humorous, while claiming a specific virtue as its very own differentiating quality. The logo design makes full use of the austerity implied by the brand name: honest, trustworthy, upstanding, are all properties indicated by the choice of fonts, the type of bottle, the clearly noted attributes of the product. Like an elixir, saved in modest, carefully measured proportions, the extra virgin olive oil of the laconian land travels abroad as a fine and well kept secret of the old but not lost Greek tradition."
January 23, 2013 | 1 Comment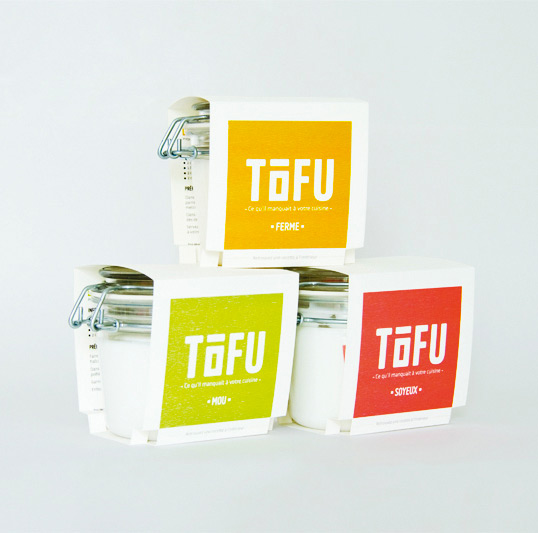 Designed by Cécile Dumetier | Country: France
"Branding and packaging for a brand of Tofu. The objective is to westernize this product and to encourage people to include it in their daily meals. To do so, a few recipes are included on the packaging."
January 22, 2013 | 3 Comments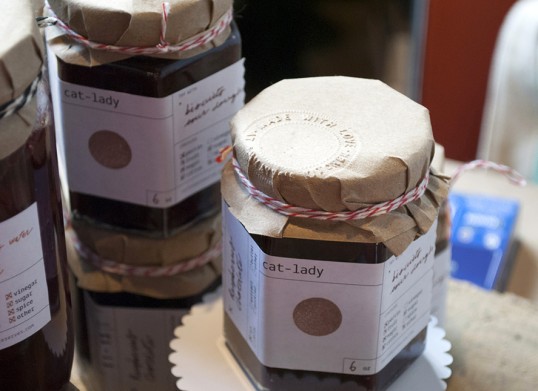 Designed by Sumayya Alsenan | Country: United States
"The logo was set in the font Lekton. The color palette included black and white, and a accent color associated with each product. The labels were printed on white matte labels, the blanks were filled out by hand, and then the center image was rubber stamped. The jar caps were covered in post office brown paper, and then embossed with a personal embosser. Then was tied with black & white butcher thread.The products then were placed in hand-stamped muslin bags."
January 18, 2013 | No Comments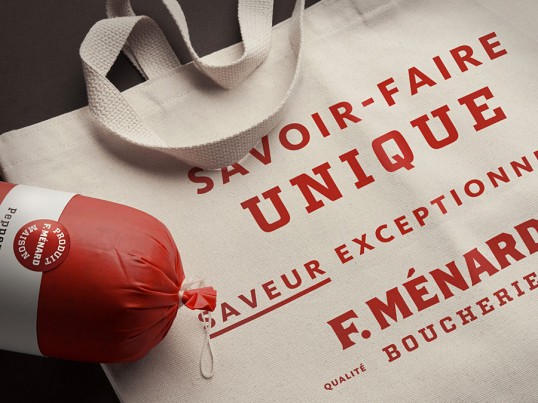 Designed by lg2boutique | Country: Canada
"F. Ménard is a family hog breeding and processing business. The company, which was founded 50 years ago by Fulgence Ménard, is managed today by his children and grandchildren. F. Ménard has more than 1,000 employees and produces 20,000 pigs/hogs per week which makes the company one of the largest pork suppliers in Quebec.  The company exports the majority (65%) of its production to countries around the world including Australia, Japan, Mexico, Russia, South Africa and the United States."
January 13, 2013 | 5 Comments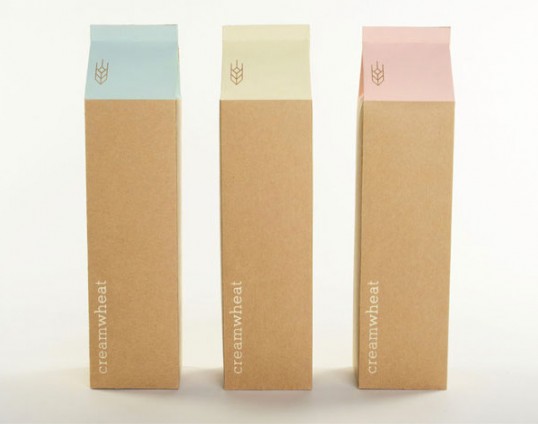 Designed by Kate Mikutowski | Country: United States
"The project was to create a package and branding for a breakfast cereal. I chose to the classic and childhood favorite, cream of wheat. Creamwheat aims at giving the cereal a more contemporary feel, by making the branding simplistic, elegant, and modern. The colors of Creamwheat are lighthearted, leaving the consumer feeling warm and comforted. Start your day off right with a bowl of Creamwheat!"