March 6, 2013 | 4 Comments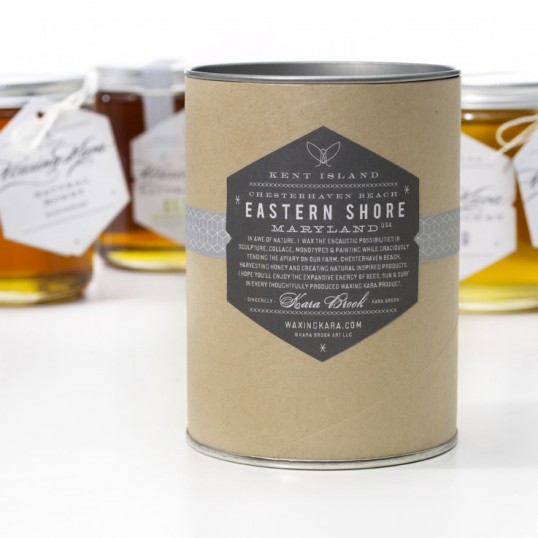 Designed by Funnel | Country: United States
"As a former graphic designer and teacher of graphic design, I figured this would be a short and simple journey—one that I could handle solo. That was a year ago.
Even though I had done package design before, I quickly decided I was under-qualified to do my honey package design. This occurred to me when my nephew's girlfriend gave me a candle gift so uniquely packaged that I had to call the candle company and ask for the designer's name."
March 6, 2013 | No Comments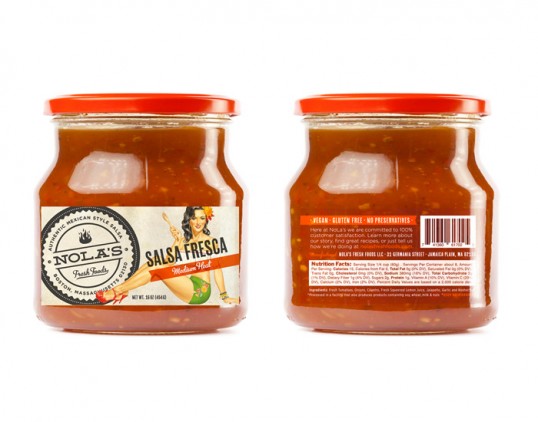 Designed by MDG | Country: United States
"NOLA'S is a local startup fresh foods company. MDG was tasked with creating an original brand image & identity for NOLA'S. Our client had a vision, "Think June Cleaver meets a Vargas pin-up." That in mind, we worked with illustrator Mark Stutzman to craft the face of the brand, the lovely Ms. Nola. From there, we created an original logo mark and packaging concept and NOLA'S Fresh Foods was off. In select stores now!"
March 5, 2013 | 1 Comment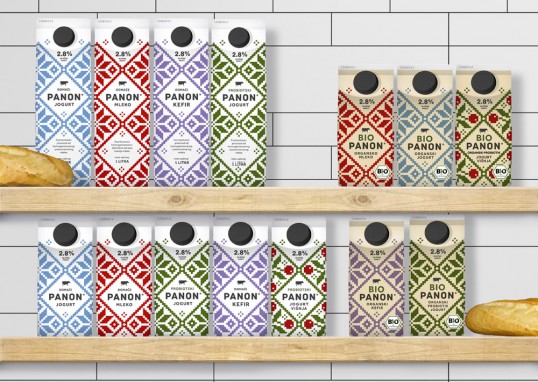 Designed by Peter Gregson | Country: Serbia
"Peter Gregson Studio designed the packaging and ID for new brands of organic and non-organic milk, yogurt and kefir called PANON® and BIOPANON®. They are produced in 0.5 and 1 liter packaging. We saw this task as an opportunity to go back to the "basics" both in design and tradition. So, we used the pattern of traditional embroidery and turned it into a simple graphic form."
March 1, 2013 | 1 Comment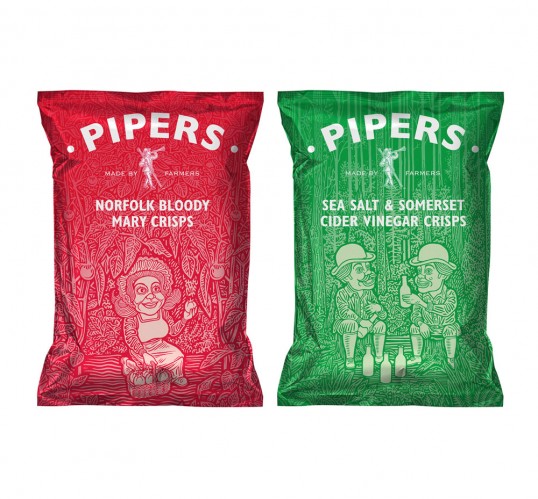 Designed by Founded | Country: United Kingdom
"We redesigned the identity and packaging for Pipers Crisps, the idea was deemed too extreme in the end, but we loved the work so much we wanted it to see the light of day. We commissioned illustrator Matthew Green to help develop the Piper and his world of friends to depict the various incredible Piper flavours."
February 28, 2013 | 10 Comments
Designed by Crispin Porter + Bogusky | Country: United States
"CP+B just created the pizza boxes for Domino's new Handmade Pan Pizza and we wanted to share the designs with you. The box's design centers around Domino's commitment to transparency, by exposing a "dirty little secret" of the pizza business; most of the pan pizzas that people are eating are made with frozen dough. Domino's, however, uses fresh dough that's never frozen. To highlight this, CP+B created the nearly all-black box as a visual reminder that the pizza inside was both handmade and baked directly in a pan, while the outside of the box is loaded with fun facts. Like how it took three whole years to develop, and how each is made with fresh."
February 20, 2013 | 1 Comment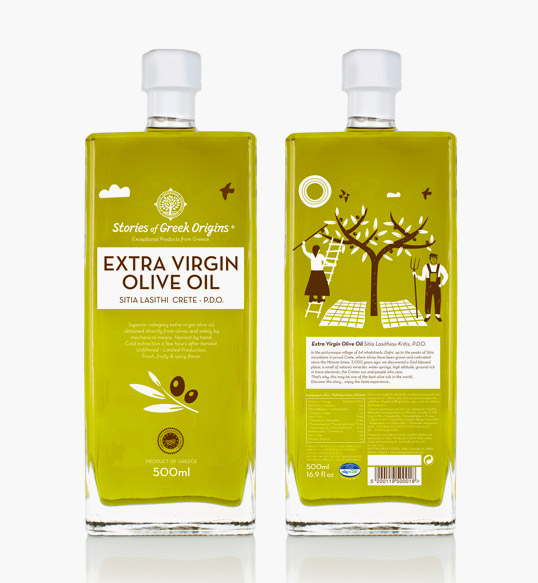 Designed by Bob Studio | Country: Greece
"Branding and packaging design for a family of premium Greek food products.
The identity is based on illustrations that depict traditional agricultural activities from the Greek countryside. The illustrations are inspired from traditional folk art, using repetitive elements to form a pattern, adding a retro feeling, while every illustration is made using a maximum of 3 colors, by overlaying colors."
February 19, 2013 | 2 Comments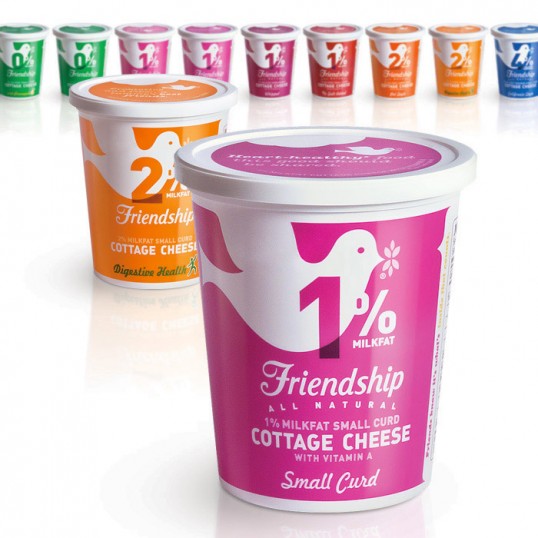 Designed by Partners + Napier | Country: United States
"Friendship Dairies needed a way to reach 100% of their target audience. How? By bringing a little color and sass to the dairy case. With packaging becoming the new POS, especially when it comes to clean stores, we decided to amplify Friendship's fun personality at the dairy case to a point where even their competitors' consumers couldn't help but love 'em. With a sophisticated package redesign, Friendship was able to elevate their brand's personality, as well as shopability—filling an unmet need in the cottage cheese category.
We went directly to the source and used qualitative and quantitative testing to ask consumers what was most important to them when shopping. As a result, we were able to give them exactly what they wanted. Sassy lid and tub discovery lines were also added to introduce a fun, witty dialogue at shelf, and to help differentiate from competitors with Friendship's "all natural" stance."
February 19, 2013 | 1 Comment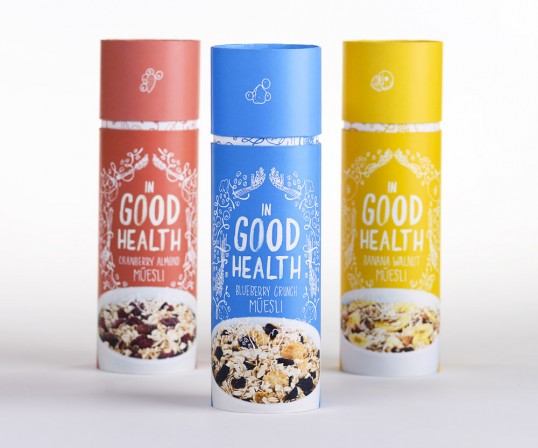 Designed by Ashley Hohnstein | Country: United States
"In Good Health is a brand of muesli aimed at the average, middle-class consumer. Nowadays, a lot of people are aiming to be much more conscious of their health, and what they are putting into their bodies. Muesli is a great addition to anyone's day. High in fiber, and vitamins; it is guaranteed to start your day off correctly. It is based on the recipe created by the Swiss in the early 1900s, using dry oats and various dried fruits, nuts and seeds. It can be mixed with milk or yogurt! In Good Health promotes healthy nutrition through making its' consumers aware of the valuable nutrition packed into each serving of muesli through illustrations on the package. Additionally, it makes measuring these servings easy by having the lid serve the dual purpose of also equaling exactly one serving! Through In Good Health's playful illustration, healthy nutrition, and easily used packaging; it is sure to break into the breakfast cereals market with ease!"
February 13, 2013 | 2 Comments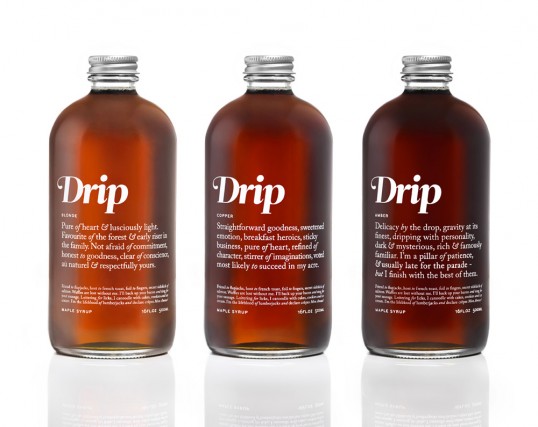 Designed by Drip Maple | Country: Canada
"Small Batch, Organic Certified, 100% pure Canadian Maple — harvested from a single forest in Northern Ontario. Each run is unblended & true to Mother Nature. Limited in production, & available in three distinct personalities. Meet Blonde, Copper & Amber."
February 12, 2013 | 1 Comment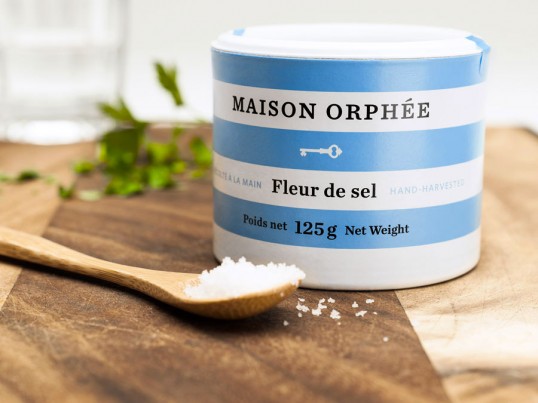 Designed by lg2boutique | Country: Canada
"As an importer and producer of exceptional oils and condiments, Maison Orphée is proud to extend its product offering with the launch of a new line of sea salts. Inspired by the company's 35 other products (also created by lg2 three years ago), the new packaging definitely has its own personality.
Naturally reminiscent of the sea, the look is minimalist, and modern using stripes to evoke the allure of lighthouses and sailing. As unique as the packaging is, it is these same stripes that create a link to the other products in the Maison Orphée product range, adding to the growing family of fine products."