January 23, 2013 | 1 Comment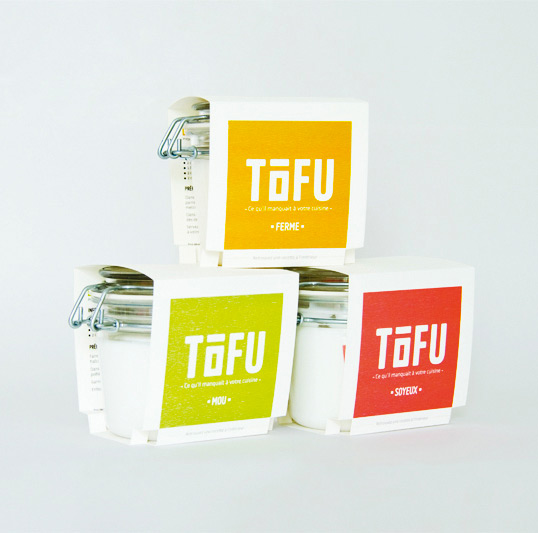 Designed by Cécile Dumetier | Country: France
"Branding and packaging for a brand of Tofu. The objective is to westernize this product and to encourage people to include it in their daily meals. To do so, a few recipes are included on the packaging."
January 22, 2013 | 3 Comments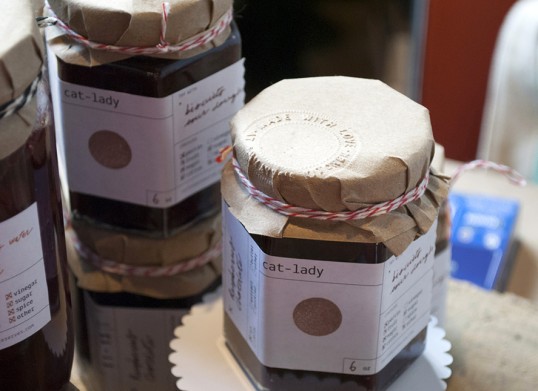 Designed by Sumayya Alsenan | Country: United States
"The logo was set in the font Lekton. The color palette included black and white, and a accent color associated with each product. The labels were printed on white matte labels, the blanks were filled out by hand, and then the center image was rubber stamped. The jar caps were covered in post office brown paper, and then embossed with a personal embosser. Then was tied with black & white butcher thread.The products then were placed in hand-stamped muslin bags."
January 18, 2013 | No Comments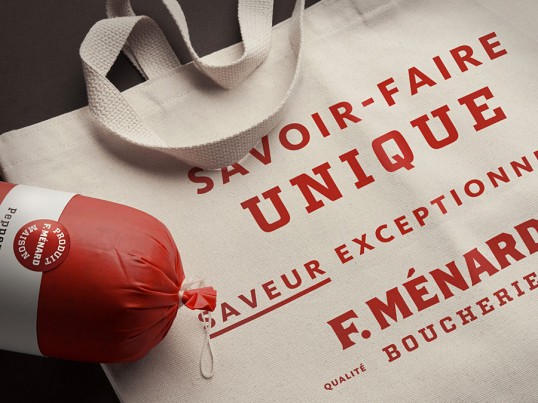 Designed by lg2boutique | Country: Canada
"F. Ménard is a family hog breeding and processing business. The company, which was founded 50 years ago by Fulgence Ménard, is managed today by his children and grandchildren. F. Ménard has more than 1,000 employees and produces 20,000 pigs/hogs per week which makes the company one of the largest pork suppliers in Quebec.  The company exports the majority (65%) of its production to countries around the world including Australia, Japan, Mexico, Russia, South Africa and the United States."
January 13, 2013 | 5 Comments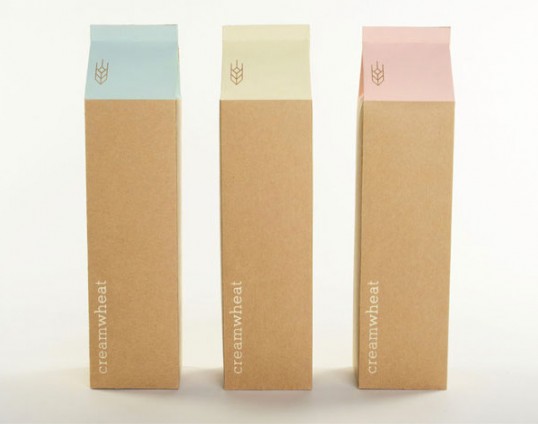 Designed by Kate Mikutowski | Country: United States
"The project was to create a package and branding for a breakfast cereal. I chose to the classic and childhood favorite, cream of wheat. Creamwheat aims at giving the cereal a more contemporary feel, by making the branding simplistic, elegant, and modern. The colors of Creamwheat are lighthearted, leaving the consumer feeling warm and comforted. Start your day off right with a bowl of Creamwheat!"
January 4, 2013 | No Comments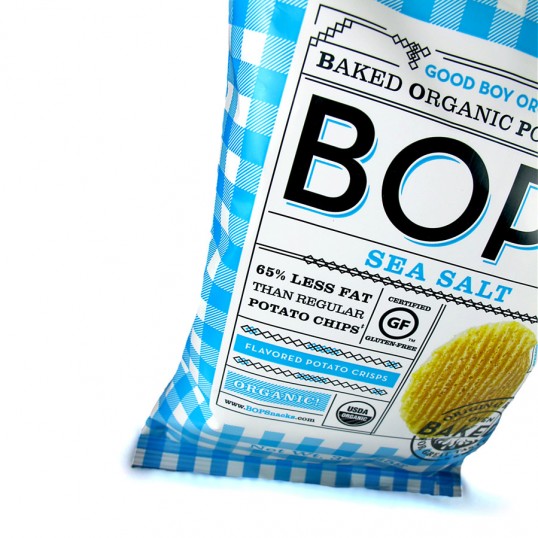 Designed by A3 Design | Country: united States
"BOPS – Baked Organic Potato Snack. Sales of the typical potato chip skyrocket during the summer months. With design elements that pay homage to the idea of the family picnic, evoke nostalgia and calls out to the nutritional value of the product, we created a package that jumps off the shelves from the typical earthy design of organic snacks and competes with the big guys and their greasy chips."
January 4, 2013 | No Comments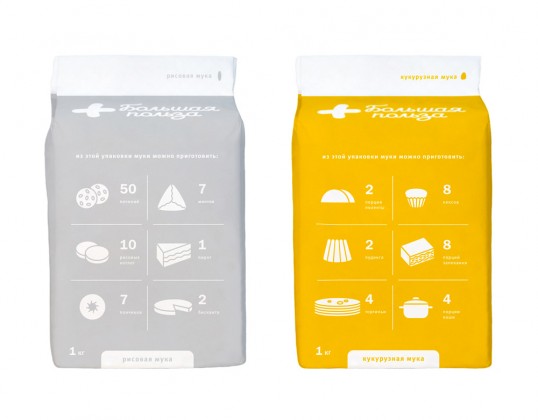 Designed by Fresh Chicken | Country: Russia
"Fresh Chicken agency developed a brand name, made a logo and designed a package for a flour brand  "Bolshaya pol'za" ("A Great Sake"). The company produces healthy types of flour such as pea, corn, buckwheat and rice flours. This package design is based on infographics, which is rather a new idea to Russian customers. On the front side of the package one can see the list of flour recepies, and a measuring rule on the side helps to measure flour out. We intended to put across the idea of a great variety of healthy and delicious flour dishes. Many people would like to buy and use alternative types of flour instead of traditional ones. Simple and bright colors make it easy to find a specific type on store shelves. While designing the package, several different variants were closely examined. Classic paper package with its cost-effectiveness and utility got the best mark."
January 2, 2013 | 1 Comment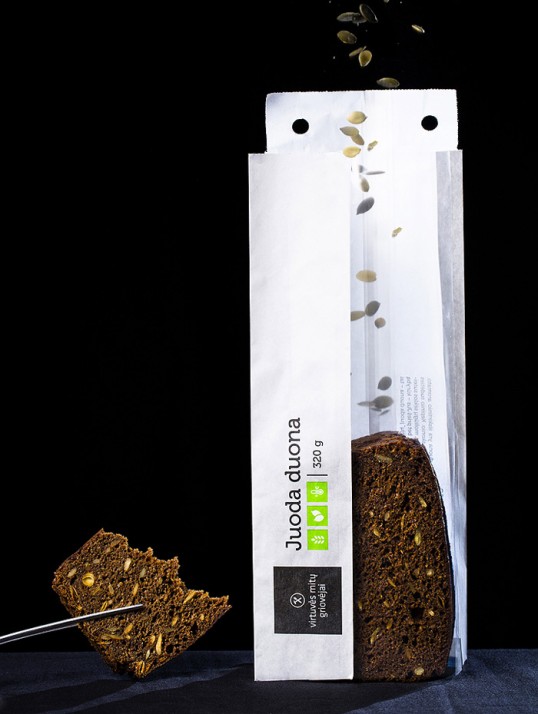 Designed by Edvardas Kavarskas | Country: Lithuania
"One of the largest and oldest bakery of Lithuania "Biržų duona" is frequently seeking innovations and delighting customers with new bread and bakery ideas. That's why their newest bread line was born in cooperation with the "Virtuvės mitų griovėjai" (Kitchen mythbusters) team. These new products demonstrate that the traditional bread is simply adaptable to modern culinary experiments, that's why the new bakery line is presented with the motto "It's not just bread!" It's bread for those who love and are not afraid to create."
December 25, 2012 | 3 Comments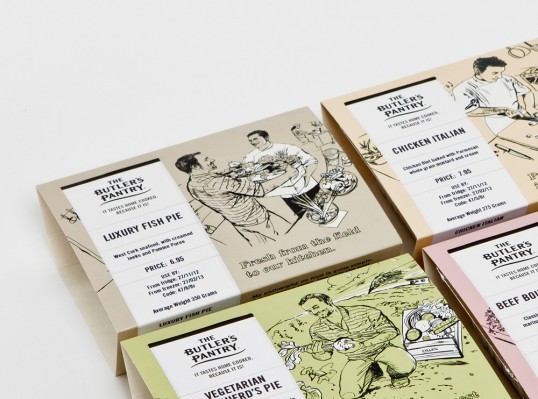 Designed by Brandcentral | Country: Ireland
"The concept was to create high impact packaging that told the story of how the food was prepared, each pack explaining part of the process from farm to the finishing touches."
December 25, 2012 | 1 Comment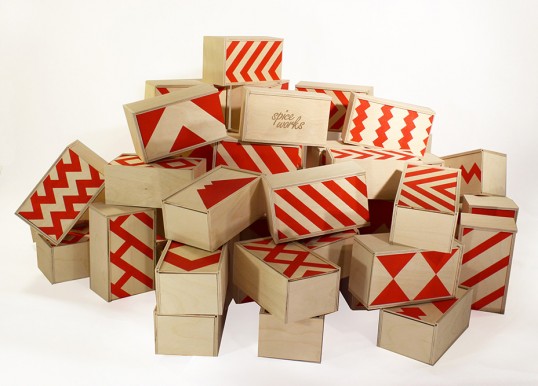 Designed by Studio Bup | Country: Canada
"We were commissioned with the task of creating a limited run of holiday gift boxes for Spice Works, a local company we've previously worked with. In order to give these already limited-edition packages a little something extra, we developed a production method which allows us to create one-off package designs while retaining the cost and time-effectiveness of medium-run production processes. Customers are encouraged to pick their favourite pattern in order to further enhance the spirit of gift-giving by including them in the final design decisions. We feel that this is a innovative idea in packaging design because even "exclusive" or "limited editions" are never truly unique. Multiple boxes can be purchased for gift-giving without the common "me-too" feeling recipients often get. The various patterns were created with a grid system in order to make the overall product line cohesive. In order to reinforce the idea that the box is not just a package, but a keepsake, the Spice Works logo is subtly located on the reverse of the lid.
Each box is hand-crafted in Baltic birch and contains mini-mold WECK jars filled with Spice Work's Artichoke Dip Mix and Mango Curry Dip Mix."
December 18, 2012 | 5 Comments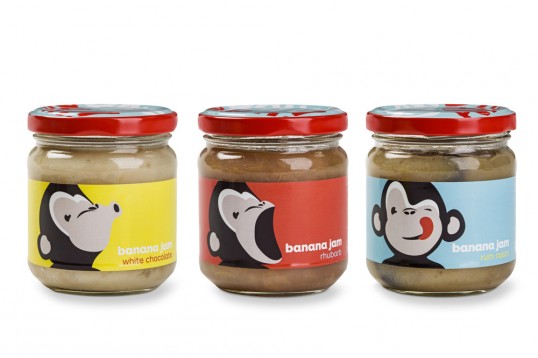 Designed by Peck and Co. | Country: United States
"Emilie Wildiers came to us with the idea of building a new brand around her unique, banana-based jam recipes. She runs a well-known company in Belgium that has been creating various jams and jellies since the 80′s. But, this is not just another condiment to add to the pantry. It's deliciously different. A shareable delicacy for every member of the family, from choosy moms and dads, to the kids.
The name we chose is unmistakable in any language. Say it out loud, and you can't help but smile. "Nom-Nom" the monkey is not only the hero of the brand… he's a new member of your family. Bon Apetit!"