October 17, 2012 | 2 Comments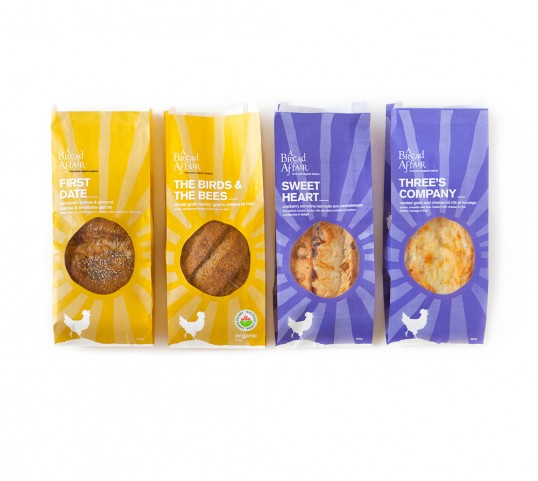 Designed by arithmetic creative | Country: Canada
"A Bread Affair approached arithmetic to redesign their packaging to more clearly reflect their sense of humour and to re-position their artisan loaves in the organic market place. Arithmetic engaged in consumer research, industry research, consumer testing and produced a positioning strategy that highlighted the distinguishing shopping habits of their consumers."
October 12, 2012 | No Comments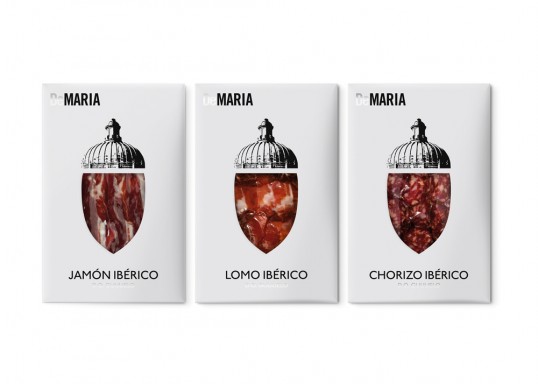 Designed by Enric Aguilera & Asociados | Country: Spain
"Cold Meat packs for DeMaría. Logo is a mixture between Salamanca Cathedral (place where the company it's based) and acorn-fed Iberian ham. This shape is also used for the packs."
October 10, 2012 | 1 Comment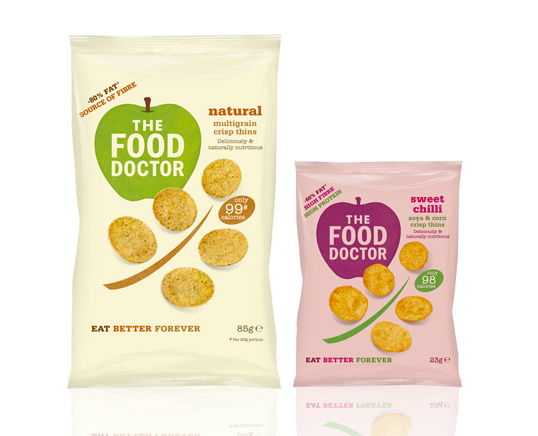 Designed by Falcon | Country: United Kingdom
"London agency, Falcon, has designed packaging for The Food Doctor's new range of Wholesome Crisp Thins – an exciting range of Soya and Corn Crisps available in four sophisticated flavours (Hot Wasabi, Mild Korma, Spicy Chipotle, and Sweet Chilli), along with a Natural Multigrain variety pressed from 5 different cereals.
The packs answer the challenge to clearly communicate the health benefits of the crisps (they deliver high protein and fibre, along with 50% lower levels of fat than typical crisps) without compromising taste appeal, and compete effectively on shelf against other gourmet snacks."
October 9, 2012 | 4 Comments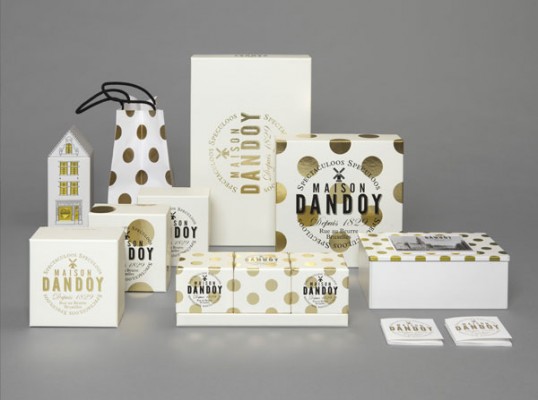 Designed by Base Design | Country: Belgium
"With values rooted in the past but a business plan oriented toward the future, Dandoy asked Base Design in 2011 to modernize and rethink its visual identity, packaging range and website. The main questions to solve were "How do you transform a small-scale, local family business into a global family brand, without losing the image of local craftsmanship and true tradition?" and "How to reach a broader audience?".
To tackle these questions, Base Design started with interviews in the field to gauge the context. This was followed by an analysis of Dandoy's assets, opportunities and brand experience, a benchmark study, ideas for improvement and a workshop with the client. All this resulted in about ten design-strategy recommendations followed by a graphic design phase."
October 8, 2012 | 5 Comments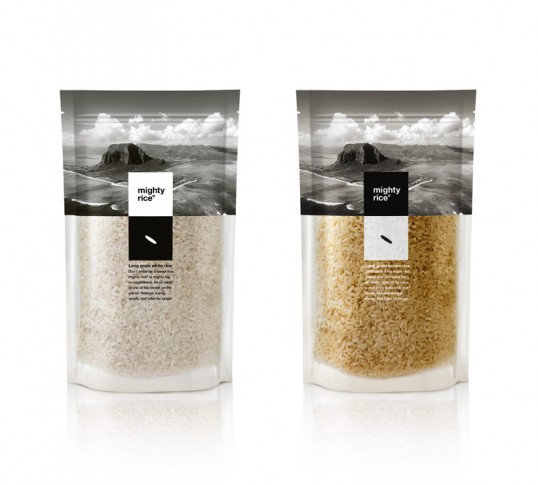 Designed by mousegraphics | Country: Greece
"The briefing (in brief): We want a packaging design that will communicate the difference in quality, the refined character and the exceptional origin of our product. The target audience: An eclectic but low-key clientele. The design: To meet the expectations of an overseas based client was a challenge we accepted with enthusiasm. Our design approach developed through a series of emails and skype calls between Athens and the exotic Mauritius, whilst we gradually absorbed the information that described this food product as ethically cultivated and dynamically positioned in the contemporary market. This experience was incorporated into the design framework. Thus, a mighty combination between the stated, the symbolic and the imaginary emerged. The essence of the island and the grain -the basic unit of every rice production- are rendered visible through clear, dynamic albeit elegant, transparent, duo-chromatic (b&w), non-folkloric design choices."
October 7, 2012 | 2 Comments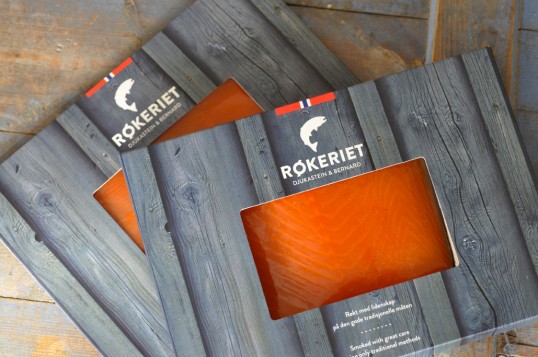 Designed by True Design | Country: Norway
"Røkeriet is a fish smokery in Bergen on the west coast of Norway. The branding in general and packaging communicate their natural, traditional and handcrafted methods when smoking their products. They use only the highest quality, locally sourced salmon and take great pride in the final product. The design needed to be contemporary yet traditional, functional and visualize the high quality of the product."
October 1, 2012 | 3 Comments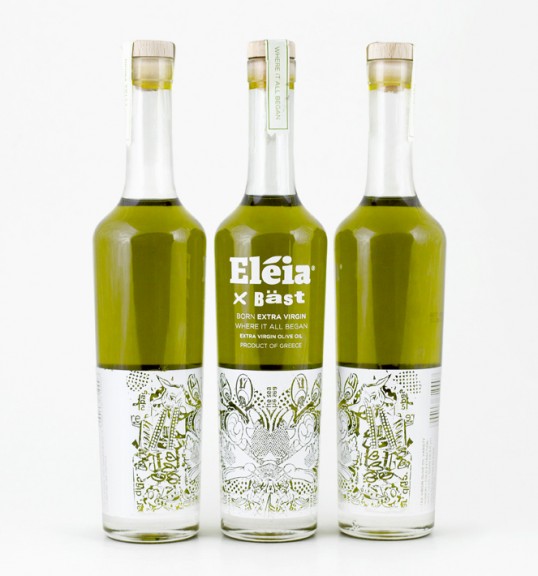 Designed by Bob Studio | Country: Greece
"Last week was the opening of a rare solo exhibition from the New York based artist 'Bast' at the Opera Gallery in New York. Part of the exhibition was the limited edition of Eleia olive oil designed by Bob Studio and illustrated by Bast."
September 27, 2012 | 1 Comment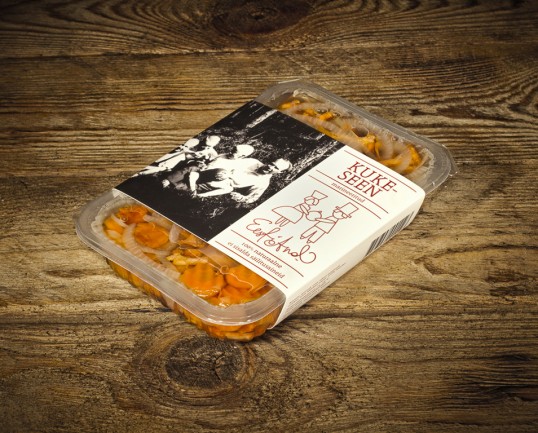 Designed by TBWA\GUVATRAK | Country: Estonia
"Eesti And (Estonian Gift) is a gift to everyone who values delicious meals and Estonian aesthetics. The packages integrate original vintage photos with a neo-romantic logo, the latter highlighting the beautiful moment of giving. Additionally, quick & easy recipes for creative cooking with the product are found inside the cover. Eesti And is the best example of nouveau nostalgie and the perfect combination of Estonia's quality products and outstanding packaging design."
September 27, 2012 | No Comments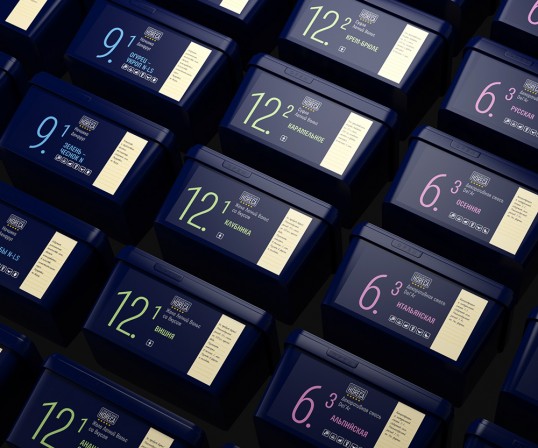 Designed by Soyuzsnab Horeca | Country: Russia
"As a part of launching a new trademark of high-quality finished ingredients forcafe and restaurant chefs, a large-scale design concept was developed for morethan 250 items of products of Soyuzsnab Horeca. The packaging designtackles the tasks of simplicity and clarity at the same time: the product shouldbe noticeable on professional kitchen, and its inner content should be clearfrom the look of it, at first glance. It was also necessary to develop the systemof visual differentiation of ingredients – their purpose for various dishes andcorrespondence to this or that group of products."
September 25, 2012 | No Comments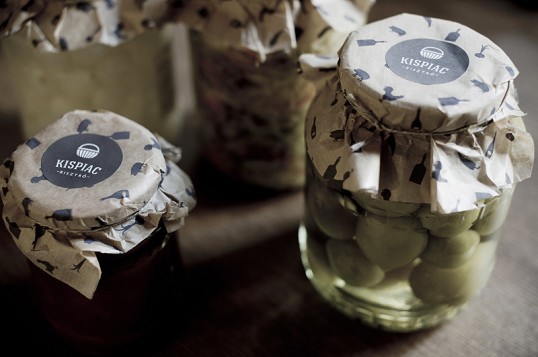 Designed by Eszter Laki | Country: Hungary
"Kispiac is a small, affable bistro nested just in the neighbourhood of one of the most famous markets of Budapest. Drop by for a nice coffee in the morning, taste the delicious grilled duck, chicken, pork with fresh salad or have a cold prosecco in the evening. The name "Kispiac" means "Small Market", which refers to the market next door."