August 24, 2012 | No Comments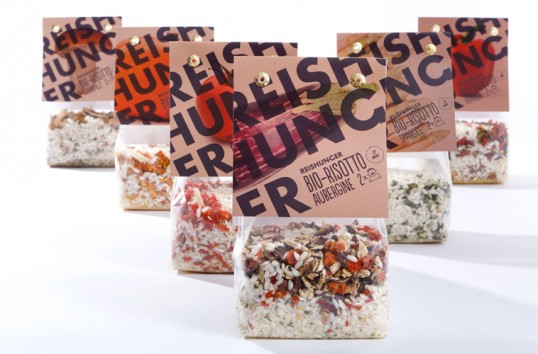 Designed by Grabowski Böll | Country: Germany
August 19, 2012 | 1 Comment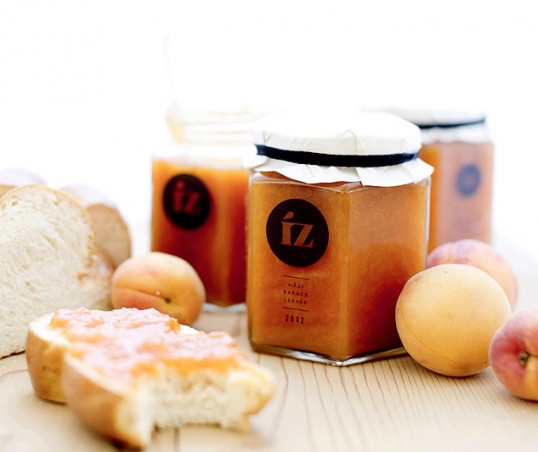 Designed by Eszter Laki | Country: Hungary
"I was invited to my mother's garden in Szentendre to pick apricots. The result was at least 5 kilos, so I had to think about a way to save it for the winter. I asked my friends to help me, so we decided to make jam out of it. We boiled and peeled them, and used a secret recipe of my friend's grandma. Next day we filled the jam into small jars, from then on I only had to think about some branding. Íz means "taste" in hungarian, but also the name of the jam you fill the pancakes with."
August 14, 2012 | 1 Comment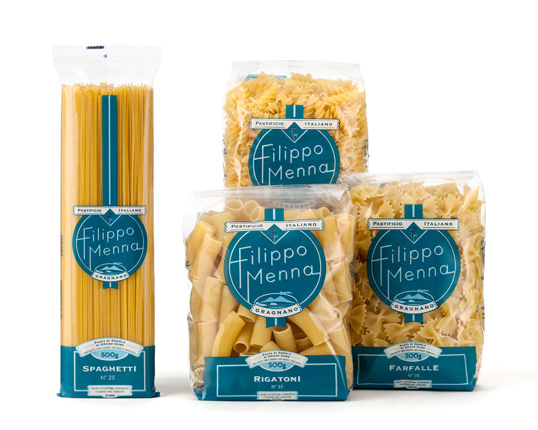 Designed by Angelini Design | Country: Italy
"A package destined for the foreign market, that expresses the taste and spirit of a typical Italian product: Pasta Garofalo arrives in Brazil with Angelini Design.
The packaging of pasta Filippo Menna has been studied by Angelini Design to export our good name overseas: the classic transparency of the packages was joined by a symbol of the Vesuvius and the traditional color of the city of Naples, light blue.The Italian touch on this packaging is evident, inside it is the most traditional line of products for Garofalo: this pasta in fact takes its name from the son of the Group's president, and is prepared according to the classic recipe of Gragnano."
August 13, 2012 | 4 Comments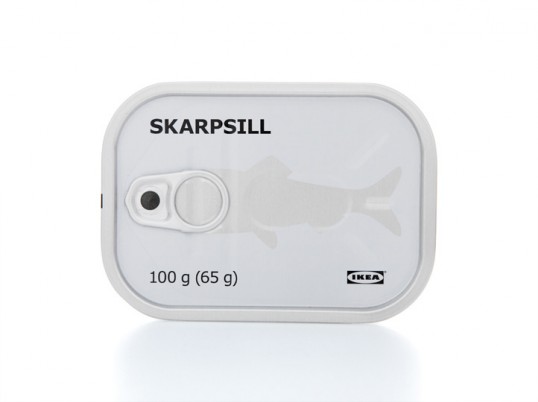 Designed by Stockholm Design Lab | Country: Sweden
2012 Cannes Gold Lion winner.
"IKEA is a worldwide Swedish home furnishing company with 28 distribution centres and a global network of 267 stores attracting a total of 590 million visitors.
Stockholm Design Lab created a design and packaging concept when the company combined its various food and catering units under the IKEA brand. The aim of the Swedish Food Market is to enhance the Swedish identity of IKEA."
August 9, 2012 | 3 Comments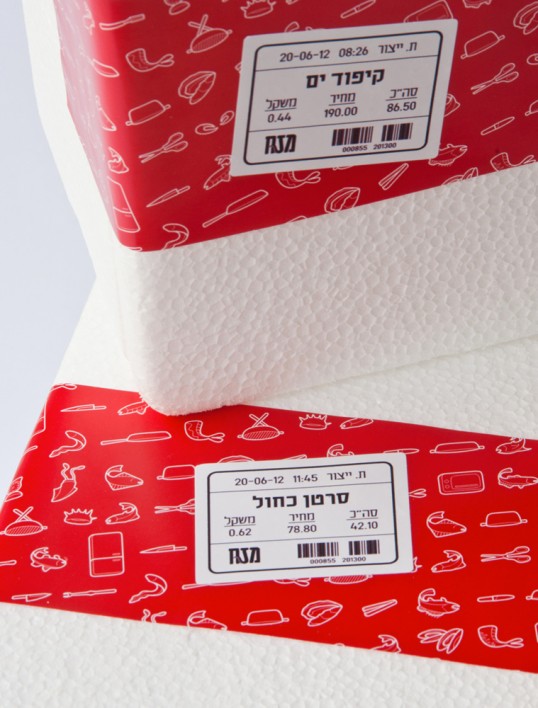 Designed by Ron Keren | Country: Israel
"A concept store specialising in the selling of sea food and guiding the customer through the step by step process; choosing a product from the broad range of exotic raw materials, appropriate handling and storage, through to ideal preparation techniques.
The packaging of the products has been custom designed to ensure that quality and freshness are maintained. Each package is accompanied with a general culinary explanation specific to the product it contains. Visual language techniques were employed throughout the project in the format of sea-food icons. The clean and clear lines provide the customer with an easy and informative pathway to connect with the culinary world under the sea."
August 3, 2012 | 2 Comments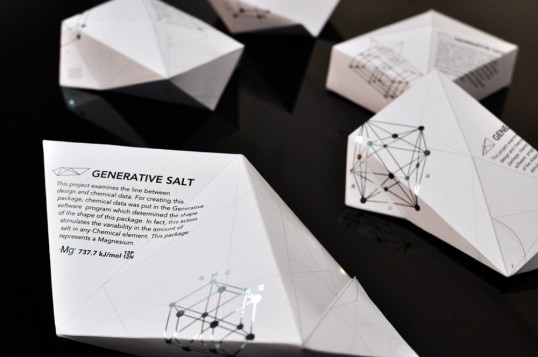 Designed by Dan Moukatel | Country: Israel
"This project tests the boundaries between designing and chemical data. During my research on salt, I discovered that the salt that we all are familiar with and use for cooking purposes, actually plays a much bigger and important role in our lives. It turns out that salt is found in almost any chemical element around us in different amounts and dosages.
During the production procedure of table salt in Dead Sea Works, four other chemical elements are being refined: potassium, aluminum, bromine and magnesium, from which we produce all sorts of materials that are of use to us in daily living. In my project, I decided to focus on the four chemical elements and to visualize the changing of the salt in each one of them."
August 2, 2012 | 25 Comments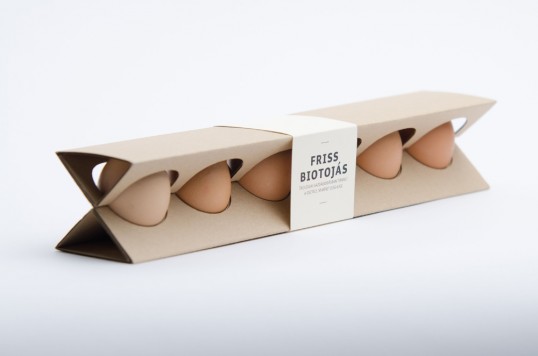 Designed by Otília Erdélyi | Country: Hungary
"My goal was to design an innovative package using a small amount of material. It's made of natural microwaved carton and consists of one piece. The eggs are placed into ellipse-shaped cuts. The eggs are removed by turning the topside."
July 21, 2012 | 3 Comments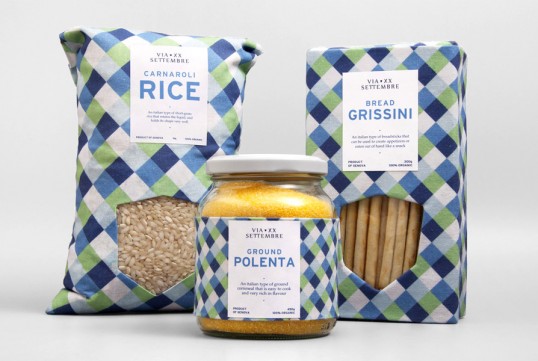 Designed by Studio Fusentast | Country: Norway
"A family run business from the harbour town of Genova, making and distributing organic food. A pattern with a distinct color scheme inspired by the sea is consistently used on all packaging, making it easy to recognise. The labels are kept simple, yet informative, and the typefaces chosen are inspired by Italian culture. The crest used in the logo and on the packaging is to emphasize the family aspect."
July 19, 2012 | No Comments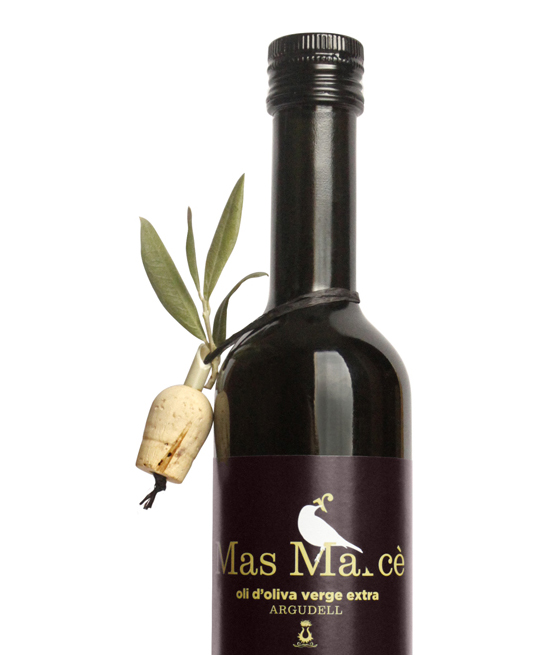 Designed by Senyor Estudi | Country: Spain
"Every good countryman curses the bones of the thrush because in cold weather it is this bird that eats the olives. Nevertheless, this fact indicates a healthy olive grove. And this is true in the case of the olive grove based on ecological production, from which a native variety extra virgin olive oil known as Argudell is extracted. Illustration and typography merge to represent this scene, taking advantage of the round drop that reminds one of an olive hanging from a branch that has just been broken off."
July 13, 2012 | 1 Comment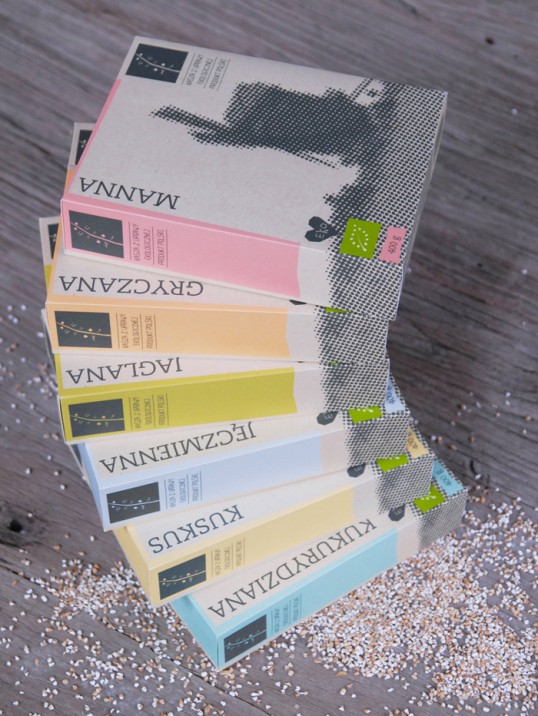 Designed by Kamila Mitka | Country: Poland
"Kasha Kasha is a new Polish brand of carefully selected eco-friendly agricultural products. The brand is targeted at young consumers concerned about healthy eating. The main objective of the project is a display of honesty. The cardboard packaging communicates unambiguously its ecological sourcing, while the subtle colouringis the effect of the application of eco-friendly printing methods. The image on the front of the packaging underlines the tradition associated with the product. Raster used for the image of a mill is intended to reflect the textureof the grains inside the box."