October 19, 2014 | 6 Comments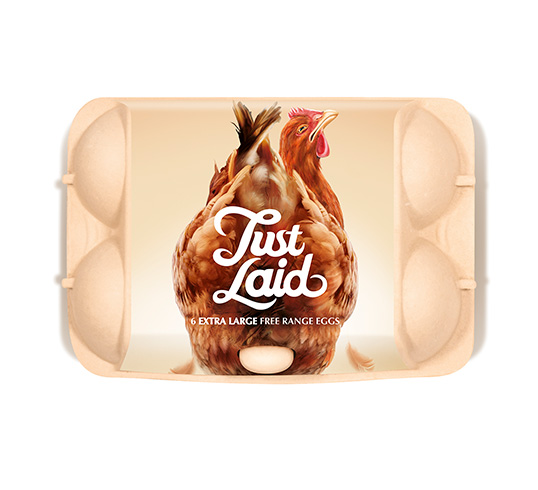 Designed by Springetts Brand Design Consultants | Country: united Kingdom
"Brief: We were asked to develop concepts that explored hypothetical positionings for how eggs could better satisfy or respond to consumer needs.  One of the many thoughts we had was how this commodity category could respond better to concerns related to CSR issues such as food miles and related freshness.  We were intrigued by the notion that, while early adopters of CSR issues find it easy to support a cause, it is harder to convert mass-market consumers unless there is something in it for them – such as supporting locally laid eggs.
Solution: Our solution was to emphasise the benefit of locally laid eggs to consumers through a cheeky brand name that reinforces the idea of freshly laid eggs straight from the hen.  The creative execution is a selection of playful caricatures of hens laying eggs with three different poses/expressions for each of the three variants."
October 7, 2014 | No Comments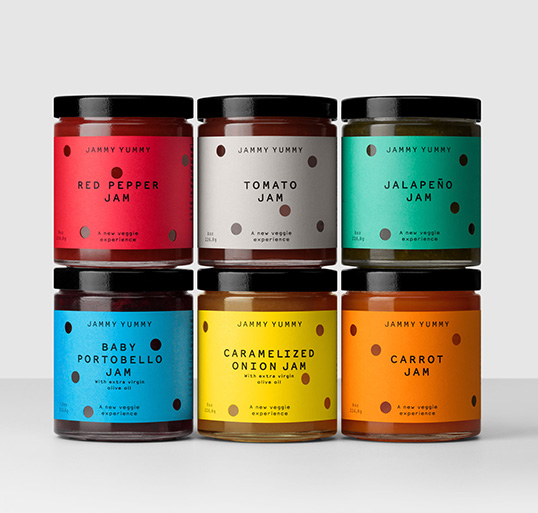 Designed by Hey | Country: Spain
"A new company based in Miami. Their hand-made range of savoury vegetable jams​​ is fun food and snacks made for sharing.
The labels are a set of random die-cut perforations where the holes suggest the constant nibbling that the food provokes."
October 6, 2014 | 1 Comment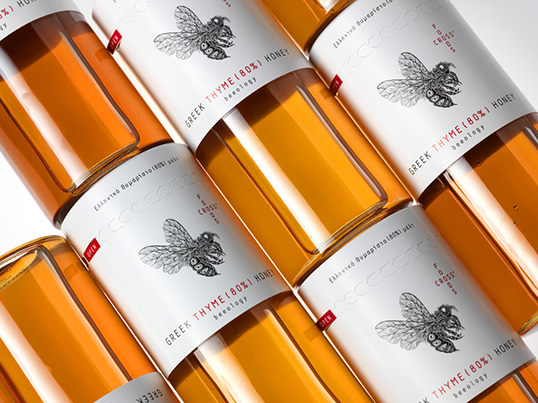 Designed by mousegraphics | Country: Greece
"The briefing (in brief): "We would like to enter the market with our top quality product. We need brand identity design and packaging applications." 
The target consumer: Greek and foreign markets. Sophisticated consumers who look for quality products. 
The design: The market for honey is a rising one and as such already filled with a variety of packaging designs. We needed to realize a brand identity able to convey this product's specific advantage: it's pure synthesis. This is Greek honey distinguished for its extremely high concentration of thyme pollen grains (80%). A rare, natural product of an eco-conscious process, meant to be offered in numbered and signed vases. We developed the logo design as a careful pairing of cross-shaped lettering (brand name) and the image of a bee, designed for us by the internationally known illustrator Si Scott. The elongated glass vessel we chose is covered on its upper part and toped by the brand identity elements and relevant information, in a way that allows the synthesis specifics and the collector's data (number) to be clearly visible even when the top is removed. Black, white and red dominate the packaging design in an alternative reference to a pharmaceutical/cosmetics language."
September 21, 2014 | 1 Comment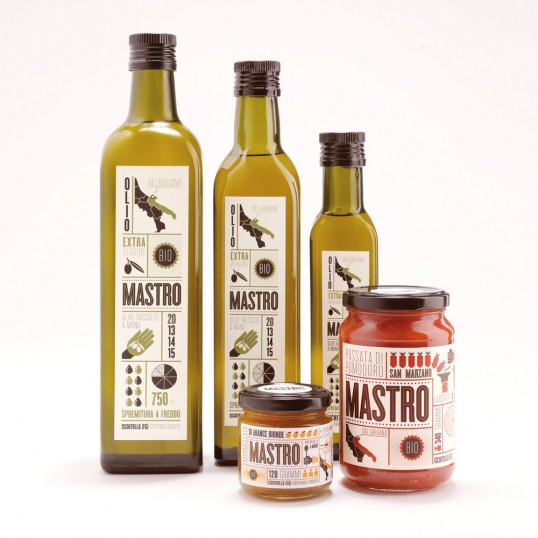 Designed by The 6th Creative Studio | Country: Italy
"We created a series of labels for Mastro (Azienda agricola). The labels illustrate with info graphics all the descriptions that are commonly contained on the back of the packaging.
All the ingredients are 100% italian and organic. All the products are homemade: olive oil, tomato sauce, and blonde orange marmalade."
September 9, 2014 | No Comments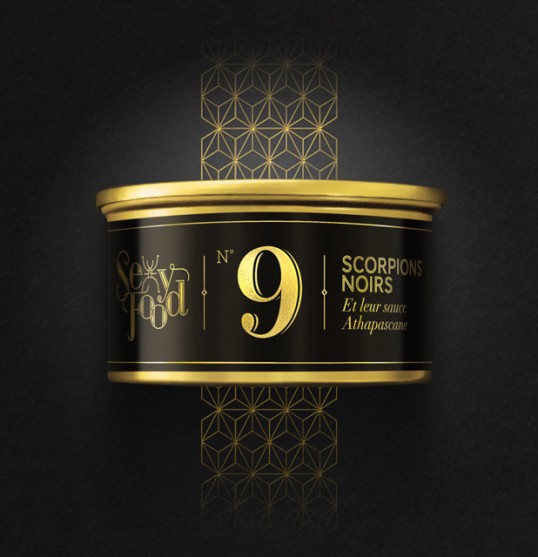 Designed by Atelier Design | Country: Belgium
"Sexyfood doesn't just sell insects, it sells unique experiences.
The concept itself is very simple: why don't you surprise your friends with something different, like an insect-tasting session? Sexyfood provides all the ingredients for an unforgettable evening. The appearance of the products – the logo, style and packaging – all help to create a special experience. The luxurious packaging has a definite air of mystery. There are 28 different product packs altogether, each pack identified with a number and each sauce with a pattern."
September 7, 2014 | No Comments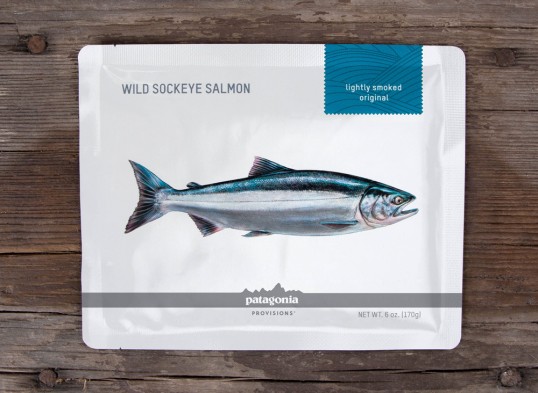 Designed by TDA_Boulder | Country: United States
"Patagonia Provisions is a line of food directly linked to its source, seeking to create a sustainable form of nourishment. In order to communicate this unique initiative, we created a design that speaks directly to the source of the product by featuring wild sockeye salmon as the hero of the package. The back of the pouch tells the story of the product along with visual icons that accompany preparation instructions."
August 4, 2014 | No Comments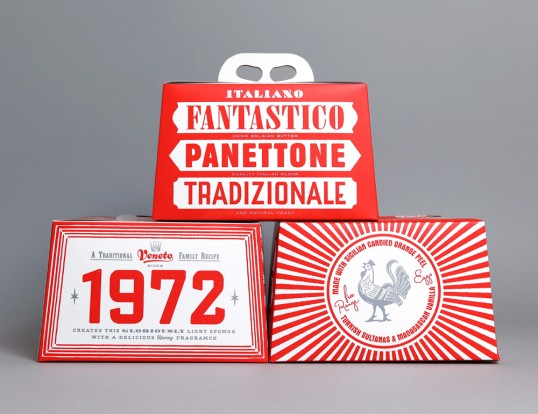 Designed by Horse | Country: United Kingdom
"Design studio Horse has worked with the UK-based Makers & Merchants to create the packaging for over 40 eclectic food and homeware products, each one made by a specialist artisan.
Horse created the brand name, identity and packaging for every product, ensuring the artisans behind each one had their stories of quality, craftsmanship and collaboration expressed through the different designs.
"The brand name, Makers & Merchants, reflects the approach to product creation, while the strict colour palette and bold graphic style ensures a sense of family," explains Ian Firth, creative partner at Horse.  "This allowed the freedom to playfully reflect the personality of both the product and artisan behind it."
July 22, 2014 | 2 Comments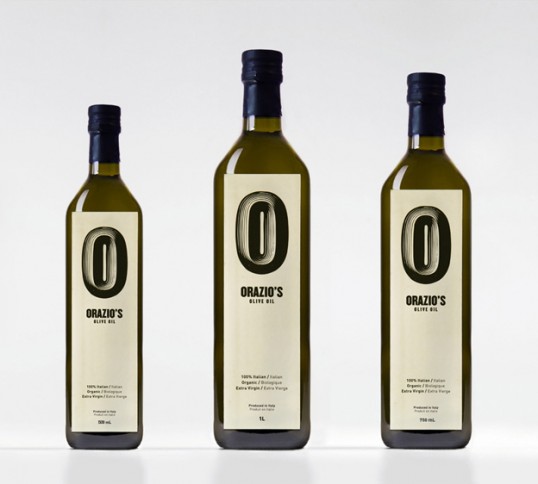 Designed by Brief | Country: Canada
"Rationale – Branding and packaging design for Orazios Olive Oil. Appearing in North America for the first time, Orazio's Olive Oil is 100% traceable from tree to table. Italian extra virgin cold pressed, organic, non GMO and produced on strict DOP standards. The branding and packaging for Orazios Olive Oil is a true reflection of its family roots and its brand essences: Humble, pure, simple and clean. These brand elements are reflected from the corporate identity itself to the one colour print job on all applications."
June 18, 2014 | 1 Comment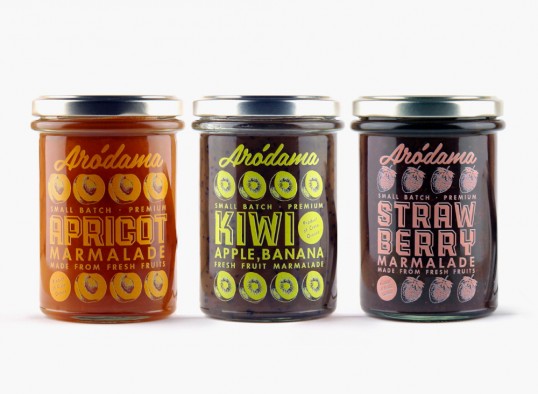 Designed by Bob Studio | Country: Greece
"Branding, packaging design and naming for the Arodama family, a new series of traditional Cretan products, aimed mostly to foreign markets.
Both the given name (Arodamos is the tender shoot in the Cretan dialect) and the design of the whole series using vivid colors and illustrations, give a cheerful and playful character to the products. Food is one of the best joys in life, especially for the Cretans and we wanted to transmit that through our design. We drew illustrations for every product showing its basic ingredients and created a pattern that applies to all labels in order to achieve a consistent image for the whole product family.
Products and corporate identity share the same design elements in order to create a direct relationship between them and a strong consistent image. The design patterns and illustrations have been implemented in jars, olive oil and raki bottles, packages, press kits, bags and the website."
June 16, 2014 | No Comments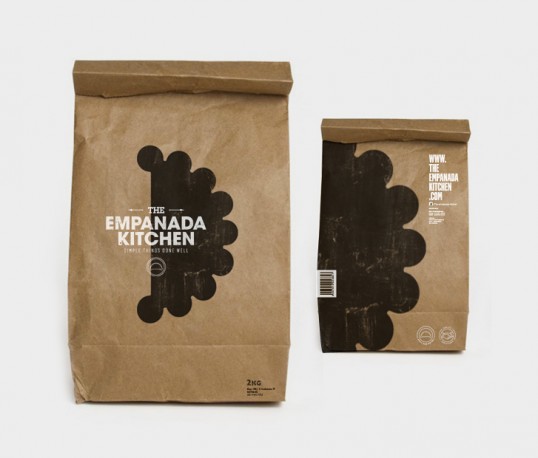 Designed by BARDO | Country: Australia
"The Empanada Kitchen is a young gastronomic company dedicated to make empanadas in New Zealand. It recipes combine unique flavors created especially by his owner with a spirit that characterizes it: "Simple things done well". The identity design reflects the traditional combined with the contemporary, giving the brand values such as honesty, strength and quality, generating a commitment to the product and the customer.
The main objective was to use simple shapes and noble typographies to maintain perdurability over time. At the same time it was thought the inclusion of miscellaneous that helps to symbolize his fresh and young spirit, differentiating itself from the competition"