November 14, 2015 | No Comments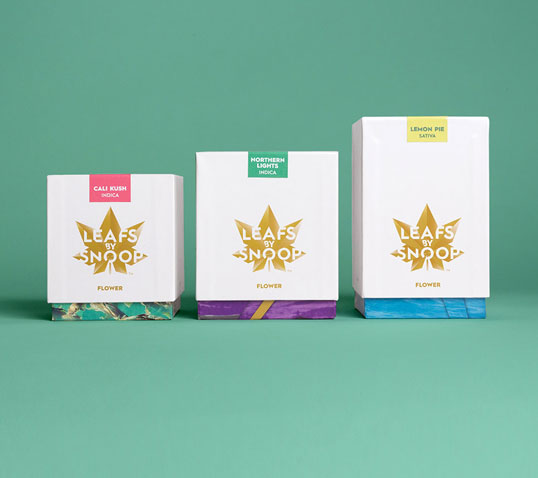 Designed by Pentagram | Country: United States
"Laid-back California cool inspires the branding for a line of marijuana-based products from hip-hop legend Snoop Dogg.
With songs like "Smoke the Weed," "This Weed Iz Mine," and "California Roll," it's no secret the rapper Snoop Dogg has long been a cannabis connoisseur. Now he's sharing this passion with the public—at least in Colorado, where consumption is legal—with a new line of marijuana-based products called Leafs By Snoop. Pentagram's Emily Oberman and team have designed the brand identity and packaging for the line, which includes both flower and edibles ("Dogg Treats") such as chocolate bars, chews, drops and gummies."
November 13, 2015 | 1 Comment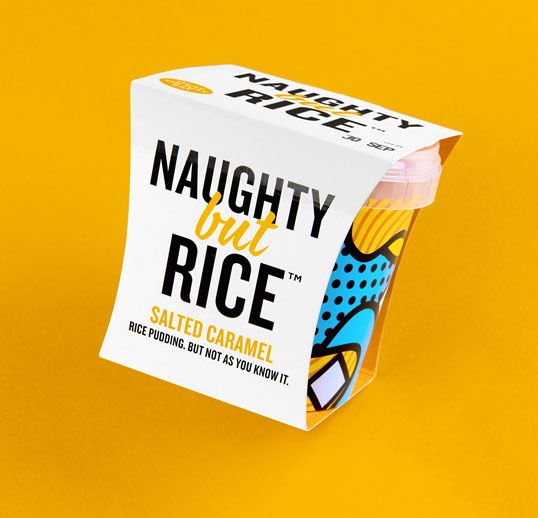 Designed by Robot Food | Country: United Kingdom
"Rice pudding is rising in popularity, and to coincide with the trend, The Hain Daniels Group has launched Naughty But Rice, a vibrant new brand with a bit of a twist. The clue's in the name. Naughty But Rice brings pud lovers all the heart and soul of traditional rice pudding with a deliciously contemporary edge.
Leeds-based brand and design agency, Robot Food, are well-known for their daring challenger approach, and were asked to help create the brand look, feel and packaging. Leaving behind the tired, whimsical category cues of old, the team came up with the strap-line, 'Rice pudding. But not as you know it', and got to work on a strikingly indulgent aesthetic that deliberately disregards the category's moody, rather serious look and feel."
November 9, 2015 | 2 Comments
Designed by Studio–JQ | Country: United Kingdom
"I've always been fascinated with crisps packaging and ahead of starting a new packaging project this week, I wanted to give myself a quick fun branding exercise. I wanted to develop my own brand 'QUINTINS&CO' and to give it a modern edge and look with catchy brand names and a lively and diverse colour range. Supporting this are abstract shapes and symbols to finish the look. What's your favorite flavour?
November 3, 2015 | No Comments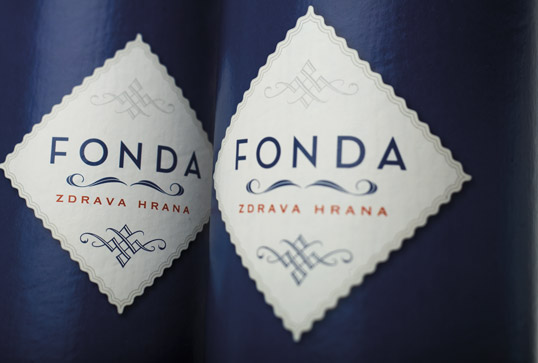 Designed by HUMAN1ST | Country: Slovenia
"The Fonda fish farm builds its identity on the basis of a combination of high-quality products and family tradition. Boris Balant participated in the establishing of the Fonda brand and then worked in close cooperation with the family to develop the family company's overall visual identity in parallel with its development. Humanist then designed the further development and reinvigoration of the brand with a focus on transparency, dynamics and youthfulness, with a simultaneous emphasis on the family' indigenous origins, based on authentic images of the family. The family saga of a top-quality world-class fishery also received fresh impetus through the redesign of the logo, expansion of the contents and a new website."
October 16, 2015 | 1 Comment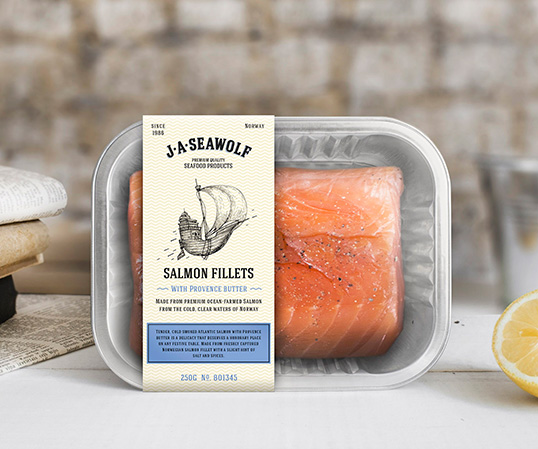 Designed by Field | Country: Latvia
"J.A. Seawolf inspiration is old sailor's stories of the adventures. These stories are so ancient, that the thin line with reality has been erased completely for the enjoyment of our fantasies – gigantic sea creatures, mystic islands and devastating hurricanes.
Label design tells these stories with featuring the elements of the tale. Each product has a unique story to tell, that creates a series of adventures. This approach is opening limitless possibilities for the new product lines in the future – with new adventures.
To differentiate the product flavours we are using pastel colour fields for taste description. Main design element – hand drawn story illustrations are to attract attention to the product in the shops and to evoke the interest about the brand. By creating this product I want to tell exciting stories that are united with exquisite taste and company's heritage."
October 10, 2015 | 1 Comment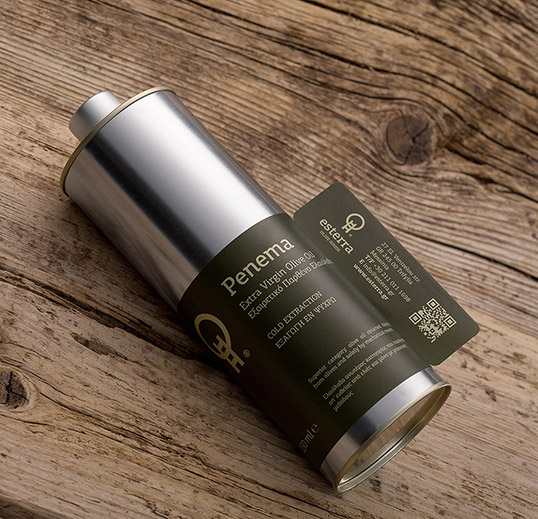 Designed by Chris Trivizas | Country: Greece
"Esterra® is a family Company that deals with the cultivation, commerce and export of olive oil, as well as other quality products based on the olive. Our enterprise has as goal to develop and expand its activities to other agricultural products, cultivated in the fertile land of Messinia.
The name of the Company comes from the union of the archaic "es" (from) with "terra" (land, in latin) and its goal is to express the connection of the Company to the traditional cultivation and the purity of the products of this land.
The design of the symbol of its trademark also stems from the values that mark this Company. Thus, knowledge and tradition lead to the design of an eternal unique olive tree, which has a ladder as a trunk, an element that symbolizes at the same time the traditional way of collecting olives as well as the modern, dynamic prospects of the Company."
October 7, 2015 | No Comments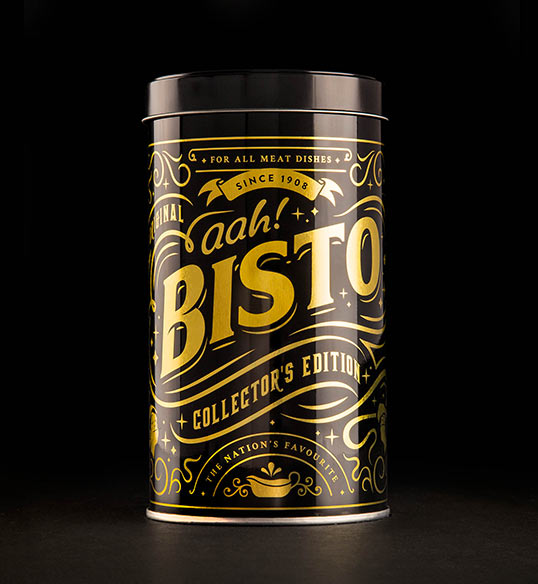 Designed by Robot Food | Country: United Kingdom
"Bisto is the Nation's Favourite gravy and one of the most recognisable brands on shelf and as such, deserved a fitting tribute for this year's annual collector's edition tin. To help celebrate the Bisto brand and put a contemporary spin on a retro offering, Robot Food were called in to put their creative heads together and deliver something with huge standout.
With the aim to launch in time for the upcoming winter season, Robot Food were responsible for the proposition and design of the Limited Edition Bisto gravy tin exclusive to Tesco stores nationwide. By taking cues from Bisto of old and mixing them up with contemporary touches; the new collector's edition tin is an apt homage to the proud heritage of the Bisto brand. A luxurious gold finish and subtle pack embossings help bring the tin into the 21st century, whilst the bulk of the design remains very much vintage. The Bisto children and old school messaging make a welcome return and when surrounded by intricate flourishes and subtle details, give the pack a stylish, retro that remains very current. A Limited Edition tin worthy of the title, fit to display in the kitchen and use again and again."
September 21, 2015 | No Comments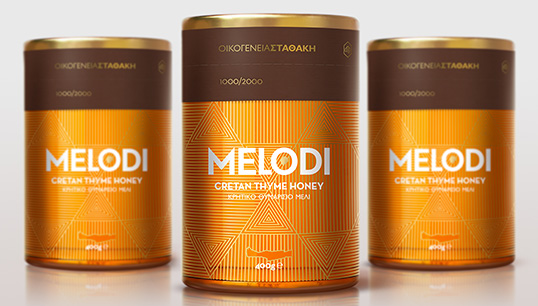 Designed by Antonia Skaraki | Country: Greece
"The Stathakis family bees spend their holidays in the most beautiful areas of Crete! From Gramvousa to Elafonisi, the lighthearted dance gives life to nature, along with the sea breeze caressing the thyme and the beautiful dunes harmoniously protect the pines from which our honey derives. This sweet choreography of bees in harmony with nature, produces a rare honey with intense amber color and fine aroma. The MELODI is an ode to the Cretan honey. We used gold foil printing and colors of the earth that represent that high quality product."
September 8, 2015 | No Comments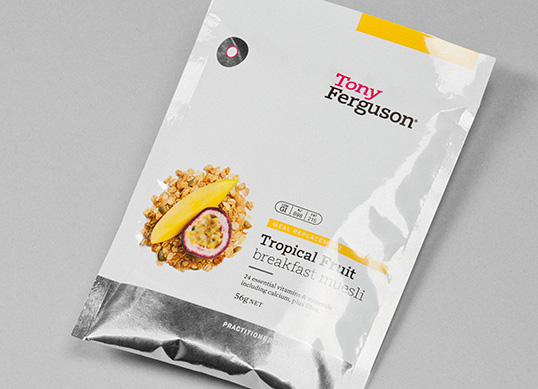 Designed by Maud | Country: Australia
"The chal­lenge was to repos­i­tion Tony Fer­guson as an edu­ca­tional life­style pro­gram that helps people re-engineer their approach to food and health – not just a quick-fix meal replace­ment diet. We needed to edu­cate con­sumers about health­ier liv­ing, encour­aging them to form a new rela­tion­ship with food and move from a weight-loss men­tal­ity to life­style change.
Our strategy was to empower people with the con­fid­ence and know­ledge to take con­trol of their rela­tion­ship with food.
We estab­lished a new brand iden­tity and a set of basic out­comes that the brand had to rep­res­ent.
– Mod­ern, yet able to with­stand the test of time.
– Phar­ma­ceut­ical whilst not feel­ing cold and imper­sonal.
– To sup­port the 'life­style' nature of the brand, the design had to feel like some­thing people would be proud to asso­ci­ate with.
– Re-establish Tony Fer­guson as an expert and trus­ted brand — a cham­pion of healthy eat­ing and education.
Launched in Janu­ary & Feb­ru­ary of this year, sales have already increased year on year and anec­dotal feed­back sug­gests that the new brand iden­tity is receiv­ing pos­it­ive acknow­ledge­ment across the board includ­ing the trade and other key stakeholders."
August 24, 2015 | No Comments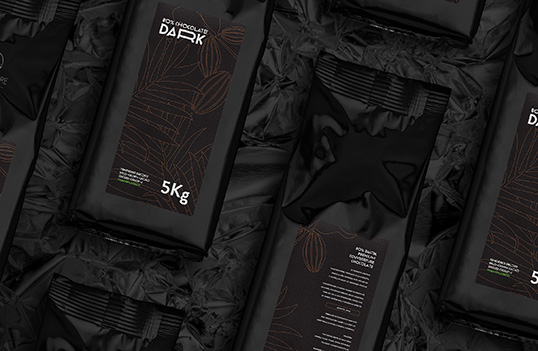 Designed by Michal Slovák | Country: Slovakia
"Around 99.99% of world cacao tree production is growing on plantations. The rest, 0.01% of world production features very rare wild-grown cacao.
Biosphere – Fine Honduran Cacao comes from Wampusirpi, location immediately adjacent to Río Plátano Biosphere Reserve in Honduras which has been a World Heritage site and biosphere reserve since 1982. In 2011, UNESCO placed the reserve on the List of World Heritage. This premium couverture chocolate has exceptional quality and single origin.
It was important not to follow Aztec or Mayan motifs, which are very common on many chocolate labels from this region. Exceptional quality product needed exceptional design. The aim was to illustrate the atmosphere of the jungle where the cacao grows. Therefore the label for 80% dark chocolate was illustrated as rainforest at night. Tempered chocolate drops are packed in 5kg bags and are sold only to trade."