October 10, 2011 | 2 Comments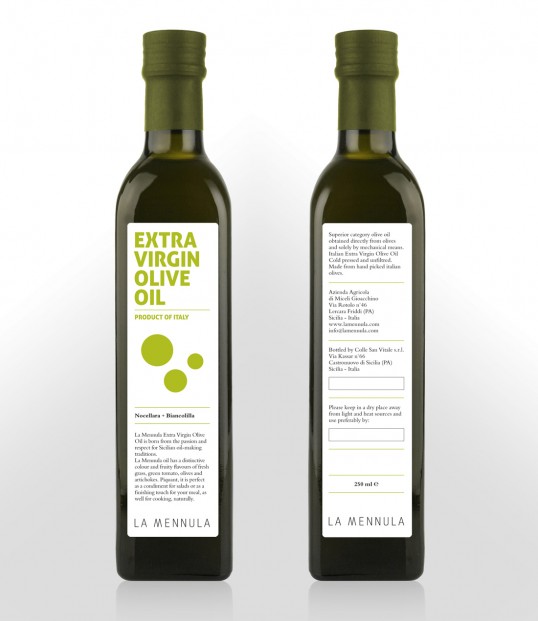 Designed by Alessio Avventuroso | Country: Italy
"La Mennula Extra Virgin Olive Oil is born from the passion and respect for Sicilian oil-making traditions. We have designed a contemporary brand and a cool label for 250, 500 and 750 ml bottle."
October 10, 2011 | 4 Comments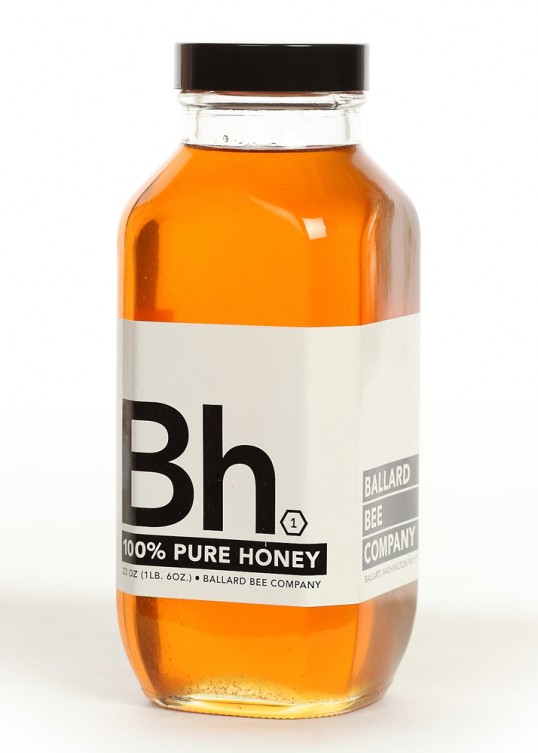 Designed by TKTJ Design | Country: United States
"The design is based on the idea of honey being so basic, we created a chemical symbol "Bh" all for itself. The element is a pure chemical substance, that cannot be broken down in further, and by placing this honey within this realm it allows it to take on the idea of honey as purity. The packaging also seems to suggest something medicinal about the product, which is interesting considering honey has long been touted for many other things than just a sweetener."
October 9, 2011 | 3 Comments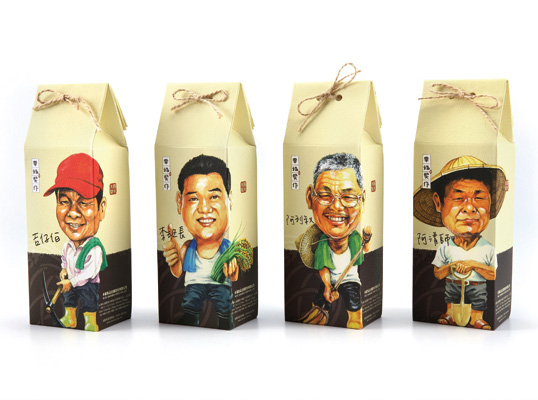 Designed by Victor Branding Design Co. | Country: Taiwan
"Eight Treasures of Happiness is all about the people who care for and oversee the rice gardens. From squad leader Lee who strictly guards the gardens to Ms. A-lu who passes on the taste of happiness, and everyone in-between."
October 6, 2011 | 5 Comments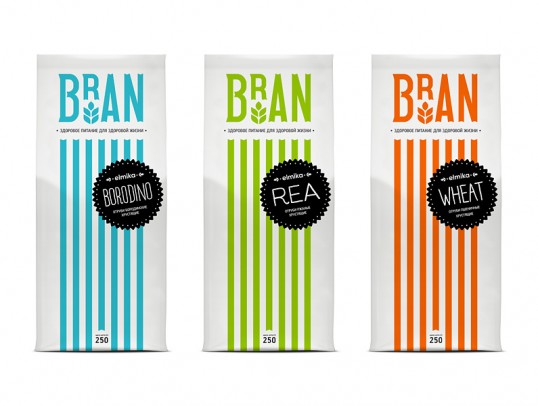 Designed by Hattomonkey | Country: Russia
"Package design for Elmika's Bran and Crisp for local and international markets."
October 5, 2011 | 1 Comment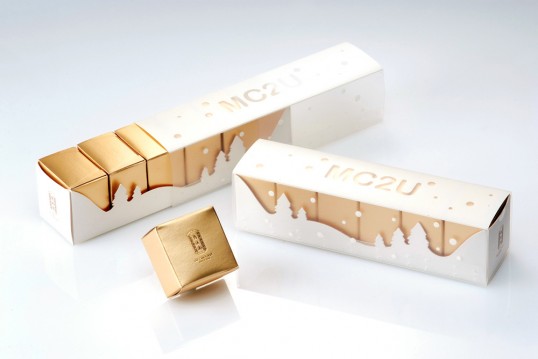 Designed by Gidea Group | Country: Taiwan
"As the leader of Taiwan's traditional cake industry, JZM has be worldwide known for its pineapple cakes packaged in this little golden  box for a long time.
On this  seasonal packaging design, we implemented  the classical golden pineapple cake package with the joyful Christmas design, also bringing out a sense of East meeting West.
This special Christmas packaging was a commercial success for JZM, especially loved by Japanese and Hong Kong tourists who came to Taiwan to spend their Christmas Holidays, a chic and lovely souvenir to take home with!"
October 4, 2011 | 4 Comments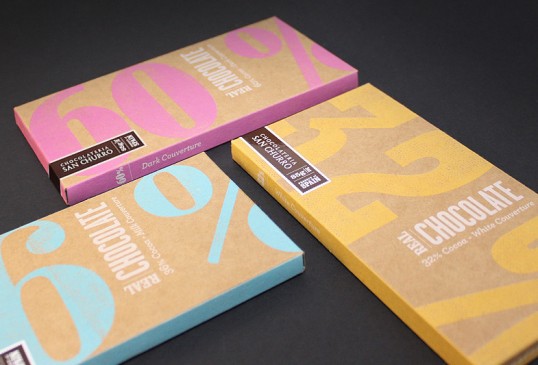 Designed by Studio Alto | Country: Australia | Fonts: Garage Gothic, Archer
"San Churro's Real Chocolate is a product range developed in reaction to a chocolate market flooded with inferior 'confectionary' chocolate.
In the words of San Churro – "When it comes to chocolate, the truth is that there's no substitute for REAL cocoa butter. It's like ketchup without tomatoes, or an omelette without eggs – it's the key, essential ingredient. Chocolate without it simply is not chocolate, but rather a sub-standard B-grade pretender: all show, no substance."
October 3, 2011 | 6 Comments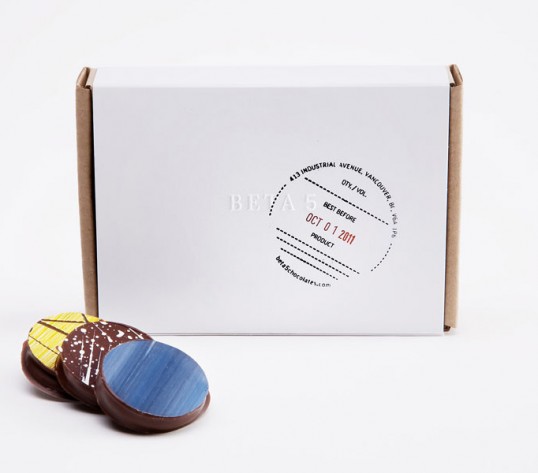 Designed by Glasfurd & Walker | Country: Canada
"BETA 5 chocolates are produced in small batches using ethically sourced estate chocolates and premium ingredients.
The name comes from the form-5 beta crystal structure which is the most stable form of cocoa butter crystallization, formed through the controlled melting, and subsequent cooling (tempering) of liquid chocolate.
As a result, the identity reflects this approach to the chocolate making process – a careful blend of science and craftsmanship.
The packaging design was a carefully considered and executed aspect of the brand development. Understated and refined, the packaging doesn't distract from beauty and vibrancy of the products inside them which are an exciting discovery."
September 26, 2011 | 8 Comments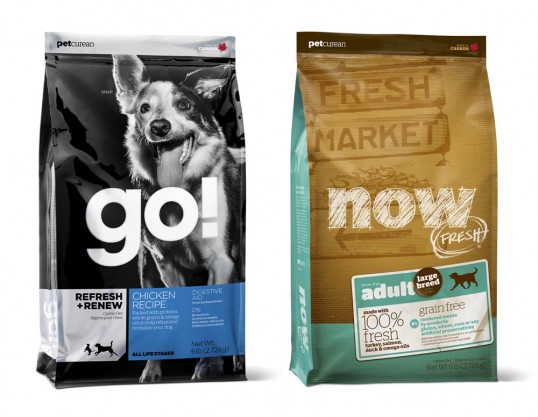 Design by Subplot Design | Country: Canada
"With 12 years of success and over 100 SKUs of premium pet food sold nationally and internationally, Petcurean Pet Nutrition looked to Subplot Design Inc. to take the brand to the next level and to elevate its identity and consumer packaging. Along with unveiling 6 brand new SKUs, Petcurean's new corporate identity and NOW FRESH and GO! packaging launched at SuperZoo 2011 in Las Vegas last week.
September 20, 2011 | 4 Comments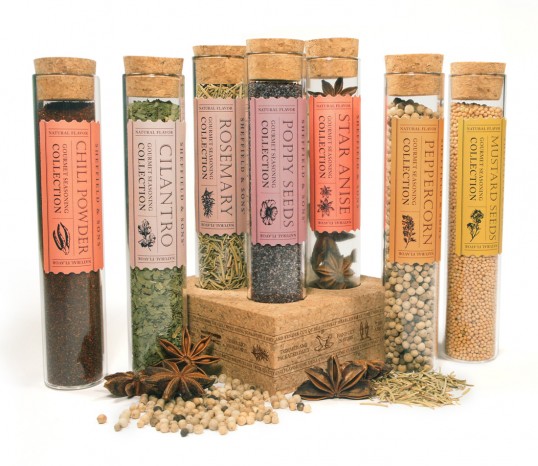 Designed by Birdsong Gregory | Country: United States
"To help Bloom Grocery develop a memorable private label for it's premium angus beef program, birdsong gregory created Sheffield & Sons: a sophisticated but friendly brand that evokes the distinction and personal service of a small friendly neighborhood butcher shop. As part of that campaign, we created this concept for a beautiful line of spices which would exist as part of the labels product offering. The packaging embodies the well crafted and gourmet feel of Sheffield & Sons with its sophisticated palette, illustrative but clean labels, unique material choices, and textures that are relevant to the existing brand."
September 19, 2011 | No Comments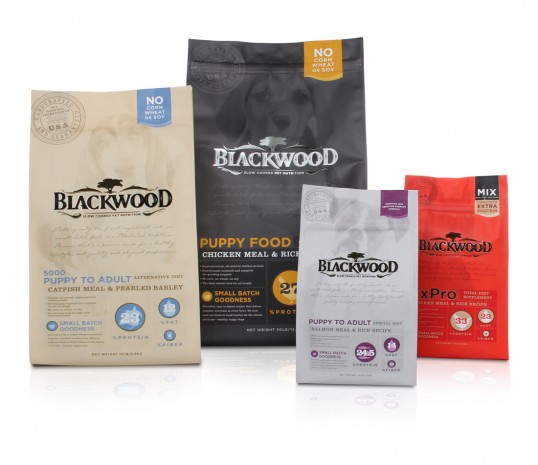 Designed by Kick | Country: United States
"Ohio-based Blackwood Pet Food's handcrafted, all-natural recipes have been loved by trainers of champion sport and show dogs for years. When the company decided to extend their retail footprint, they knew new packaging was key to wooing retailers.
Minneapolis design consultancy Ideas that Kick (formerly known as HartungKemp) created new bags that placed key nutritional values for each recipe front and just a bit off-center. So pet-loving families can feel great, at first glance, about what they're feeding Fido.
Kick's bags also make it easy for store clerks to recommend Blackwood foods. Kick's strategic thinking and smart design transformed this challenger brand into what the agency calls a Shelf Kicker™ in the premium pet food category."