June 24, 2015 | 2 Comments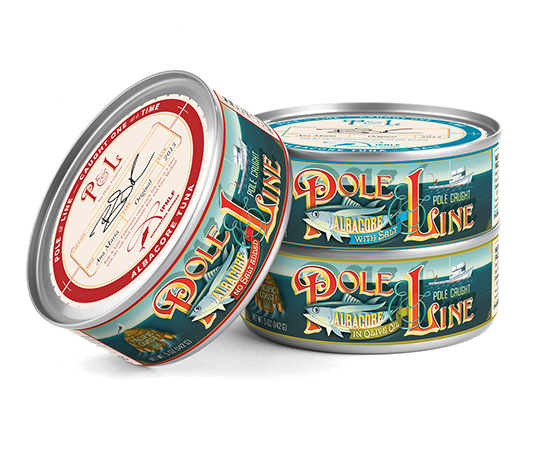 Designed by Moxie Sozo | Country: United States
"American Tuna is owned by six families that practice a generations-old tradition of artisanal pole and line fishing. When American Tuna came to Moxie Sozo in early 2014, they were looking to create a brand for exclusive distribution at Whole Foods. Keeping in mind the unique way in which they harvest tuna, we developed two brands – Pole & Line and Deck Hand Premium Cat Food – to position the brand as the sustainable tuna of choice that you can trust. From inception to execution – we impacted every aspect of the brand on store shelves. The new brands quickly grew to over $1 million in sales. Due to their success, the brand now has six new products that will be launching in Whole Foods stores within the next few months."
April 15, 2015 | No Comments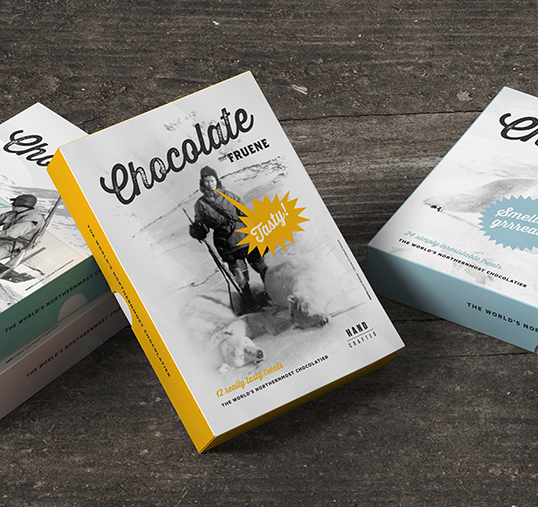 Designed by Tank Design Tromsø | Country: Norway
"The brief was to create a full range identity for a popular café in Longyearbyen on Svalbard. The client had recently started up the world's northernmost chocolaterie, and were producing a wide range of handmade quality chocolate that needed packaging for the tourist market. The clients name Fruene means «The Ladies» and refers to strong female characters who during the last century made their mark in a male dominated and extremely rough hunter and trapper society. The end result is an homage to those women and to the unique stories of both the people and the animals that inhabit Svalbard. We have worked closely with both the client, writers and the Svalbard Museum in order to find the best stories and pictures. Simple color coding and clean typography distinguishes the different boxes from each other and leave the story in focus."
April 14, 2015 | 1 Comment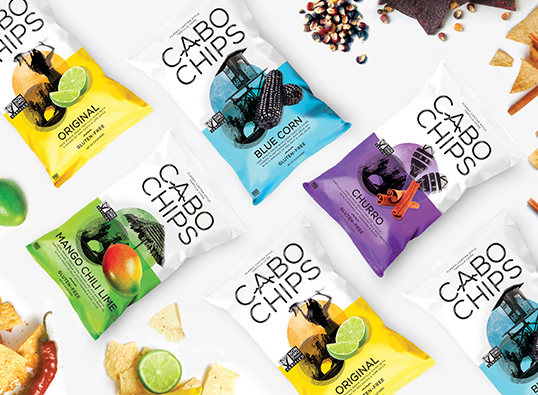 Designed by ROOK | Country: United States
"The challenge: Create a new compelling visual identity and packaging design for Cabo Chips to better express the brand's provenance, personality, spirit and unique taste.
Our perspective: Virtually every tortilla chip attempts to communicate Mexican provenance in one way or another. The opportunity was to find a new way to reflect location; one that's compelling, contemporary and born out of a genuine story.
"The approach needed to be different: Not stereotypically authentic, not symbolic, but expressive. We wanted to create a sense of place for Cabo Chips that reflects the experience of Baja through lifestyle, emotion and energy. It's not about simplifying a complex origin into a single symbol, icon or style, but about communicating Baja's depth, richness and mood in an expressive and layered way." – Creative Partner and Founder of ROOK, Mark Christou."
April 13, 2015 | 1 Comment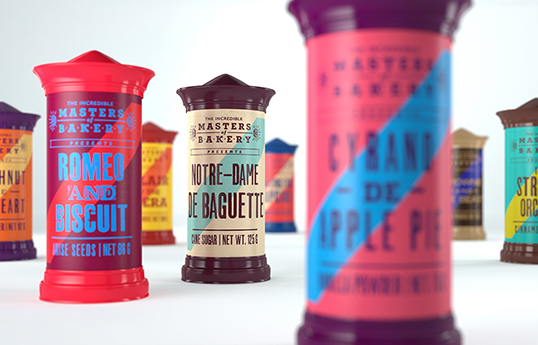 Designed by Tough Slate Design | Country: Ukraine
"Spices play the main role in an epic play called Bakery. The shape of the package resembles a theatre cabinet with that houses posters on it. However, there are a little adjustments which make theatre plays feel tasty and sweet."
February 22, 2015 | 1 Comment
Designed by Sydney Goldstein | Country: United States
"A unique food truck, obsessed with oddities. The pigeon follows the traveling circus from city to city."
February 17, 2015 | 3 Comments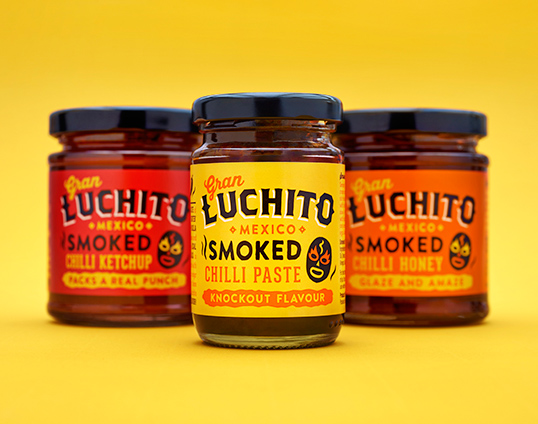 Designed by Midday | Country: United Kingdom
"Cultivated and smoked by generations of hardy farmers in the harsh Oaxacan climate, the smoked chillies in 'Gran Luchito' products are at the heart of the brand. The name 'Gran Luchito', meaning 'Great Little Fighter', references the plight of these chillies against the harsh elements but also the obsession amongst the farmer's with the sport of Mexican wrestling.
We were tasked to reinvigorate the brand and better communicate its unique story, revealing the meaning of 'Gran Luchito' and creating more engagement with the consumer. Our solution is a charismatic brand with aesthetics inspired by bold and expressive typographic styles of Mexican wrestling poster art. The range now clearly communicates Gran Luchito's Mexican heritage, strengthens the smoked chilli taste cues and oozes character and fun."
February 15, 2015 | 2 Comments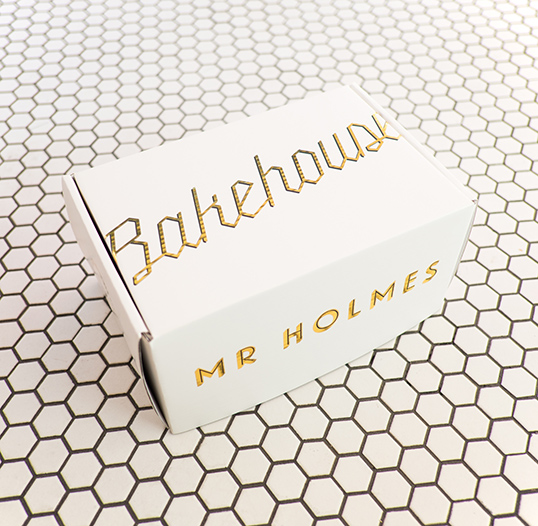 Designed by Aron Tzimas | Country: Australia
"Mr Holmes Bakehouse's Identity, Interior & Packaging was designed by Co-Owner Aron Tzimas. For the baked goods box, the idea was simple: make everyone who bought or received baked goods from Mr Holmes feel special. We wanted our packaging to represent the quality that was inside. Too often you see bakeries just stamp a plain craft paper box, and even though we know this was the (much) more expensive option, we knew that we wanted it to feel like you were receiving a birthday present."
January 28, 2015 | No Comments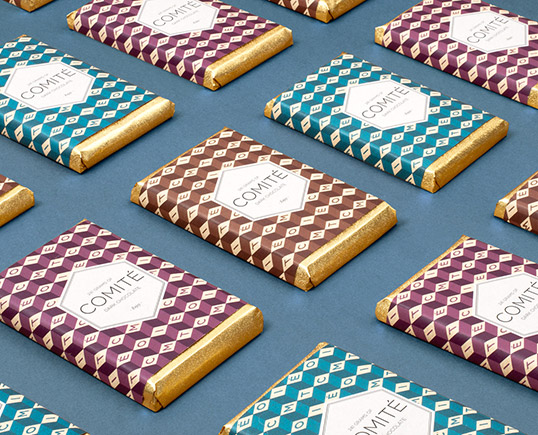 Designed by COMITÉ | Country: Spain
"We made a limited edition of chocolates to thank our customers and friends for their confidence in us. Our work began with the design of the chocolate and finished in its packaging.We wanted to make a design that conveys our philosophy and methodology, taking care of the details and the elegance to the end, playing with geometries, a range of colors, serigraphy and diferent suports. For the production of the chocolate bars we collaborated with La Campana."
January 21, 2015 | No Comments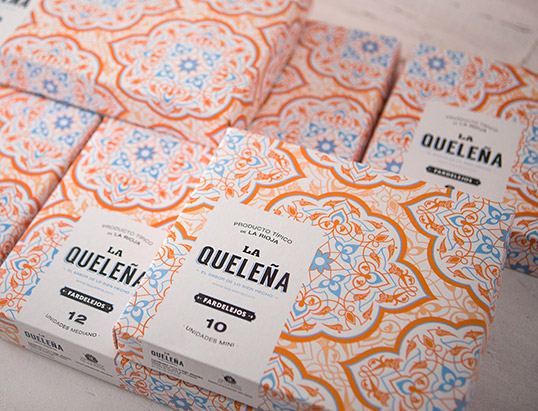 Designed by TSMGO | Country: Spain
"Using a graphic code that reminds us of the Arabian value of the origin of the dessert (the use of almonds is important in all Arabian desserts) a frame was created in which each of the packaging models reinforces the visual coherence of the whole range, making the provenance and birth of the recipe more understandable."
December 26, 2014 | 1 Comment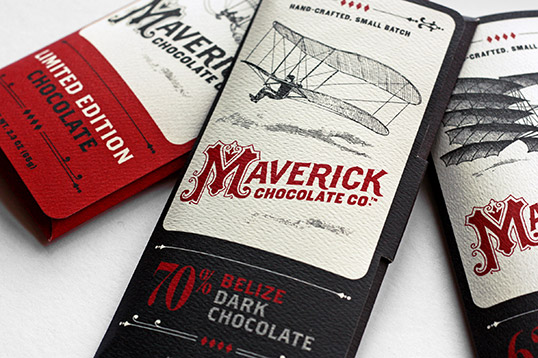 Designed by Jessica Jones | Country: United States
"Maverick Chocolate Co. is a startup company that hand crafts finished bar in their shop at historic Findlay Market in Cincinnati, Ohio chocolate in small batches from the bean to the.Beans are ethically sourced from smallholder farmers; ingredients are organic.
Maverick's brand salutes gentleman adventurers of yesteryear — those who did things a little differently, just like the company itself. Packages feature vintage engravings of "mavericks" and their whimsical flying machines, a nod to the company owner's prior career in the aviation industry. The wine-bottle inspired color palette is dramatic and bold. A different flying contraption is pictured on each flavor of bar along with the tagline, "Bean-to-bar chocolate for the adventurous palate."
Packages for Maverick chocolate bars are die-cut recloseable wallets, printed in 2 colors on textured paper."