September 1, 2011 | 3 Comments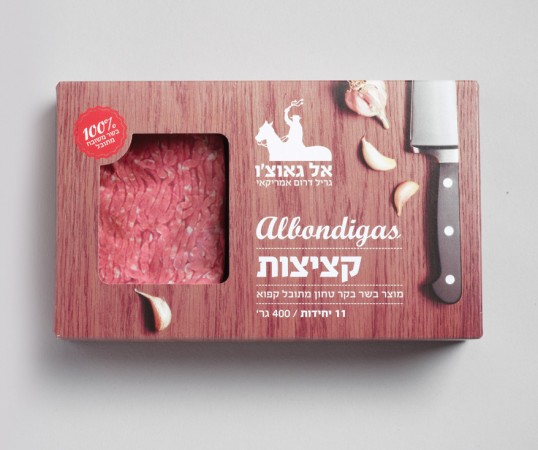 Designed by Blend-it Design | Country: Israel
"Designing a line of packaging for meat products marketed by the El Gaucho restaurant chain. The butcher's block and knife were the iconic images for this project, showing the beginning of the journey towards a juicy, premium steak. In the design concept, we chose to show the world of meat and its culinary environment rather than showcasing the cut of meat itself. As a customer, all that was left to do was trust the brand, which has the ability to convey values of quality and flavor, and to rely on the subtle seasoning that is characteristic of the meat, however it is served."
August 30, 2011 | 7 Comments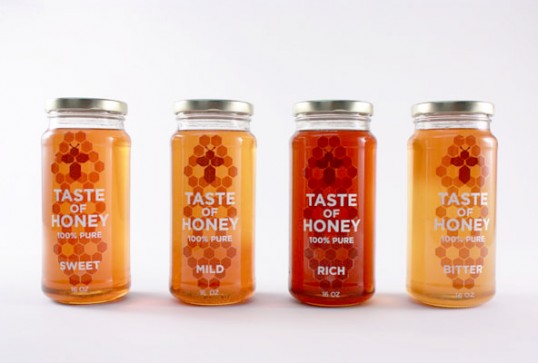 Designed by Danielle Mitchell | Country: United States
"This project was based on a lyric or song from The Beatles. I choose the song "Taste of Honey" and turned it into a honey brand. To showcase the variety of flavors in an elegant way, I designed a minimal type treatment and paired it with a honey comb pattern. The elements of the honey comb pattern also make the the bee and flower icons shown throughout the packaging and recipe cards."
August 29, 2011 | No Comments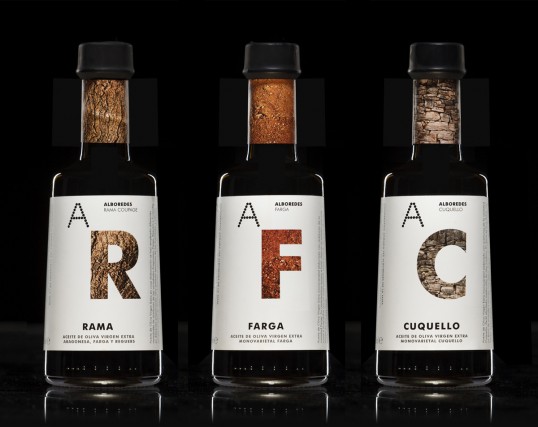 Designed by Ignasi Boza | Country: Spain
"Packaging of three bottles of olive oil monovarietales. Each of them identified with a natural element of the environment where the olive trees grow: Bark, land and stones.
The origin and characteristics of the monovariety olive oil gives meaning to the idea of sustainability of natural and historical heritage, which until recently seemed doomed to disappear or be scattered through the gardens and squares Europe, and now you can enjoy a top quality product and warranty, especially for all lovers of equity and sustainability. Three diferent flavous of diferent olive tree varieties."
August 24, 2011 | 4 Comments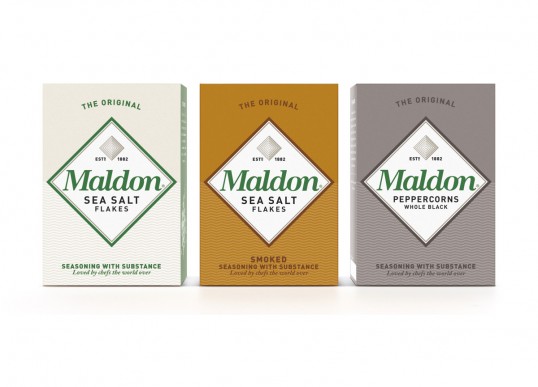 Designed by Pearlfisher | Country: United Kingdom
Pearlfisher has created the new brand identity and packaging for iconic UK salt brand – Maldon Salt.
Based in Essex, UK, the Maldon Crystal Salt Company is a family business run by the fourth generation of the Osborne family. The salt is still hand harvested using traditional and natural methods which gives it its famous superior quality, loved and recommended by an impressive number of celebrity chefs the world over.
The new brand identity for Maldon celebrates the natural elements of Maldon salt, celebrating its flavor and long-standing commitment to making only the best quality products. The design is simple but strong so that it can embrace Maldon's other products – Maldon Smoked sea salt and Maldon organic black pepper.
Natalie Chung, Pearlfisher Creative Director, says, 'We moved away from the generic world of salt on salad to create an iconic, proud marque inspired by Maldon's unique texture and shape. The packaging celebrates the depth and quality of the product with confidence and character allowing us to tell the story of Maldon from its heritage to its modern relevance in a way that was tasty, bold and natural – just like the salt."
August 23, 2011 | 4 Comments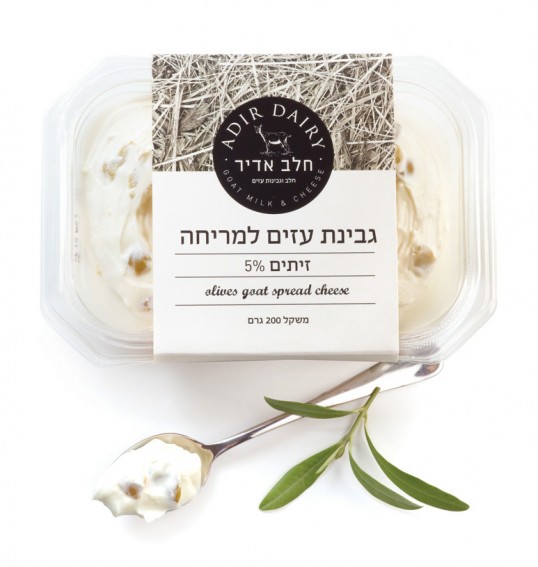 Designed by Blend-it Design | Country: Israel
"Adir Milk is the largest premium goat milk-producing dairy in Israel.
The dairy, which is located in the Upper Galilee, has served as an experiment for us to create a dairy milk experience that reflects a feeling of tradition combined with an ultimate taste experience.
The search for a design language that relies on the best of French cheese design traditions has led us to a world of primal emotions, simplicity, and elegance, conveying freshness, quality, and locality."
August 14, 2011 | 6 Comments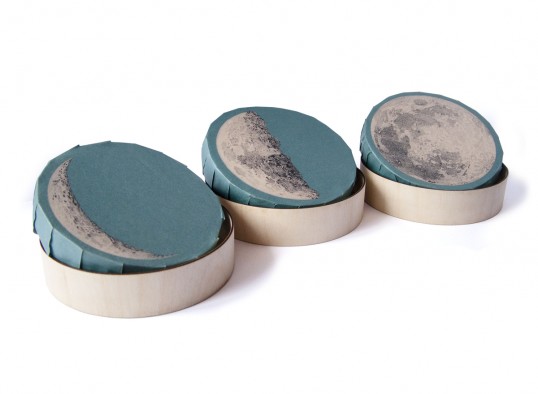 Designed by Tim Sumner | Country: United Kingdom
"The Brief was to create a piece of packaging based on a myth.
Taking inspiration from the children's fable of the Moon being made up of Green Cheese, the idea is using the surface and cycles of the moon to replicate the strength of the cheese. Using 19th century engravings of the moon this gives it an overall unique look that the packaging needs to set itself away from the modern day supermarket brands.:
August 13, 2011 | No Comments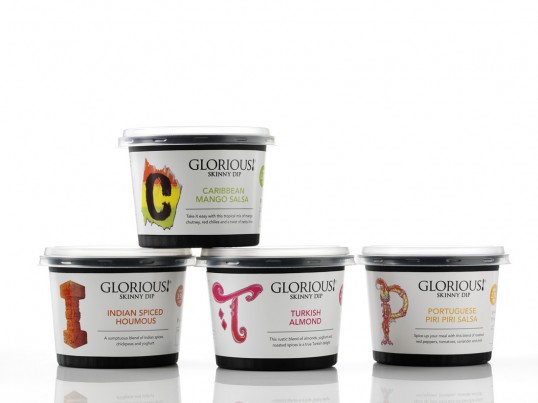 Designed by Lambie-Nairn | Country: United Kingdom
"GLORIOUS!, the award-winning soup and sauce range, has launched a new range of skinny dips, featuring a brand-new visual identity designed by Lambie-Nairn.
The design includes fresh bespoke lettering to represent the four new dips – Caribbean Mango Salsa, Turkish Almond, Indian Spiced Houmous and Portugese Piri Piri Salsa.
Each letter, for example the T for Turkish Almond, reflects provenance and heritage as well as allowing the product to stand out on shelf. It also communicates how GLORIOUS! continues to 'Go beyond expectations' with gutsy and innovative recipes and flavours from around the globe, all with less than 5% fat.
Designed with versatility in mind, the dips also feature new bespoke, sleek packaging that can go straight to the table to be served as a dip, as a condiment in sandwiches and wraps, or an accompaniment to spice up or complement main meals."
August 11, 2011 | 2 Comments
Designed by Believe in | Country: United Kingdom
"Raw Lisa™ creates convenience based raw food products – a relatively new, yet fast growing concept in food retail. Founder Lisa Sture is also a leading figure in the Raw Food movement. Their products will initially be launched in the specialist food sector with the intention of reaching the mainstream via supermarkets. The objective is to appeal not only to Raw Food devotees, but also those looking for healthy convenient food options.
The Raw Lisa™ brand identity is bold and confident, reflective of the pure nature of the products. The logo is applied in conjunction with a series of abstract, germination-like illustrations which
grow from the aperture and represent the living ingredients. The shapes within the customised typeface reflect seedling shoots.
The strapline 'As nature intended' further emphasises the natural health benefits of the products."
August 11, 2011 | 5 Comments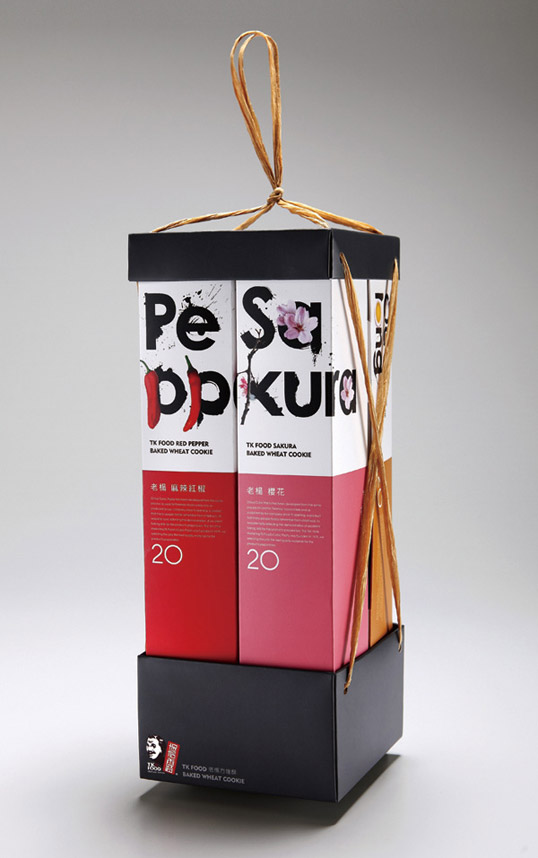 Designed by Victor Branding Lab | Country: Taiwan
TK Food created four brand new flavors of their baked wheat cookies. Cherry blossom flavor is clear and sweet; oolong tea flavor; salty snacks flavor and spicy mustard flavor. TK Food uses unique baking technique to blend various flavors with creativity. Every flavor contains 20 packages within a strip of rectangle. Four different flavors are collected in a rectangular box to express the brand's novelty and variety.
August 7, 2011 | 8 Comments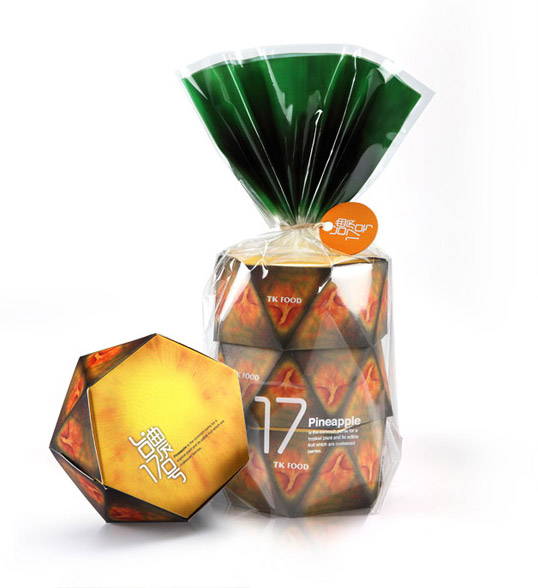 Designed by Victor Branding Lab | Country: Taiwan
"TK Food's pineapple pastry uses TN17 pineapples, which are sweet and fragrant. This series adopts the appearance of pineapple as packing design, which represents "a whole pineapple a fresh present." Besides emphasizing the real pineapple stuffing, the unique packing design is totally different from the general ones and becomes a best choice as a gift."