September 14, 2011 | 4 Comments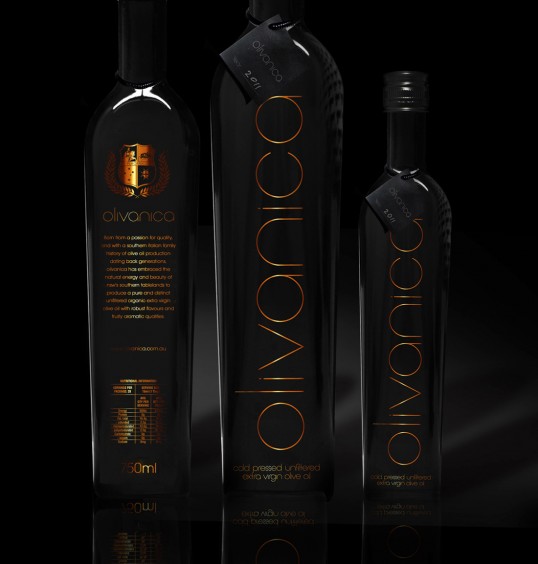 Designed by Toast Design | Country: Australia
Family owned & operated Olivanica have been producing small runs of exceptionally fine quality olive oil for a few years with great success. In late 2010, we were approached to create an identity and packaging design to reflect the outstanding quality and purity of the oil.
September 13, 2011 | No Comments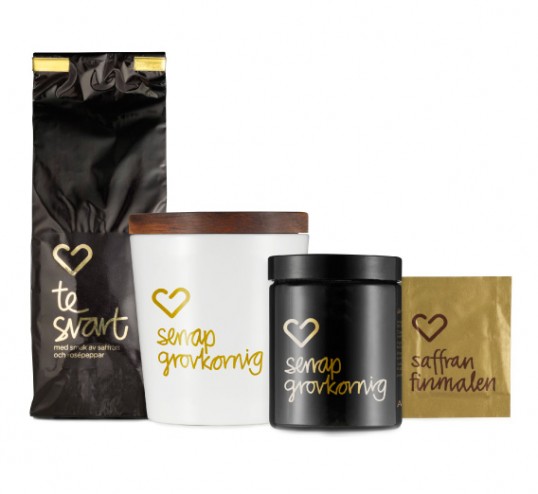 Designed by BVD | Country: Sweden
"Challenge: The Swedish pharmacy market was privatized in November 2009. In February 2010 Apotek Hjärtat opened, as the largest independent player on the deregulated pharmacy market with 207 pharmacies. Apotek Hjärtat wanted their new graphic identity to communicate credibility, knowledge and health in a modern and inspiring manner as well as signifying a pharmacy in a clear but subtle way. The logotype should be able to be applied to many different types of media profiles.
Solution: Our aim was to create a logo that could win the hearts of the Swedish people. The greatest challenge was to find a balance between knowledge and credibility on one hand, and cordiality and service on the other. The traffic-light green colour is an obvious signal that is easy to see and identify. The iconic heart symbol is unique because of its opening in the centre, which creates a feeling of openness and welcome."
September 12, 2011 | 6 Comments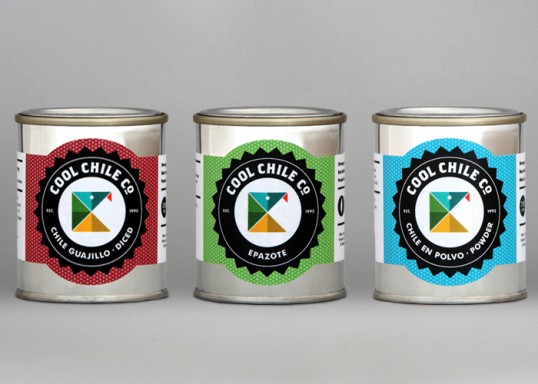 Designed by Bless | Country: United Kingdom
"Bless has just completed the new branding for London based Cool Chile Co. one of the first companies to supply Mexican dried chillies and fresh corn tortillas to the UK.
Cool Chile wanted to continue using a snake as their brand icon as they had been using a clipart version for over a decade, so our first task was to create one that would be more ownable and distinctive. The new snake and branding were inspired by geometric Aztec shapes and rich Mexican colours. The four main colours reflect the companies four main store categories, red for chillies, yellow for corn products, green for herbs and blue for spices and store cupboard items. More than 60 items were colour coded, with an individual shade being selected for each product type, this resulted in over ten different reds for the chilli section alone.
Cool Chile now have an identity that is simple, iconic and helps them stand out from their competitors."
September 10, 2011 | No Comments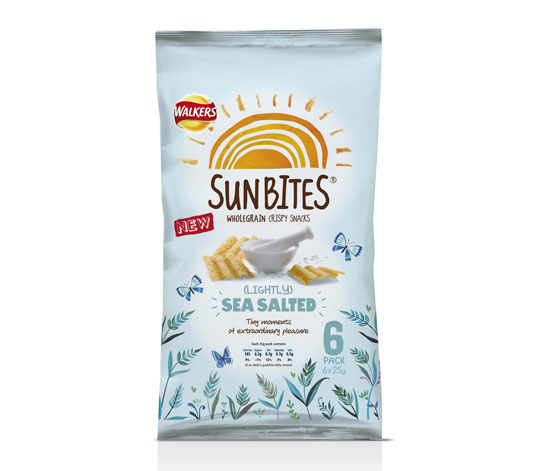 Designed by Ziggurat Brands | Country: United Kingdom
"Sunbites had been entirely functional, generic and a bit 'no fun' – labouring their wholegrain credentials until they had lost all sense of being as tasty as they actually are. We injected a big bright sunburst, changed the focus of the messaging from 'healthy balance' to 'YUMMY' and introduced the idea that eating wholegrain could easily be a pleasure rather than a punishment. With increased sales of 84% one could argue it's actually more of an extraordinary pleasure."
September 9, 2011 | 1 Comment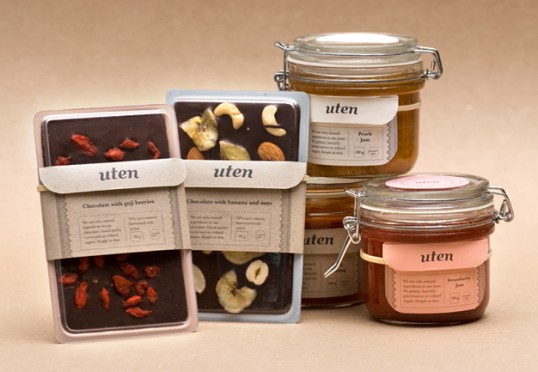 Designed by Marcin Rusak Studio | Country: The Netherlands / Poland
"Uten is a Norwegian product line containing natural and seasonal jams, chocolates and condiments that are home made and free from gluten, milk, soy, refined sugar and preservatives. The packaging encourages the buyer to re-use, with recipes and tips inside the label folder. When the jar is empty and the chocolate is eaten, simply take of the tags (the string makes sure you'll have no sticky glue marks!) and use the empty containers to create your own delicious foods."
September 7, 2011 | 4 Comments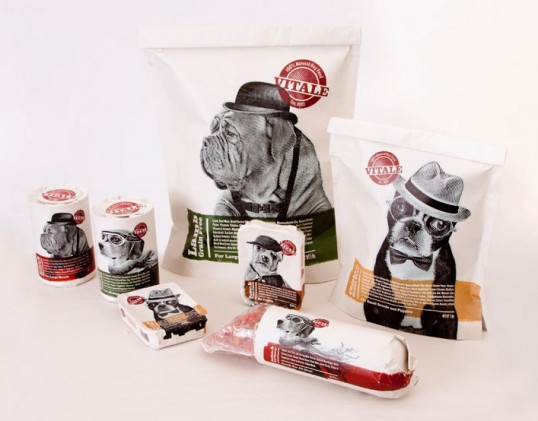 Designed by Sergey Grigoryan | Country: United States
"Vitale was a pet food packaging project. I designed a line of dog food for the animal lover who wants to feed there dog quality and nutritious and natural food. The whole line features the ingredients on the front with a characterized dog that personifies the pet as mans best friend. Butcher paper is also used to give the product a handmade/small batch and more natural feel."
September 1, 2011 | 3 Comments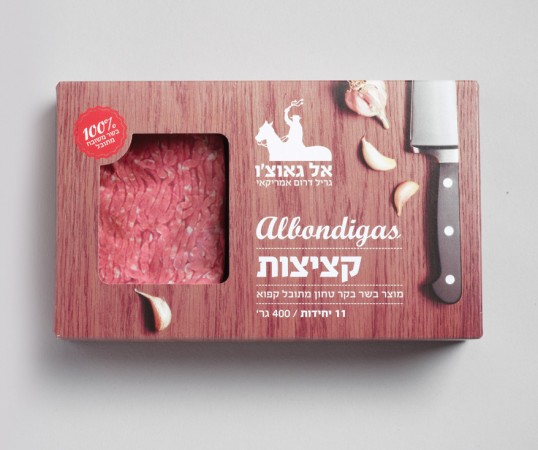 Designed by Blend-it Design | Country: Israel
"Designing a line of packaging for meat products marketed by the El Gaucho restaurant chain. The butcher's block and knife were the iconic images for this project, showing the beginning of the journey towards a juicy, premium steak. In the design concept, we chose to show the world of meat and its culinary environment rather than showcasing the cut of meat itself. As a customer, all that was left to do was trust the brand, which has the ability to convey values of quality and flavor, and to rely on the subtle seasoning that is characteristic of the meat, however it is served."
August 30, 2011 | 7 Comments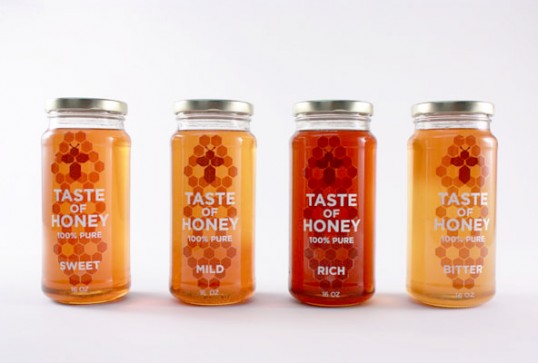 Designed by Danielle Mitchell | Country: United States
"This project was based on a lyric or song from The Beatles. I choose the song "Taste of Honey" and turned it into a honey brand. To showcase the variety of flavors in an elegant way, I designed a minimal type treatment and paired it with a honey comb pattern. The elements of the honey comb pattern also make the the bee and flower icons shown throughout the packaging and recipe cards."
August 29, 2011 | No Comments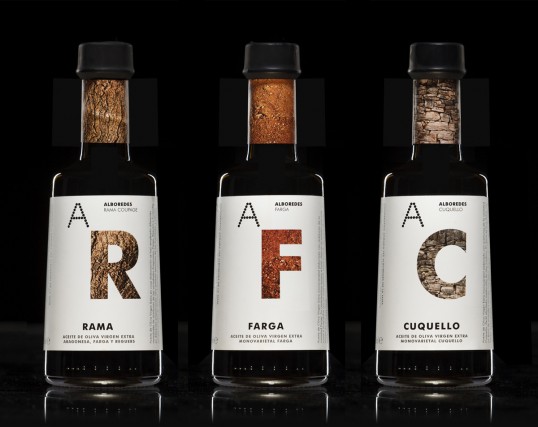 Designed by Ignasi Boza | Country: Spain
"Packaging of three bottles of olive oil monovarietales. Each of them identified with a natural element of the environment where the olive trees grow: Bark, land and stones.
The origin and characteristics of the monovariety olive oil gives meaning to the idea of sustainability of natural and historical heritage, which until recently seemed doomed to disappear or be scattered through the gardens and squares Europe, and now you can enjoy a top quality product and warranty, especially for all lovers of equity and sustainability. Three diferent flavous of diferent olive tree varieties."
August 24, 2011 | 4 Comments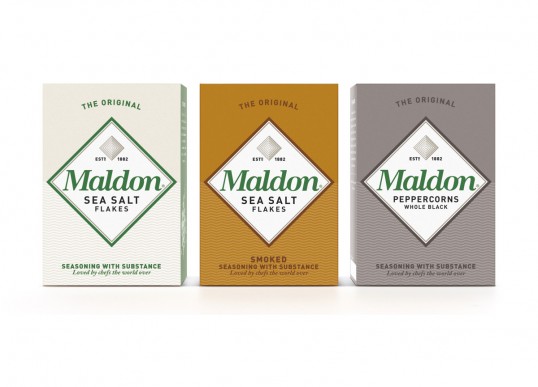 Designed by Pearlfisher | Country: United Kingdom
Pearlfisher has created the new brand identity and packaging for iconic UK salt brand – Maldon Salt.
Based in Essex, UK, the Maldon Crystal Salt Company is a family business run by the fourth generation of the Osborne family. The salt is still hand harvested using traditional and natural methods which gives it its famous superior quality, loved and recommended by an impressive number of celebrity chefs the world over.
The new brand identity for Maldon celebrates the natural elements of Maldon salt, celebrating its flavor and long-standing commitment to making only the best quality products. The design is simple but strong so that it can embrace Maldon's other products – Maldon Smoked sea salt and Maldon organic black pepper.
Natalie Chung, Pearlfisher Creative Director, says, 'We moved away from the generic world of salt on salad to create an iconic, proud marque inspired by Maldon's unique texture and shape. The packaging celebrates the depth and quality of the product with confidence and character allowing us to tell the story of Maldon from its heritage to its modern relevance in a way that was tasty, bold and natural – just like the salt."