August 14, 2011 | 6 Comments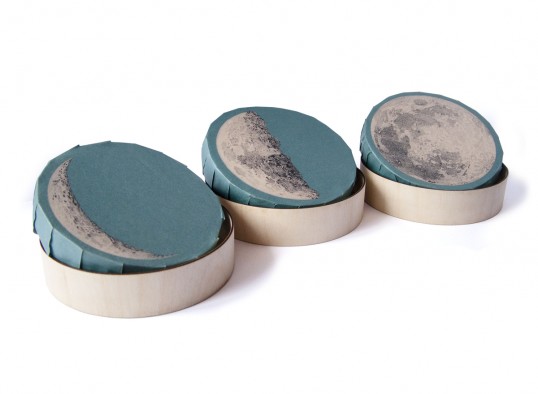 Designed by Tim Sumner | Country: United Kingdom
"The Brief was to create a piece of packaging based on a myth.
Taking inspiration from the children's fable of the Moon being made up of Green Cheese, the idea is using the surface and cycles of the moon to replicate the strength of the cheese. Using 19th century engravings of the moon this gives it an overall unique look that the packaging needs to set itself away from the modern day supermarket brands.:
August 13, 2011 | No Comments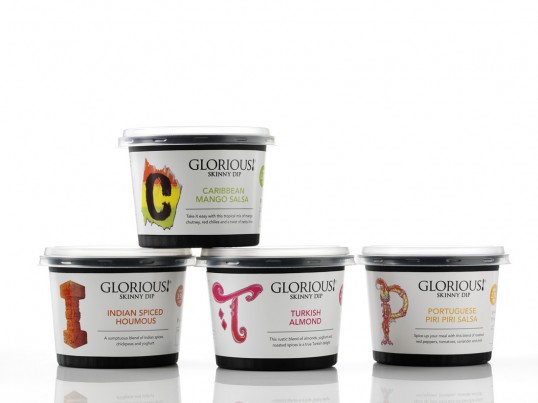 Designed by Lambie-Nairn | Country: United Kingdom
"GLORIOUS!, the award-winning soup and sauce range, has launched a new range of skinny dips, featuring a brand-new visual identity designed by Lambie-Nairn.
The design includes fresh bespoke lettering to represent the four new dips – Caribbean Mango Salsa, Turkish Almond, Indian Spiced Houmous and Portugese Piri Piri Salsa.
Each letter, for example the T for Turkish Almond, reflects provenance and heritage as well as allowing the product to stand out on shelf. It also communicates how GLORIOUS! continues to 'Go beyond expectations' with gutsy and innovative recipes and flavours from around the globe, all with less than 5% fat.
Designed with versatility in mind, the dips also feature new bespoke, sleek packaging that can go straight to the table to be served as a dip, as a condiment in sandwiches and wraps, or an accompaniment to spice up or complement main meals."
August 11, 2011 | 2 Comments
Designed by Believe in | Country: United Kingdom
"Raw Lisa™ creates convenience based raw food products – a relatively new, yet fast growing concept in food retail. Founder Lisa Sture is also a leading figure in the Raw Food movement. Their products will initially be launched in the specialist food sector with the intention of reaching the mainstream via supermarkets. The objective is to appeal not only to Raw Food devotees, but also those looking for healthy convenient food options.
The Raw Lisa™ brand identity is bold and confident, reflective of the pure nature of the products. The logo is applied in conjunction with a series of abstract, germination-like illustrations which
grow from the aperture and represent the living ingredients. The shapes within the customised typeface reflect seedling shoots.
The strapline 'As nature intended' further emphasises the natural health benefits of the products."
August 11, 2011 | 5 Comments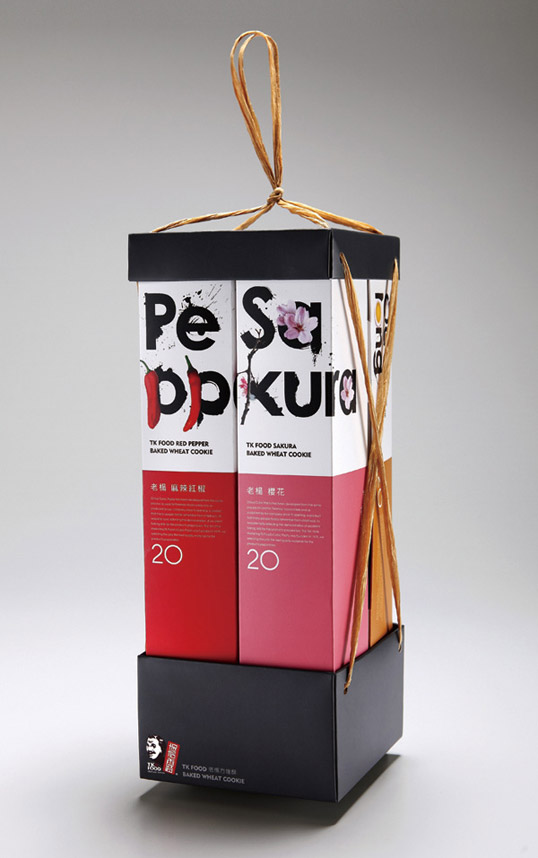 Designed by Victor Branding Lab | Country: Taiwan
TK Food created four brand new flavors of their baked wheat cookies. Cherry blossom flavor is clear and sweet; oolong tea flavor; salty snacks flavor and spicy mustard flavor. TK Food uses unique baking technique to blend various flavors with creativity. Every flavor contains 20 packages within a strip of rectangle. Four different flavors are collected in a rectangular box to express the brand's novelty and variety.
August 7, 2011 | 8 Comments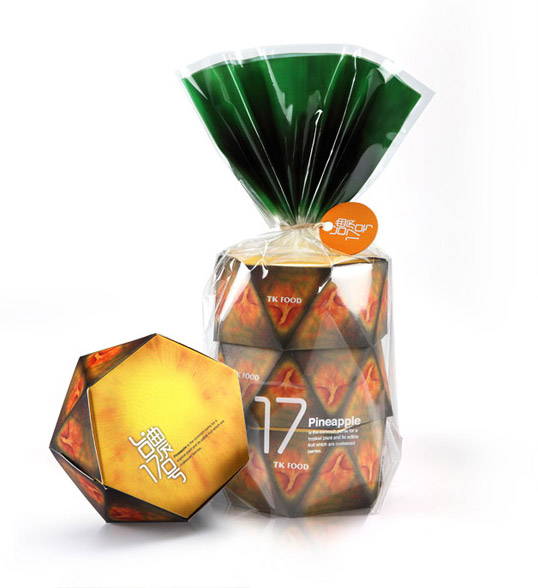 Designed by Victor Branding Lab | Country: Taiwan
"TK Food's pineapple pastry uses TN17 pineapples, which are sweet and fragrant. This series adopts the appearance of pineapple as packing design, which represents "a whole pineapple a fresh present." Besides emphasizing the real pineapple stuffing, the unique packing design is totally different from the general ones and becomes a best choice as a gift."
August 3, 2011 | 6 Comments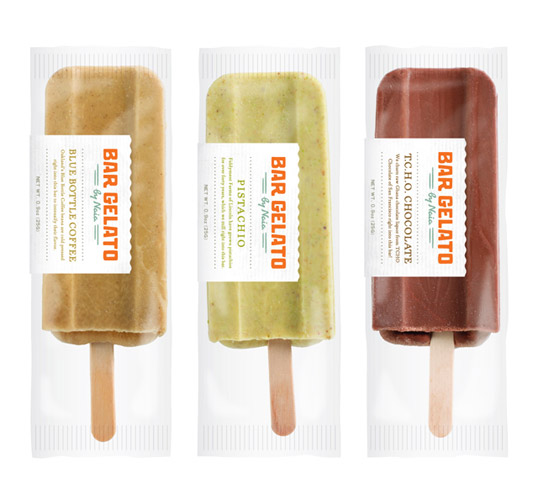 Designed by Bureau of Betterment & Substance | Country: United States
"When the digital agency Substance started working on branding for a new gelato product, I was psyched to be brought on board to create the logo and packaging components. I love food packaging projects, especially when you get to try the product for inspiration! The packaging was created for Naia Gelato's new gelato-on-a-stick product that is being sold in high-end supermarkets in California and the Western US. The final solution was a slightly throwback feel meets sophisticated Italian soda fountain. Custom lettering for the logo was created for a handmade, crafted, boutique feel and small scalloped die cut labels were chosen to allow the product quality to shine through. Many, many, many bars of gelato were eaten throughout the duration of this project."
July 27, 2011 | 3 Comments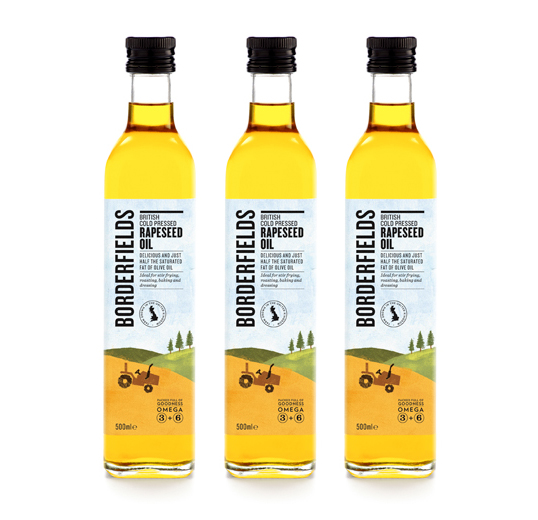 Designed by Cubic | Country: United Kingdom
"Borderfields had been around a while, but sales were flagging. Our task was to breathe new life into the brand, and drum up some more interest in the supermarkets. We created a fresh new colour palette, together with a series of feel-good illustrations, to reflect a feeling of innocent, approachable charm."
July 25, 2011 | 3 Comments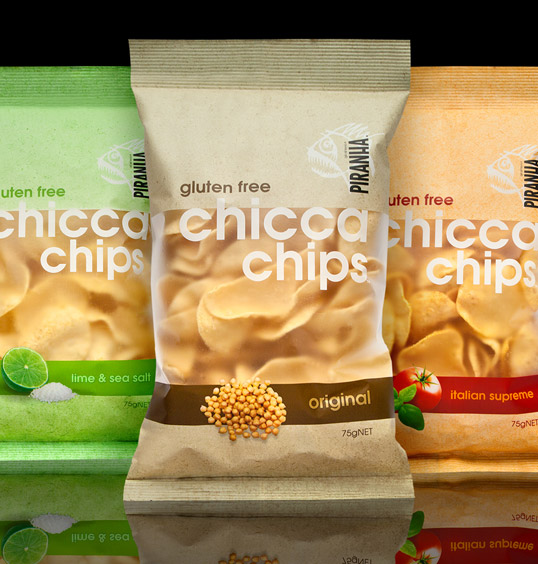 Designed by Watts Design | Country: Australia
"Watts Design, Melbourne, Australia is a brand specialist creating packaging for a variety of products for over 20 years. Watts Design was asked to create this new packaging for PIRANHA chicca chips, a gluten free snack thats made from chic peas. The film we chose for this product was a MATT BOPP, a semi transparent film that ads a touch of deli gourmet feel. With simple typography and basic flavour ingredient cameo photography, this design has been an instant success in the Australian marketplace. Very different, very tasty and very chic!"
July 20, 2011 | 5 Comments
Designed by Adam Deleeuw, Laura Davis, Phoebe Mak & Harshyla Singh | Country: United States | Fonts: Gotham, Tungsten, Garamond Premier, Clarendon, URW Wood Type, FIdo
"We are students at the Academy of Art University, San Francisco. The following group project was done for Michael Osborne's Package Design 4 class.
The assignment was to rebrand Costco, keeping in mind a brand matrix, that consists of a "House of brands" and "Branded house." Kirkland being the dominant private brand for Costco was considered the "Branded house" and a line of hypothetical private labels were designed for the "House of brands."
Within Kirkland, we categorized the brand into six lines:  bath, cleaning, paper goods, apparel, home and food products. Within the hypothetical private labels, we created the following : Ollie's Baking Co. which is Costco's bakery and cafe, Counter 74, a premium line of chef quality kitchen equipment, and Noc Noc which is an eco-friendly kid's line. The entire project consisted of almost 80 – 100 fully comped items."
July 17, 2011 | 3 Comments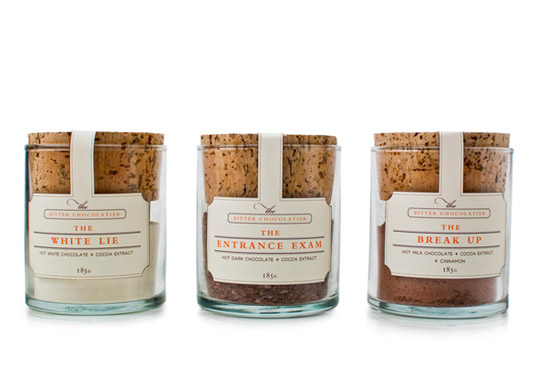 Designed by Miguel Molina | Country: Canada
"Brief: Create a sophisticated identity and packaging that reflect The Bitter Chocolatier's luxury offering and ironic humour.
Solution: The brand has an edge. The elegant look contrasts sharply with its ironic humour. Poking fun at himself, The Bitter Chocolatier tells his tales of misfortune throughout his life through the different flavours. The product differentiates itself from other brands while entertaining the consumer."