May 13, 2011 | No Comments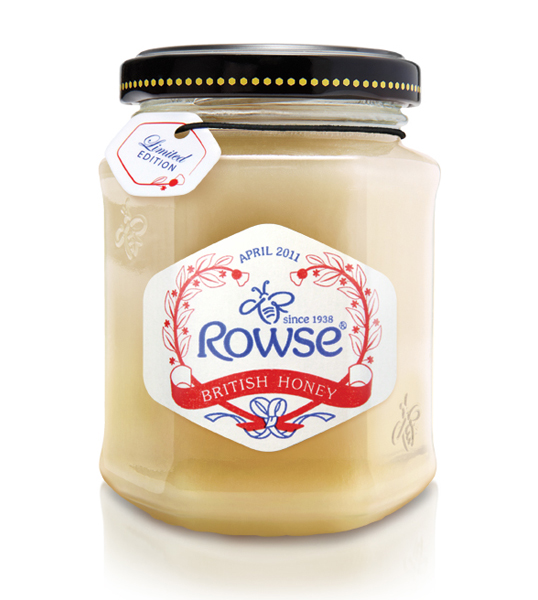 Designed by BrandOpus | Country: United Kingdom
"To celebrate the royal wedding and meet the demand for brands marking British nostalgia and the best of British, award-winning design agency, BrandOpus has created a special limited edition pack for Rowse. The celebratory design will hit the shelves at the beginning of April and will be available for a month beyond the event.  BrandOpus was tasked with creating a bespoke label for Rowse Limited Edition Royal Wedding British Honey that will be available in major supermarkets such as Morrisons and Tesco. The new iconic packaging features a heart-shaped crest at the centre incorporating devices like the thistle and the shamrock that celebrate the honey brand's long-established British heritage and quality dating back to 1938.  Founder Tony Rowse started beekeeping in a small shed in Ewelme, Oxfordshire before turning his passion into a business.  From humble beginnings the company has grown to become the country's market leader in honey for which BrandOpus overhauled its identity and packaging last year.
Paul Taylor, creative director, BrandOpus says: "Royal wedding fever is definitely upon us and major British brands are capitalising on the feel good factor that the event invokes in the population's psyche.  For brands whose core values include Britishness this is surely the ultimate opportunity to reiterate their British origins."
May 12, 2011 | 2 Comments
Designed by Funny Paper | Country: Germany
"Reishunger is a small rice brand that is based in Germany and is focused on authentic and premium-quality rice from all over the world. The slim and slick package design emphasizes the raw and pure character of its contents. Both color coding labels and multiple-choice menu on the package help differentiate between the types of rice."
May 9, 2011 | 6 Comments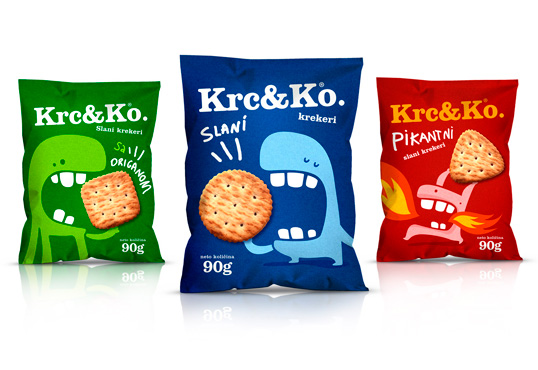 Designed by Peter Gregson | Country: Serbia
"Krc&Ko. (Crunch&Co. in English) is line of various snack products. Peter Gregson task was to create entirely new brand on the market, which included visual identity, naming the product and package design. The name Krc&Ko. actually represents the character that enjoys eating various snacks as illustrated on the package (and "company" is actually KRc's friends who represent each of the various snack products)."
May 8, 2011 | 3 Comments
Designed by Robinsson Cravents | Country: Colombia
"A new pizza brand where I designed the visual identity. My inspiration was the colour of traditional pizzeria ingredients such as cheese, tomato, peppers, salami and also the classic pizza form itself."
May 2, 2011 | 2 Comments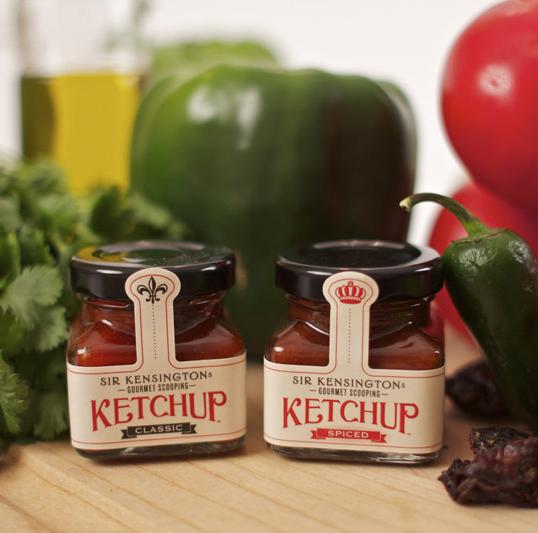 Designed by Alvin Diec & Scott Norton | Country: United States | Buy it
"We're excited to say that we've released the next version Sir Kensington's Gourmet Scooping Ketchup, which are 1.5oz miniature jars evoking the same aesthetic as the larger ones. Our intention was to create a compelling option for premium hotels, restaurants, and caterers to offer their customers in single-serve sizes. Though this exists in jams, jellies, and mustards, we simply didn't think it existed with ketchup."
May 1, 2011 | 3 Comments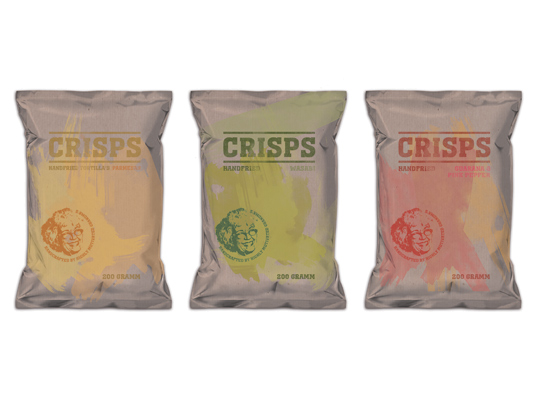 Designed Julian Groll | Country: Germany
"The brief behind this packaging was to create a new brand of crisps with curious and new tastes. I created a story behind the product which is based on grandmas who work from home producing the crisps by hand, (hand cut and fried). The product is organic and high in quality which is echoed in the look and feel of the packaging."
April 23, 2011 | 2 Comments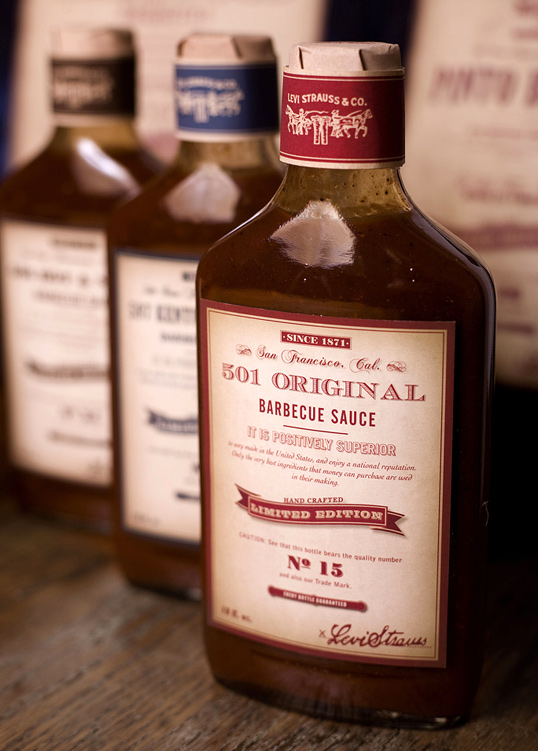 Designed by Sarah Rouse-Higgins | Country: United States
"The Levi Strauss Barbecue Sauce Project was an ode to the roots of the company. Before taking off with denim, they also sold dry goods. I used gold rush era advertisements as the inspiration for the labels. It was important to maintain the look of the company during that time while re-marketing it for a limited edition line of barbecue sauce."
April 19, 2011 | 1 Comment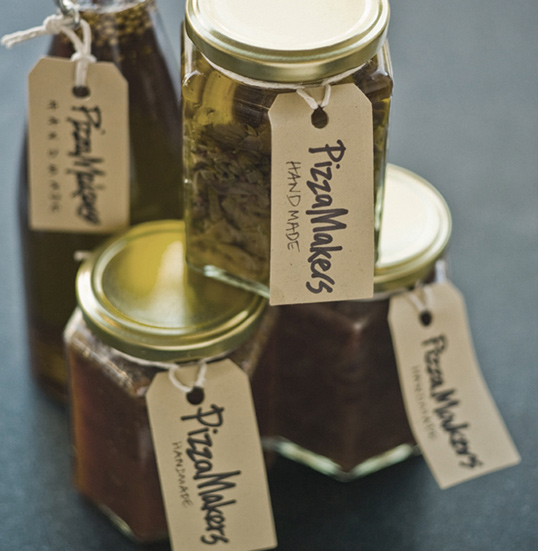 Designed by Smith & Milton | Country: United Kingdom
"How do you communicate 'just made' fresh pizza? Everyone thinks a 'pizza to go' is going to arrive as a hot, rich cheesy feast (reality: warm, greasy, disappointment). The Pizza Makers have turned the problem on its head and only MAKE pizza. It's fresh from their kitchens, so it can be delivered (or you pick up) to bake at your convenience.
They needed a brand idea to set the tone for all their communications. First a name that tells the story. And a strapline that completes it. Second, a store refit to bring the kitchen upstairs and into the shop window – people making pizzas is a great advertisement. Thirdly, a blackboard black and white, fresh everyday style to reflect it with the handmade quality of the process. The only colour online is the photography, and instore, of the excellent product itself."
April 18, 2011 | 3 Comments
Designed by Cowan London | Country: United Kingdom
"Cowan London have redesigned the packaging for Panda's traditional soft liquorice, making use of the product to produce a simple, unique and distinctive pack."
April 18, 2011 | 5 Comments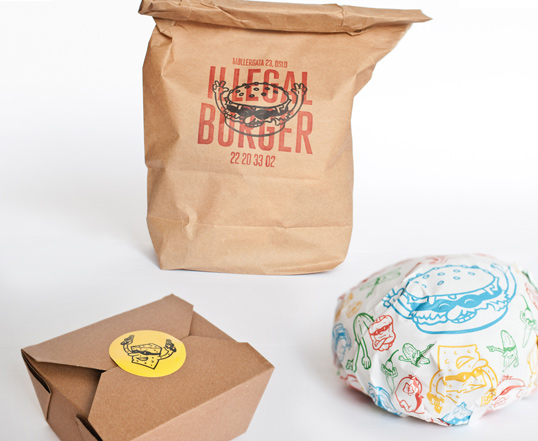 Designed by The Metric System | Illustrator: Frode Skaren | Country: Norway
"Illegal Burger is a tiny sit-in and take-out burger joint in Oslo, Norway. They serve high quality charcoal-grilled burgers at a low price. The restaurant is located in a space that used to be a no-licensed hole-in-the-wall bar, hence the name.
The Metric system design studio played played with classic visual fast food clichés: burgers and ingredients with faces, arms and feet and developed a series of food-crooks together with Illustrator Frode Skaren.
Materials used in the take-out packaging include brown paper bags and brown cardboard boxes to obtain the right lowbrow feel. The bags are printed with rubber stamps and boxed decorated with stickers. The wrapping paper is a four color PMS print with colors matching the tasty interior designed by Al Coulson."