May 2, 2011 | 2 Comments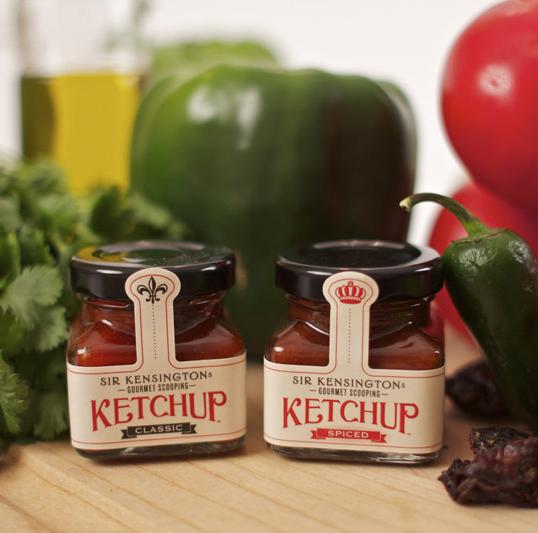 Designed by Alvin Diec & Scott Norton | Country: United States | Buy it
"We're excited to say that we've released the next version Sir Kensington's Gourmet Scooping Ketchup, which are 1.5oz miniature jars evoking the same aesthetic as the larger ones. Our intention was to create a compelling option for premium hotels, restaurants, and caterers to offer their customers in single-serve sizes. Though this exists in jams, jellies, and mustards, we simply didn't think it existed with ketchup."
May 1, 2011 | 3 Comments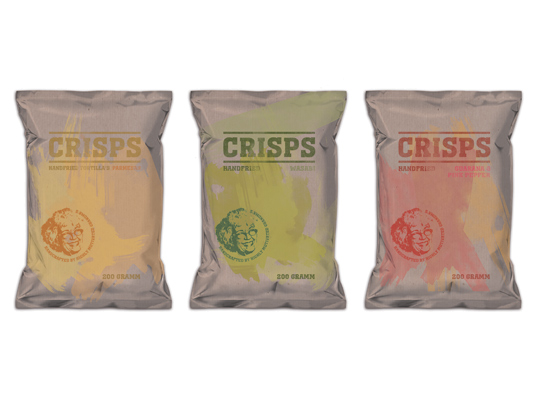 Designed Julian Groll | Country: Germany
"The brief behind this packaging was to create a new brand of crisps with curious and new tastes. I created a story behind the product which is based on grandmas who work from home producing the crisps by hand, (hand cut and fried). The product is organic and high in quality which is echoed in the look and feel of the packaging."
April 23, 2011 | 2 Comments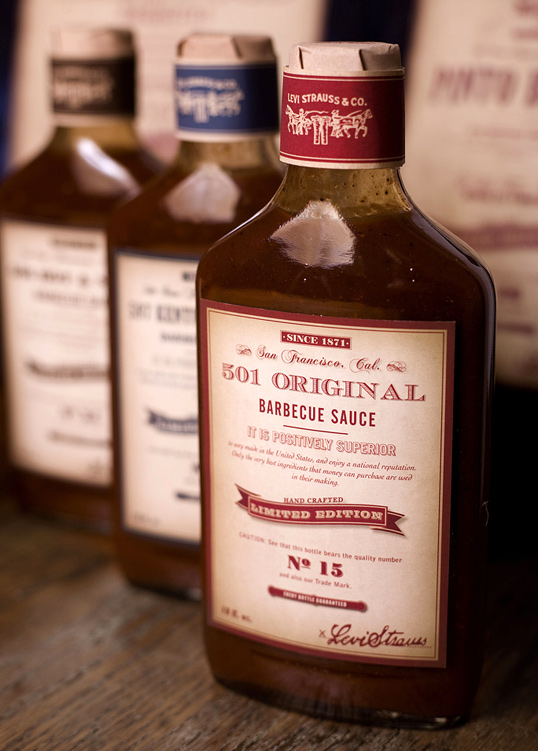 Designed by Sarah Rouse-Higgins | Country: United States
"The Levi Strauss Barbecue Sauce Project was an ode to the roots of the company. Before taking off with denim, they also sold dry goods. I used gold rush era advertisements as the inspiration for the labels. It was important to maintain the look of the company during that time while re-marketing it for a limited edition line of barbecue sauce."
April 19, 2011 | 1 Comment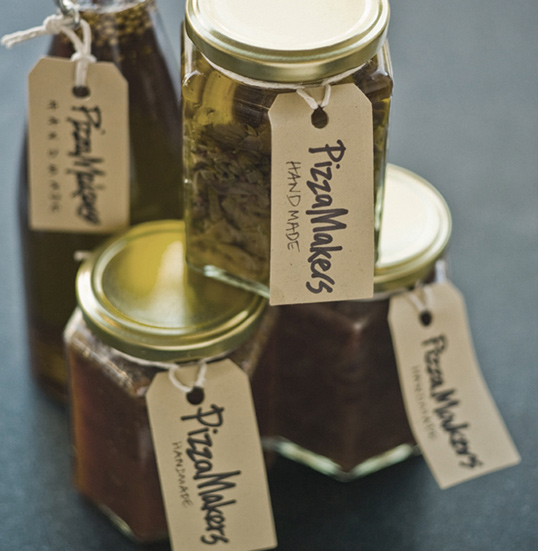 Designed by Smith & Milton | Country: United Kingdom
"How do you communicate 'just made' fresh pizza? Everyone thinks a 'pizza to go' is going to arrive as a hot, rich cheesy feast (reality: warm, greasy, disappointment). The Pizza Makers have turned the problem on its head and only MAKE pizza. It's fresh from their kitchens, so it can be delivered (or you pick up) to bake at your convenience.
They needed a brand idea to set the tone for all their communications. First a name that tells the story. And a strapline that completes it. Second, a store refit to bring the kitchen upstairs and into the shop window – people making pizzas is a great advertisement. Thirdly, a blackboard black and white, fresh everyday style to reflect it with the handmade quality of the process. The only colour online is the photography, and instore, of the excellent product itself."
April 18, 2011 | 3 Comments
Designed by Cowan London | Country: United Kingdom
"Cowan London have redesigned the packaging for Panda's traditional soft liquorice, making use of the product to produce a simple, unique and distinctive pack."
April 18, 2011 | 5 Comments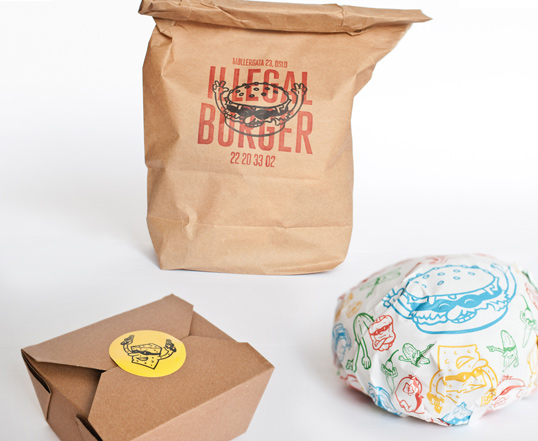 Designed by The Metric System | Illustrator: Frode Skaren | Country: Norway
"Illegal Burger is a tiny sit-in and take-out burger joint in Oslo, Norway. They serve high quality charcoal-grilled burgers at a low price. The restaurant is located in a space that used to be a no-licensed hole-in-the-wall bar, hence the name.
The Metric system design studio played played with classic visual fast food clichés: burgers and ingredients with faces, arms and feet and developed a series of food-crooks together with Illustrator Frode Skaren.
Materials used in the take-out packaging include brown paper bags and brown cardboard boxes to obtain the right lowbrow feel. The bags are printed with rubber stamps and boxed decorated with stickers. The wrapping paper is a four color PMS print with colors matching the tasty interior designed by Al Coulson."
April 17, 2011 | 5 Comments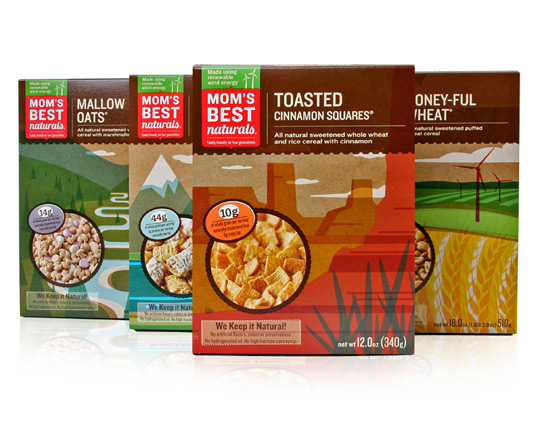 Designed by HartungKemp | Country: United States
"The makers of Mom's Best Naturals breakfast cereals recognized that their existing branding and boxes were impediments to growing their value brand's retail footprint nationwide. Their existing boxes looked "low price," but sacrificed brand equity, too.
HartungKemp's colorful, illustrated redesigns reprioritized "quality" and "natural" to put them first in the client's brand story. They also established emotional bonds and brand equity with cereal shoppers.
HK's new boxes made an immediate impact on the client's bottom line. The Mom's Best Naturals sales force and distribution channels demanded an expansion of flavors even before the first new cereal box had gone into production. Retailers embraced the new look based on how it stood out on the shelf and how it engaged consumers."
April 15, 2011 | 7 Comments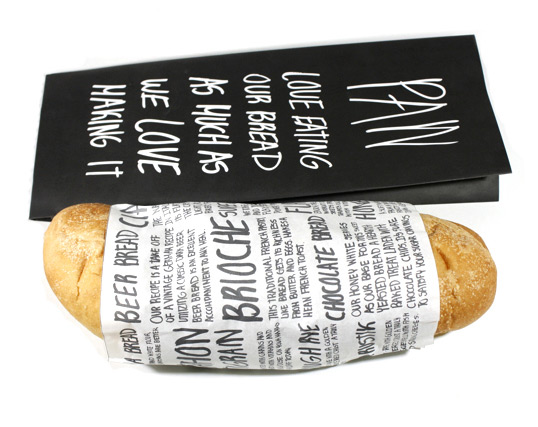 Designed by Leslie Ortiz | Country: United States
"Pan, originally an old record shop, is a bakery in Brooklyn, New York. Inspired by the bakery's location, I developed
two distinct solutions that reflect the influence of vinyl records and clustered, hand drawn street art."
April 14, 2011 | 4 Comments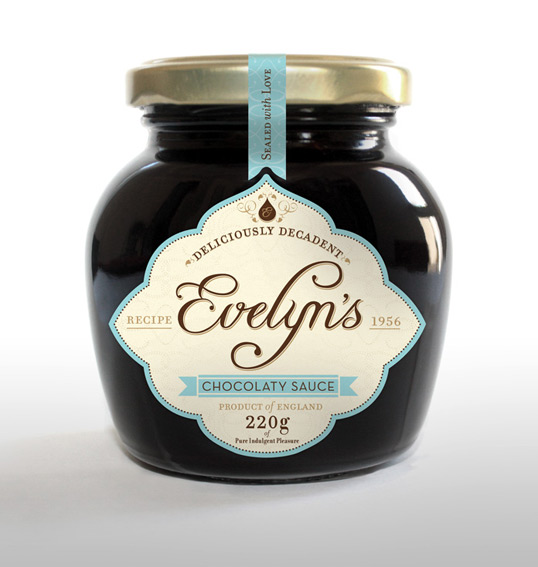 Designed by Jansen Harris | Country: United Arab Emirates
"Evelyn's chocolate sauce recipe has secretly passed from one Evelyn woman to the next over several generations. This sense of heritage and handcrafted quality inspired the creation of the identity and influenced the design to elevate chocolate sauce to a position of being a personal, almost everyday luxury. Rich and chocolaty, this indulgent pleasure is the perfect desert for any dinner party. We were asked to strategically position, create an identity and design packaging for this decadent new brand."
April 13, 2011 | 7 Comments
Designed by Heather Nguyen | Country: Canada
"NOBLE Handcrafted is a brand that embraces the collaboration of craft with the pioneering of our new American food tradition, a tradition that is being continually refined."