April 4, 2011 | 9 Comments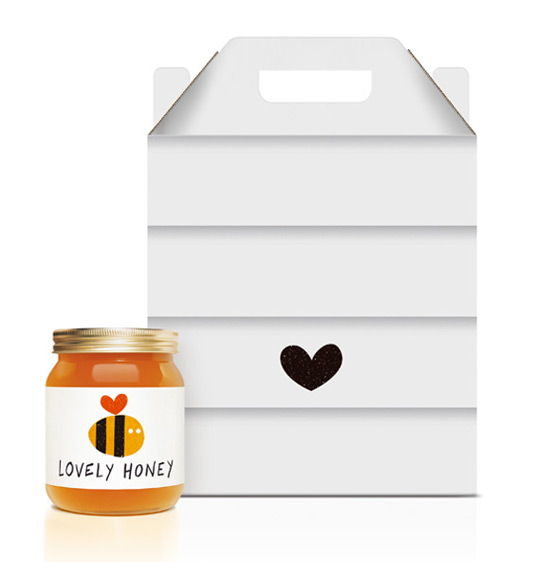 Designed by Jamie Nash | Country: United Kingdom
"Design and illustration for Lovely Honey. The identity uses a heart motif to reference both the name of the product and also the natural health benefits associated with honey. A limited colour palette and hand drawn style helps create a simple, natural feel. The heart motif continues throughout across items such as secondary packaging and illustrations."
March 31, 2011 | 4 Comments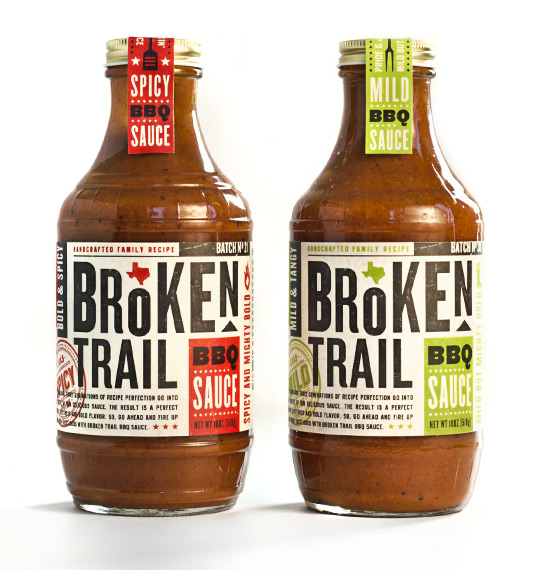 Designed by Imaginaria Creative | Country: United States
"Broken Trail Foods, headed by owner Todd Broughton, is a new company just getting into the retail food industry.  They came to us to design their first product line, a BBQ sauce so tasty that it would make a New Yorker want to be a Texan. The secret recipe has been perfected by the Broughton family for 50 years. A lot of history and pride go into each bottle, so this was an important element to capture in the design.
The main challenge was creating the look and feel of a down-home Texas BBQ sauce while making the product jump off the shelf amidst all of their competitors. We're happy to say that these bottles of joy are flying off the shelves and smothering smoked meats across the South."
March 30, 2011 | 1 Comment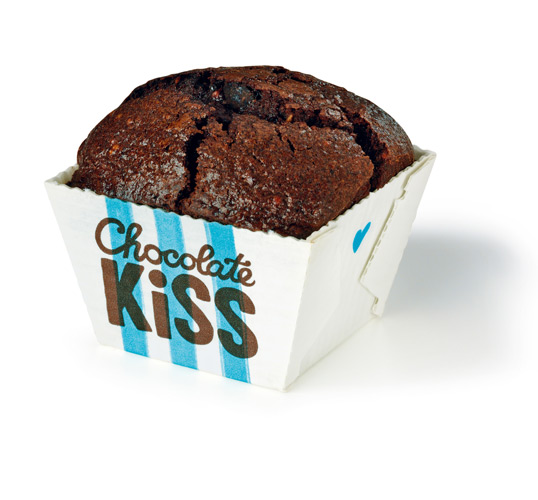 Designed by Nadine Geissbühler | Country: Switzerland
"Packaging design and naming for the new mini chocolate cake of Kern&Sammet. As chocolate is a kind of love-compensation, this small sized chocolate cake is like a kiss."
March 28, 2011 | No Comments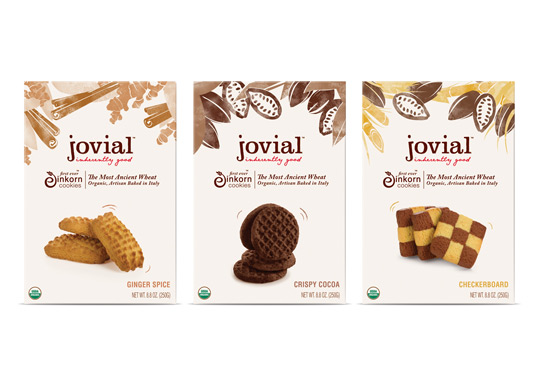 Designed by Pearlfisher | Country: United Kingdom
"Discussing the design of the new packaging for Jovial Cookies, Pearlfisher Creative Director Mark Christou says, "We've translated the look and feel of the pasta range for this new category and, in a sector dominated by brown and natural tones, the predominantly white packaging really stands out as an innovative brand equity. We've leveraged the illustration style to hero the natural ingredients and combined this with a playful photography style that takes the consumer back to the 'jovial' spirit of the brand."
Jovial founding President, Carla Bartolucci says, "The response at retail to the packaging design has been overwhelmingly positive. The cookie design is not only eye-catching, light hearted and fun but it joyfully conveys the natural beauty of our organic ingredients"."
March 28, 2011 | 3 Comments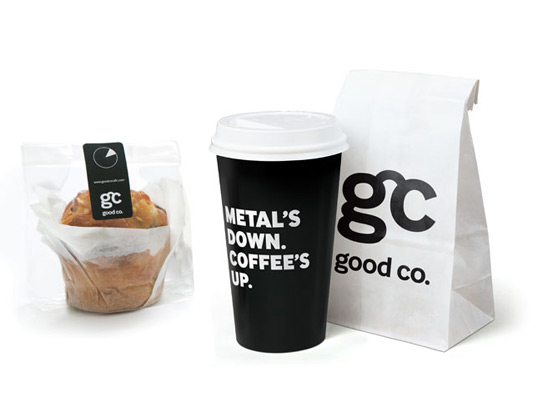 Designed by Landor | Country: Australia
"o give the brand its voice, we took inspiration from the shops' office-lobby locations and borrowed the corporate speak that a professional endures daily. The name we chose, Good Company Coffee, or Good Co. for short, is a dual play on the ideas of "being in good company" and "enjoying good coffee." Language plays an important role in the expression of the Good Co. brand, and through the use of double meanings and wordplay, we turned business jargon into dryly comedic, relevant commentary that also describes the varieties of coffee. The brand voice works in tandem with a black-and-white illustration–based visual style that similarly draws from corporate culture with infographics, iconography, stylized charts, and graphs. From the store environment, menus, packaging, and barista behavior—it all adds up to a strong and entertaining experience."
March 27, 2011 | 1 Comment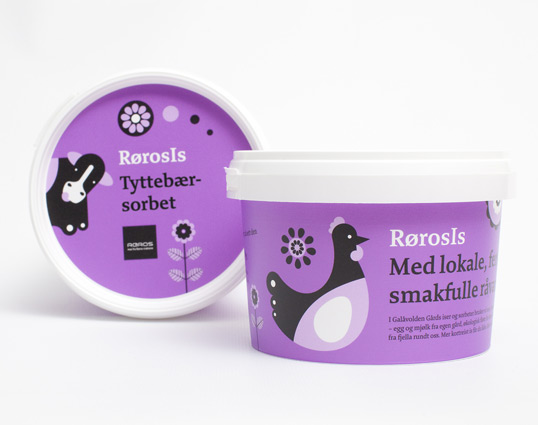 Designed by Form Til Fjells | Country: Norway
"Galavolden Gård – a farm in the beautiful mountain town of Røros, Norway producing exiting and surprising variations on traditional recipes using self produced and other local ingredients.
The design is a continuation of this concept –taking traditional Norwegian ceramic and textile patterns and giving them a little humoristic nudge."
March 19, 2011 | No Comments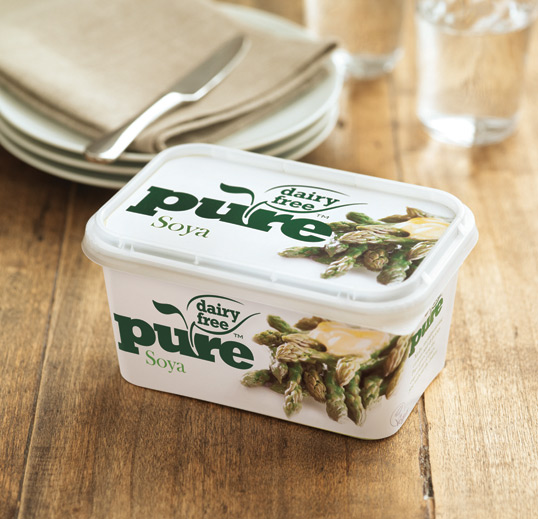 Designed by Family(and friends) | Country: United Kingdom
"Family(and friends) have completed a major refresh for Pure, the premium dairy free alternative to butter.
Pure contains no hydrogenated oils, artificial additives, GM ingredients or gluten and it has 70% less fat than butter.
But awareness of Pure as an everyday and tasty alternative to butter was found to be very low outside of the dairy intolerant market, so brand owners Kerry Foods commissioned Family and Friends to develop new branding.
Pure wanted to remind the broader health conscious consumer base that dairy free leaves you feeling lighter and brighter and is not just for people with allergies or dietary problems.
The brand is now more clearly called Pure Dairy Free, with an impactful, modern looking logo highlighting this product difference and creating a more specific recall.
The new packaging has a cleaner, whiter look that better reflects Pure's qualities; a tasty spread that is also highly versatile for baking and cooking or adding a touch of extra flavour to dishes.
Alex Durbridge, creative partner at F&F says "Communicating purity and enjoyment was key". "Each product variant carries a different mouth watering serving suggestion, emphasising taste and culinary use to customers when confronted with the pack on shelf"
Qual and quant research results confirmed that both users and non users much preferred the new look, which will launch into stores by mid March, supported by press advertising. Inner labels, brand tone of voice and style guides for other communications are also being developed by the agency."
March 18, 2011 | 1 Comment
Designed by Madeleine Skjelland Eriksen, Martine Bongard & Silje Nyløkken | Country: Norway
"Package design for fictional, organic muesli and muesli bars, aimed at conscious and successful women, occupied with health and wellness.
All materials are from recyclable sources, the packaging itself is identical on every product, but color-labelled to categorize each separate taste. The transparent quality is to keep focus on the product itself, rather than actually hiding it from the consumers.
Furthermore, there is added a zip-lock, in order to preserve the quality of the product, as well as to enhance usability and functionality."
March 15, 2011 | 3 Comments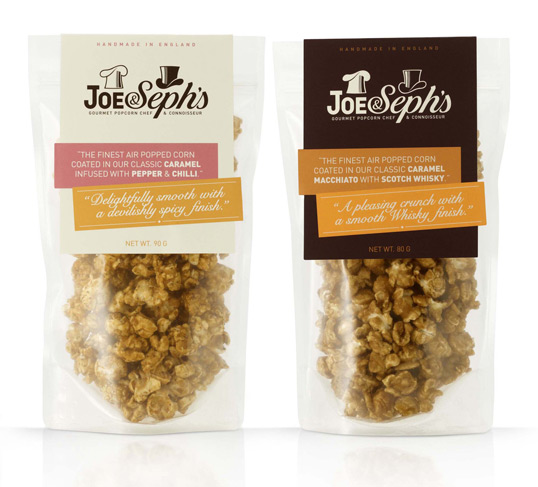 Designed by Designers Anonymous | Country: United Kingdom
We were approached by Joseph Sopher to create a brand identity for his new range of gourmet popcorn that was to be launched at the BBC Masterchef food show in November 2010. When Joseph approached us he didn't have a name, the research stage enabled us to create a list of possible brand names, from which the name Joe & Seph's was chosen, inspired by Josephs mastery of making popcorn and distinguished tasting ability.
Our solution was inspired by a Jekyll & Hyde like personality, where the chef role is represented by a chefs hat, and with a clever twist, becomes the top hat for role of connoisseur. Both roles were represented in their own typeface.
The popcorn is packaged in a clear pouch with a die-cut card header card to give the product a premium feel. The product descriptor continued the dual personality theme, with Joe describing the all natural ingredients and cooking process, while Seph's description focuses on the sensory experience of the unique popcorn flavours. The copy style is very much in the style of an 'English Gent' in reference to the top hat within the logo.
March 9, 2011 | 2 Comments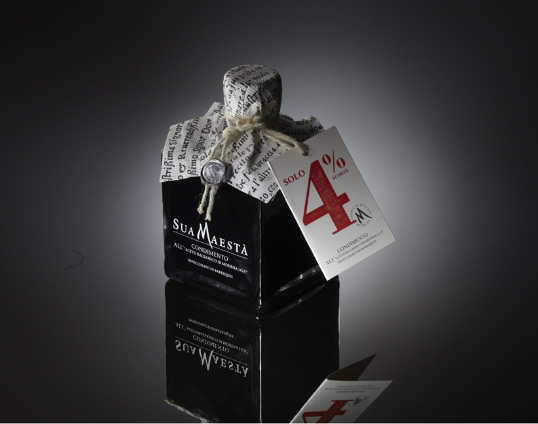 Designed by Onthetable | Country: Italy
"The goal was to create something really special, luxury and different for a new "Balsamic Vinegar of Modena Condiment"