February 11, 2011 | 6 Comments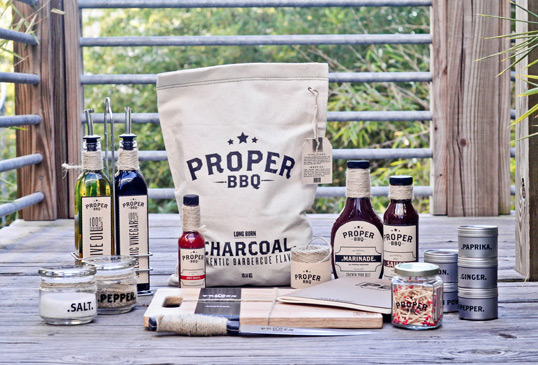 Designed by Tom Hayes | Country: United States
"Proper BBQ, enabling fine gentlemen to get messy. The range of products are essentials for the BBQ mad gentleman or the lavish messy hungry man, they were designed with a big bold punchy flavor in mind. Each product allows the user to get crazy and splash some charisma into their food, allowing each item to be generously applied."
February 4, 2011 | 4 Comments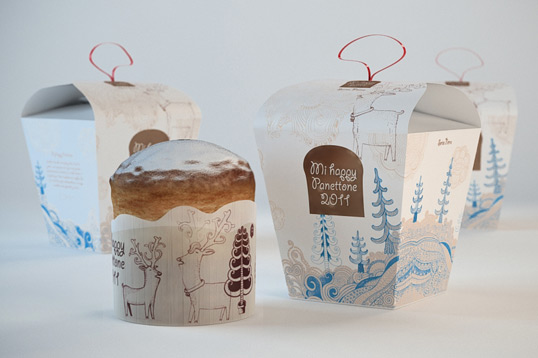 Designed by SeriesNemo | Country: Spain
"Mi Happy Panettone is a packaging exercise of a fictitious product and brand we have designed to wish our clients Merry Christmas."
February 3, 2011 | 14 Comments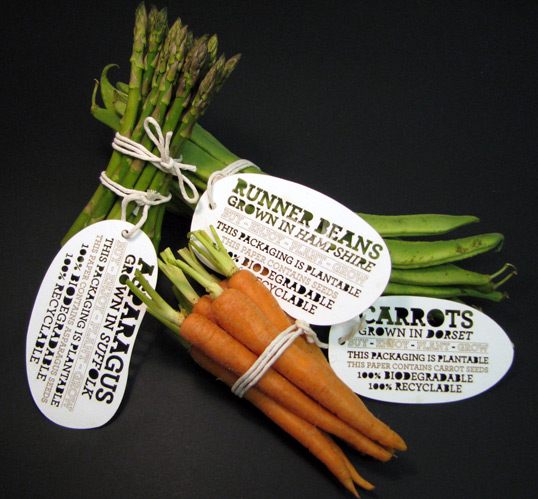 Designed by Ben Huttly | Country: United Kingdom
"Through experimentation and innovation I have developed a form of packaging that is 100 percent biodegradable and recyclable. If the packaging is discarded it will have a positive effect on the environment due to the seed embedded biodegradable paper. The twine used to secure the product and label is natural cotton and 100 percent biodegradable."
February 2, 2011 | 8 Comments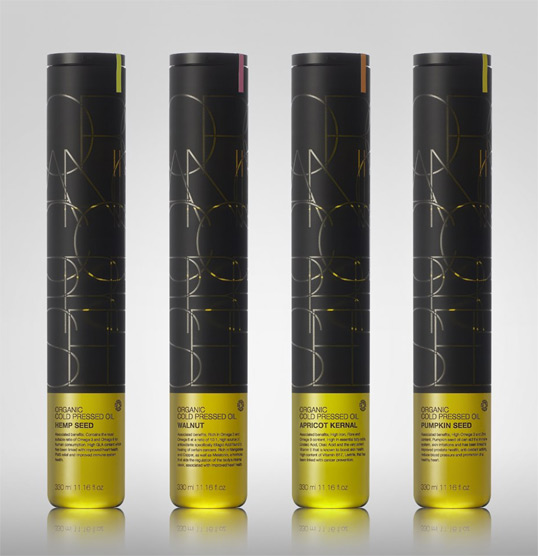 Designed by SabatogePKG | Country: United Kingdom
"SabotagePKG have designed the brand & structural identity for a new range of premium, organic, cold pressed oils by Evolve.
The brief was to create an ecological-premium brand identity which embodies this ethos. Sabotage developed a chic 330ml/11.16fl oz carafe style glass bottle complete with integral lid and pour spout lid. The bottle has been designed with reuse in mind and in this way reducing ecological impact. Oil refills come in a seal fresh pouch.
The base oil range includes Hemp Seed, Walnut, Apricot Kernal & Pumpkin Seed each individually identified by a colour code system."
February 2, 2011 | 3 Comments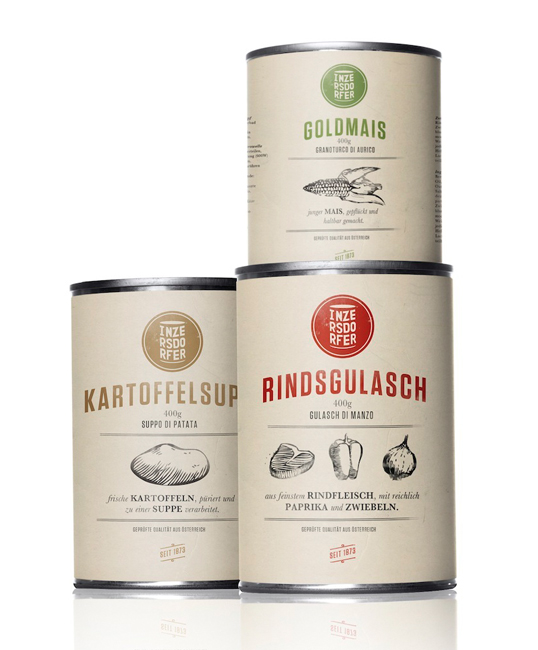 Designed by Michael Nagy | Country: Austria
"The assignment at Uni was to redesign the logo and packaging of Austrian canned food producer "Inzersdorfer" which is an iconic brand in Austria with its first factory built during the reign of the Austro-Hungarian Empire in 1870. Our deadline was 4 weeks after we had started the project.
My problem with canned food was that first of all, most of the logos and packaging looked very similar and hardly distinctive. Secondly it was trying to sell something on the package shot it didn't contain. Healthy food that also looks good when being served. Everyone knows that canned food is jam-packed with preservatives and flavour enhancers.
January 31, 2011 | 1 Comment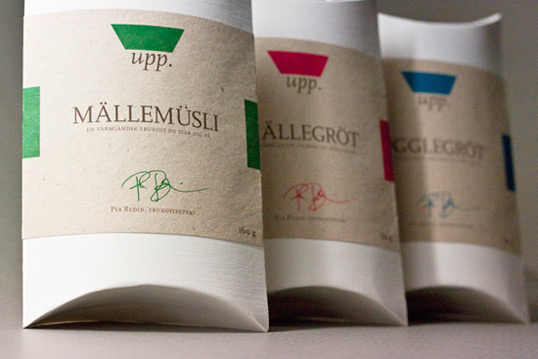 Designed by Niklas Hessman | Country: Sweden
"Upp is a concept for the home-cooked breakfast Värmland, made with organic ingredients. I developed both name and design.
The name refers to the notion of waking up the morning and the structure is designed as a pillow to help build on the concept. Värmland is the breakfast that gets you Upp in the morning."
January 28, 2011 | 5 Comments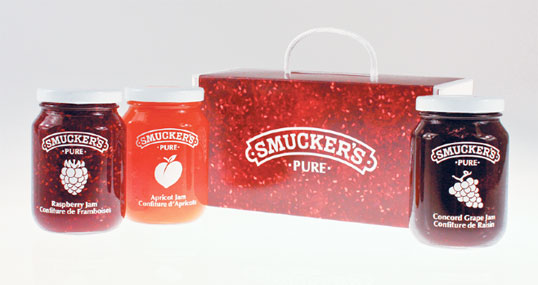 Designed by Michael Dibblee | Country: Canada
Description: Smucker's is a North American manufacturer of fruit spreads, ice cream toppings, health and natural foods, beverages, shortening, and natural peanut butter, dating back to 1897. When redesigning a number of products from the Smucker's Pure Jam line, I intended for the design to truly and uniquely portray the essence of quality and traditions based on the company's ideals in a new and innovative way.
Ideally, customers should be persuaded to purchase a product by its essence, and not simply by its label. This especially matters when it comes to a company that prides itself on excellent quality. Many consumers have experienced the growing, picking and preparation of fruit for spreads; in remembering the ease at which one can recognize the colours, textures and smells associated with the cooking process of jam, I created a design that emphasizes the jam itself.
After experimenting with die-cuts and windows that exposed the natural colours of the jam, I discovered that reversing this effect actually exposed more of the jam to the consumer. I recreated a silkscreen effect to contrast the rich natural colours of the jam and moved away from traditional label systems used by many competitors. Many rival companies and products embrace the use of photographic and illustrative images of fruits to give the consumer a taste of what the product offers. To break away from this conventional style and allow Smucker's to stand out when positioned on a grocery shelf, I depicted the fruits as icons. These white icons stand out clearly on the background colours of the jam, yet do not take away from the distinct colours and textures seen through the glass jars.
Overall, the design portrays a rich and elegant aesthetic that stands out from competitors and retains the quality that is associated with the Smucker's brand.
January 28, 2011 | No Comments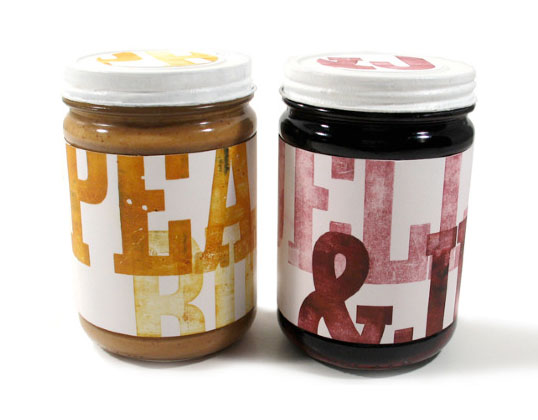 Designed by Jessie Harte | Country: United States
We love this label concept for peanut butter and jelly, created using wood type with ink mixed to resemble the actual product in the jar.
January 27, 2011 | 4 Comments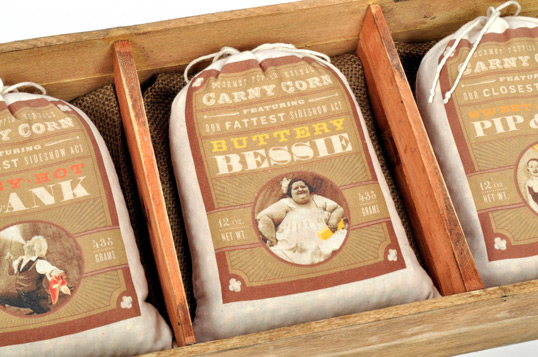 Designed by Theresa Decker | Country: United States
"The assignment was to design packaging and a carrier for three flavors of gourmet popping kernels called Carny Corn. I chose to do a Circus side show act theme including Buttery Bessie (worlds fattest woman), Firey Hot Frank (fire breather) and Sweet & Salty Pip and Pop (siamese twins). I used vintage broadsides as typographical inspiration and manipulated black and white imagery for each label. The bags are printed canvas and are held in a custom made wooden crate with transferred typography."
January 24, 2011 | 5 Comments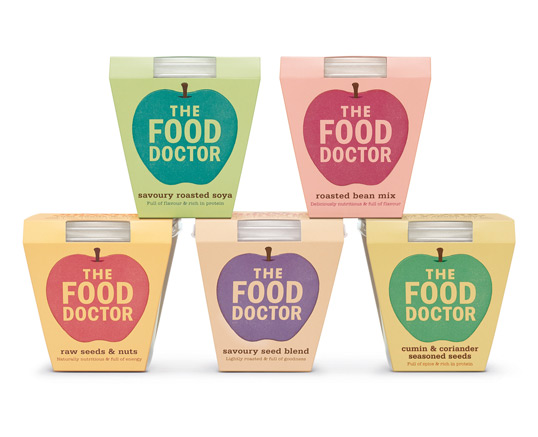 Designed by Pearlfisher | Country: United Kingdom
"Pearlfisher has created a new brand identity – and redesigned the packaging across the entire range – for the UK's leading nutrition consultancy The Food Doctor.
Co-founded in 1999 by Ian Marber, a leading nutritionist and acknowledged expert in his field, The Food Doctor is a unique concept that provides sensible advice for achieving a healthier plan for life. From the start it established itself as a visible brand in the field of healthier eating with a range of food products from seed mixes to ready meals.
The new identity needed to embrace the 'Eat better forever' strapline and move the brand focus from a functional product to more of a lifestyle proposition.